A Musical Tour of Ibiza
ME Ibiza sounds so good you might never leave the hotel.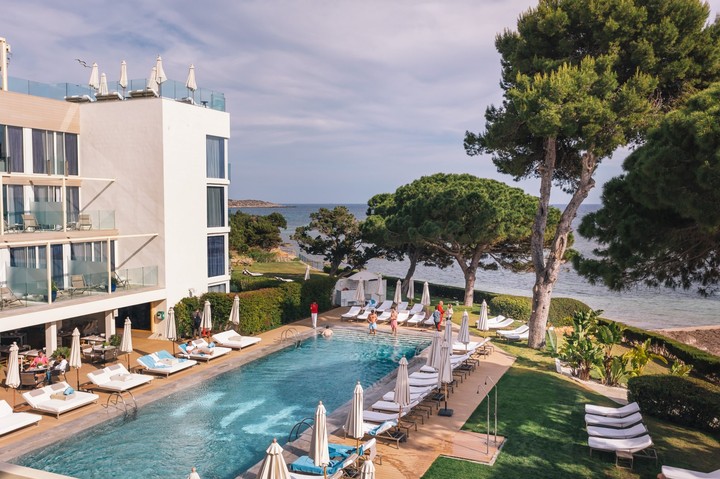 Wow, where do we start? Eivissa… Formentera… The White Isle. No matter what you call it, Ibiza is synonymous with partying. You see, the island has been a counter-culture paradise since back in the '50s when Vietnam draft shirkers joined creatives using it as a safe haven from the political oppression of Spain's fascist rule under Franco. The '60s brought with it a steady stream of hippies coming for the magnetic vibrations and sticking around for the low-rent and dreamy, back-to-nature lifestyle Ibiza had to offer.
Then came rock 'n' roll. The Rolling Stones, Freddie Mercury and Jimi Hendrix were huge fans of Ibiza, their endorsement growing the burgeoning live music scene on the island and their entourages throwing their fair share of wild parties. Anyone who has seen Barbet Schroeder's 1968 Ibiza-based movie More – all free love and drug experimentation set to the sounds of Pink Floyd – will understand the hedonistic appeal.
By the time the 70s rolled around, Spanish photographer Antonio Escohotado had opened up a nightclub that he briefly named The Workshop Of Forgetfulness before settling on the much snappier Amnesia. You know the one. Psychedelic rock was still on the setlists, but with Ibiza mainstays like Pacha, Ku and Lola's quickly popping up too, each move laid the foundation for Ibiza's legendary status in the world of dance music.
In 1983, Wham! shot their music video for "Club Tropicana" in the by-then cult rock star hangout, Pikes Hotel. It's still there, up in the San Antonio hills surrounded by sprawling gardens. The new decade brought a cultural shift as international DJs began bringing house and techno to Ibiza's white shores, and soon party people were flocking in from far and wide. Reader, they still are.
One establishment keen to ensure you experience everything the island has to offer musically is the ME Ibiza hotel in Santa Eulalia del Rio, a peaceful town sitting right on the east coast. Curated in partnership with VICE, ME's soundtracks seamlessly combine Ibiza classics, heavenly chill out and some of the most exciting experimental releases by the next generation of club music producers. Think: Morcheba, Vanishing Twin and Groove Armada next to Mall Grab, Baltra and Logic1000. Perfect.
Discover a whole new archive of music that effortlessly spans time, space and genre… from the comfort of the rooftop bar.