Playing Like a Pro | The World's Coolest Tennis Courts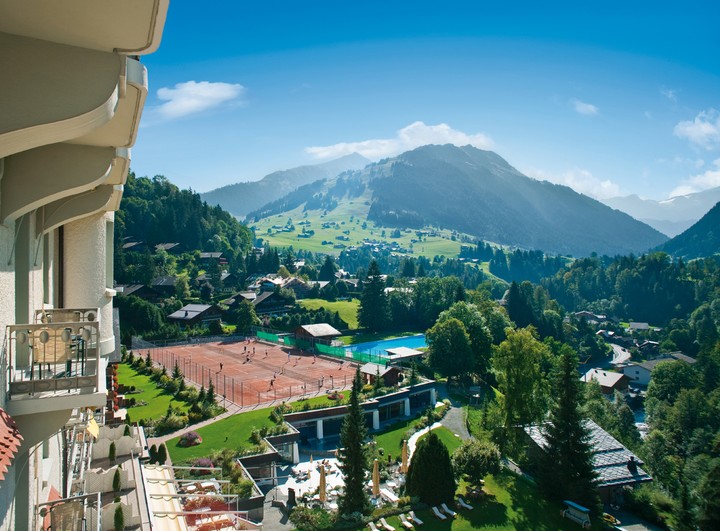 Photo: Gstaad Palace
Gstaad Palace, Gstaad, Switzerland
In the winter, Switzerland has some of the best scenery (and terrain) for skiing, but don't overlook the summer months, especially at the stately Gstaad Palace where clay court tennis courts surrounded by glorious mountains will give you an unbeatable Alpine experience.
palace.ch
Il San Pietro, Positano, Italy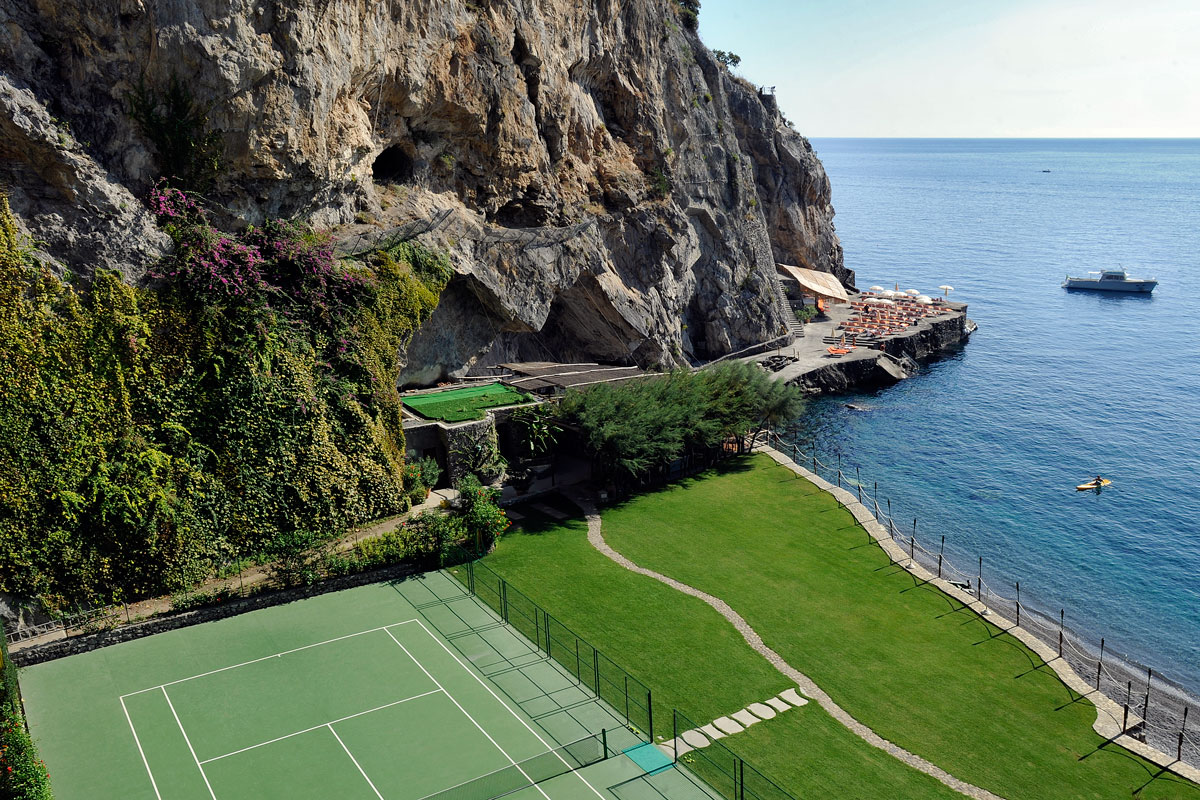 If you're on the Mediterranean yacht circuit during the summer, a Positano stop is a requisite. Off the boat, there's no better hotel to enjoy La Dolce Vita than the Il San Pietro. Although lounging around its crescent shape pool, cruising the turquoise waters and dining like royalty should be your main priorities, don't miss its tennis court, which is set amid towering rock formations and cinematic ocean views.
ilsanpietro.it
Tennis de la Cavalerie, Paris, France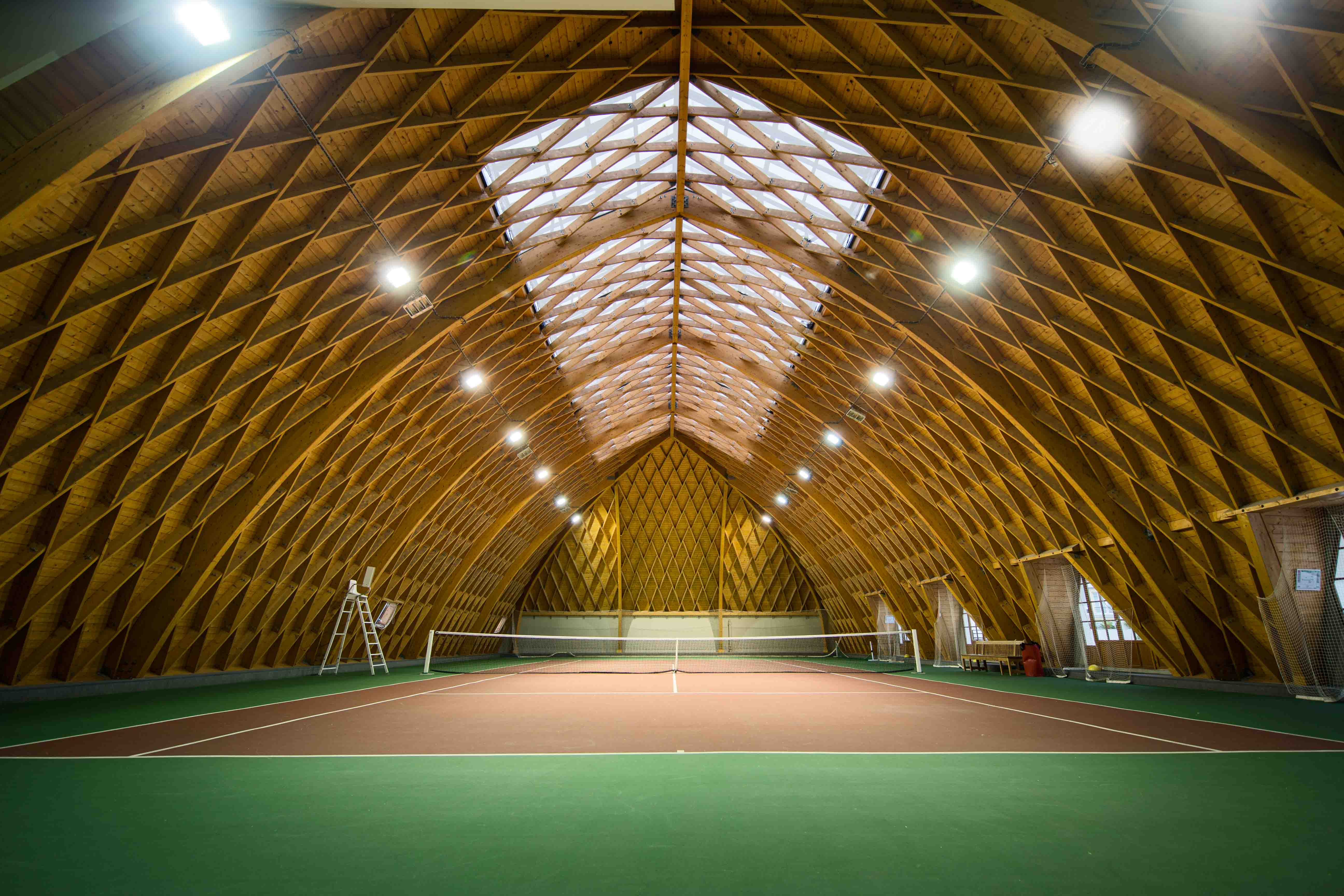 A few miles away from Roland Garros in the Bois de Boulogne grounds, is another tennis beauty. La Cavalerie is the only single court in the 15th arrondissement, but its arched wall-to-ceiling structure made with 1,400 pieces of wood arranged in a series of diamond patterns, is so gorgeous that it makes you forget it's on top of a car dealership — of Aston Martin no less.
tennisdelacavalerie.fr
Pikes Ibiza Rocks House, Ibiza, Spain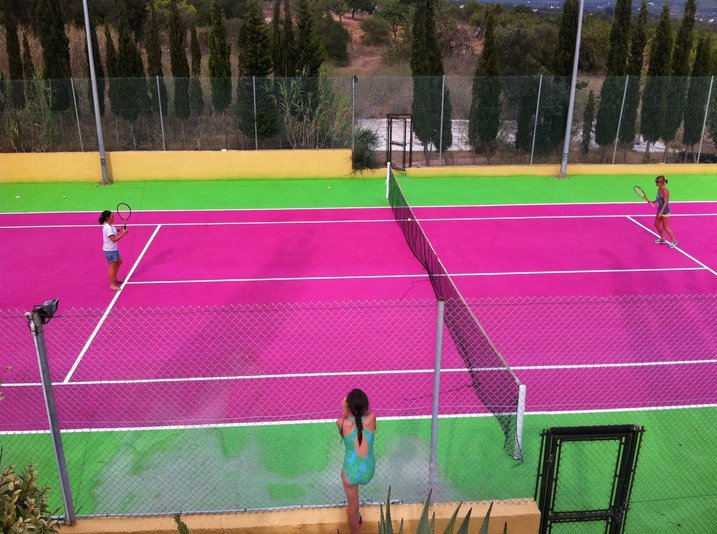 Ibiza isn't known as a paradise for athletic activities, but the famous Spanish party island boasts one of the boldest tennis courts in the world at Pike's Ibiza Rocks House. Its bright neon green and pink surface may be a shock to the system, but what do you expect from the legendary resort known to have hosted wild orgies in the 1980s?
Enchantment Resort, Sedona, Arizona USA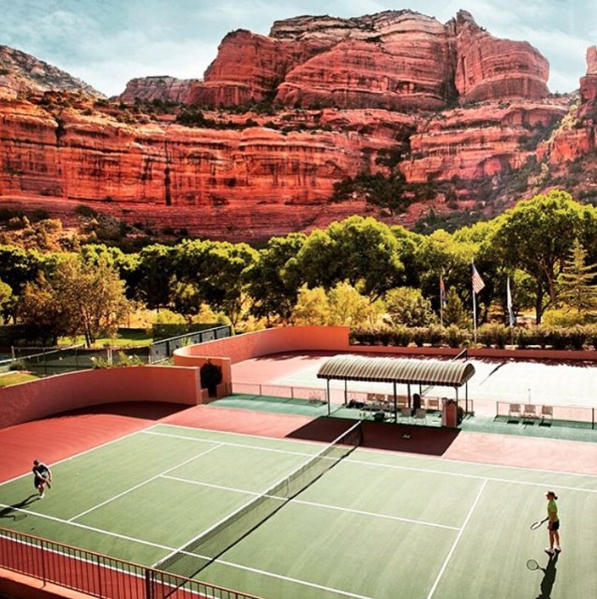 While your main focus should be on the ball when playing tennis at the Enchantment resort in Sedona, you may find it a little hard to concentrate. It won't be because of your shaky mental game, but rather the courts' backdrop of imposing red sandstone formation.
enchantmentresort.com
Astor Private Court, Rhinebeck, New York, USA
If you head just north of New York City to Rhinebeck – a well-to-do town that counts Annie Liebovitz as resident – you can hit some balls at the stately John Jacob Astor IV Courts, which were built in 1902. Although it's not open to the public, if you can gain access to its indoor tennis court with its cathedral-like ceilings, you'll feel all kinds of special.
Singita Sabora Camp Tennis Court, Tanzania
Singita's luxurious Sabor Camp is in the middle of the Grumeti Reserve, adjacent to the Serengeti National Park. While you'll probably want to rove around in a vehicle to experience safari life, you can also play tennis on a court while zebras and giraffes frolick around you.
singita.com
All Iowa Lawn Tennis Club, Charles City, Iowa, USA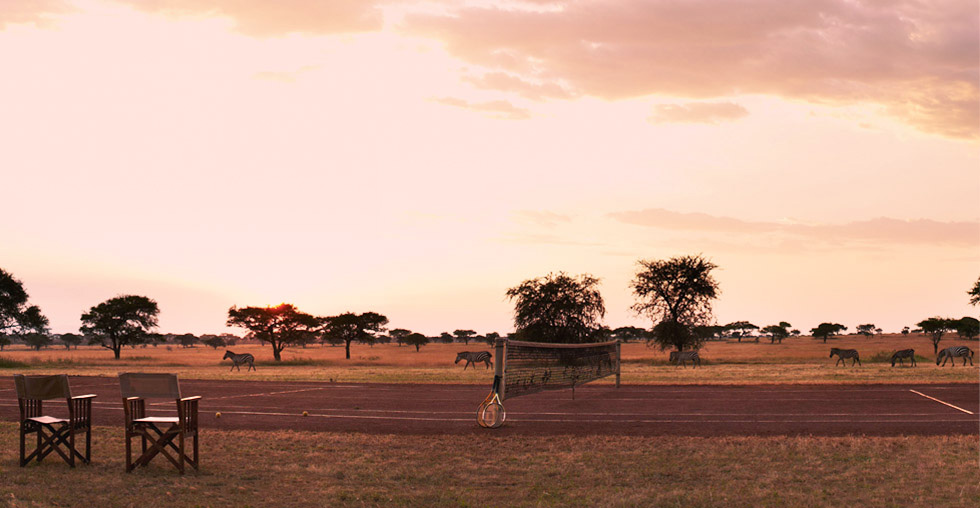 The All Iowa Lawn Tennis Club is the Wimbledon of Charles City, Iowa. While it's only one court and is thousands of miles from the world's most prestigious tennis tournament, if you don't look at the surrounding wind turbines, you could imagine yourself on Centre Court. Mark Kuhn who owns the court with his wife, Denise, even interned with Wimbledon's groundsmen in 2012 so he could get the grass just right.
alliowalawntennisclub.com
Infinity Tennis Court, Los Angeles, California USA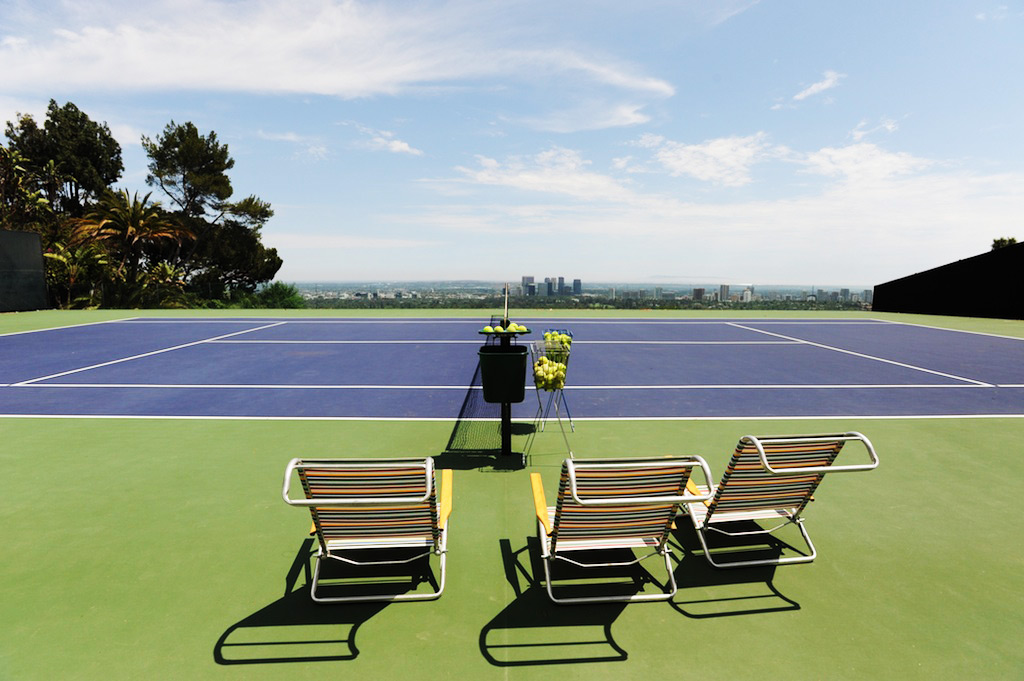 Those infinity swimming pools with endless views look so good in Los Angeles, a city that's perfected hardcore lounging. But it's also an active city, which is why the Infinity Tennis Court feels just as native. It is at James Goldstein's much-publicised, John Lautner designed house. When you take those breaks in between games you look out to an unobstructed view of LA on the horizon. Playing optional.
jamesfgoldstein.com
Bunabhainneadar Tennis Court, Isle of Harris, Scotland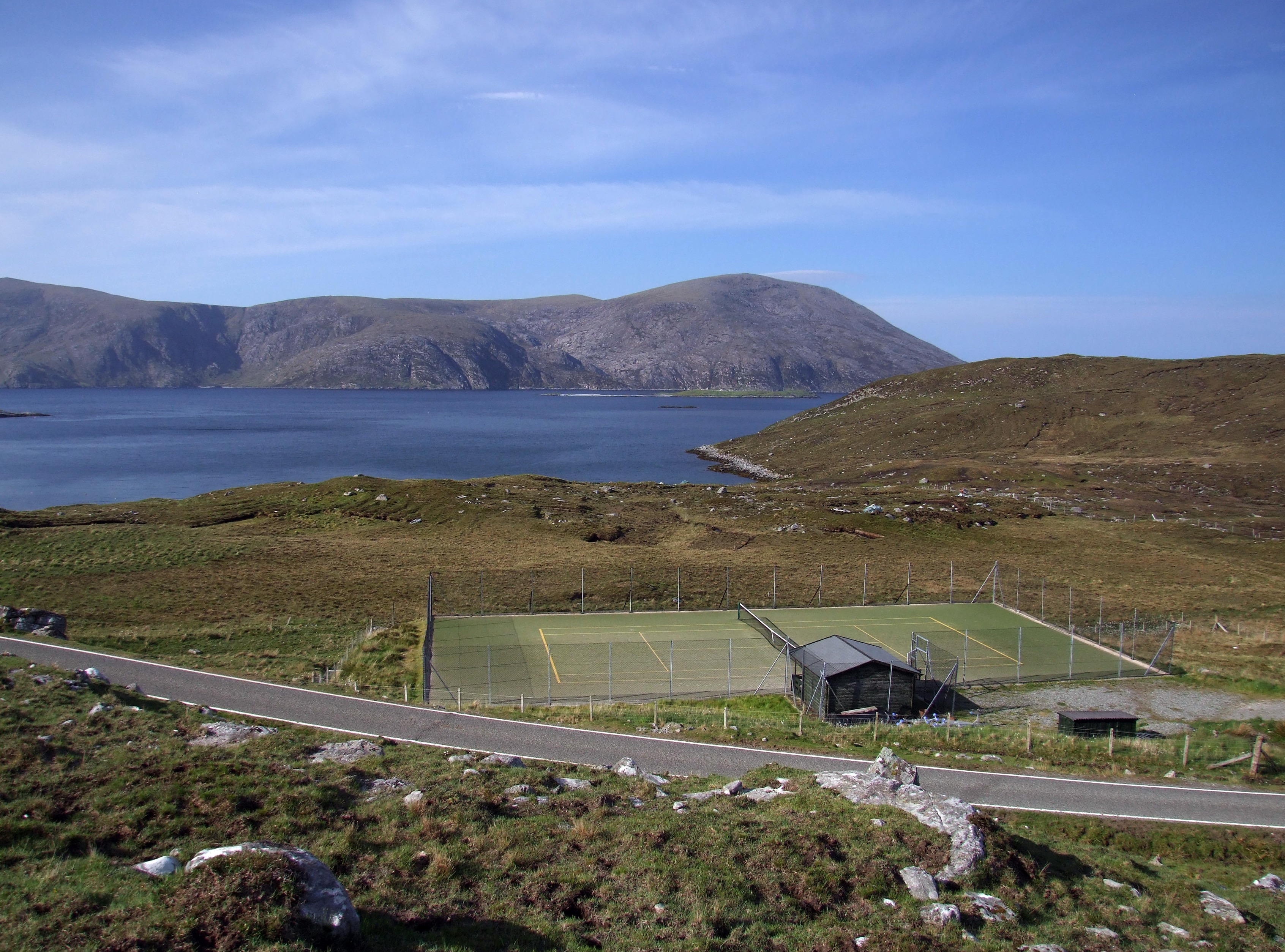 In life as in tennis, sometimes you just want some peace and quiet. When this introverted mood strikes, head to the Isle of Harris (known for Harris tweed) in Scotland, an hour flight from Glasgow. It won't get any more peaceful than the Bunabhainneadar Tennis Court, known as the most "remote court in Great Britain," and run by Mike and Peggy Briggs. If you get tired of playing, just take in the other-worldy beauty of its surroundings.
mikeandpeggybriggs.co.uk
Vanderbilt Tennis Club, New York, USA
In New York City's Grand Central, one of the world's busiest transportation hubs, you won't expect to be running for anything besides a train. But the iconic landmark which sees 750,000 daily travellers pass through its magnificent architecture has a Deco Turf tennis court that will have you chasing balls. When you look out on the midtown Manhattan view filled with throngs of people, you'll be glad you're in on this open secret.
vanderbilttennisclub.com