All in Good Taste | The Weird World of Novelty Architecture
How these bizarre landmarks make stupidity sublime
Photo: via Getty
To love architecture is to be a snob. From the Bauhaus to the Barbican, the buildings most adored by those 'in the know' tend to share a few common features. They are serious – knowingly Modern, abstract, and often quite austere. They are photographed in black and white, at interesting angles. Think of the glassy cliff-faces of New York, or London's concrete citadels.
But if you're like me, then occasionally, just occasionally, you might find 'good taste' quite boring. Why exactly should everything be so functional? Why so monochrome? Why so endlessly serious?
The buildings I've collected here are the perfect antidote to your brutalist blues. They are the daft, characterful, commercial bits of 'stuff' that demand your attention and challenge your taste. They each commit the cardinal sin of architecture – mimicry – yet they are each totally original.
The old, modernist, 'good taste' mantra, hammered deep into every young architect's brain, is this: 'Form Follows Function'.
But if joy, meaning and memorability are considered important functions of a construction – and why the hell shouldn't they be? – then these buildings are more functionalist than any white cube. So the next time you are travelling, watch out for these mimetic 'monstrosities'. I defy you to not be charmed.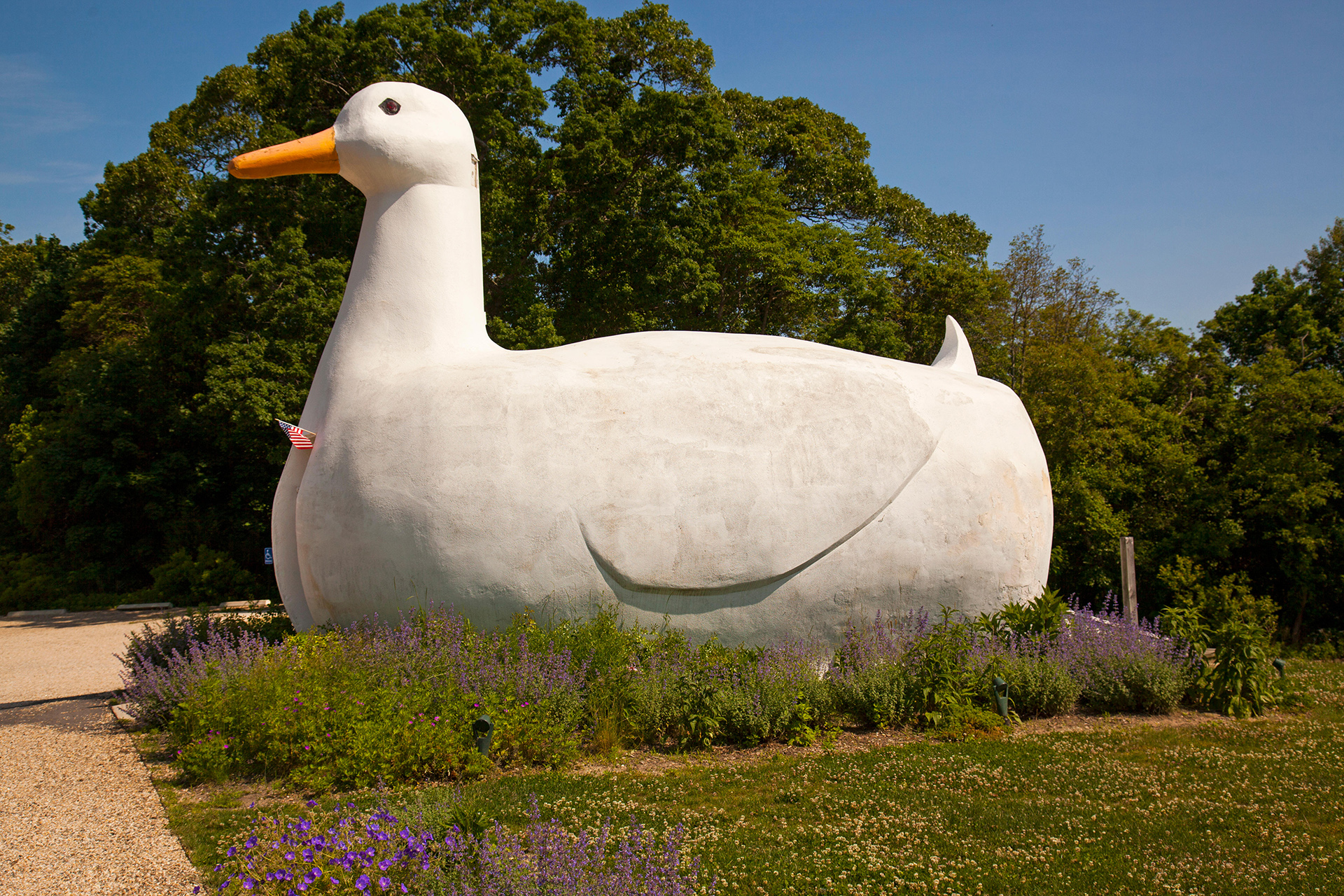 The Big Duck is a humble icon. Designed by a farmer to house an egg shop, this ferro-concrete waterfowl has graced the side of an interstate in Flanders, New York since 1931.
When Robert Venturi and Denise Scott Brown, the original postmodern pair, wrote their seminal book, Learning From Las Vegas (1972), the Big Duck was held up as a perfect example of a 'building as a sign'. The term 'Duck' stuck – and is now used to describe any charmingly naff novelty buildings of this kind.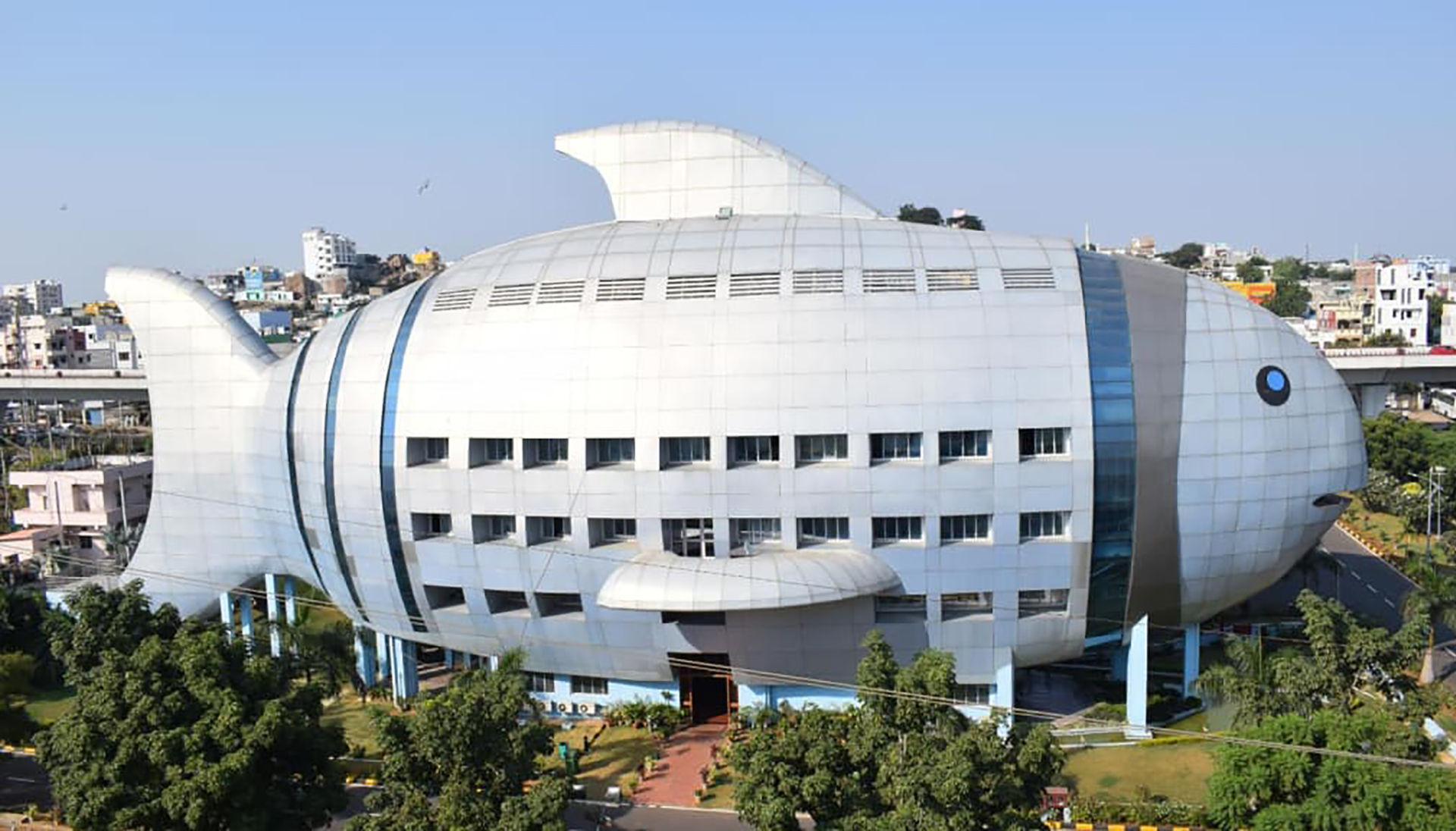 Hyderabad, in South-Central India, is a beautiful and sprawling city of 6.8 million people. It is also extremely landlocked. So you would be forgiven for being surprised, when travelling through the bustling Chintalmet district, to come across a gigantic silver fish, beached in a sunbaked car park.
The effect is rather more impressive as you get closer, and realise that the whole creature is suspended on thin sky-blue pilotis, almost levitating. Inspired by Frank Gehry's cooly abstract fish sculptures, the rather-more-literal Hyderabad Fishing Development building does exactly what it says on the tin.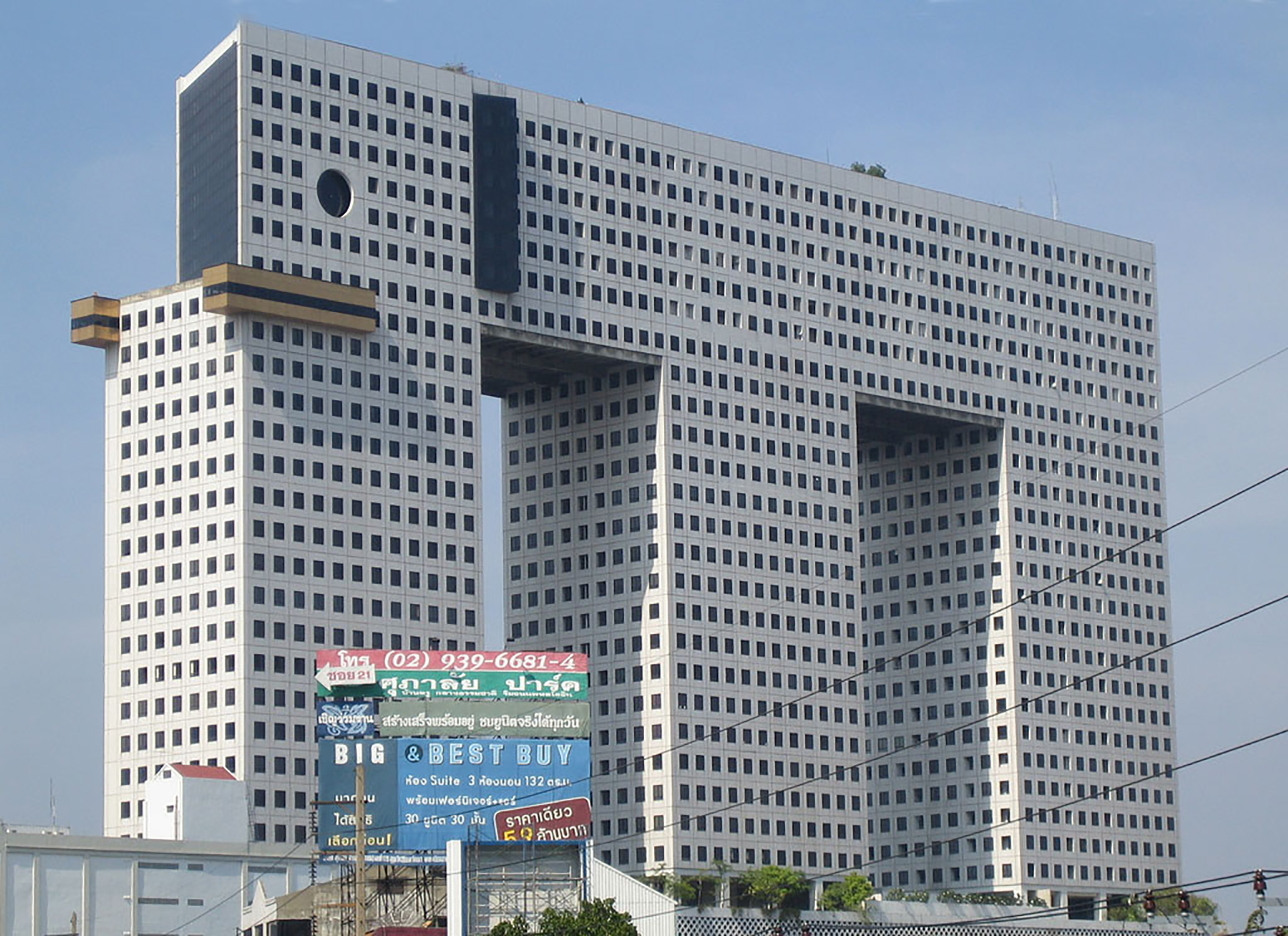 If you've ever used Facebook, you will have, at some point, encountered a picture of some distant friend, smiling smugly astride an elephant. Usually, this picture will be in an album entitled 'Thailand 2016 – Take me back!'. You may have also heard of the ethical horror stories surrounding the Thai elephant tourism trade.

So, if there is no humane way to experience the majestic Asian Elephant in the flesh, then perhaps glass and steel is the next best thing. Completed in 1997, the supremely charming 'Elephant Building' in North West Bangkok is a monumental tribute to its home country's most famous residents.
Not only that, but it's the only mammal in the world known to house an office block in its nose. The building itself is dramatic enough, with three grand skyscrapers merging into a single megastructure, but perhaps more impressive is how few elements were required to give the complex such a cheery character. The Architectural Digest named 'The Elephant' one of 'The World's Ugliest Skyscrapers'. But what do they know?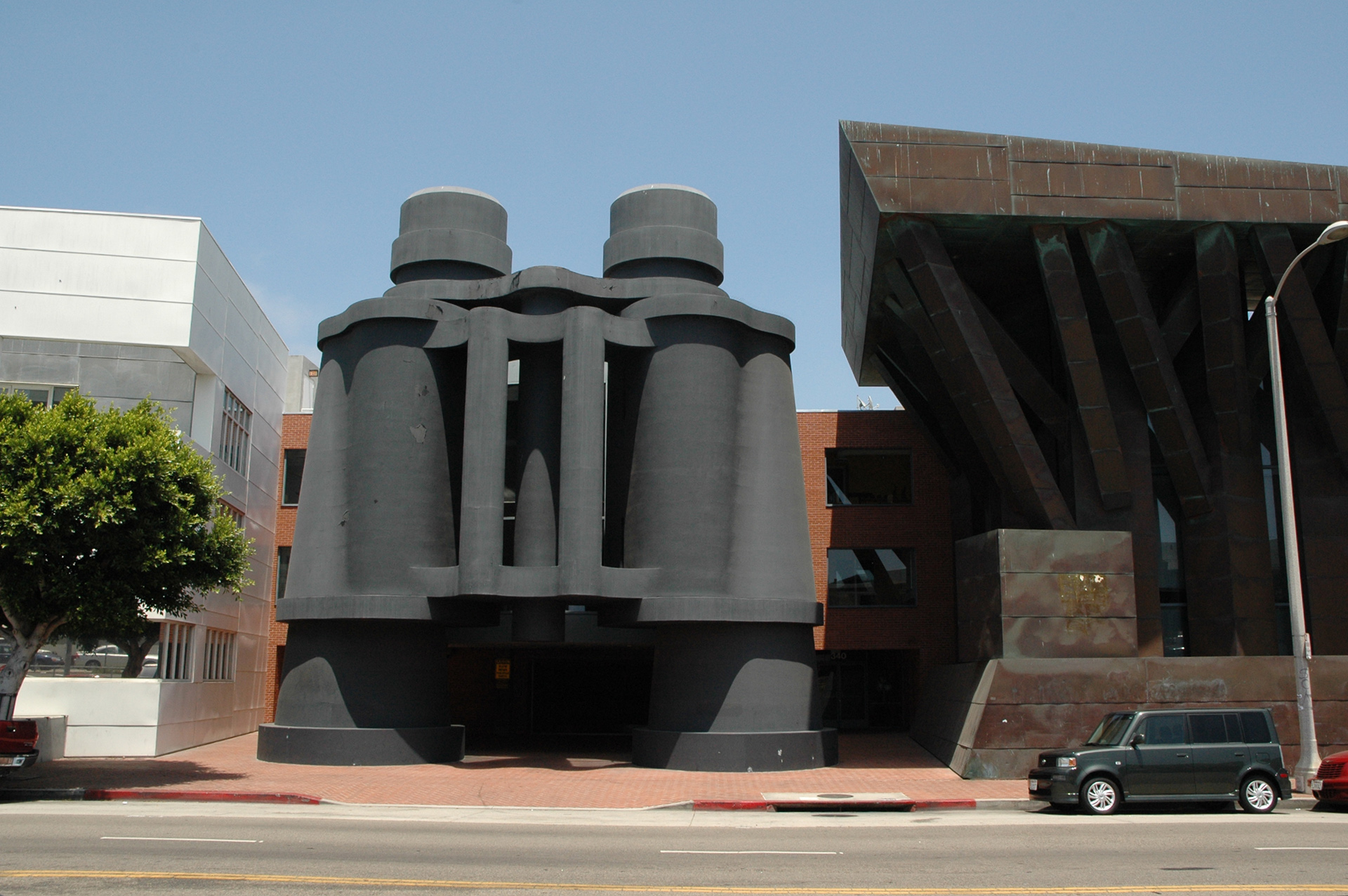 The only building on the list with a true 'starchitect' behind it. The Frank Gehry 'Binoculars Building', in downtown Venice, Los Angeles, is a tribute to the loosening of the architectural rules that swept America in the 90s. It certainly breaks up the condo-and-bungalow monotony as you cruise towards the beach down Rose Avenue.
Despite its cheesy street presence, the building actually boasts some serious art world credentials – sporting as it does a giant Claes Oldenburg sculpture as an entry arch.
Seen through the architectural lens, these binoculars do take on a fluid abstract quality – if you squint. Originally built for the Chiat/Day advertising agency, its current occupants are an even better fit – most of the building is now rented by Google.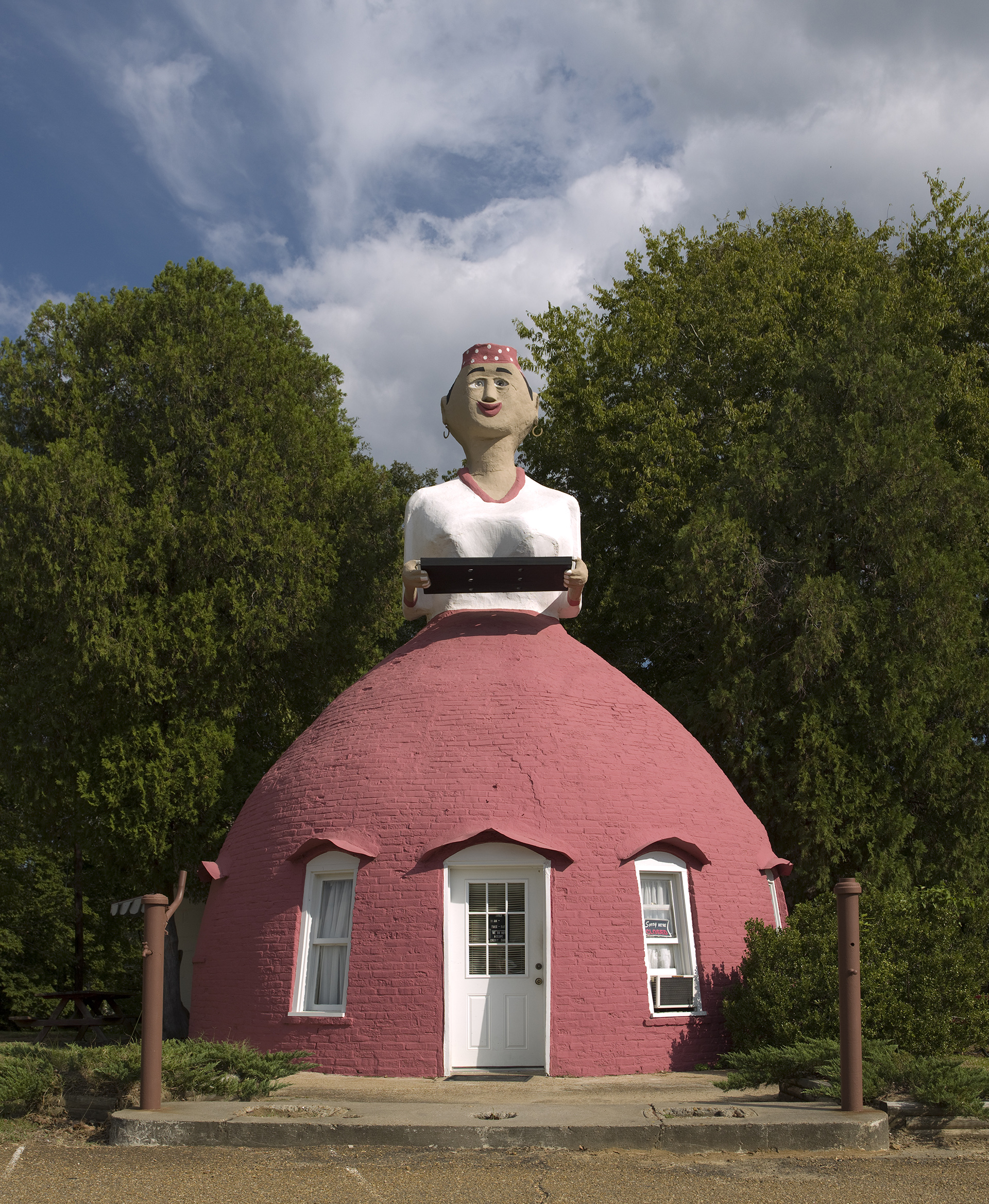 Though, at first appearances, this restaurant is just another piece of goofy roadside Americana, Mammy's Cupboard on outside Natchez, Mississippi has long been a battleground of racial politics.
To an outsider, unfamiliar with the language of racist Southern stereotypes, her welcoming appearance may seem inoffensive. But placed in the context of fictional black matriarchs such as 'Aunt Jemima', it is easy to see why this particular cafe is considered painfully anachronistic.
Despite being repainted to a lighter shade during the civil rights movement, this late 30s cafe still serves as an unhappy reminder of its era – when smiling servility was expected, and hospitality was valued far more than human dignity.
For a holiday into the furthest reaches of novelty and scale, China is the ideal location. A rallying economy and building boom has littered the landscape with projects that out-scale and out-weird any mere American skyscraper.
Not only this, but President Xi's China has also produced a raft of eery replicas – think the full-scale Eiffel Tower outside Tianducheng, or the 'bigger and better' London Bridge which spans the Suzhou river.
But for my money, the Chinese-built environment is at its best when it is totally and uniquely Chinese. It is for this reason that I can't help but love the Chinese Ecological Center, in Jiangsu Province. Crouched ominously on the misty shores of the Yangcheng Lake, the building takes the form of a colossal Mitten Crab – a species which mates in famously large numbers nearby.
Against the glossy, high-tech futurist grain of many Chinese public buildings, it is resolutely regional. Despite being completed as recently as 2018, the crab seems almost a throwback to the roadside motels, diners, and casinos of 20th century America. It shares America's postwar sense of honesty, pride, exuberance and folly. Like all good mimetic architecture, it is gloriously stupid.
It is proof, if any more were needed, that modern China is learning from Las Vegas.