On the Road | What Happened When Glastonbury's Beat Hotel Went to Morocco
The crew behind the Beatnik-themed stage have started their own festival. Amuse went to check it out
Photo: Dan Medhurst
It should be one of those 'pinch yourself' moments. I've just watched Irvine Welsh read a chapter from his Trainspotting sequel in the voice of Francis 'Franco' Begbie. Only it wasn't so much a reading as a performance - Welsh spitting Begbie's ultra-violent inner-monologue with such anger that the crowd starts to shift nervously in their seats, as if the character could leap off the page, or the author himself might start swinging at them.
Outside, I fall into step with another of my literary heroes, DBC Pierre, who's been talking about his Booker Prize-winning novel Vernon God Little alongside Welsh. From somewhere over the wall of the hotel compound, a muezzin starts up the call to prayer, his opening allahu akbar mixing, somewhat incongruously, with the deep bassy whomp of a nearby soundsystem. As we talk, Pierre poses for photos with Welsh, and rolls a cigarette - a necessity after last night's partying, he explains. "Right," he says, as he licks and lights it, "let's sit down, grab a coffee, and then I want to go and watch Andrew Weatherall."
"This is where Ginsberg, Burroughs, Kerouac et al famously came to escape from the moral strictures of life in the States"
It's certainly far from your average Saturday afternoon. But at the Beat Hotel Marrakech, these moments seem to come around with such regularity that if you were to actually keep pinching yourself, you'd end up with more marks on your arms than one of Begbie's gang.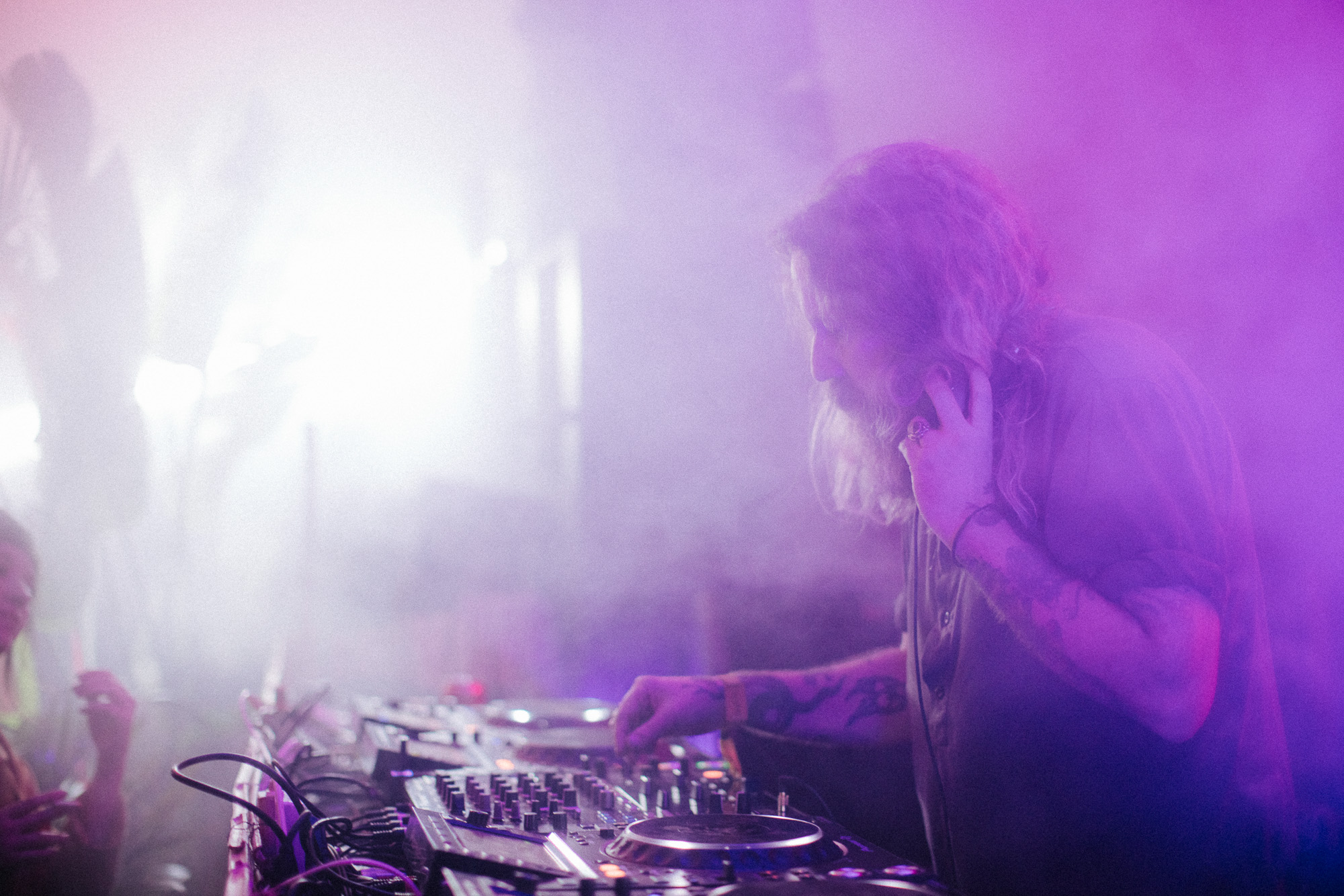 Growing out of the Glastonbury stage of the same name, which has entertained after-hours ravers with its 1950s Beatnik Motel theme since 2011, the Beat Hotel Marrakech represents the first attempt at replicating the concept as a full-scale festival in its own right.
Morocco was famously the place where Ginsberg, Burroughs, Kerouac et al came to escape from the moral strictures of life in the States, and their chosen festival site, about half an hour's drive south from the souks of central Marrakech, feels like it could have been custom-made for the event.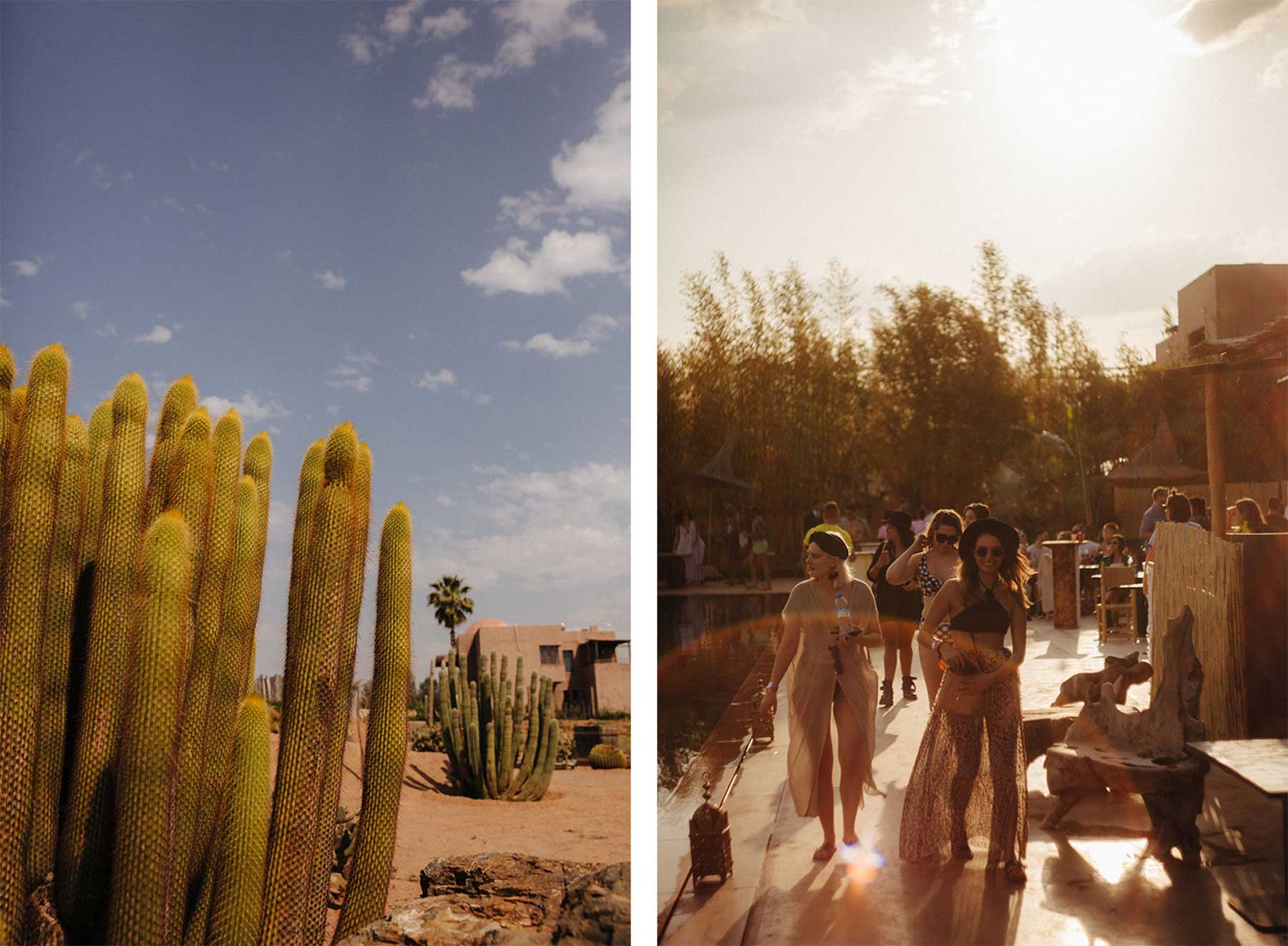 An actual hotel, the Fellah is a collection of red, low-rise buildings arranged around swimming pools, and linked by cactus-strewn paths. Outside, a collection of objets trouvés, including the wreckage of an old Mercedes, are artfully arranged against a backdrop which, on a clear day, includes the distant outline of the Atlas mountains. Inside, retro prints cover the walls, while low sofas, patterned cushions and carpets seem to invite languid, smoke-wreathed lounging. If Kerouac and co were alive today, this is the kind of place they might hang out.
We're staying off-site, in a riad-style villa surrounded by citrus trees. But the fact that many of the artists are being put up at the Fellah itself helps create a collegial atmosphere. Rather than being whisked off to some closed-off backstage area when they finish their sets, the people playing stand around chatting to festival-goers, or watching whoever's on afterwards. Many of them are playing multiple times over the course of the weekend, and so stick around - meaning you're just as likely to run into Nabihah Iqbal or James Holden queuing at the bar as you are to see them over the heads of a crowd.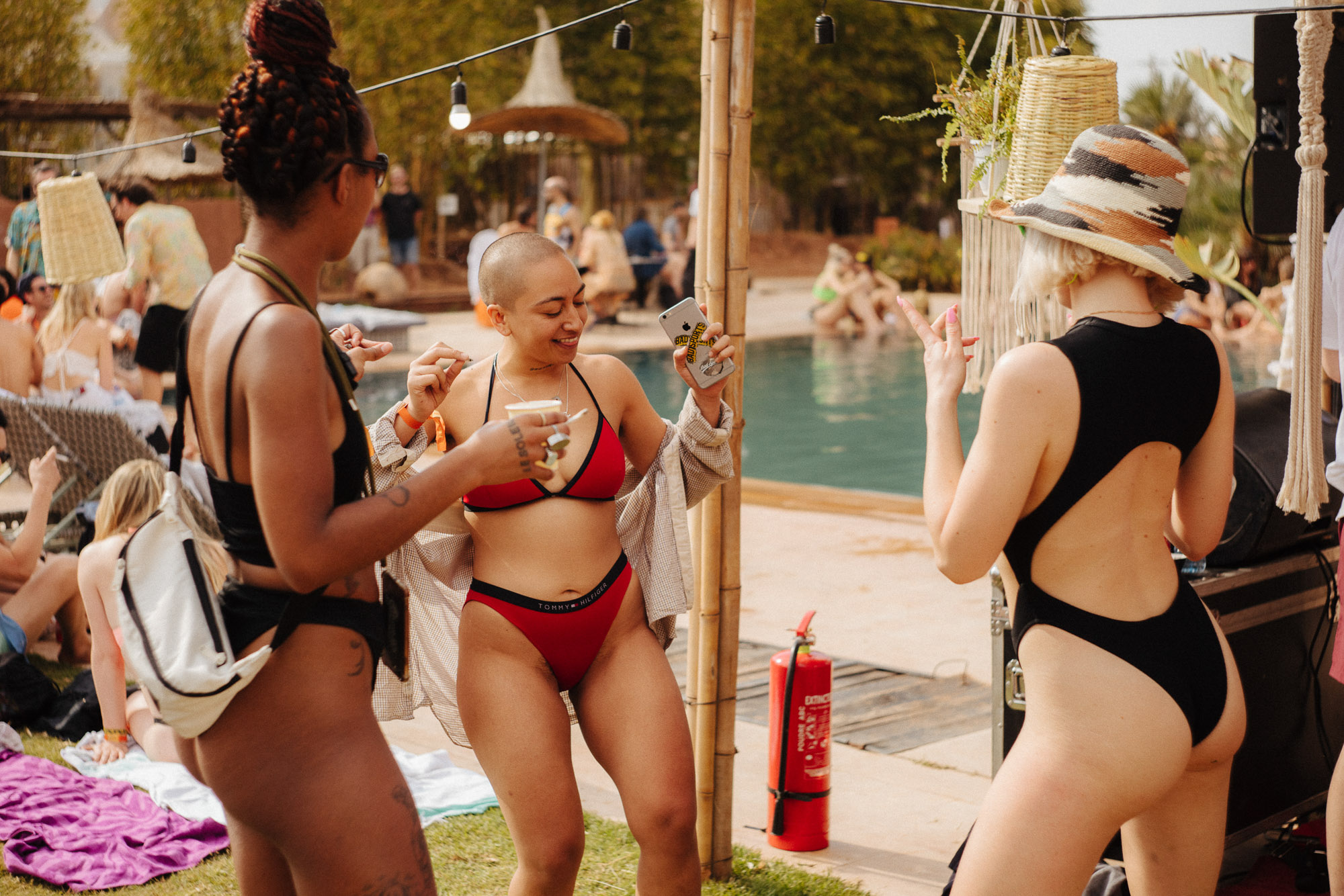 The informal vibe is enhanced by the small size of the event. The event has sold out, I'm told, but with only 1,200 ticket-holders it's definitely more at the boutique rather than the mega-festival end of the spectrum. The site isn't huge either, meaning it's easy to bump into people you've shared moments with the night before.
There's one stage by the main swimming pool pumping out tunes during the day. Another more serious rig (named San Remo after the Beats' favourite Greenwich Village bar) sits by a second pool, sparking water-based raving any time the sun is out. And then there's the main stage called the Interzone, after Burroughs' name for the international zone around Tangier, where he set Naked Lunch. With room for around 1,000 people, it's been brought set up under a massive marquee (to protect people from the rainstorms that sometimes roll through at this time of year) and designed to handle live acts as well as DJs.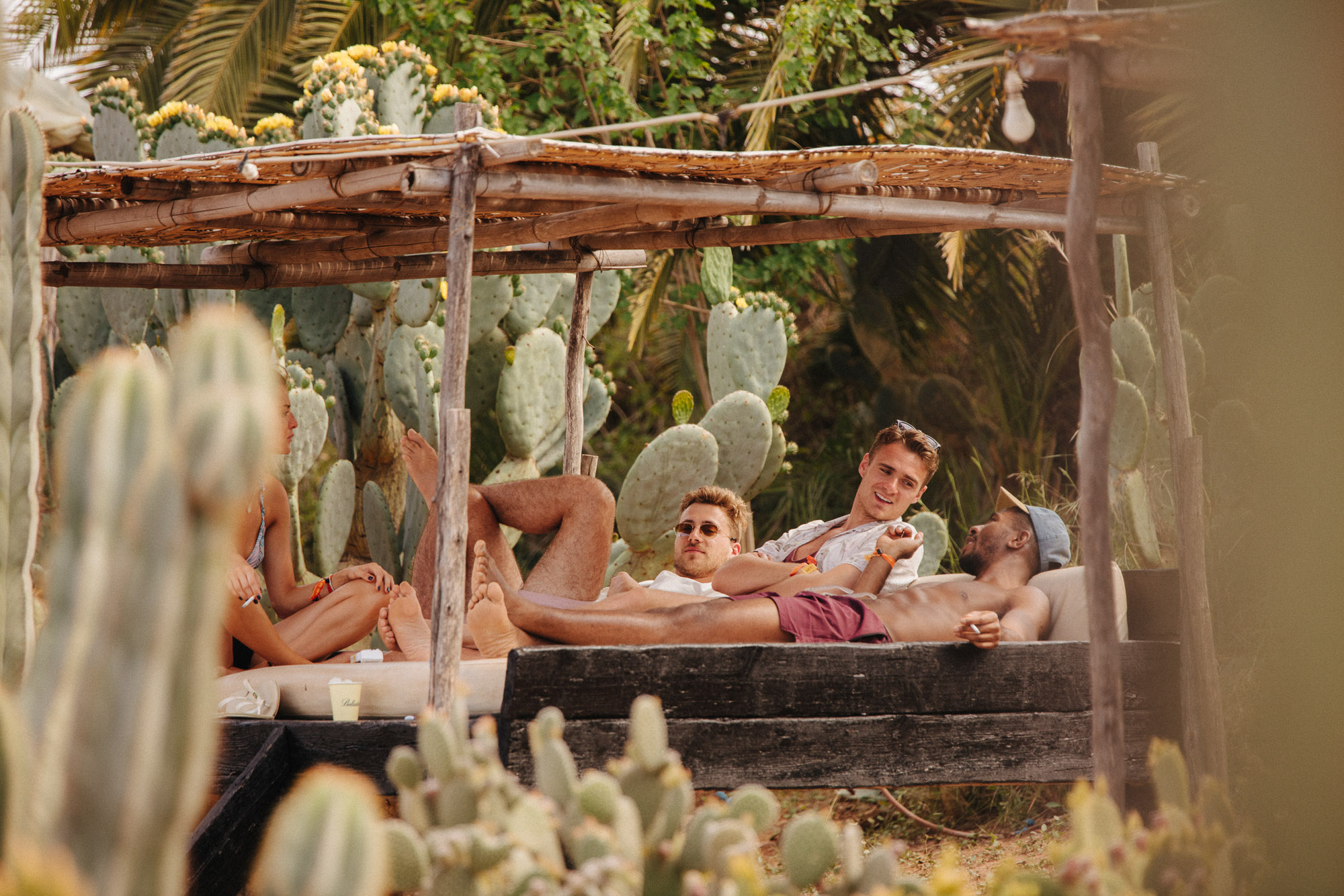 It's here that Maribou State will whip the crowd into a frenzy on Saturday night with euphoric anthems from their recent, travel-inspired record Kingdoms in Colour . It's also here that Mercury Prize winners Young Fathers will play arguably the set of the weekend. Afterwards drummer Steven Morrison describes it to me as a "stripped back" performance, but the sound is still huge. And if anything the vocals feel even more visceral and raw against the simpler arrangements.

It's not just the stage setups and soundsystems that are impressive either: The daytime banquets put by the likes of Brixton's Salon restaurant, the walking tours of Marrakech, the yoga classes... everything seems to run pretty slickly. The DJs think so too. As rising star HAAi tells us, "in terms of an artist playing, everything's been airtight. It must be so stressful putting on a festival in a country for the first time. But yeah, they're doing an amazing job, this feels great".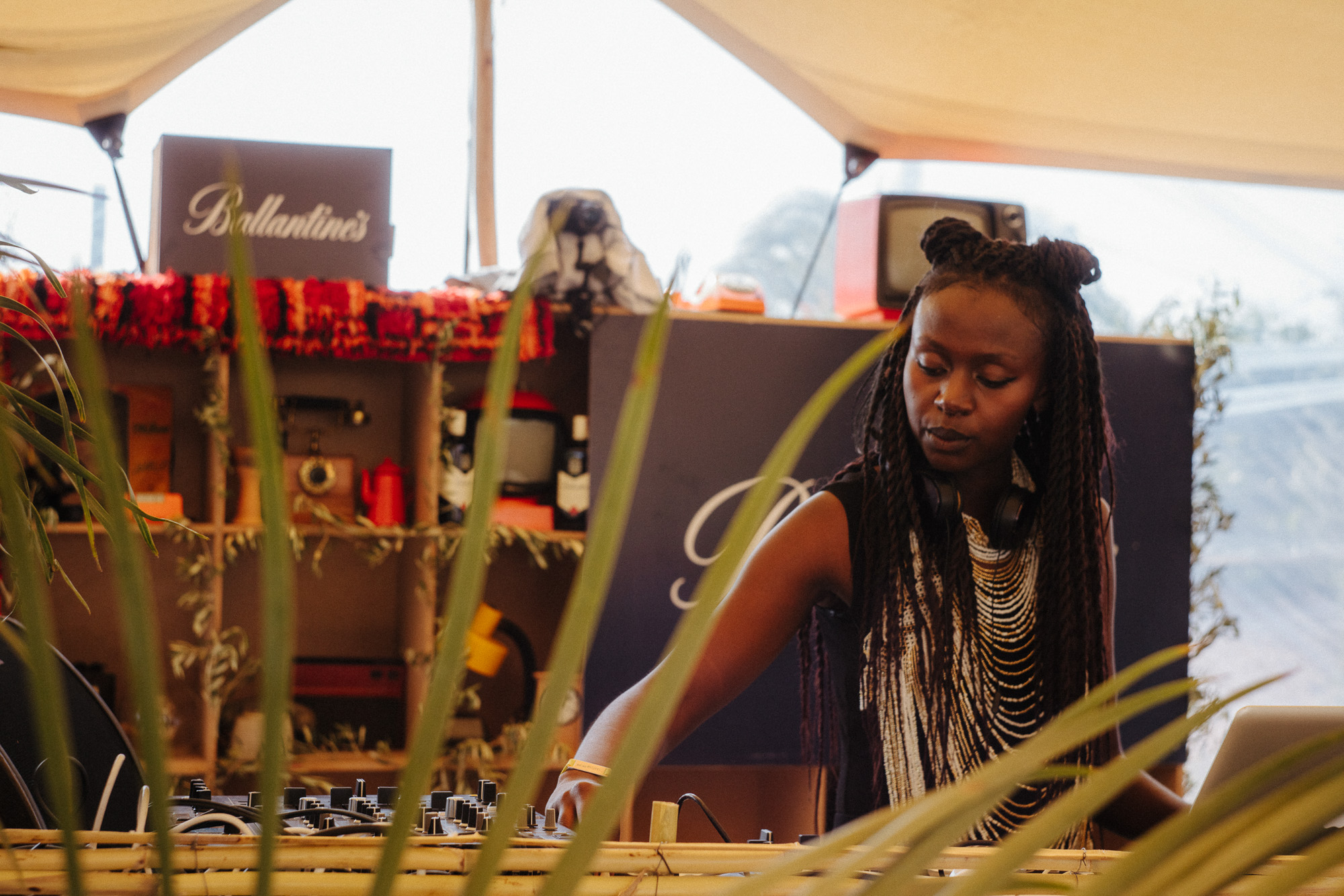 She's not wrong however, about it being hard work. Putting on something like this anywhere would be a huge logistical challenge. Doing it for the first time in a place like Morocco, where event infrastructure isn't what it is back in the UK (to put it mildly) makes it doubly complicated. As Nick Griffiths, one of Beat Hotel co-founders, says: "If you knew what it actually involved - putting on any kind live event - and thought too much about all the ways it could go wrong, you probably wouldn't do it".
But he and his team have undoubtedly been helped by the fact that this isn't the first festival of its kind in Marrakech. Oasis, organised by a group of expatriate Moroccans living in New York, is now in its fifth year. "They and Atlas Electronic [another locally-organised festival] paved the way for sure," says Nick. They've also been able to tap into the expertise of the fast-growing local electronic music scene that gave birth to those two events. The bulk of their stage production crew are Moroccans, and they've worked closely, with Casa Voyager, a label from Casablanca, who helped them organise warm up parties.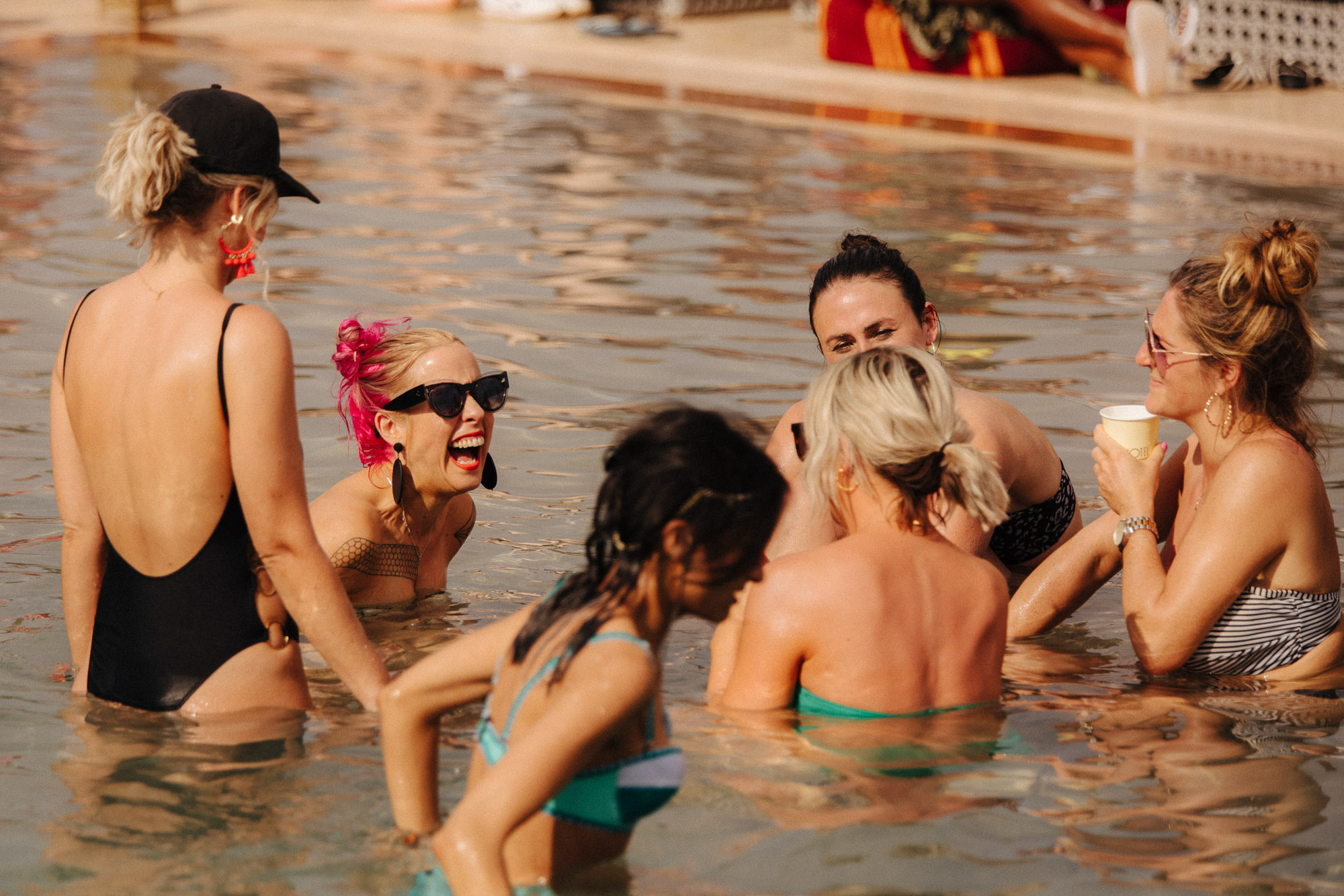 Morocco might not be the first place you think of when it comes to cutting edge club music. "But there's a scene here for sure," says Camille, who along with her colleague Gigi runs La Confiserie Sonore - "the only radio station playing electronic music in Morocco". "The scene is small, but it's good and it's growing." Festivals like the Beat Hotel, the pair say, will only help. "Compared to Oasis this is smaller," says Gigi, "'cos that's like 5,000 people. But it's more familial - there's a friendlier vibe."
Of course, overcoming the logistical issues thrown up by their choice of location is just one of the challenges a festival like Beat Hotel faces. Any time you have a group of privileged, predominantly white, westerners flying into a place like Morocco for a party, there's a danger that it will become an event that's 'exclusive' in the worst sense of the word.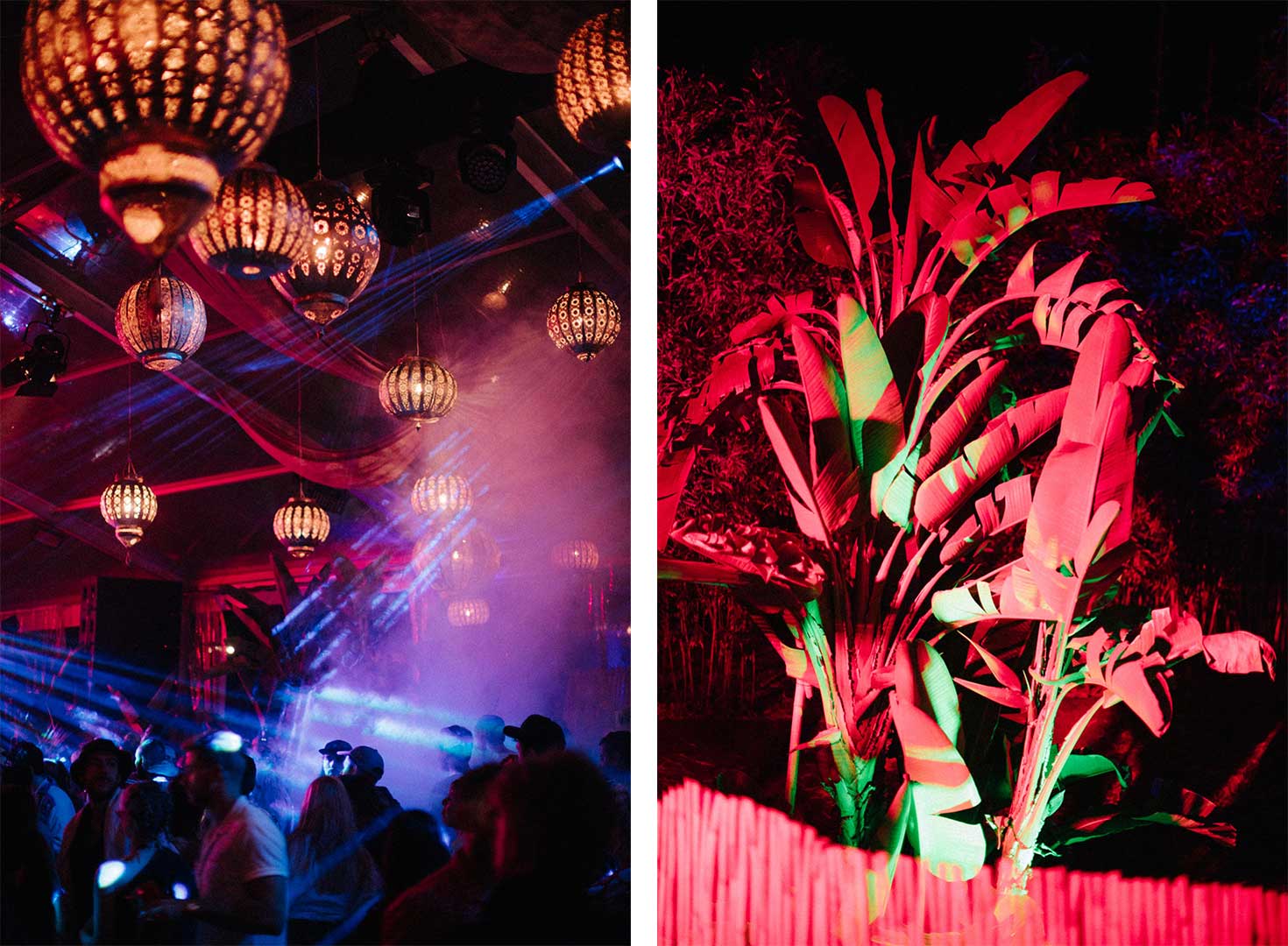 Certainly the crowd at Beat Hotel Marrakech is very British, if not London-centric. This is perhaps inevitable given the event's origins as a Glastonbury stage, but at one point Amuse's senior photographer tells to the guy next to him in the kebab queue that he lives in Tottenham. "Hang on," comes the faux-outraged response. "You're not from Hackney? Are you even allowed to be here?" The potential pitfalls of white privilege have, of course, become all the more glaring for any foreign festival in the wake of Fyre, and the ensuing documentary takedowns.
Thankfully, this is something that the Beat Hotel organisers are well aware of. "We didn't just want to take the Glastonbury experience and stick it in Morocco," says Nick. "It was important for us to create something that had a strong local flavour."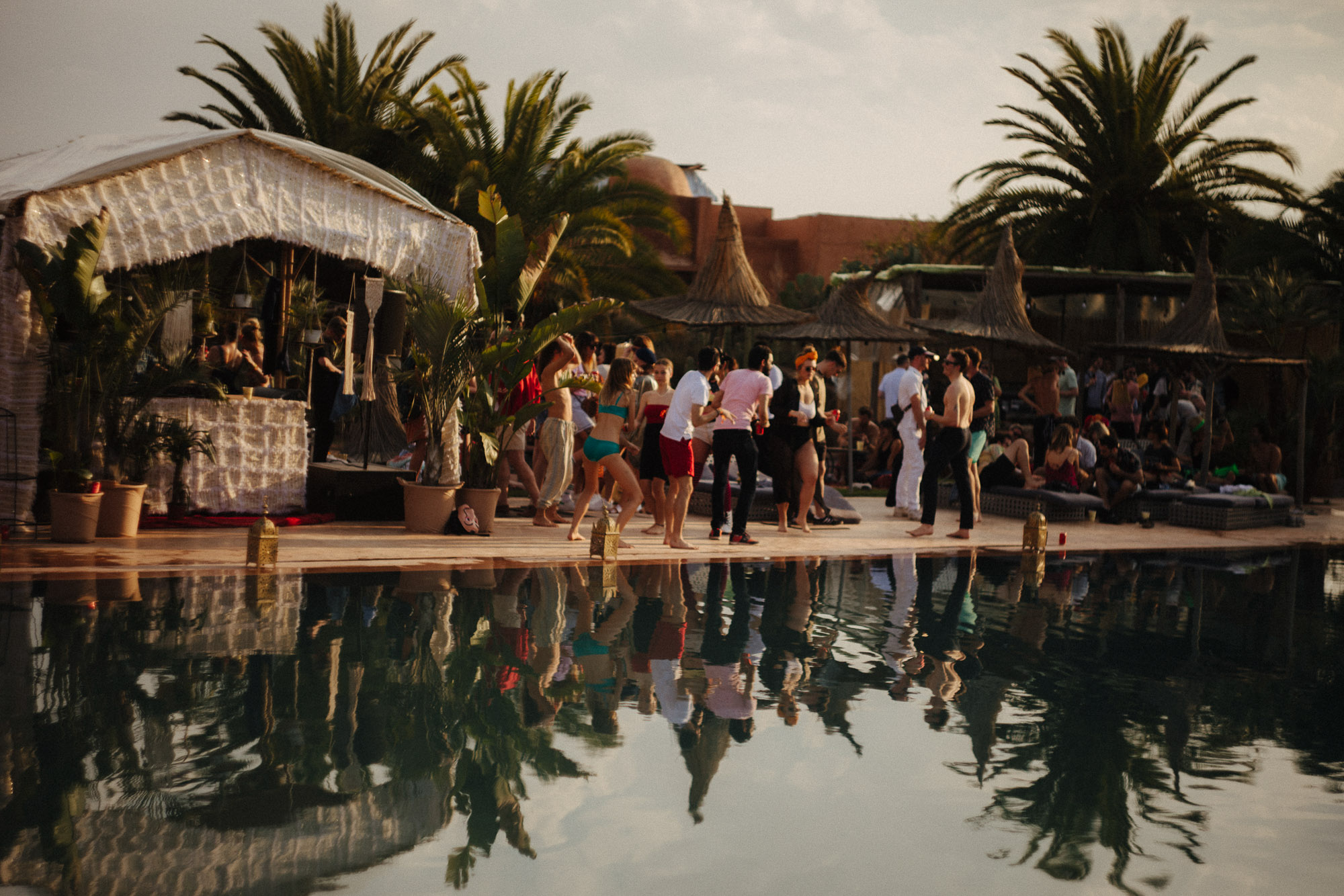 As well as teaming up with Casa Voyager, and booking several of their artists, they decided to give top billing on the opening night to the Master Musicians of Joujouka, a group of Jbala Sufi trance musicians who have been around long enough to have worked with Brian Jones, and even William S. Burroughs himself. Their atonal, percussive music was, Nick admits, "a bit polarising," for some but, he says, they're "a really important booking [because] they're the living musical link between Morocco and the Beats."
Certainly their bookings get the seal of approval from the Confiserie Sonore guys. "They haven't booked like the number one biggest DJ in Morocco," says Camille, "but the guys they've got are the cream of the crop for sure".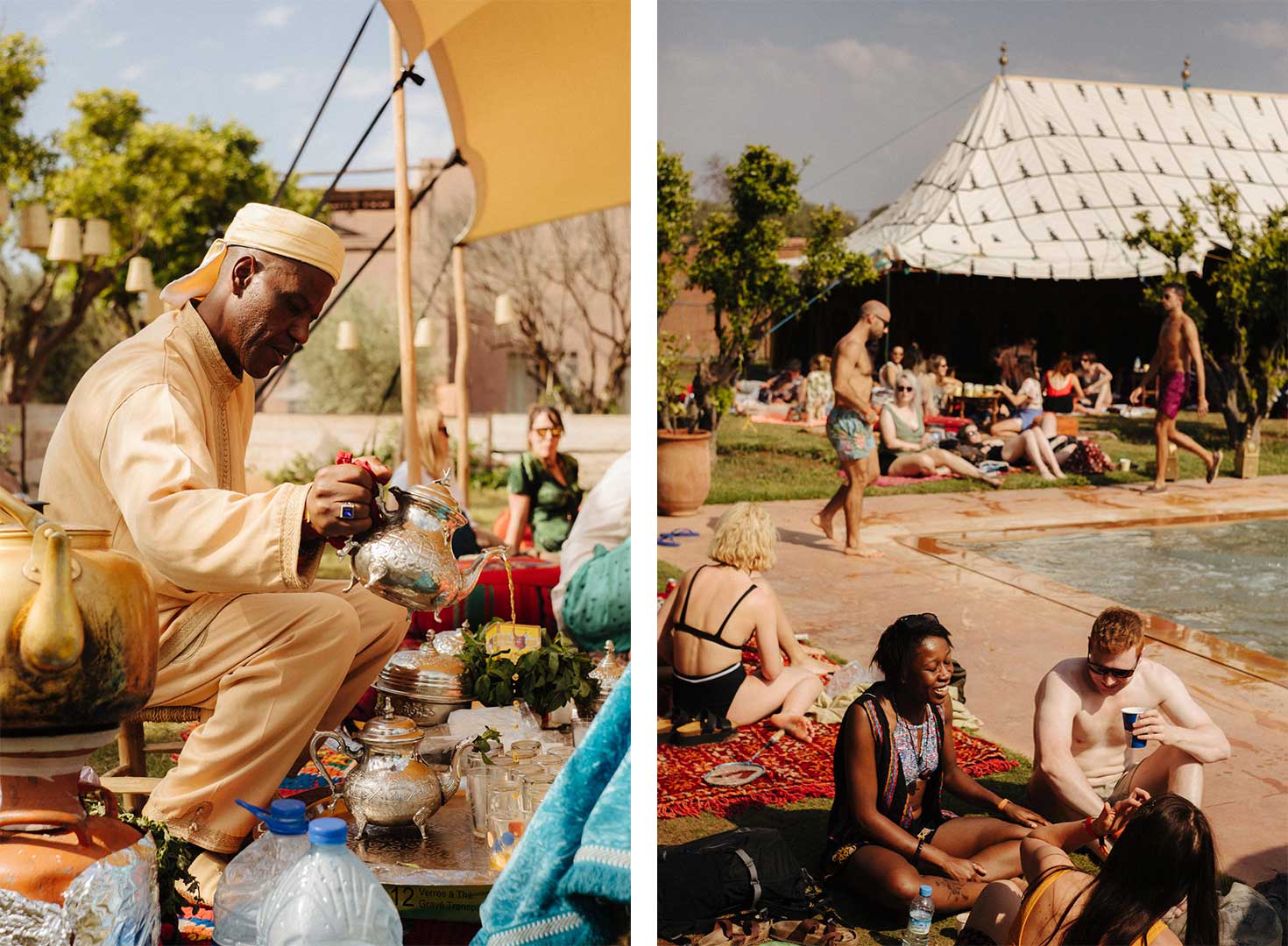 Despite this, there still aren't loads of Moroccans at the Beat Hotel. The numbers are swelled slightly on the Friday and Saturday by people taking advantage of the cheaper, 350-dirham (€33), day tickets on offer, but I'm told that of the 1,200 tickets sold, perhaps only 200-300 were to locals.
One of those is Abdul, the owner of our villa, who joins us on the Saturday night. As an observant muslim, he powers on through 'til four in the morning fuelled by nothing but cans of Red Bull - and then jumps in his car to drive home. With family in New York and properties that have hosted Wycliffe Jean (amongst others) he's no stranger to parties. And yet, the following morning, he texts us saying that was "one of the best nights he's ever had".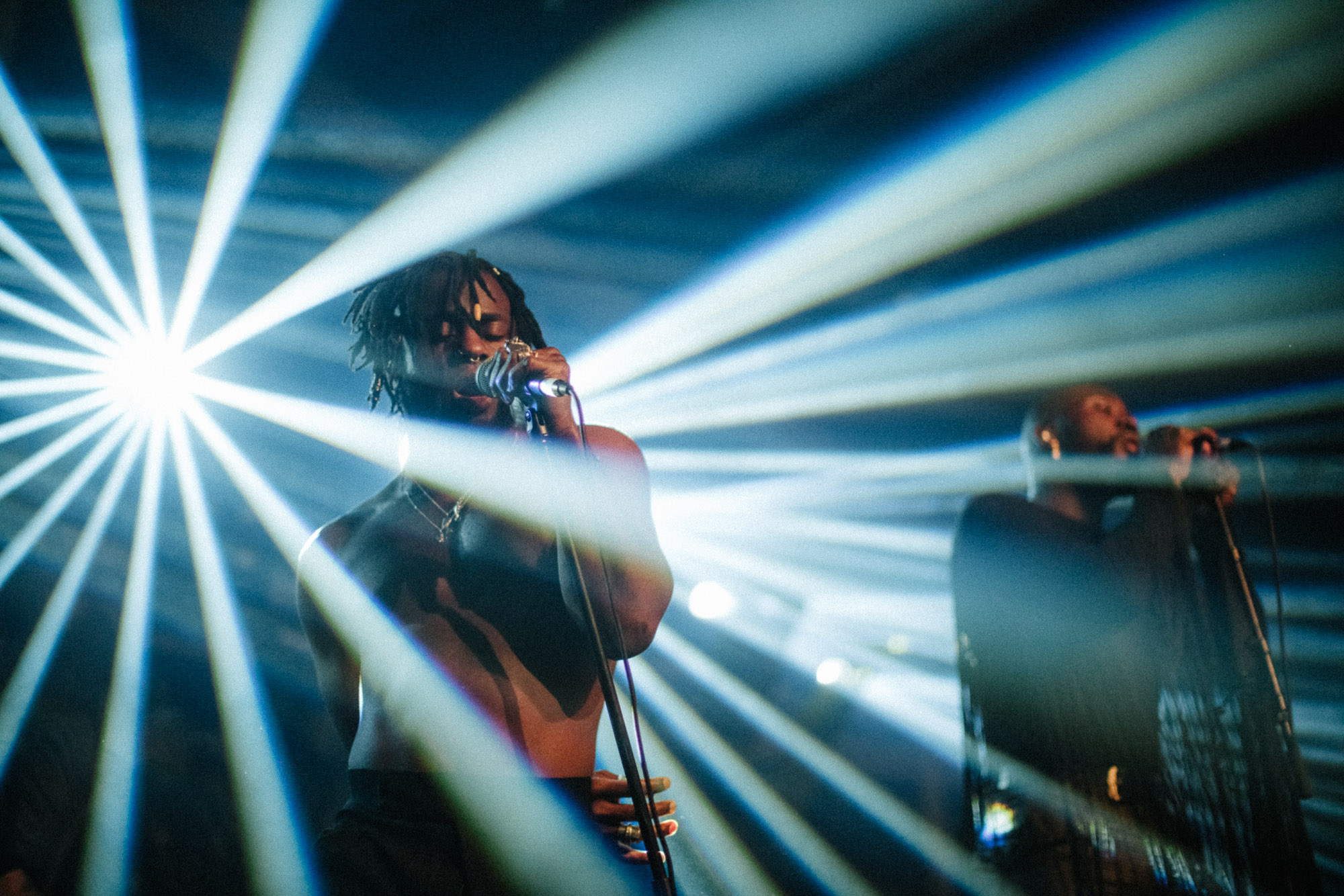 The hope is, of course, that word-of-mouth recommendations like this will spread, and Moroccan ravers like Abdul will become the rule rather than the exception - helping to dispel the impression that this is just East London decamping to the desert. Certainly a look at the trajectory of existing festivals suggests that now that it's established, locals are more likely to get involved at the next Beat Hotel. "At Oasis there were more Marrakech locals - like 50 per cent or something," says HAAi, who's played both events. "But that's been going a lot longer. Once this settles in, after a few years I feel like more people from Morocco will come for sure."
Waking up on Sunday - liver battered, lungs bruised and brain fast turning to mush - I find myself wishing I'd taken a leaf out of Abdul's more abstemious party playbook. But it's nothing that a few glasses of his freshly squeezed lemon juice (from the trees outside the villa no less) can't rectify - especially when mixed with a healthy slug of vodka. And anyway, there's too much going on to wallow for long.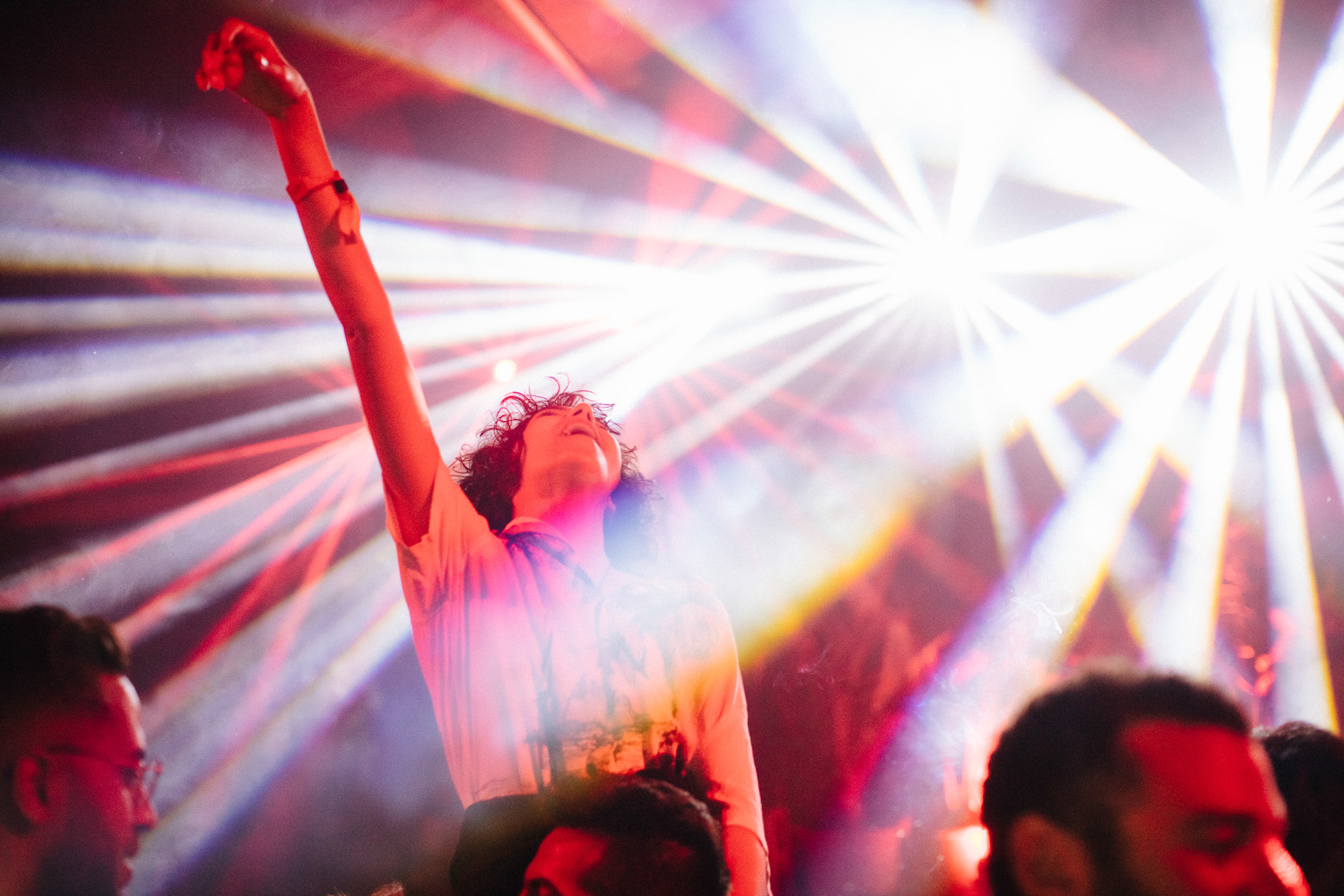 That evening I'll run into DBC Pierre again, and spend several hours putting the world to rights. That afternoon, I'll stand next to a swimming pool, watching boardshort-and-bikini-clad fellow ravers throwing shapes to the sounds of Gilles Peterson, who cooks up one of his all time great sets for the occasion.
People are dragged out of the pool and onto the dancefloor as he builds to a climax. At the back of the crowd, two school-age kids from a nearby village who've climbed a tree to watch. His final tune - Marvin Gaye's Ain't No Mountain High Enough - sends everyone, including the kids in the tree, into raptures.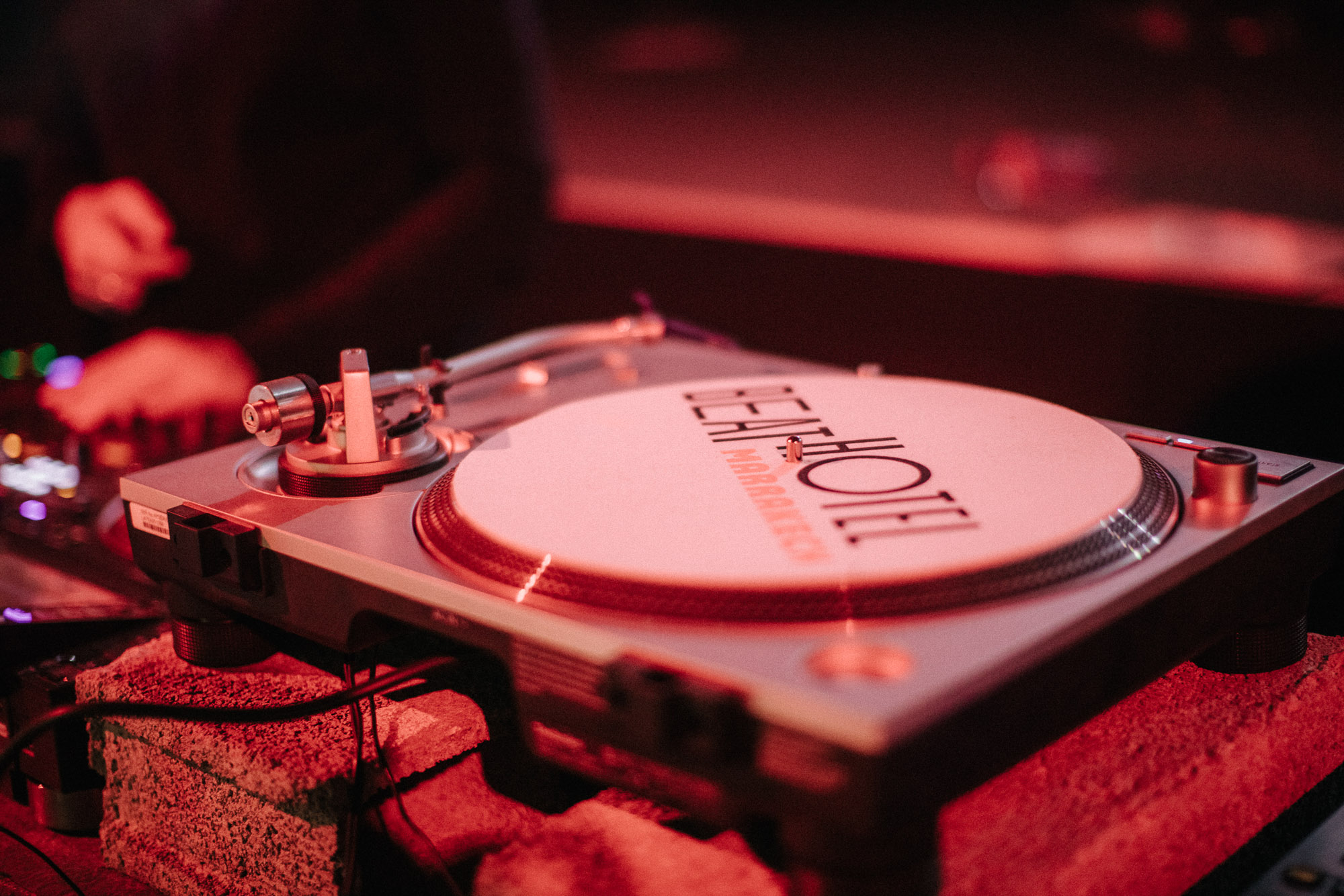 And then someone has a word in his ear and says "you can go on for one more". Give the people what they want. And so Gilles does, dropping an absolute hammer of a jungle track. When the inevitable rewind comes, he grabs the mic and tells us: "This tune is so rare that Roni Size doesn't even have it, and he made it! He lost this vinyl, and I found a copy."
It's an exclusive made available to everyone. Cutting edge, but not pretentious. And when he's finished, Peterson steps off the side of the stage and just starts chatting to the people who were raving the hardest at the front. It's yet another of those brilliant Beat Hotel moments, and once again, I'm tempted to pinch myself. But instead I down my drink, roll a cigarette, and head off towards the Interzone in search of the next one.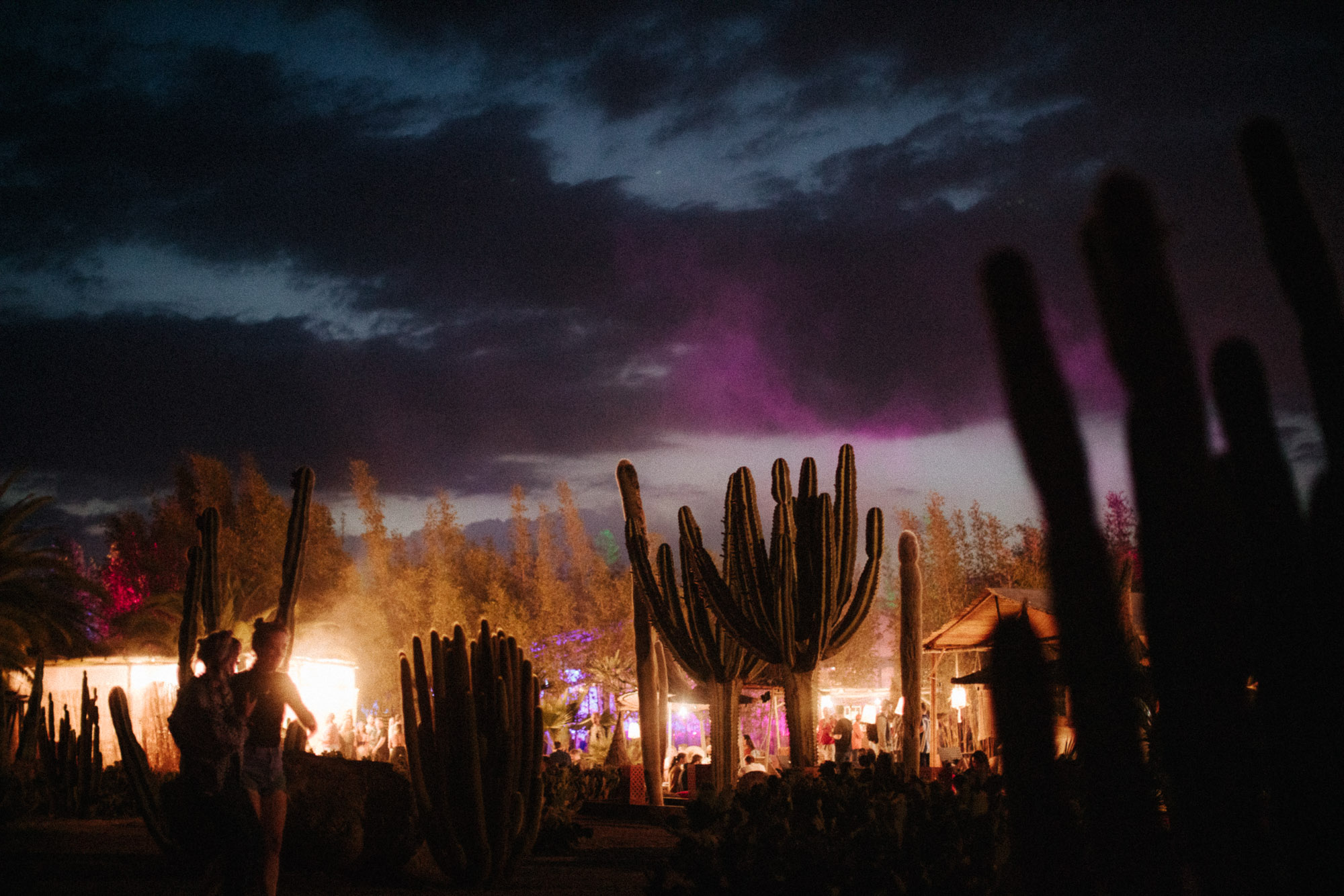 Tristan travelled to Morocco as a guest of the Beat Hotel Marrakech, and stayed at the Riad Ayat as a guest of Oliver's Travels. For details of next year's festival keep an eye on the Beat Hotel website and their Instagram.