Banal Beauty | It's Time to Rethink What You Know About Benidorm
Roberto Alcaraz's striking images will make you see the package holiday destination in a whole new light.
Welcome to Benidorm. The city on the Costa Blanca attracts over 1.5 million Brits each year, and according to Guardian journalist Giles Tremlett "is to package tourism what Las Vegas is to gambling—the undisputed capital of the world."
For some tourists, it's a beer-and-beach paradise. For others, it's yet another Spanish city colonized by boozy Brits, completely bereft of culture. The Spanish call them guiris—the colloquial term for foreigners on package holidays, at least the ones who wear socks with sandals, sunburn easily, and swallow litre after litre of sangria.
Benidorm, as you may know, has a reputation for being a guiri magnet. Picture this: A bar adorned with St George's flags that serves John Smith's Smooth Bitter, slap-up English breakfasts and has Sky TV to boot. A beach that's rammed with red-faced tourists with swollen bellies who can just about muster three words in Spanish, those words invariably being, Cerveza, por favor!
"The Spanish call them guiris— foreigners who wear socks with sandals, sunburn easily, and swallow litre after litre of sangria."
One man shirking these stereotypes is Roberto Alcaraz, a Spanish photographer who's been shooting Benidorm for over 30 years.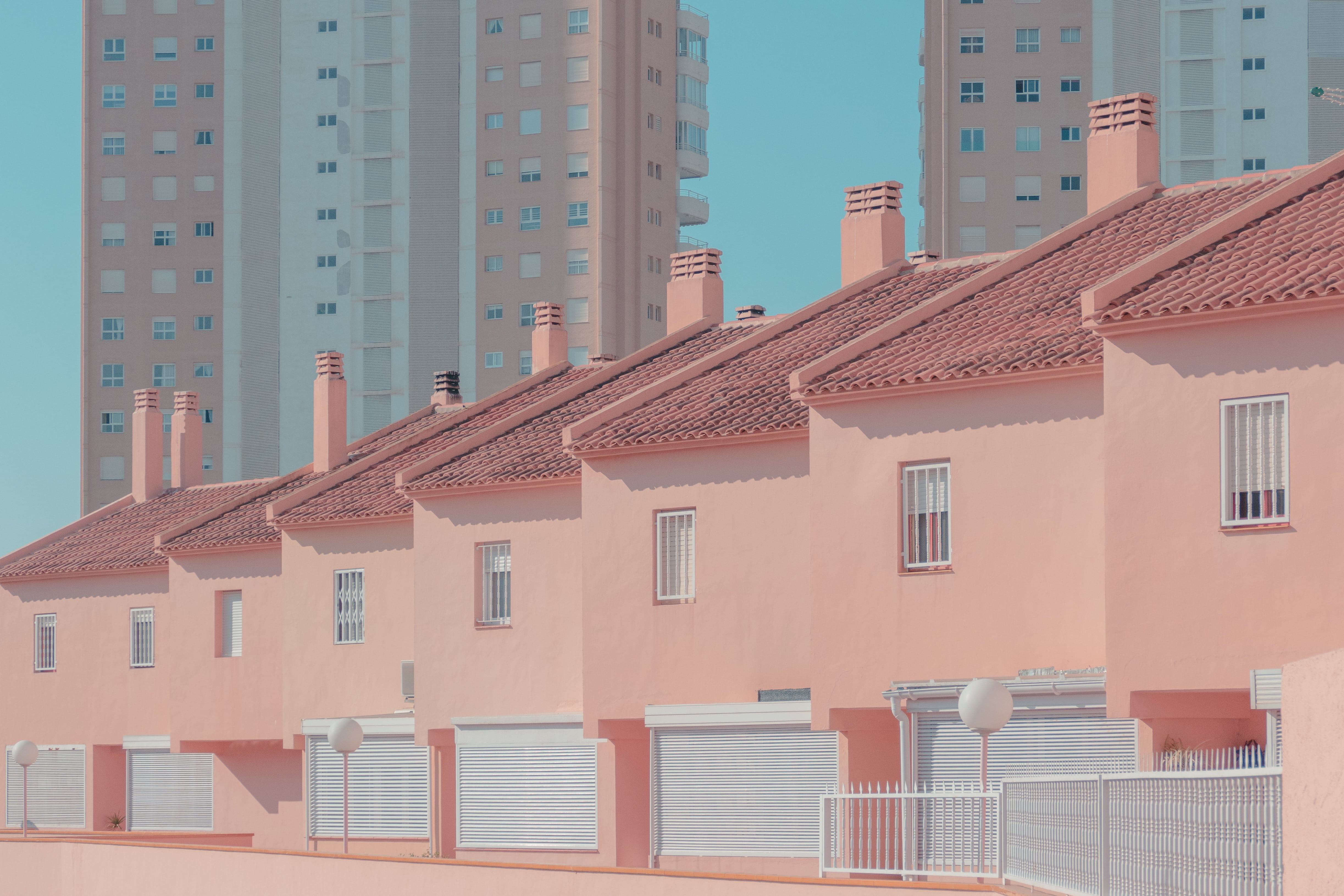 Last year, Alcaraz started Benidorm Dreams, an Instagram account dedicated to showing you a different side of the Costa Blanca. Described as "ordinary places, ordinary things, ordinary pics", the account features photos with strikingly simple compositions, your attention drawn to the sharp lines and angles that characterize the city's brutalist architecture. One shot shows a tightly framed close-up of a skyscraper, its honeycomb structure and bulbous balconies viewed in vivid detail. Another shows a row of peach-coloured houses dwarfed by two high-rises, the street deserted as if the apocalypse were imminent.
What is it about Benidorm that captures Alcaraz's imagination? "You can see from my pictures that I like ordinary things," he tells Amuse, "and Benidorm is extraordinarily ordinary." He grew up in Villajoyosa, just eight kilometers from Benidorm, but worked in the city for several years and knows it inside-out.
"Benidorm is a very touristic city with a population of 67,000 inhabitants that rises to 400,000 in high season. I'm interested in places that grow without any urban regulation; I like to see how the chaos manages to succeed." In the places he chooses to shoot, he says, "there's a lack of regulation. That's my principal subject and I find it in a few cities, but Benidorm is the temple."
"I find this in a few cities, but Benidorm is the temple"
And yet, scrolling through Benidorm Dreams, there's nothing chaotic about the photos and their formal simplicity. Whether his frame is dominated by the pale blue Spanish sky or by an expanse of blank wall, the work offers a breather from the chaos of the city and its rowdy holidaymakers.
There's a reason for that, he explains: "It's that I like to imagine my own regulation of [the urban planning], to give a particular point of view that would bring an aesthetic order." The result? Oddly soothing photos of the city that reveal its banal beauty—brash but beautiful buildings, framed with delicate precision, bathed in the warm glow of the Mediterranean sun.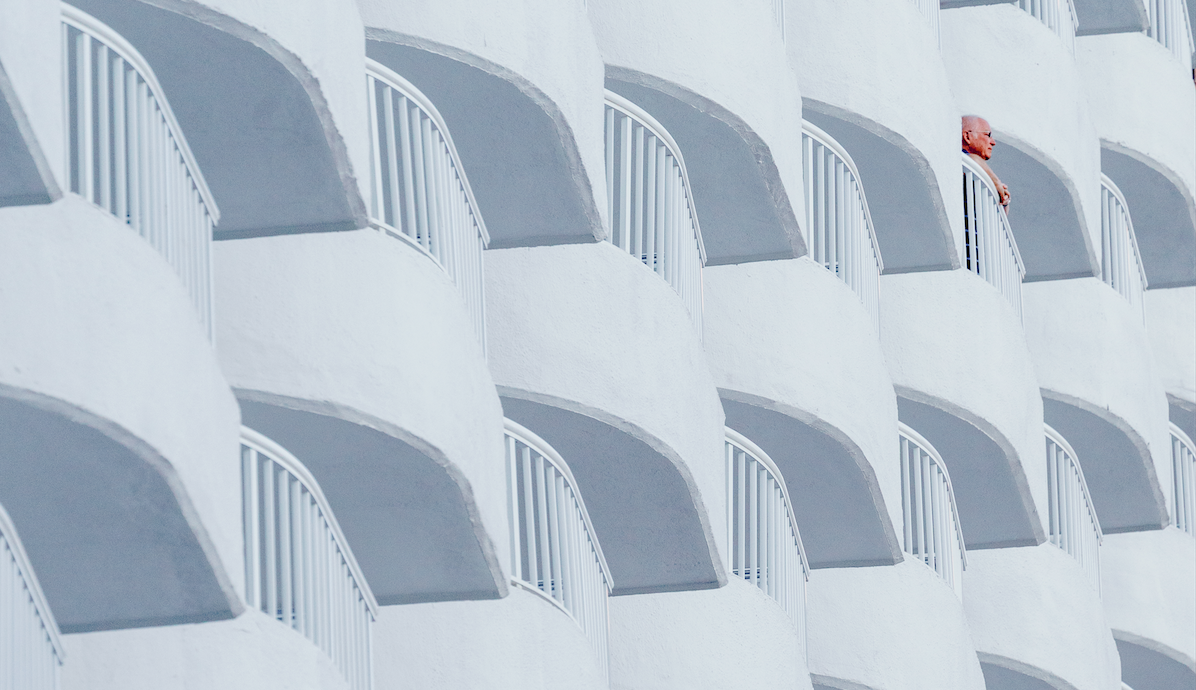 The buildings in question aren't exactly universally loved. On Trip Advisor there's no shortage of negative comments—"Ugly apartment blocks everywhere!" is a common criticism. And it's true: Benidorm's skyline is jam-packed with over 330 high-rises. It has the most high-rise buildings per capita in the world in fact, including The Gran Hotel Bali, whose 52 floors make it the tallest hotel in Europe, and the infamous InTempo, a skyscraper once voted among Spain's Top 10 Ugliest Buildings.
By sharpening his lens on concrete 'monstrosities' is he showing people the beauty in Benidorm that they fail to see? "It's possible," he says, "but I don't think about other people when I'm shooting." Instead he explains, "Several years ago a cinema critic said, 'I love to find good scenes in really bad films'; that's basically how I see my work in Benidorm. I don't like this city, but I try to find fragments of beauty. I'm really interested in this contradiction."
In Alcaraz's meticulously framed photos, you almost forget the hard-to-shake reputation of the city. Think of ITV's award-winning sitcom Benidorm, in which the city is depicted as a beach-and-booze bliss catering to those aforementioned guiris; or Martin Parr's late-90s project on the city, in which he zooms in on its cartoonishly grotesque side, his frame packed with portly sunseekers.
"Make no mistake: these views of the city are rooted in reality"
Make no mistake: these views of the city are rooted in reality. Tremlett, in his 2006 book Ghosts of Spain: Travels Through Spain and Its Silent Past, states that "Benidorm exists for, and because of, foreigners." He characterizes them as, "A fresh invading horde, sun-hat and sandal-wearing northern European tourists, [that] has rampaged its way along this coast over the past 40 years … Jointly they have vandalized what was once one of the most beautiful spots on the Spanish coast."
Juan Peces, a Madrid-based photography writer, says that Alcaraz's uniqueness lies in his refusal to view the city through this more familiar lens. "While Parr focused on the satire in his depiction of the universal beach, Alcaraz has extracted his very personal essence of life and architecture in the coastal resort. Like Spanish photographers Ricardo Cases and Cristóbal Hara, he's building his own visual dictionary." What does Peces admire most about the work? "Alcaraz's ability to paint a dreamy atmosphere in a place that seldom gets recognition from an aesthetic point of view."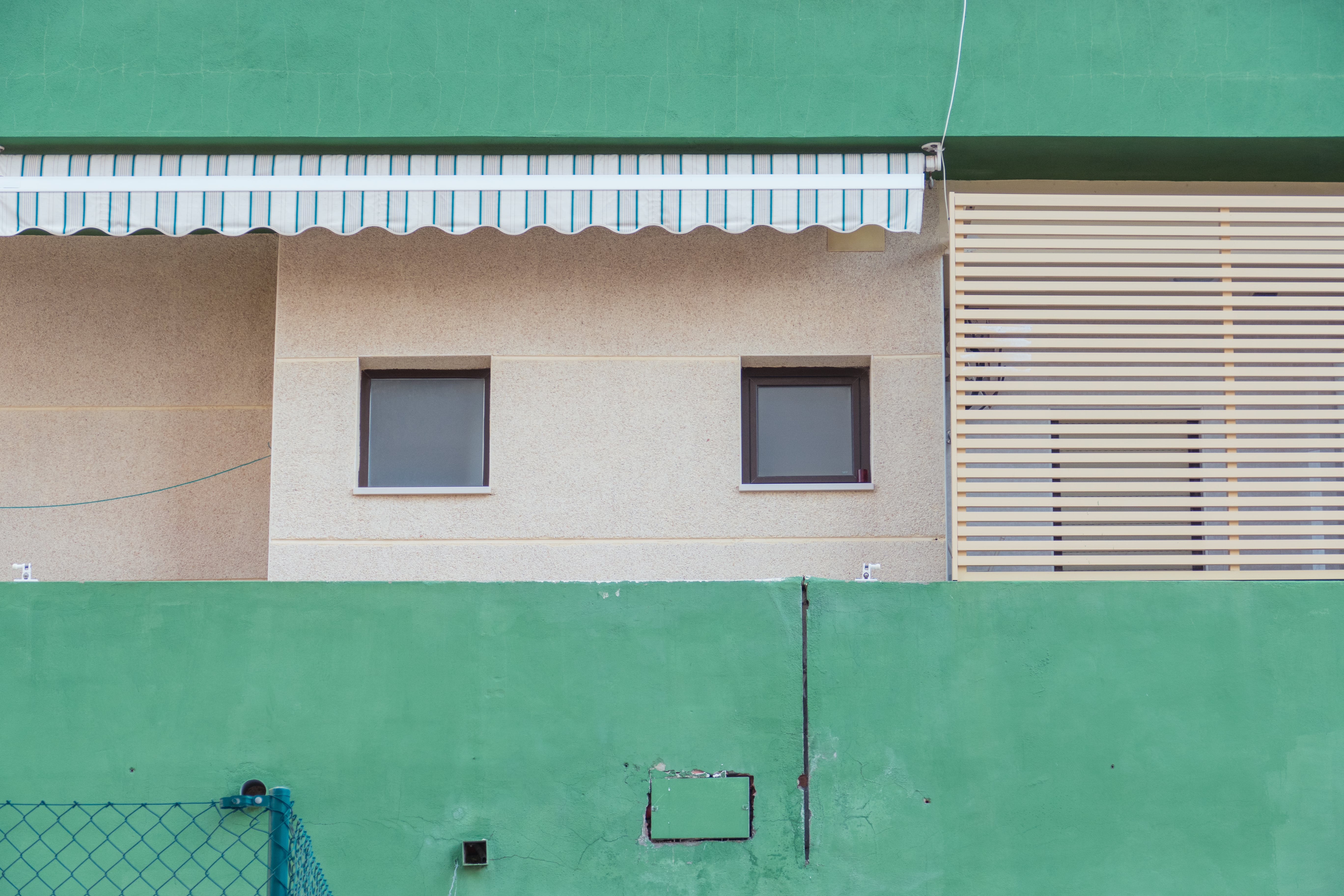 Fernando Peracho, Director of Valid Foto BCN Gallery, one of Barcelona's premier photo galleries, thinks Alcaraz's architectural curiosity and his work's minimalist simplicity are its strong points. "In these photos, you can see the graphic expressions of the 'non-place', a term used by the French philosopher Marc Augé," he says, "where decontextualized and minimalist images have been presented and the place where they've been captured could be in any part of our globalized world."
Peracho, too, brings up Martin Parr's work as a point of comparison. When I ask Alcaraz, he confirms the British photographer is "definitely an inspiration to me," along with Edward Hopper and David Hockney. Yet there's a marked difference between the photographers: where Parr fills his frame with cartoonish characters and excess, Alcaraz empties it, leaving only the ghostly places in which they inhabit, places that you're invited to consider as worthy of artistic merit.
It strikes me that Alcaraz is manipulating Benidorm in a sense – carefully cropping out its crazy characters – and creating his own cityscape, one that doesn't necessarily exist IRL. In doing so, he's looking beyond the tongue-in-cheek irony that shapes our own mental image of the city, stripping away the stereotypes, and offering up images of near-mesmerizing mundanity.
"Where Parr fills his frame with cartoonish characters and excess, Alcaraz empties it"
As a Brit looking in on this world, I'm still curious about what he makes of the city's infamous tourist culture, having himself grown up in its shadow. "I must confess," he says, "when I started out taking pictures of Benidorm it was from a critical point of view. But I was surprised when I showed them to people and they would tell me how beautiful they were. I was interested in that contradiction: of being critical but also creating something beautiful." Despite that critical eye, he says, "I can say that after 30 years of photographing it, I've fallen in love with Benidorm."
Follow Benidorm Dreams on Instagram.