Nailing It | How Zurich's Men's-Only Salons are Redefining Masculinity
The modern man of 2019 is booking mani-pedis in his lunch breaks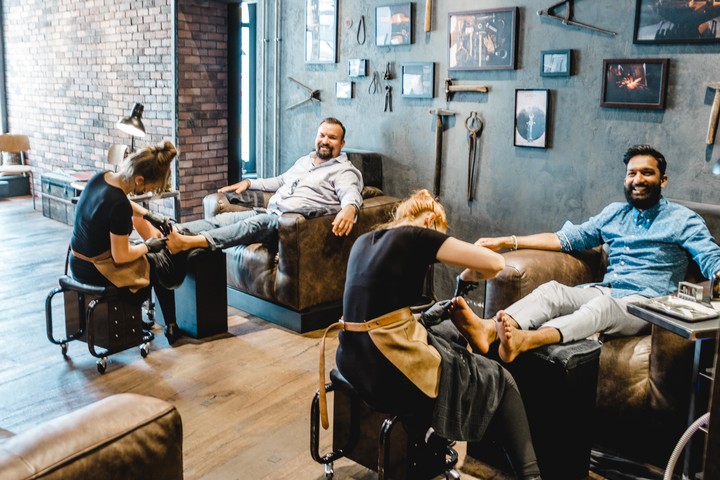 Men are increasingly interested in their appearances. You needn't go far to read about it: you'll remember David Beckham creating a stir as perhaps the first metrosexual, his Golden Balls covered by a thong, his face moisturised. Men, moisturising! 2001 could barely handle it. Britain was only just getting over the thought of men using hair wax.
Fast forward nearly twenty years and, thank goodness, there's been a masculinity renaissance, partly because of health. Wearing moisturiser isn't a lavish expenditure anymore, but simply just a good idea, just like washing your face is, and men's mental health is front page news, thanks to the encouraging work of charities like CALM.
"Grooming for men is not only getting your hair or nails done - this is taking care of yourself completely"
Luxury men's grooming salons are a trending topic. You know the score: they largely masquerade as old-fashioned barber shops, and offer a range of grooming services and products for the face, hair and beard, and have been doing so for a number of years in most big cities.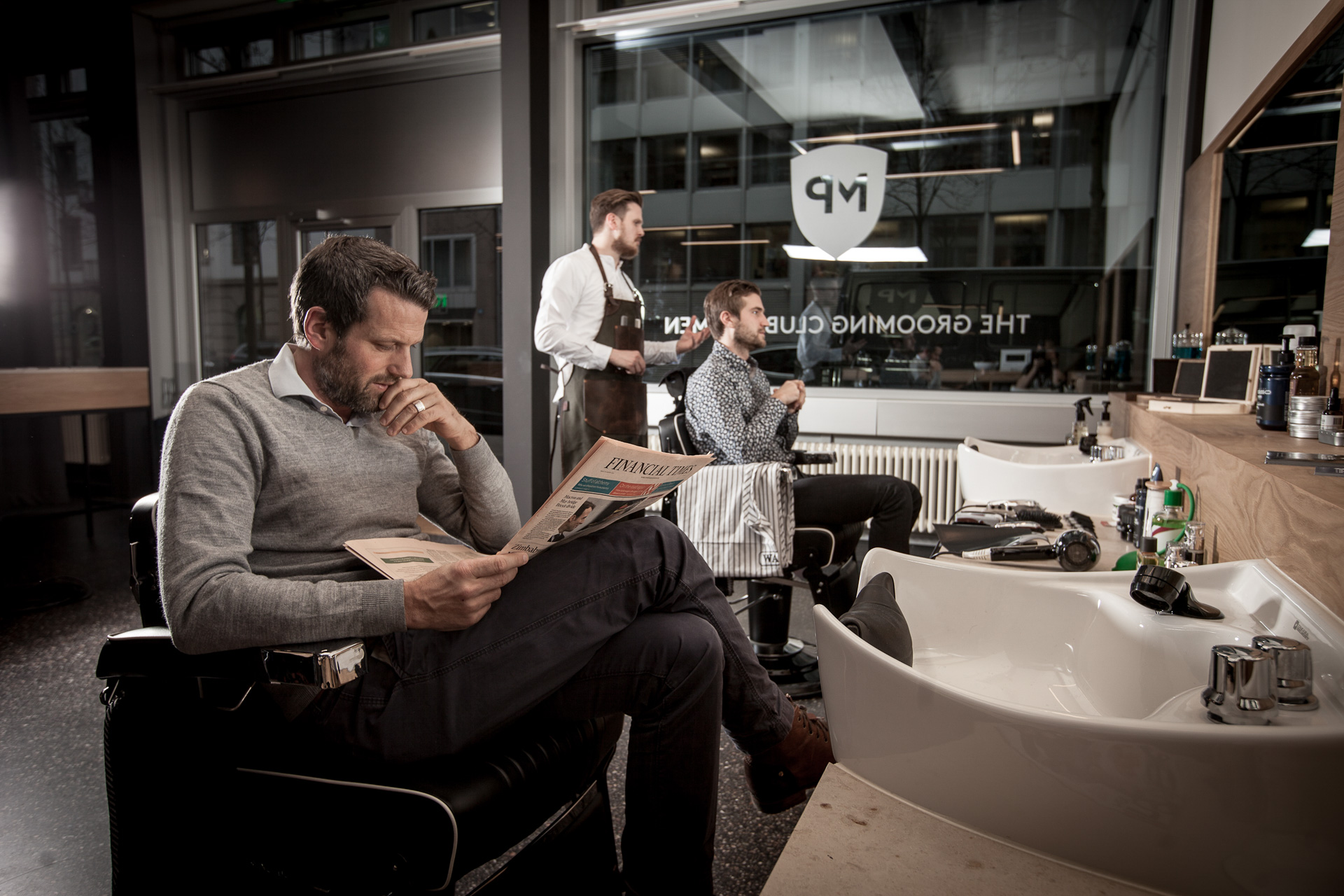 The headline news, though, is that manicures and pedicures are finally peeping through the gender gates at men, in what is an exciting and inevitable progression in male grooming. London has Gentlemen's Tonic in Mayfair providing mani-pedis - only their pedicures are disguised as 'bespoke foot treatments'. Ned's Barbershop, at new statement London hotel The Ned, also has manicures, but pedicures are not on the menu. Stateside, there's Hammer & Nails for more of the same.
Zurich, though, have gone above and beyond with this trend. Two male-only nail salons have recently opened, offering a brave selection of treatments men elsewhere may gawk at.
It sort of makes sense. From Rolex to Cartier and Omega, Switzerland has long been the go-to destination for excessive luxury. A pristine appearance is a necessity for everybody in Zurich, not merely just a sign of wealth - although one perhaps helps the other out. With this in mind, it seems natural that the male grooming trend is exploding in Zurich, Switzerland's style capital, where financial ease and the demand for new ways to look fantastic are fusing.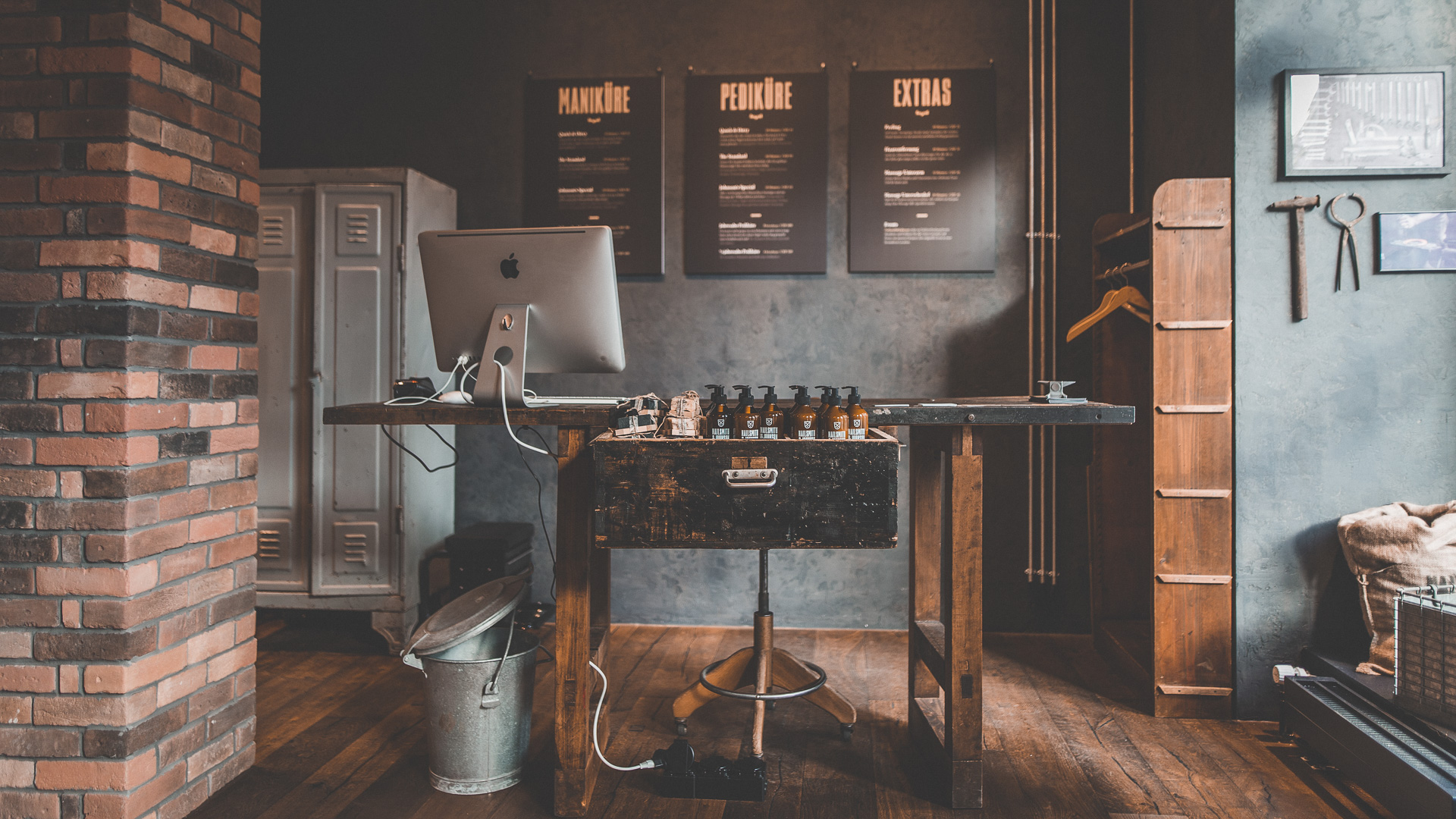 "There are new possibilities and opportunities for men to take care of themselves, to do something more," Man's Place founder Angelika Muller tells me when I visit. "Grooming for men is not only the barber, it's not only nails: this is taking care of yourself completely."
Angelika's male-only salon near the Zurich Opera House, on the fringes of sprawling Lake Zurich, is more a lifestyle choice than just a salon. "It is not only nail and hair treatments but a club," she said. "We organise different events for our members and good customers. We recently did an event in collaboration with The Gentlemen's Clinic (a cosmetic surgeon) and invited our best customers for a presentation about watches."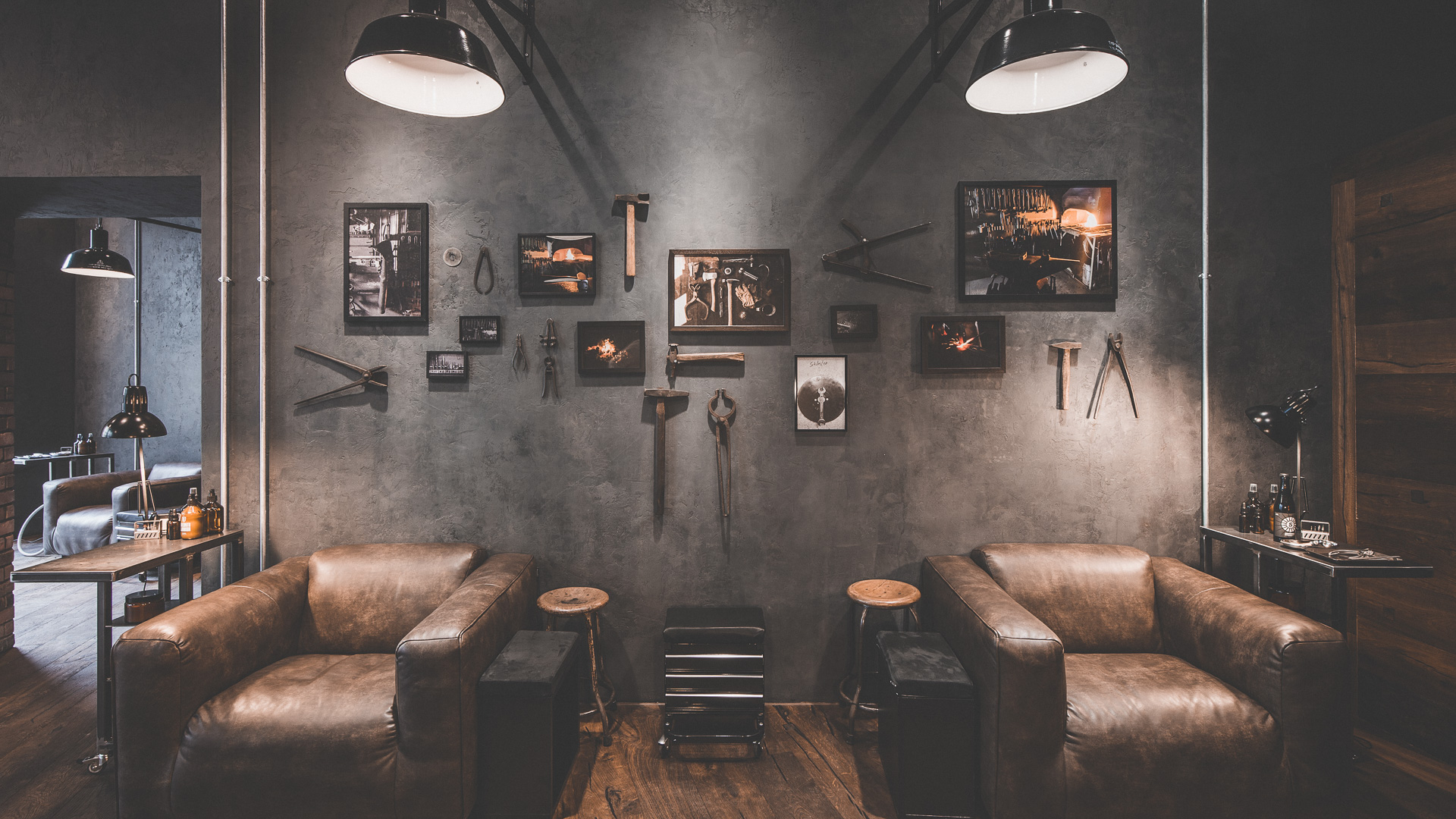 Expanding the male grooming services available has simply become another way to make money. As Angelika puts it, "cosmetic companies are producing new products for men every month," and she means cosmetic: The Gentlemen's Clinic in Zurich is offering a catch-all solution to cosmetic surgery, from nips and tucks, to full-blown face lifts - exclusively designed for men.
Nailsmith & Johnson, on the other side of Zurich, also opened recently. They're a ten minute walk from Old Town, the tourist stomping ground, where elegant spires of historic churches disrupt the skyline. "We're Switzerland's first nail salon for men only," founder Lucy Joanna Johnson proudly tells me. She's perched on the edge of one of the big black leather armchairs brought here for "men who don't feel attracted by pink buddhas and nail polishes".
"It's just something that men don't do," she said. "We want to make it normal for men to have manicures. Our aim was always to attract first-timers, and I think we've achieved that."
While I sat sheepishly with my feet held, like babies, in an employee's lap, countless men came and went. They all took their turn to remove their socks - but leave their business suits on - and take a moment's respite. There are pickaxes on the walls and cold beers in the fridge; everything's ultimately masculine because "manicures and pedicures are often perceived as a very female service," Lucy reasoned. "So we decided to create a setting that was very manly. We have the rustic wooden flooring, leather chairs, we offer beer on the house, to make it very manly. It's been perceived very well."
What's most impressive about Zurich's male grooming trend is the speed by which it has gripped the nation (both Man's Place and Nailsmith & Johnson are under one year old) as the addictive new frivolous thing to do at weekends for those with time and money at their disposal.
"The barbershop trend in Switzerland started much later than in other countries," said Martina Russi of popular male barbers The Barber Paradox. "Three or four years ago it began - we were one of the first." We'd been chatting outside Martina's salon - tucked behind one of the bougiest shopping streets in Zurich - for only ten minutes, but already, two men had come by for a cut, only to be turned away. Business is booming, and Martina explained that right now, supply can't keep up with demand.
"In most jobs you have to be well-groomed, you have to pay attention," she explained. "We have a lot of products you can't find anywhere else. We are quite expensive, but we do a good level. We have a lot of returning customers because we don't sell normal hairdresser products, like Schwarzkopf or Wella."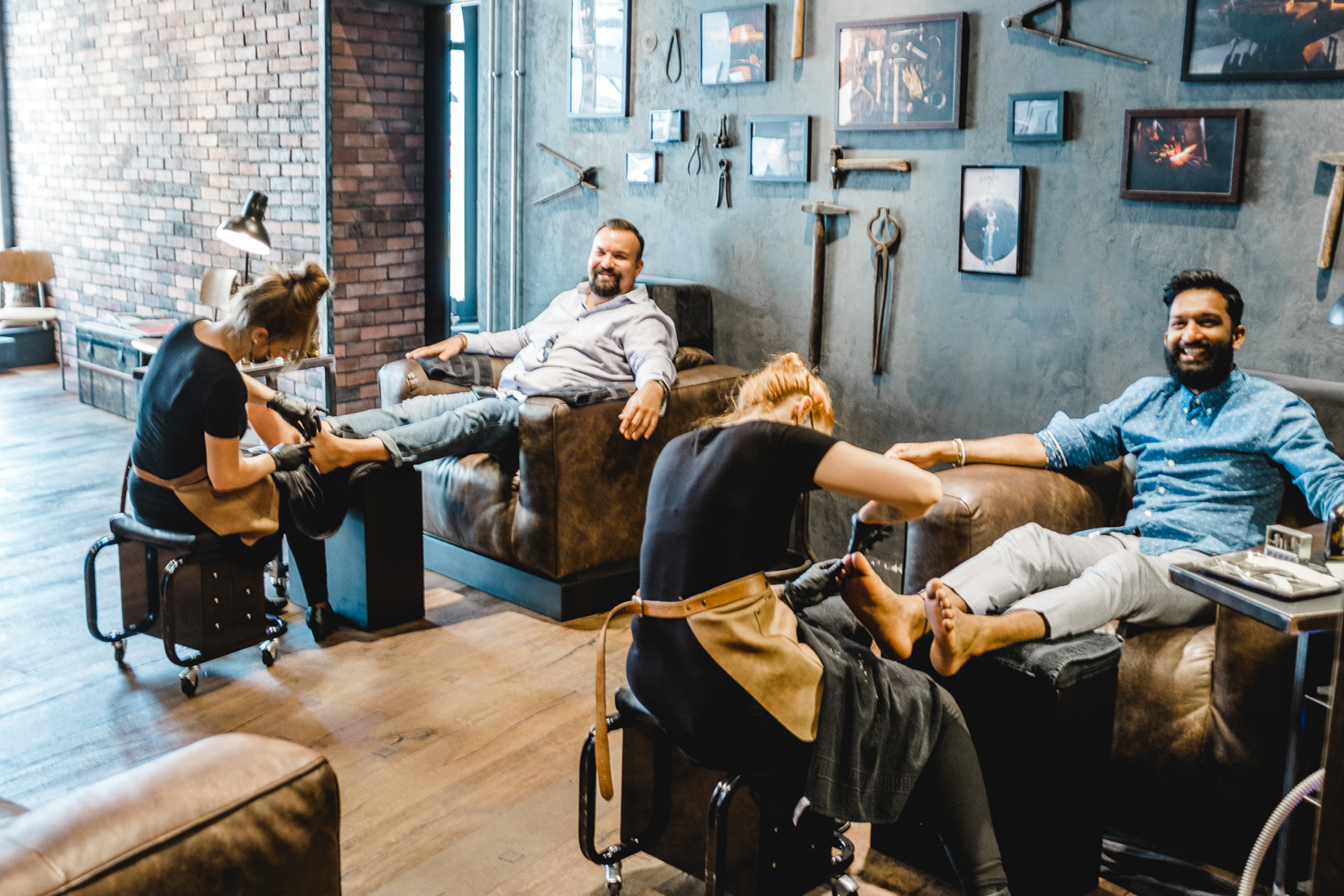 The Barber Paradox has been designed in a "neutral" way, with a clean, minimalist feel, rather than the typical heavy classical vibe of old-fashioned hair salons. And effort has been spent on hiring the right people for the phenomenal cuts. There are still only a handful of proper barber shops in Zurich, and only one in Basel, Martina explained. Presumably there's none in Geneva.
But the sense of change is in the air of Zurich, as they fearlessly pursue a new sense of masculinity, much like those early adopters to Burt's Bees chapsticks and Simple Kind to Skin moisturiser in the early noughties. Before you know it, Brick Lane will be overflowing with anxious men, eager to get their hangnails filed down once and for all.
Adam stayed as a guest of the Hotel Helvetia (rooms from around £170) and the Marktgasse Hotel (rooms from around £185) in Zurich. He visited The Barber Paradox, Man's Place, and Nailsmith & Johnson.
Adam Bloodworth is a freelance journalist. Keep up with him on Twitter .
Tagged: