London Food | Magnus Reid
The Aussie cook breaks down the current state of drinking and dining
Photo: Rosie Ellis
In the shadows of Hackney's new fashion outlet zone, with its Burberry, Joseph and Nike stores (plus rumoured Prada and Balmain) and down the road from the locally notorious "big Tesco", is Legs – a cute corner restaurant from chef Magnus Reid.
The 26-year-old Aussie (who actually prefers cook to chef) made a name for himself at Rooftop Café in London Bridge and Cream in Shoreditch, and last week launched his new neighbourhood spot. "With the menu, I don't want to do crazy technical shit," he says from the new space. "I just do fun stuff that you can smash some of this booze with and then you can go out to your rave, or you could go home to your mum. It's accessible. I don't want to break boundaries."
With his highly relaxed restaurant manager/right hand woman, Lily Brown—who he chose because he didn't want a "hospitality terminator"—he'll be serving up "wine we drink and love and food that we'd eat." There might be a noodle dish or some ceviche, but "it doesn't mean we're doing Peruvian-Japanese fusion, it just means we're doing yum shit."
Since most of the ingredients are from England and the restaurant is located here, he says, "I guess we're just doing British food – it just sounds a bit shit!" Over a glass of cloudy Prosecco, we talked hot piss, Michelin stars, Boar's Head and 19-year-olds who will never know sliced white bread.
Most of your wines here are natural or bio, right?
MR: We work with producers who've been growing these grapes for 20-30 years, just making wine like that.
LB: It's just about not fucking with the grape juice. People think it's all this new movement, but actually it's just that all these big companies have been adding loads of shit to preserve it and make it last longer.
MR: When we started working together like four-five years ago at Rooftop Cafe we had natural wine, and no one knew what it was. You'd get these old boys coming in and being like, "What is this? It's corked. It smells like a farm" and we're like, "Well that's what it smells like: the ground it was growing in. It smells like granite and lime and sand, exciting shit."
And then the best way to get them round to it is be like, "Do you remember when you were growing up, what bread did your mum buy? She bought fucking white sliced, right? And now if you don't get a piece of sourdough with your eggs, you're like, 'What the fuck is this shit?!'" It's the same thing.
There was just that period of mass industrialised food and drink that we became accustomed to.
MR: Yeah totally. Our generation is like the last. We've got a young boy who is 19 working here doing the dishes and his parents have lived in Shoreditch for 25 years. His mum's a doctor, so he's been exposed to these amazing foods and for him it's like a standard. Which is awesome because when someone puts a glass of wine in his face that looks like cloudy apple juice, he's not wigged out.
LB: Even thinking about apple juice, now it's about having a cloudy apple juice rather than having a purified, filtered down amber apple juice. It's so funny because my flatmate made this pasta, and we got a block of Parmesan out, and we were sitting there and we were like, "Remember when we were younger and you'd just have that dried shaker of freeze dried parmesan?" Now it's just standard to have a big block of Parmesan in your fridge. I didn't have that when I was growing up in Glasgow.
We just used to put cheddar on everything. And we always thought that powdery Parmesan smelt like puke.
LB: And it stays in the cupboard! It doesn't even stay in the fridge!
MR: Yeah, it lived in the cupboard, didn't it? That was a wig-out.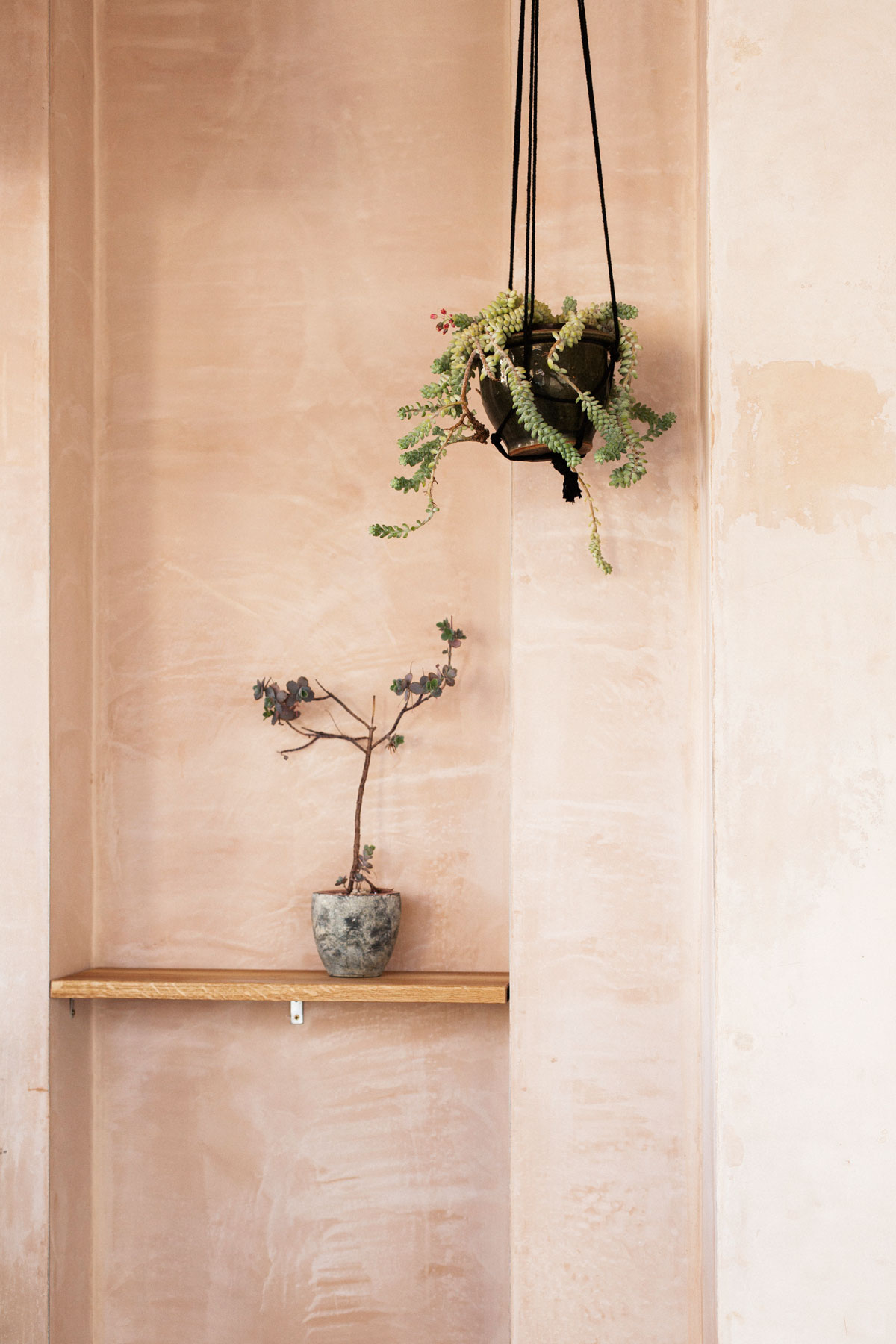 It would be so alien to your 19-year-old if he were to go to a friend's house and they got out some Mighty White and spread some Roberston's jam all over it.
MR: That's it. I think what's special about our generation is we appreciate the shitness as well though. In-N-Out is the coolest fucking, trendiest restaurant. My wife's got like 20 In-N-Out shirts. That's shit food, but it's shit food done well.
I think there's an appreciation of that, which is important. It's weird if you're this middle-class kid growing up in the outskirts of Columbia Road or somewhere, and you didn't realise that actually sometimes there's nothing better than Tesco's ham and cheese toasted sandwich. I think you need that balance.
Plus, you're going to have a nightmare eating outside of certain confines, because the food in so many places is so crappy.
MR: Yeah, especially around America. You used to live in Brooklyn, and every second place is hyped on how gross and greasy it is.
Yeah and the food in the bodegas and supermarkets is absolutely rank.
MR: Rank! But you're still there at 2am buying a BLT with avocado and it makes sense.
True. But then there's Boar's Head in every bloody bodega. When I got there I was like, "I just want a sandwich with some fresh carved meat in" and I couldn't get it anywhere. Instead it was always that horrible Boar's Head, which they process, then reform to look like a big hunk of meat.
MR: Yeah but when you're drunk, there's nothing better than a Boar's Head sandwich.
They've got the absolute monopoly. It's scary though.
MR: Yeah, every bodega has Boar's Head. It's mental.
On to your restaurant, Legs. How has the launch been?
MR: The first weekend it was a lot of our friends and family. We've now launched for dinner and there's always those wig-out people who rock up and are really picky and finicky. That's interesting for us, because I've always believed that we do what we wanna do and if no one likes it, we'll just close.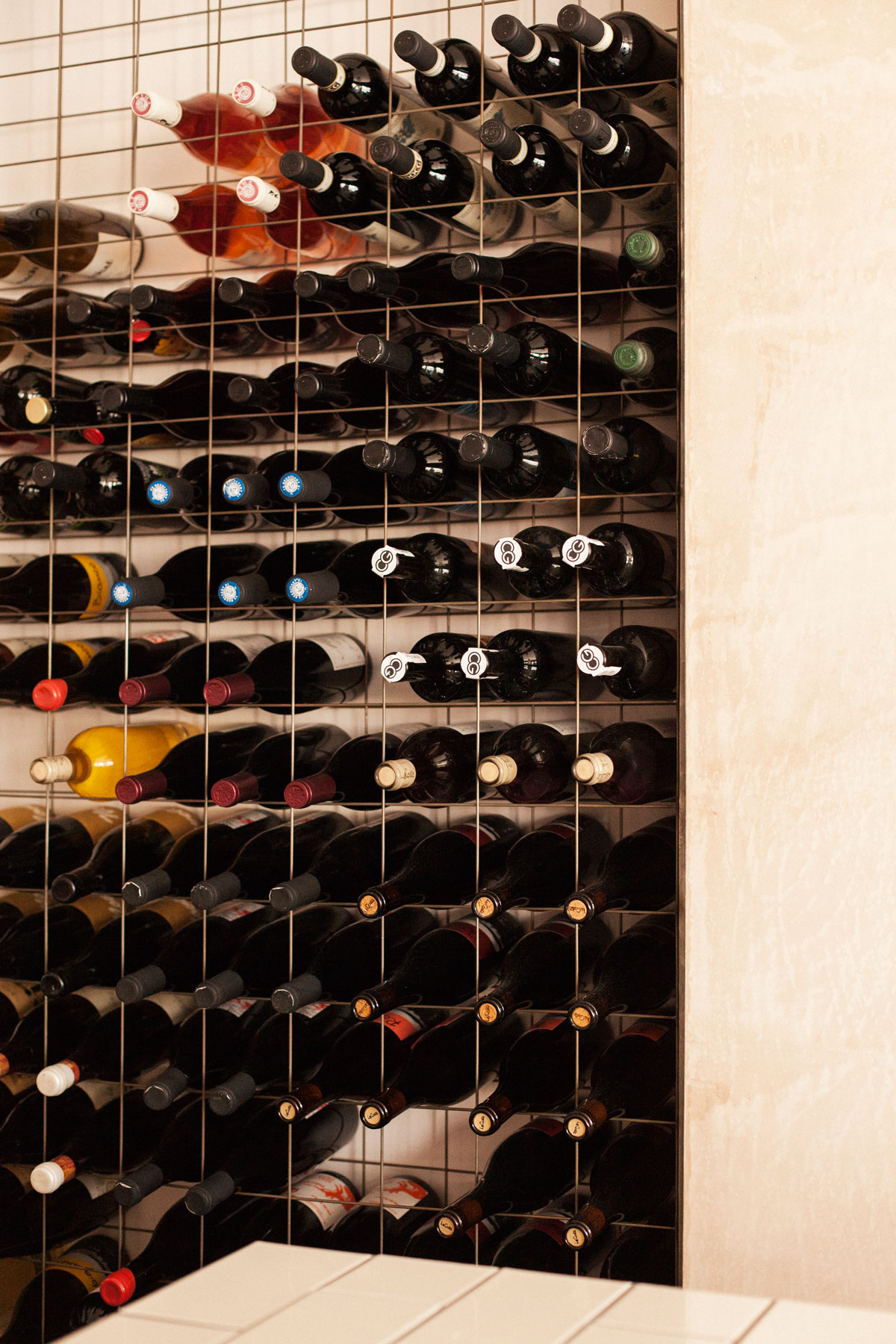 It's more like you're doing something and if people want to come along and enjoy that, then fair enough. Rather than the idea of "We're here to serve you!"
MR: Which is fucked. I find that a lot of stuff that's happening is that people are opening more and more safe places, which is why more people are more excited about Shake Shack moving to England than having a neighbourhood spot round the corner. Now people opening places are allowing trends to dictate what they do. I just want a neighbourhood spot where you can get shit faced and people can come and eat food, meet their future wife, vomit and laugh about it.
People open things because it's the next trend and you get people going like, "Oh I'm going to open a place that does Chinese food because Danny Bowien's done Mission Chinese." He did that years ago and the reason it worked is because it was a huge Chinese shop already. It was a cool thing. And it's still cool because Danny's cool.
But if you're a middle-class dude in London wanting to open a Chinese thing and looking for a Chinese chef, it doesn't work! There's no passion behind that. It's got to come from an authentic place. There are things I would never put on the menu because I know I would never be able to cook it well enough, but there are venues doing things to try to fill a gap in a market.
LB: We're ultimately doing something because we want to be here. The wine list we've got – I'm not a sommelier – is because that's the wine that we drink. It's the food we want to eat and the environment we want to be in.
MR: I don't want a Michelin star, I don't want food critics to like this place. I want it to be somewhere where people can hang out, get fucked up and try to have sex in the toilets. It needs to be a place that's full of people from round here. There's nothing sadder than going to a new opening and walking in and it not feeling like a local place.
LB: Most of our customers so far have been locals: people that live down the street and come in don't know what to expect, try it and enjoy it. They're like, "We'll be back" and you know that they will, because you give them a good time.
You seem to pull off what you say you want to do, rather than just talk about it, like most people. How do you do it?
MR: I don't really care about people. No, that's really harsh – I do care about people! I don't care about what people think. I'm not a concept guy. I kind of hate that. You know you go to Burger & Lobster – those guys are killing it – and I get that, but I don't want to do that. What happened to cool, classic restaurants? You go to France and it's like, "Where do we eat in Paris?" And they give you bistro names.
I love that in Paris even young people are going for a big dinner with friends before they go out, rather than just getting smashed at the pub.
MR: Exactly! And it's not about the mission. That's what I love about Paris. You don't trek to get to some other restaurant. You just go to the local good place, all your homies are there, you're drinking, you get a bit tanked, you eat before you go out. Londoners don't! Maybe that's just the crew that I hang out with, but they drink six cans of Stella at home and then get fucked up in a club and smash ecstasy. That's their night out. I'm like, "What!? That's all wrong!"
LB: I don't know. I don't really go clubbing any more.
MR: Fuck off, you were out last Sunday!
LB: Not clubbing! That's bar-ing! I'm 27 and I'm very much into dinners and everything revolved around food.
I heard you describe people who don't know much about food as "normies." Do you get increasingly insular as a foodie crew?
MR: 100%. I like places my friends own, or where they work, or if I know someone there. I'll do two dinners in a night pretty regularly.
I like that in New York where they'll go somewhere for dinner, then go somewhere else for dessert
MR: Yeah! My homies go from Wildair in Lower East Side to Russ & Daughters, then to Morganstern's for ice cream for dessert. That's sick. That's so good.
LB: Why would you sit in a whole place for a whole night?
MR: I personally hate desserts. There's nothing weirder than that, "Do you want dessert?" thing. I find that intrusive. I'm like, "Go fuck yourself! I'll tell you if I want dessert!"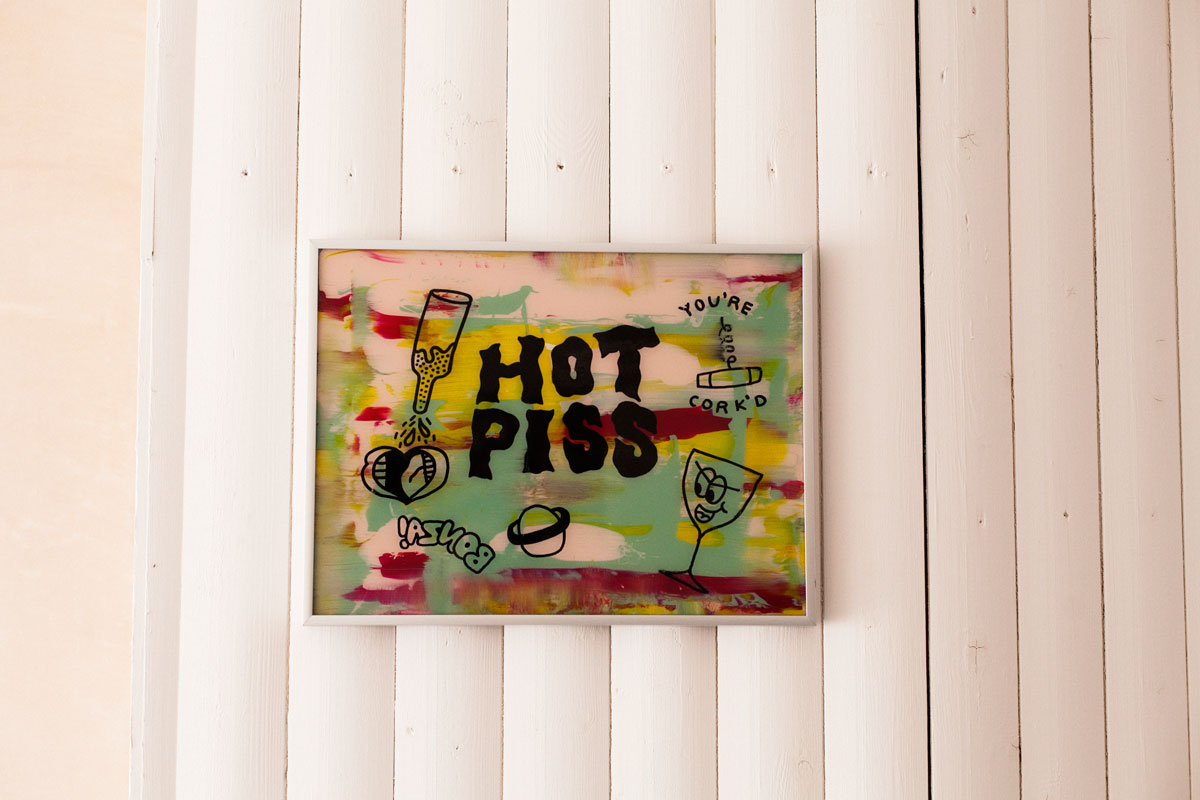 "Could I tempt Sir/Madame with…?"
MR: Ha! There's a guy called Richard Shaer who owns Taylor St Baristas. I helped him set up in New York. He goes to one place, orders one portion of poke, then cruises round, we'll go have a coffee, then he'll know where the cool chocolate shop is.
You don't meet him for lunch; you meet him for a mini hang-out. At night he'll be like, "We need to check out Uncle Boons in Nolita. Actually, let's go grab a glass of wine after dinner at Rebelle. Rebelle happens to be across the road from Morganstern's…"
But then we've just said that we love how in Paris people sit with friends for a long meal in the same local spot. I suppose different styles suit different cities.
MR: Yeah things are so close in New York and, especially in Manhattan, people know what they're doing. So many restaurants here are opened by "the graphic designer who loves flat whites!" But it's transparent. You can see through that shit.
No-one in hospitality has money. You beg, borrow and steal to open a restaurant and in New York, restaurateurs open restaurants. There's no bullshit in the middle. You walk in somewhere are you know it's tight and they've got one thing they do that's awesome.
Who's been popping into the restaurant?
MR: Hackney's a weird place a still, especially round this area. You've got the estates, nice flats in an old warehouse, original Hackney guys. We've got this 77-year-old lady who's come in for lunch. She's a legit local and she loves it. She's like, "There was a restaurant here before and now there's you guys."
She's really happy that young people are opening shit and making it vibrant, but she's not too happy about the new rich wealthy families who buy the place next door to her and complain about her hedge being too high. I'm the most stoked when someone who's lived in Hackney their whole life comes up and says, "This is cool", because I don't like treading on the locals' toes. I feel like you've got to add to a place.
So it's welcoming to all?
MR: Yeah, if someone wants to come in and buy a coffee, then do it. In Australia, everybody down to a miner, electrician, banker, understands what good food is. I've got electrician friends who'd spend more on dinner than I would.
They get it. Our plumber who grew up in Islington is 60-something, an old boy, the most Cockney, comes into our place in Shoreditch or here and he's like, "Give me a flat white." He's so welcome here and that's cool. I love that he's a part of our fabric, part of the feel of the place. You want your homies to be welcome, you want outsiders to be welcome, cool kids, everybody. I like the equivalent to sailors and prostitutes hanging out. Let it be this weird, organic crowd.
What's this "Hot Piss" art work?
MR: Hot Piss is Australian for good wine.
LB: We were gonna call the restaurant that for a while.
MR: There's a wine guy round East London, who's probably one of the most Australian people I know. And he's like, "Boys, you ready to drink some of that hot piss?" I like it.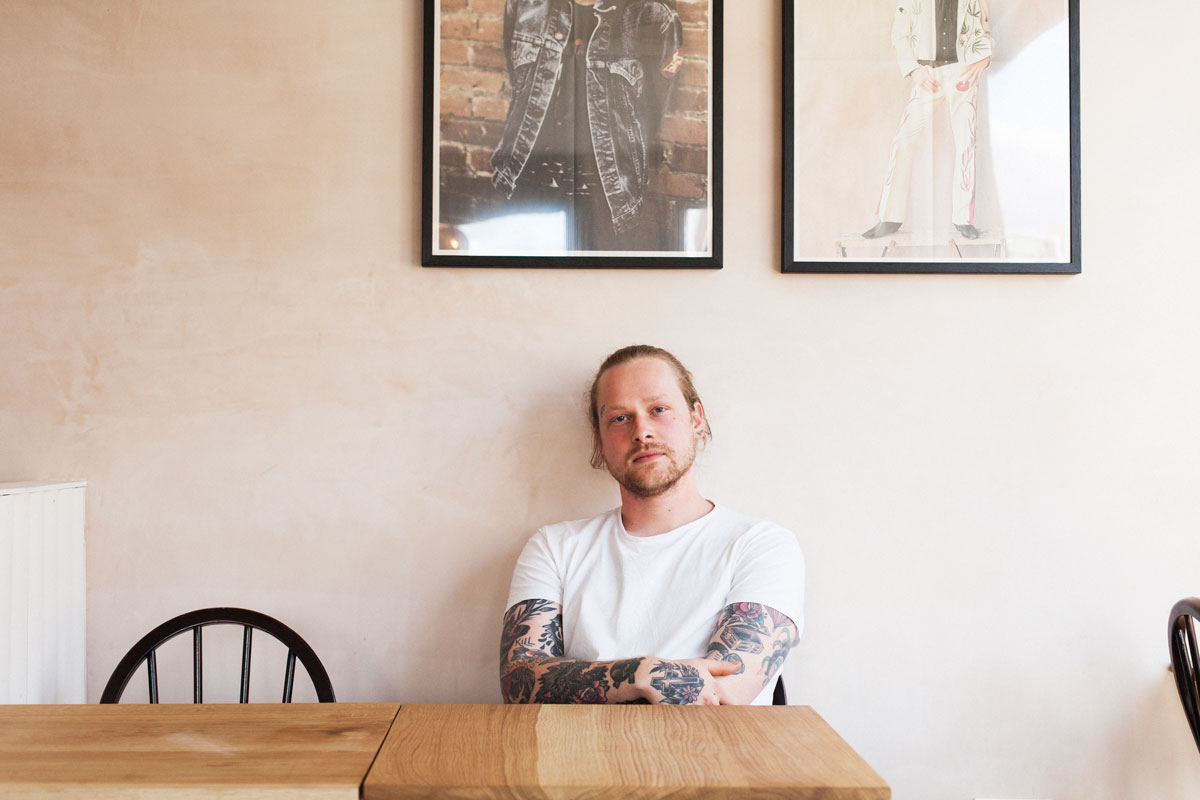 It seems like the local school kids are pretty intrigued by the place too. They're all peering in.
MR: Yeah when they've finished school, they're all hanging out and kicking bottles round. We saw them on the weekend drinking beers. We see them in their school uniform, then they've all got the freshest matching adidas tracksuits on the weekend.
There were some young kids, maybe 8, 9 or 10 and they're all walking to school pretty much by themselves. They come in like, "What are you doing?" And I'm like, "Well, we're building a restaurant" and they found the drill and they're like, "Can we drill some stuff?" And I'm like, "No! I don't want to be responsible and have your mum or your dad coming round, like, 'Why's my son lost a finger.'"
So now it's the real opening.
MR: Yep. People need to get fucking psyched on shit. There's nothing more upsetting than when you do a soft launch. It's this thing that the industry has made to apologise for itself. I wouldn't do this, "It's half price food and drinks – we're just testing the waters." You've got to have confidence in yourself. A magazine doesn't do half an issue!
LB: If people come in and complain after three days, then they can fuck off! Soft launches are like you're making excuses for your mistakes. Surely our excuse is that we've only been open for three days.
MR: A carpenter doesn't make a chair and then say, "Hey can you sit on it for a year? It's our soft launch chair." People are like, "Are you going to do a soft launch?" which is basically, "Are you going to do half-price food?" Fuck off! If you're our homie and we value your opinion, we'll give you free food. That's like old school Italian neighbourhood vibes.
Your cousins come in, you sort them out. It will always be soft, in terms of learning. Hopefully we never perfect this place, because it'll lose any type of charm it has. Hopefully there's always a bit of weirdness, a bit of quirk. We're going to fuck up big time – I don't care. When a restaurant is perfect, I find it sexless.