Visiting Verbeke | The Surrealist Belgian Art Commune of Dismembered Limbs & Giant Anuses
If you've never seen a severed arm in a box hooked up to a voltmeter, now's your chance
There's an anus on an island. It's massive. Although the ratio of colon to rectum may be off, it's a surprisingly accurate recreation – the digestive tract, coloring, and veins, at least – of a puckered asshole and its internal organs. Is this a joke? Maybe. Is it suggestive statement that islands are shit? Hopefully.
Opposite the anus, a human wrist, foetus, and a squid are hooked up to voltmeters, as a computer registers and transposes their voltage on a graph. It's a non-zero number, which is alarming considering the cells should be dead.
Artist Martin uit den Bogaard views it as a powerful symbol, suggesting life and death are not opposite states but simply interact in a complex way. Others wonder where Martin found a human wrist, and whether or not it's a real one.
"People drive by thinking we're a scrap dealer. They drive by for years wondering what this place is"
These are just two of the beguiling installations at the Verbeke Foundation, one of Europe's largest private initiatives for contemporary art, but a place few even know exists.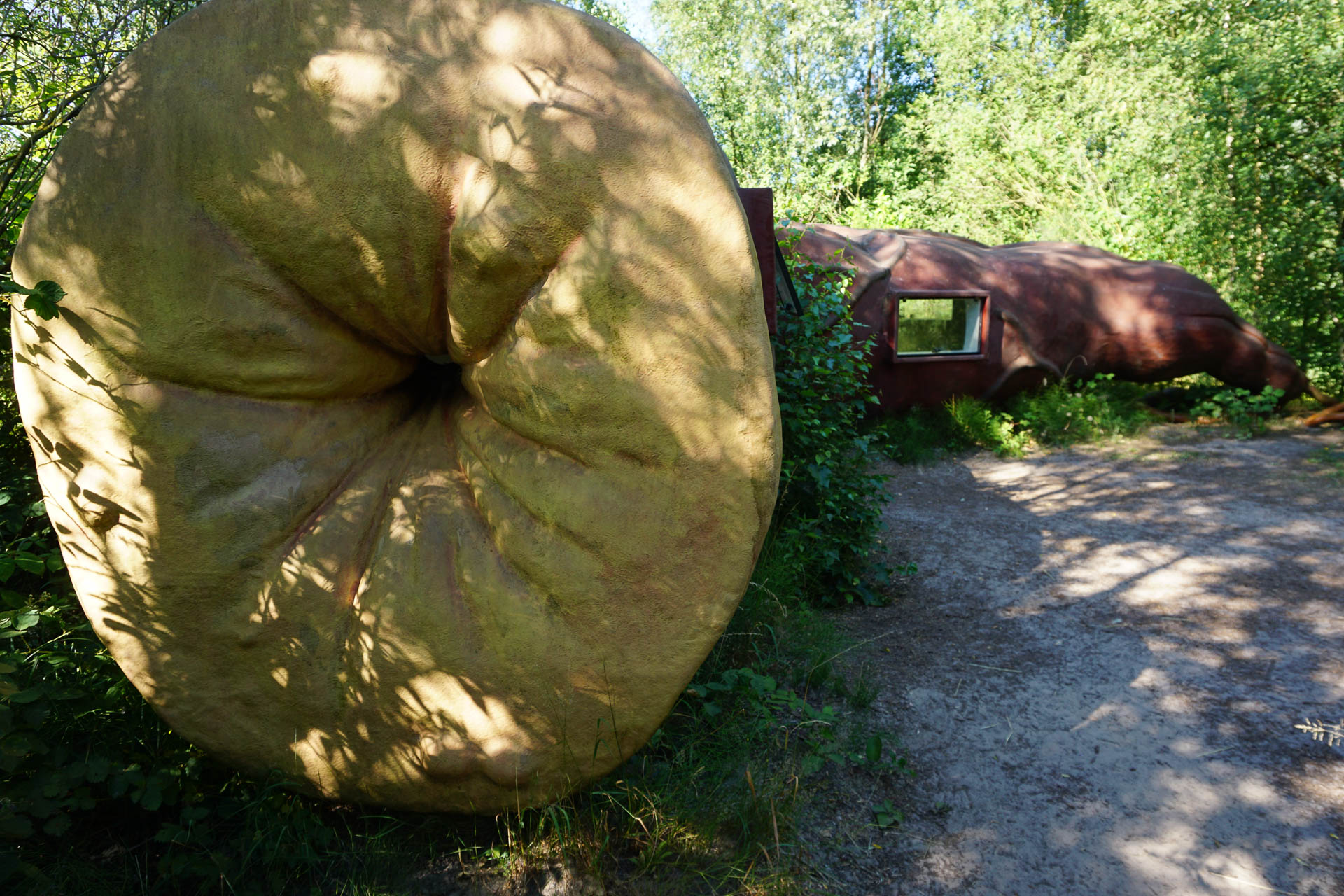 The property sits on twelve acres of land in Kemzeke, Belgium: a town that's little more than a truck stop off the E34 highway between Antwerp and Ghent. Kemzeke has canals and farmland aplenty, but according to TripAdvisor, literally no "things to do."
"People drive by thinking we're a scrap dealer," says Tineke Schuurmans, a Dutch artist who both curates and exhibits at the foundation. "They drive by for years wondering what this place is."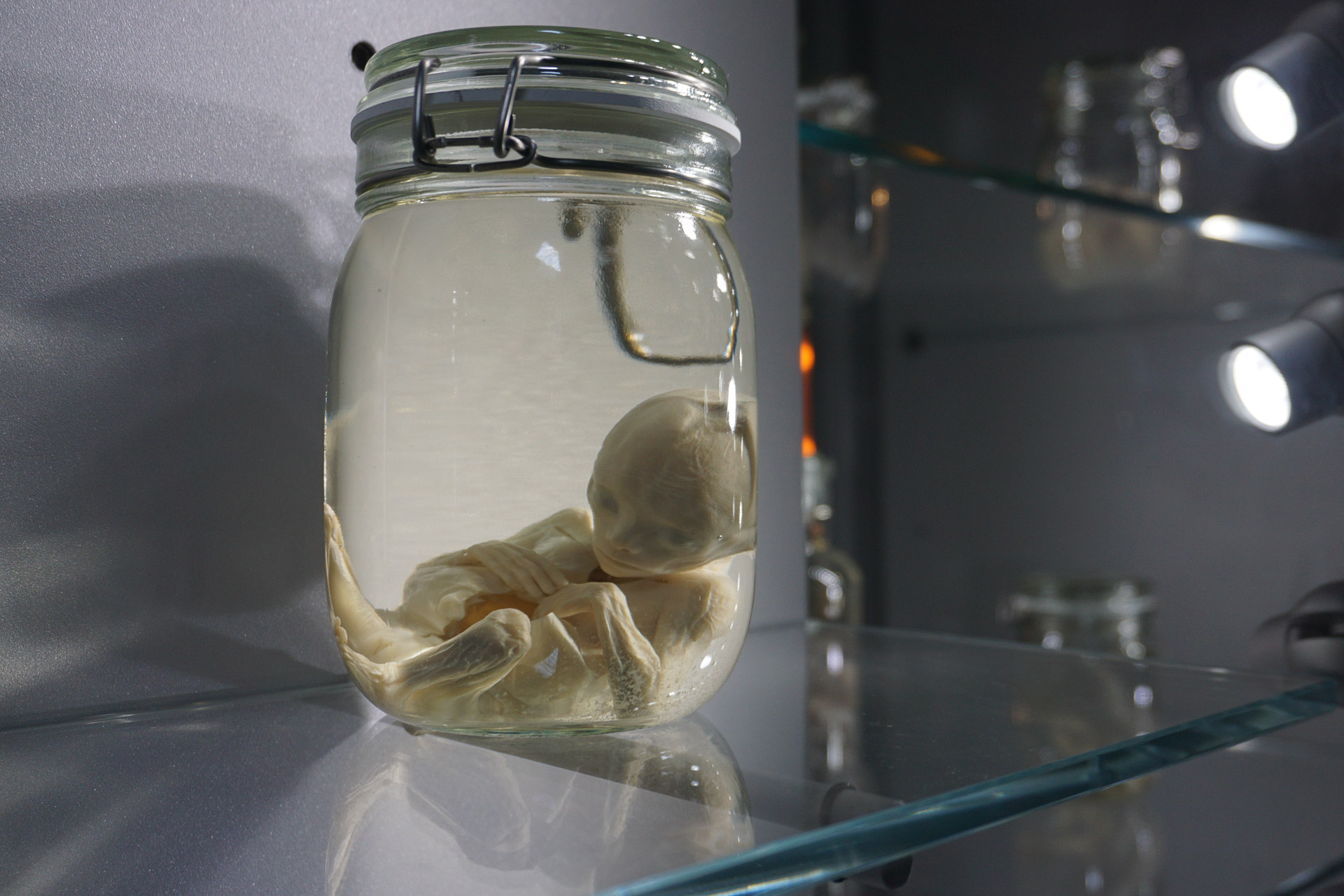 From the highway, all that can be seen is a giant green vase, swathes of tall grass, and a McDonald's sign. Calling the site "post-apocalyptic" would possibly be putting it lightly. There's no flower shop or fast-food joint, much to the disappointment of truckers who have, in the past, come looking for a quick Big Mac. The sign, instead, reads E = mc2 in barely legible print.
"It is meant as an indictment against consumer society," explains Geert Verbeke, owner of the foundation, in another interview. "But at the same time, it's also a good joke."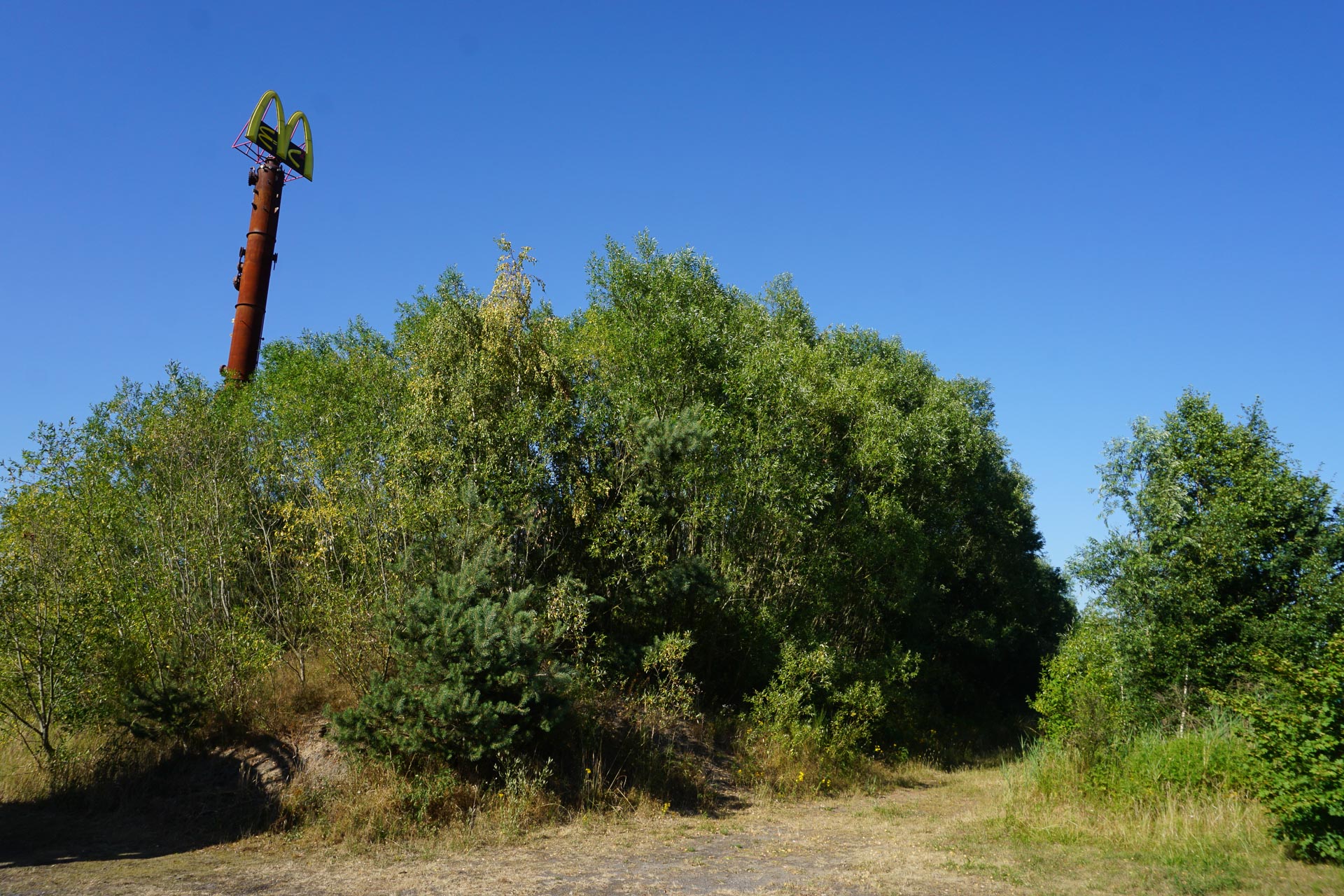 For decades, the Verbeke Foundation was just a cornfield, chicken farm, and a storage garage for the founders Geert and Carla Verbeke, who ran a transport company at the time. Twenty-eight years ago, they started to collect collages and assemblages, and with the growing collection the idea arose to open a museum.
Eleven years ago, the museum launched unofficially after the couple remodelled the chicken coop into a collage space. Slowly, a niche developed. People came. The collages grew. And the foundation branched into more experimental and biological forms of art. The storage area was rebuilt into a museum; their garden became a focal point for artwork; and, in 2007, their first exhibition, Vitarti, by Martin uit den Bogaard and his voltmeters, opened for the public.
Based on appearance, not much seems to have changed in the last twenty-seven years. The chicken coops now have a UFO hovering above them. The cornfields, now grassland, have been carved into an artist trail with bizarre installations like a literal section of a Belgian highway, a sinking ship doubling as a laundromat, and even a fake cemetery.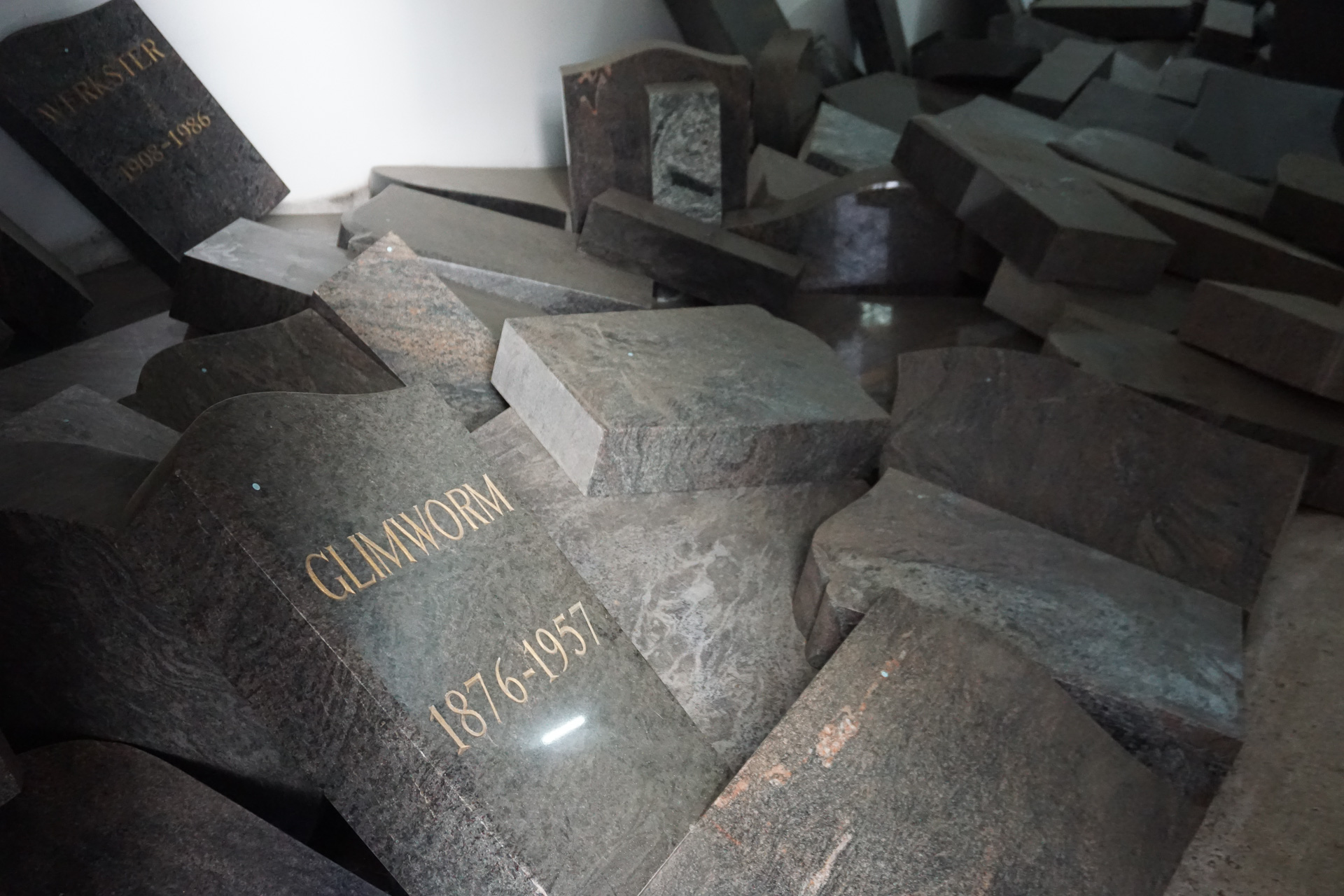 The garages still look like garages – although these days they're filled with installations. And the shipping containers now form the basis of a small, on-site colony where the handful of international artists who call the foundation home live, alongside the Verbeke family.
One of the foundation's first such artists was Tineke, who joined in 2009 after her photo-series Dressed(un)dressed had impressed Geert. The photos detail a hare with and without its skin – vital organs colorfully dangling like Christmas ornaments.
"It was a relief coming here," says Tineke. "It was exciting to see artists working with things like dead animals. You could talk about this kind of art without people looking at you like you're a little bit crazy."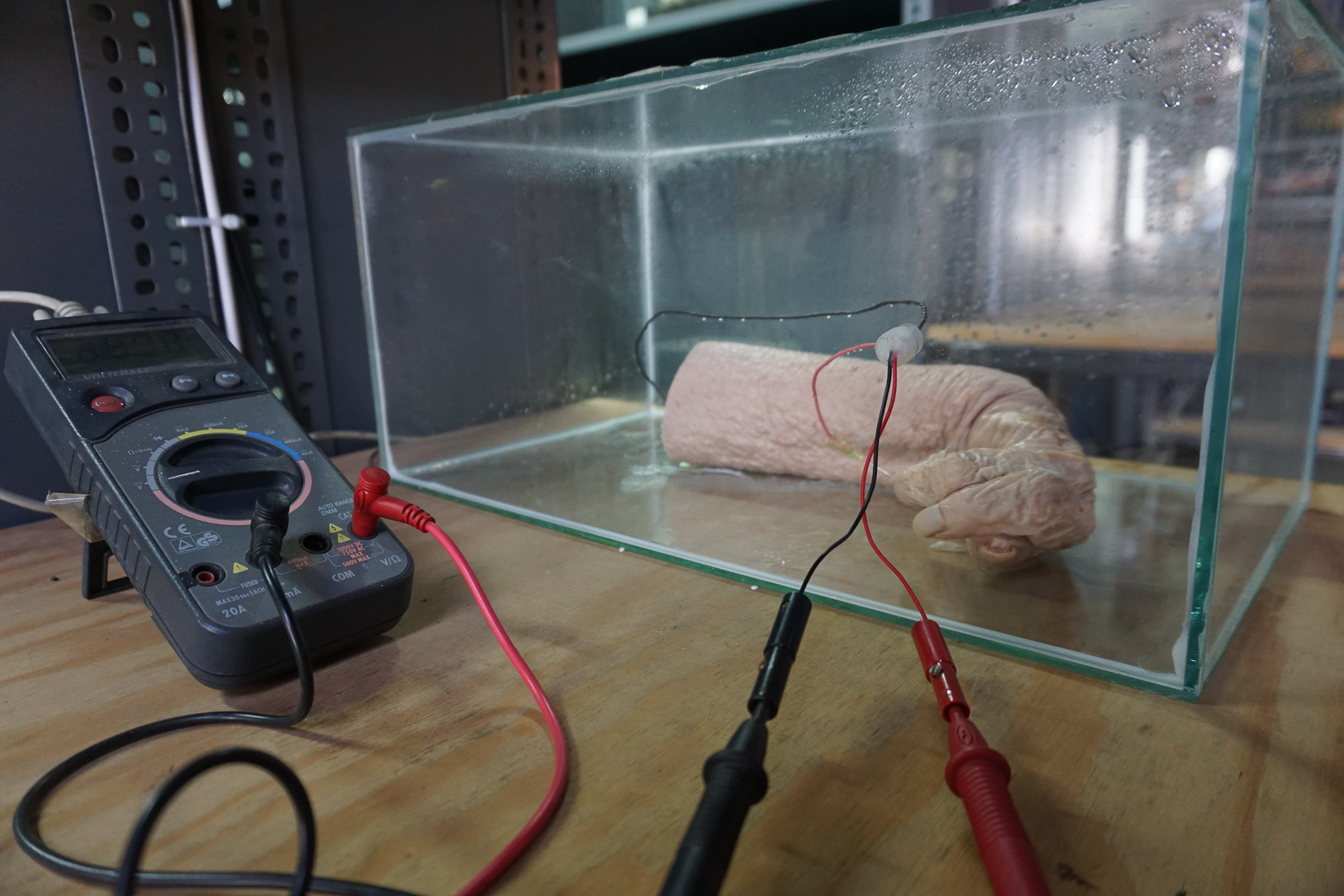 Unlike, say, The Louvre, or even your town's local art gallery, the Verbeke Foundation is not a place to sit back and observe in the way that crowds stare at Michelangelo's David or one of Warhol's canvases. It's pretty much impossible to look at a room full of gravestones, or a dead rabbit atop a typewriter, or a tongue in a jar, in the same way.
"Our exhibition space does not aim to be an oasis," warns Geert, a self-proclaimed Dadaist, surrealist, and anarchist. "Our presentation is unfinished, contradictory, living, and unmonumental like the world outside the museum walls. You will find an unpretentious place to look at art, and a subtle criticism of the art world."
Almost immediately upon entering the museum, visitors are greeted with a taxidermied totem pole of foxes. This makes way to a section dedicated to animal remnants, including vials of dyed blood, a cow inscribed with "Nothing in [here] and certainly no milk," and a selection of air-tight enclosures of bird carcasses whose electrical energy is being used to charge batteries.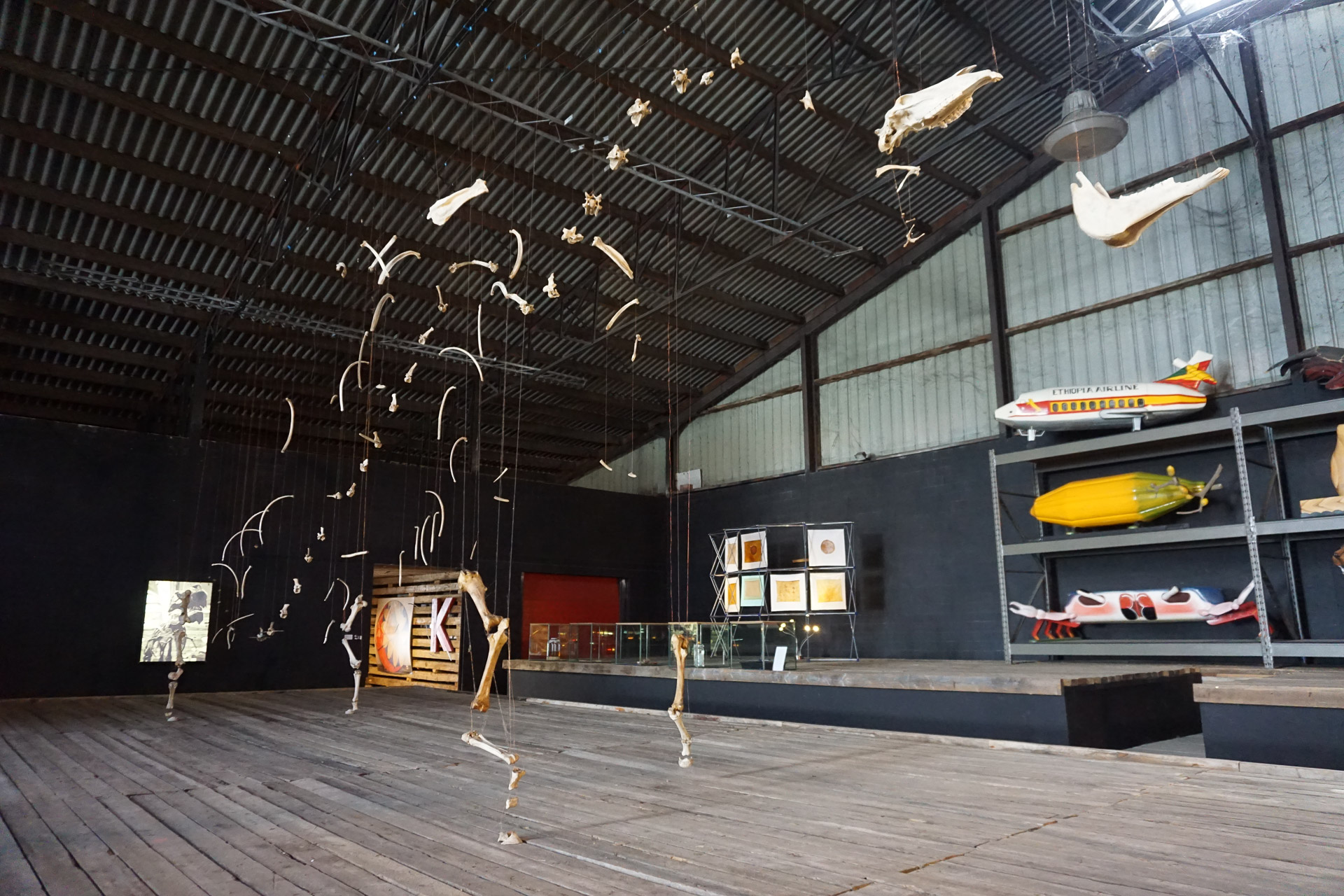 Overlooking the gruesome, almost Frankensteinian experiments, a few dozen bones dangle from the ceiling of the museum. They're unconnected, seemingly floating above a stage where you'd expect a fossilized recreation of a brontosaurus or T-Rex or something out of a natural history museum. Vriend (Dutch for "Friend"), as it's titled, plays with "confusion," "irony," and "fantasy," according to its artist Moritz Ebinger. It also puzzles many patrons.
"Some people only come for half-an-hour and leave," says Tineke, and the people who do come are largely from The Netherlands and Belgium, but the numbers from further afield are growing. There's no PR, no paid marketing, only word-of-mouth, and somehow, the Verbeke Foundation attracts 30,000 visitors every year.
The foundation also doesn't make money in a traditional sense. There's virtually no selling of artwork, and visitors hardly supply enough to fund the operation year-round. Instead, the Verbekes opt to cater corporate events and weddings, for which it's booked all summer, with gleaming couples taking photos on the sand beside a glass house built by the artist Jason van der Woude.
"We're not the typical white box museum," says Tineke, with masterful understatement.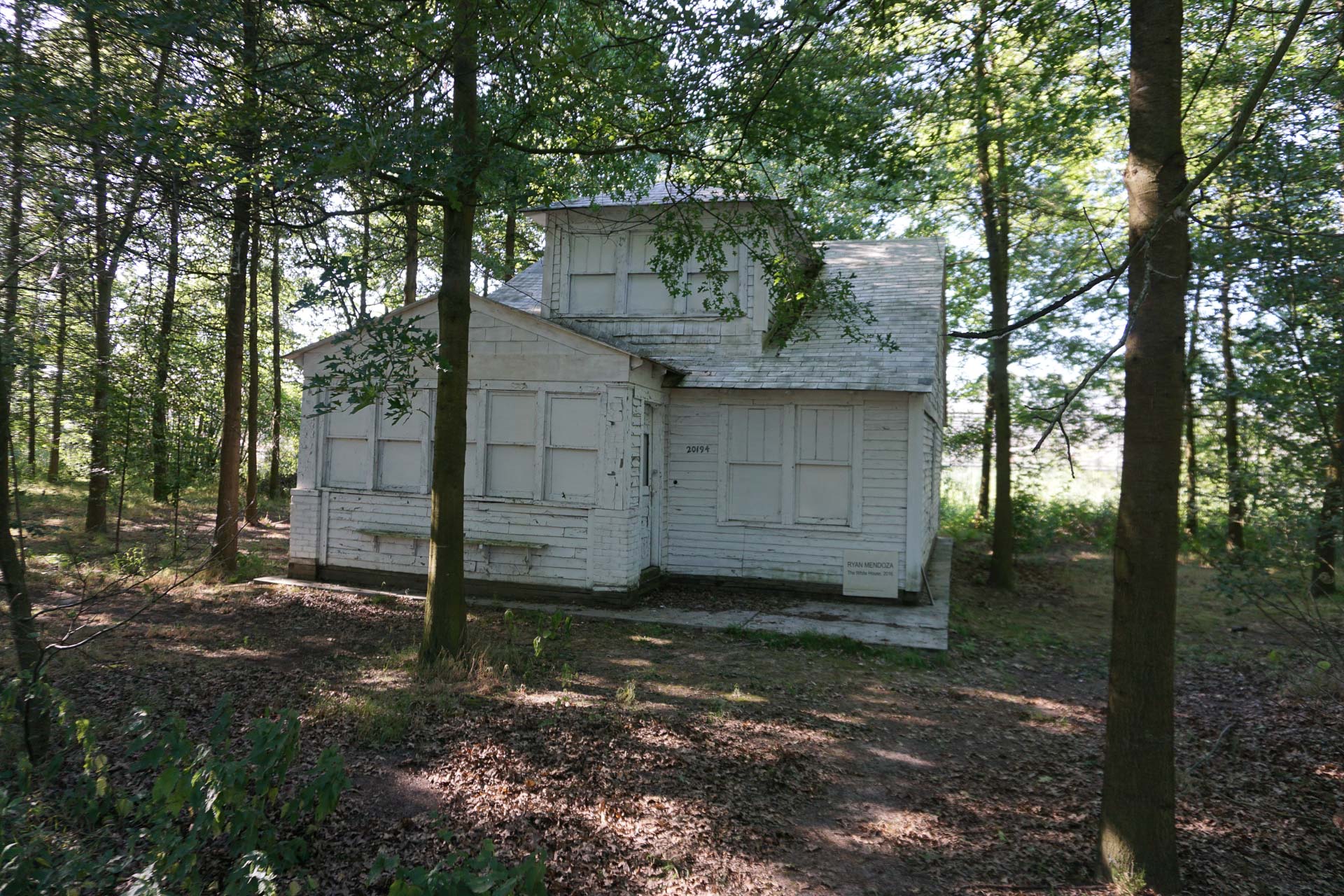 To fully celebrate the Verbeke Foundation requires a walk around the property. About twenty installations – including Eco-Cathedral (a collection of trees shaped like an 15th century church), White House (a house shipped from Detroit, painted white, and placed in the surrounding forest), a collapsed airplane wing, a rusty train cart, and a herd of what appears to be manure-built horses – are scattered among the old rows of cornfields.
Most famous is the giant anus, CasAnus (or better translated to "Anus House") that simultaneously operates as a bed-and-breakfast – complete with shower, central heating and wine tasting. All the typical activities you'd expect to find in a humongous butthole.
The over-growing weeds on the property add to the Verbekes' emphasis on the natural evolution of artwork over time. It's a project that grows and fades. "We have two exhibitions a year but no five-year plans," says Tineke. "But we have projects [like the Eco-Cathedral, that are] meant to grow over our lifetimes, which is interesting because we think our life is what counts, but here we start with a bigger process – that things can be short or long, century by century, never sure."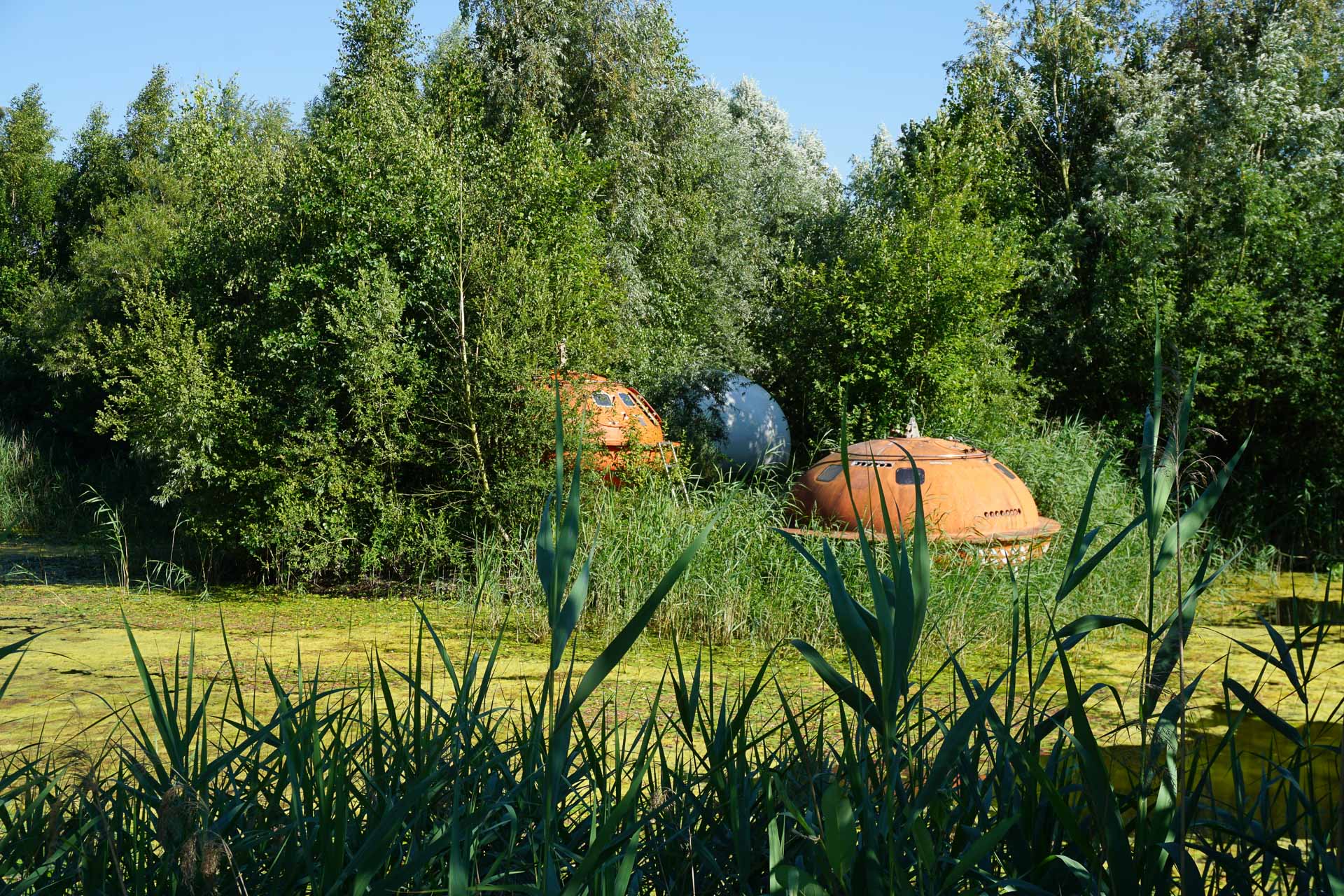 At the end of the day, this is more than a museum. It's the Verbekes' home: their garden is the White House and CasAnus, and the chickens are their pets. Here, art and life are moving together.
It's not separated from the world or from nature, and the Verbekes' aim is to maintain this freedom, this connection. Looking up at the industrial ceiling windows are massive spider webs, hundreds of them scattered across the entire roof. Is this intentional? Another bizarre installation?
"It's nature taking over," laughs Tineke. "And we don't have a big enough ladder."
Tom Burson is a London-based freelance writer. Keep up with him on Twitter.