Hikes & Headspace | Unwinding in Cornwall's Most Relaxing Eco-Hotel
The rugged cliffs of Cornwall prove the ultimate antidote to the stresses and strains of modern life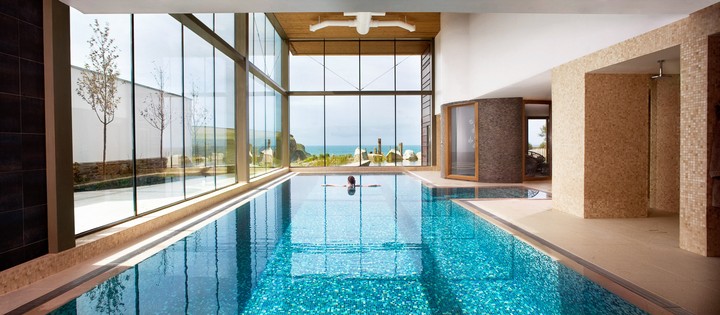 Hiking in nature is good for your head, especially if you do it on the South West Coastal Path in north Cornwall. It's hard to worry about life when you're striding along a stretch of high coastline that was shaped in the Pleistocene era. The sea views are endless, and the cliffs so craggy and beautiful that you half-wonder if they're real or if they've somehow been CGI'ed onto the inside of your sunglasses.
Traditionally, if you wanted to stay slap-bang on a coastal path, your best option was a youth hostel. But if you want the retro rambler experience without sharing a communal shower and single-sex dorm with a bunch of snoring strangers, you should stay at The Scarlet in Mawgan Porth.
It's an adults-only hotel, in the peaceful, no-screaming-kids sense, rather than an X-rated sense. Not only does it have ridiculously good access to the South West Coastal Path (about 20 paces from the front of the hotel through the wildflower garden, just past the outdoor cedar barrel sauna and hot tubs) it also has solid eco credentials – including sea thrift roofing, a biomass boiler and solar heating.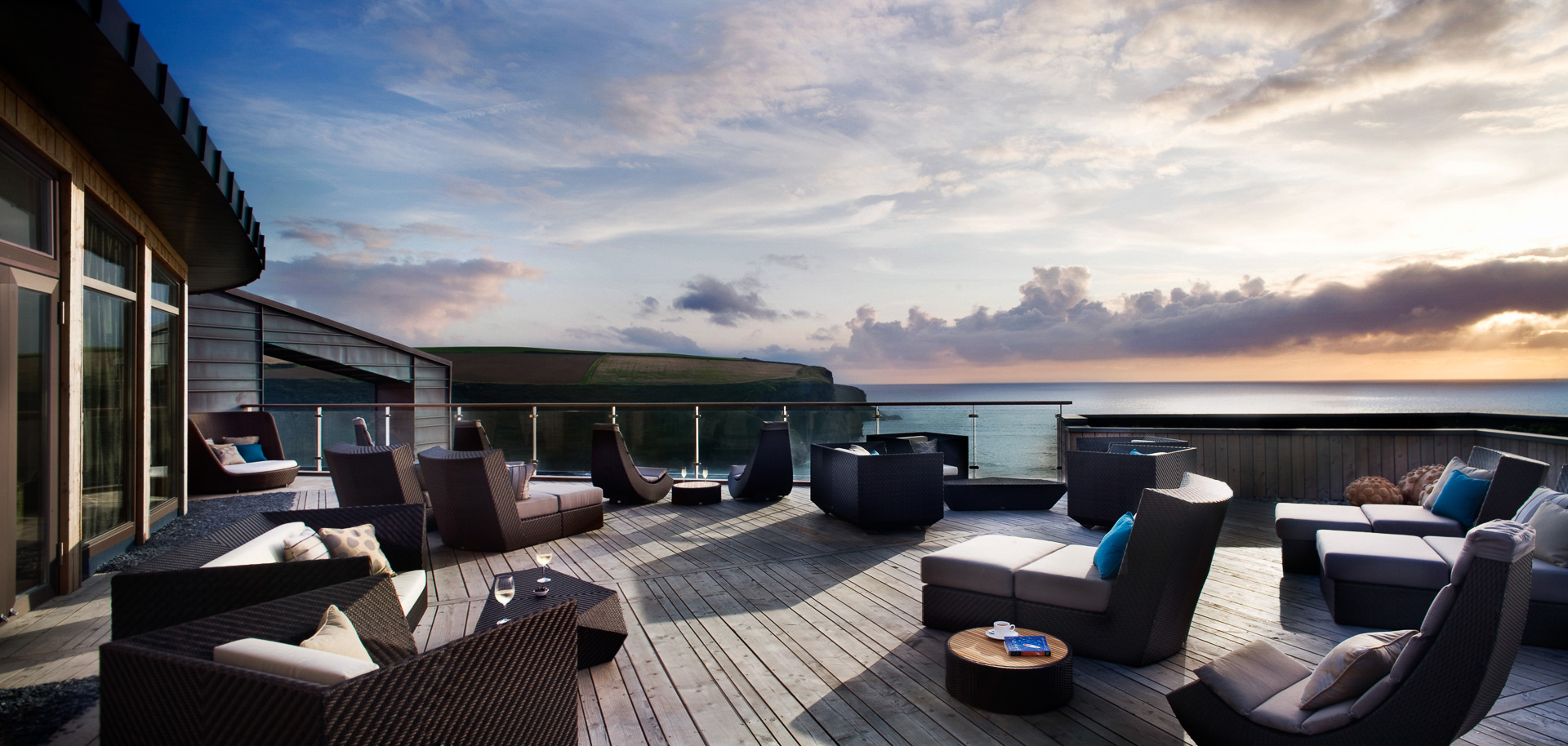 The design is light and airy, with giant windows showing off the sea views at every opportunity, including all the rooms. If you keep the balcony door open, the ocean roar is constant.
On our first day we took the coastal path leftwards, winding up a grassy slope on the other side of the cove, where building is banned beyond a single dwelling – which must be worth a fortune. There was a laminated map in our room, but the path pretty much hugs the coastline, so we didn't need it.
After three miles of steep sea cliffs on one side, and vast empty green fields on the other, we reached Watergate Bay: home of Jamie Oliver's Fifteen restaurant. We'd return there later that day for the head chef's locally-sourced tasting menu. Amongst the standout dishes were wood-fired monkfish with chickpeas and kale, and a dry-aged Cornish ribeye steak.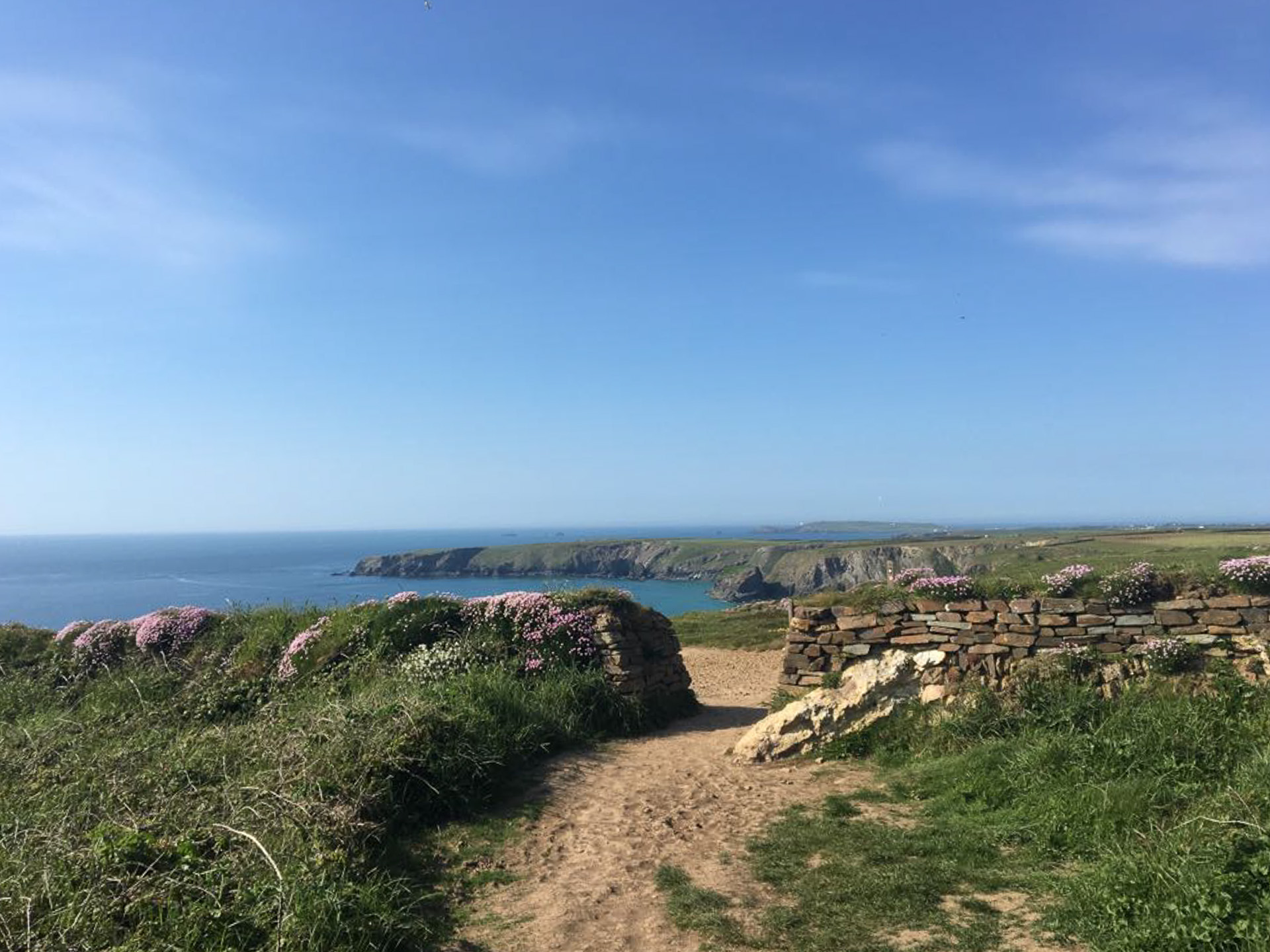 We had a lunch of Asian baked fish and crab spaghetti at The Beach Hut, while watching the surfers – including a man riding waves with a hyperactive spaniel. Watergate Bay is one of the most consistent surf breaks in Cornwall, if not the UK. It gets busy but it's a long beach so can handle the crowds better than some other spots.
We walked on another three miles stopping for a drink just before Newquay at the privately-owned Lusty Glaze beach, which you reach by descending 368 steps. We then hiked back to the Scarlet, the light getting ever more special as the afternoon wore on.
The next day we took the coastal path rightwards from the hotel, up a steep path and along to Bedruthan Steps, a series of famous granite rock stacks that have been popular with tourists since Victorian times. Yesterday's walk had been stunning, but these cliffs – once synonymous with smugglers and shipwrecks – were something else.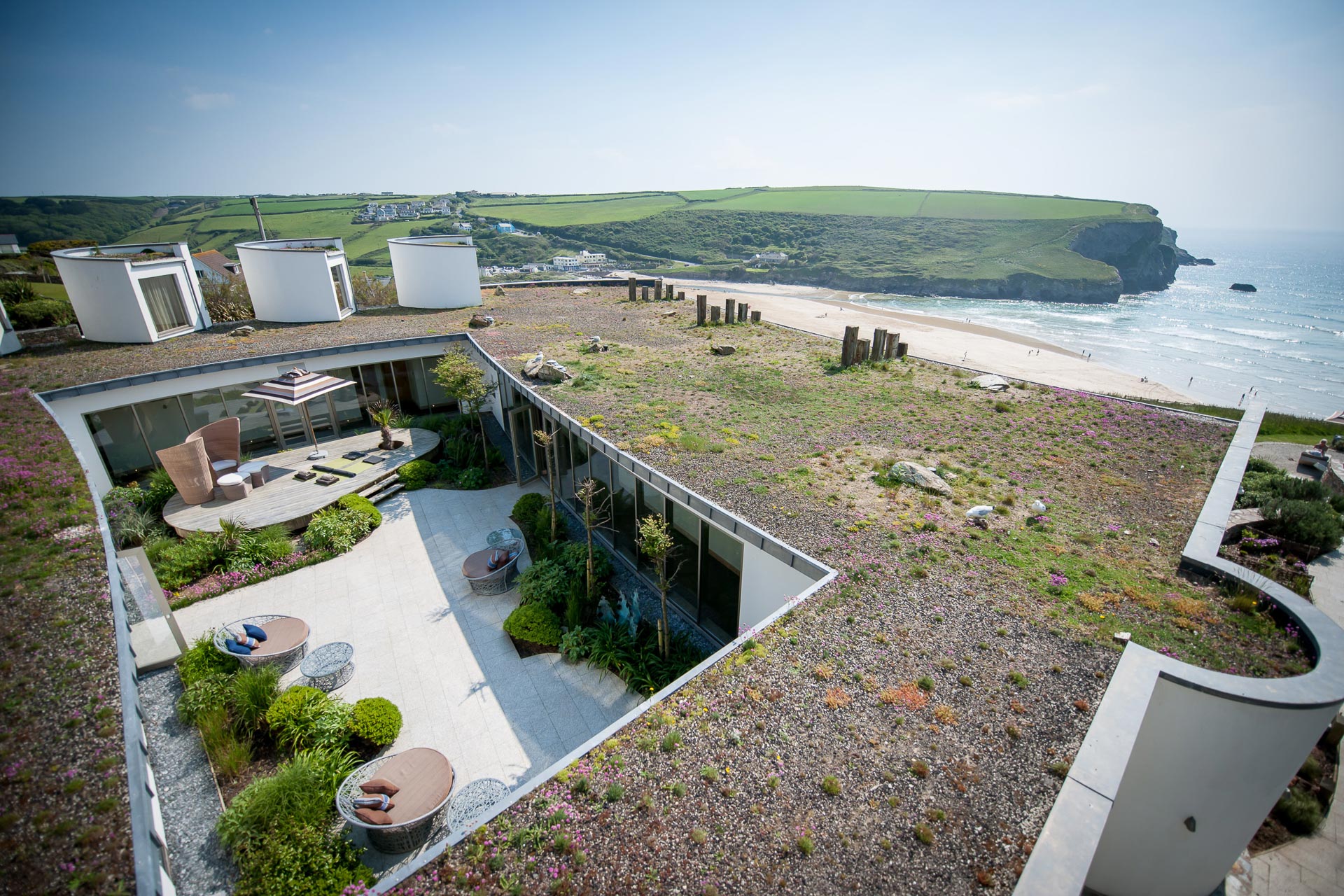 The tide was out, so we walked down to the beach and clambered around the dramatic rocks, before hiking on to Porthcothan Bay; our turning point. The day's total was almost nine miles, and we stopped for a Cornish cream tea at the National Trust café at Carnewas on the way back.
On the last section, bees and butterflies darted between bright wildflowers, seabirds glided above, and the sun sparkled off the sea. Maybe I was buzzing from the strawberry jam, but it felt like exactly the kind of wholesome high I'd been hoping for.
Back at the Scarlet it was massage time. The whole hotel smells of amazing oils, and we traced their source to the spa's dark and tented treatment area. My therapist recommended oils according to Ayurvedic tradition. I was feeling pretty chill anyway, but I left my treatment 100 percent blissed out.
Other spa highlights included morning yoga sessions, a steam room, an indoor infinity pool and an outdoor natural pool with reeds, plus the outdoor sauna.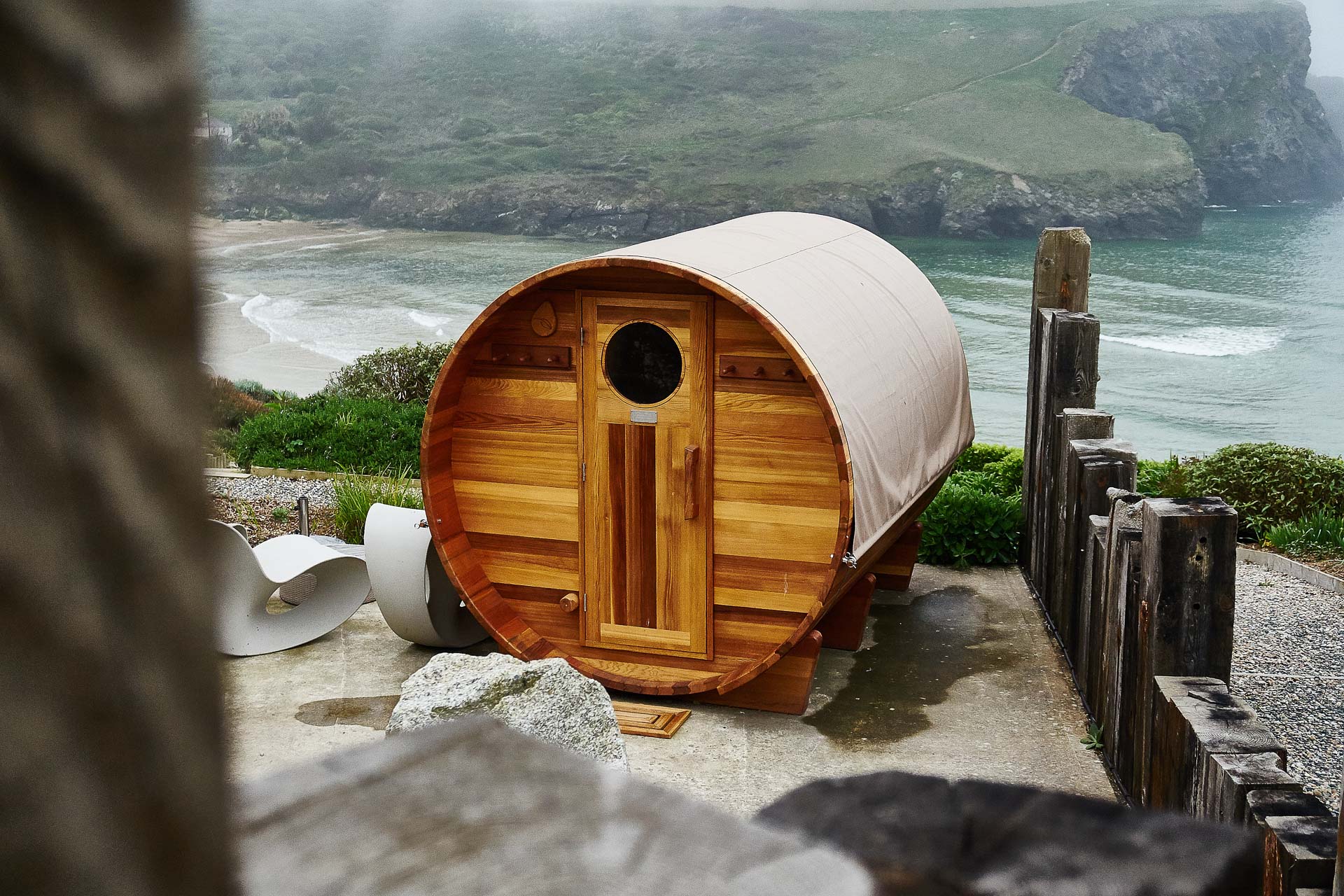 On our last morning we took to the waves ourselves surfing the beach at Mawgan Porth below the hotel, before heading inland for our final hike along a public footpath in the Vale of Lanherne to the sweet country village of St. Mawgan-in-Pydar, a short-ish walk of two miles each way.
What it lacked in dramatic cliff top views, it more than made up for in lush vegetation and dense fairy-like forest trails. We were ramblers now, so it felt fitting to order a Ploughman's Lunch, which we ate sitting amongst the jolly retirees in the beer garden at the Falcon Inn.
The Scarlet – and the astounding natural beauty that surrounds it – has the ability to take your breath away come rain or shine. Whenever you choose to go, you'll leave with your head feeling way clearer than it did when you arrived.
Do it Yourself:
Getting there:
Mawgan Porth is less than ten minutes' drive from Newquay airport. Flybe fly from London to Newquay from £58 return.
Accommodation:
Rooms at The Scarlet start at £375 for a double going up to £545 for an Indulgent Twin or King, which has a generous lounge area, open plan bathroom, freestanding bath, large monsoon shower and breakfast and dinner included.
Guides & Gear Rental:
The South West Coastal Path is well-signposted and easy to follow, so most of the time a guide is unnecessary. This being England the weather can be changeable, even in summer, so make sure you pack drinking water and waterproofs

You can book surf lessons and rent boards from Kingsurf and Betty's Surf Shop in Magwan Porth.
Sam Haddad is a Brighton-based freelance travel writer. Keep up with her on Twitter.