On Dangerous Ground | The Cambodian Jungle Resort Built to Fend Off Poachers
Architect Bill Bensley is on a quest to build sustainable luxury hotels that give back to their country's ecosystem
Photo: Shinta Mani Wild
Bill Bensley's publicist has warned that "he can be hard to pin down"; it may be the biggest understatement of the century. Bensley "currently has 40 projects on the go," the publicist explains (forty!), all of which have one thing in common: their desire to eradicate the eco-footprint of tourists without compromising their experiences.
Bill Bensley has made his mark combining his life's passion for sustainability and conservation with his natural ability to design outstanding, daring, and innovative hotels like nothing else on Earth. The designer, who hails from the States but lives in Thailand, has built radical, eco-friendly hotels within disused turn-of-the-century university buildings in Vietnam, and on the grounds of a former Malaysian Sultan's palace.
His next project, Shinta Mani Wild, due to open in November 2018, is set on a remote, unprotected, and unchartered wildlife corridor between two Cambodian national parks. The corridor is one of the last places in Cambodia where you can see wild bears, elephants, gibbons and tigers, roaming free. It is, in a word, spectacular.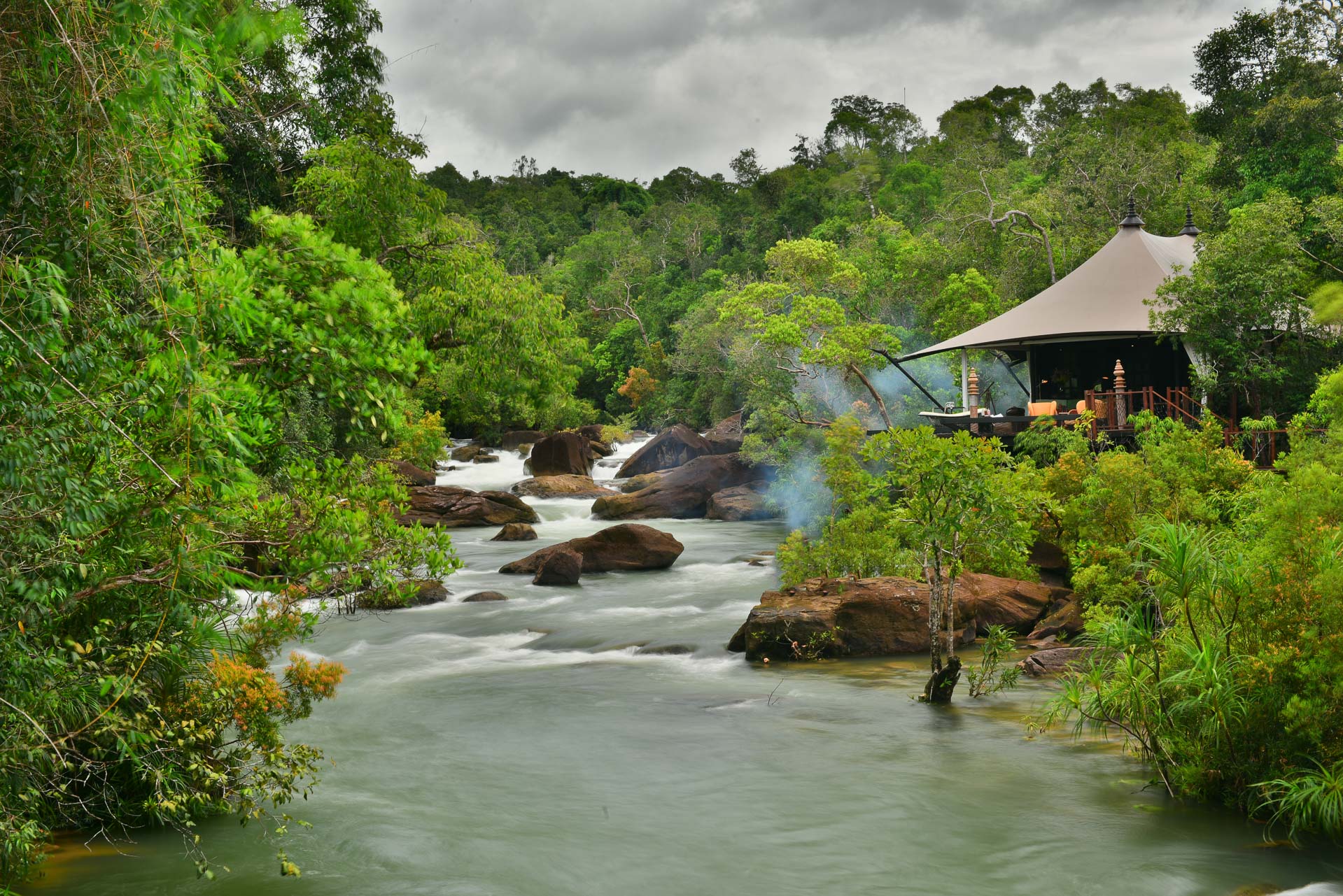 This remoteness doesn't sound like it'd lend itself to the build of a luxury hotel. However, "luxury is no more!" according to Bensley.
"Each residence has been designed to evoke the feeling of being on a 1967 safari in the jungle with Jackie Kennedy"
"For me, torture is a posh Michelin-starred restaurant," he carries on. "Give me street food and lighthearted locals any day. I am on a valiant pursuit of worldliness. The new indulgence is understanding the true meaning of experiential travel. Truly seeing the world has absolutely nothing to do with thread count."
Bensley's rambunctious manner cloaks the architect's very serious desire to bridge the gap between high design and conservation. Bensley's hotels provide experiences which are luxurious, but are also designed to sustain local communities in radical ways.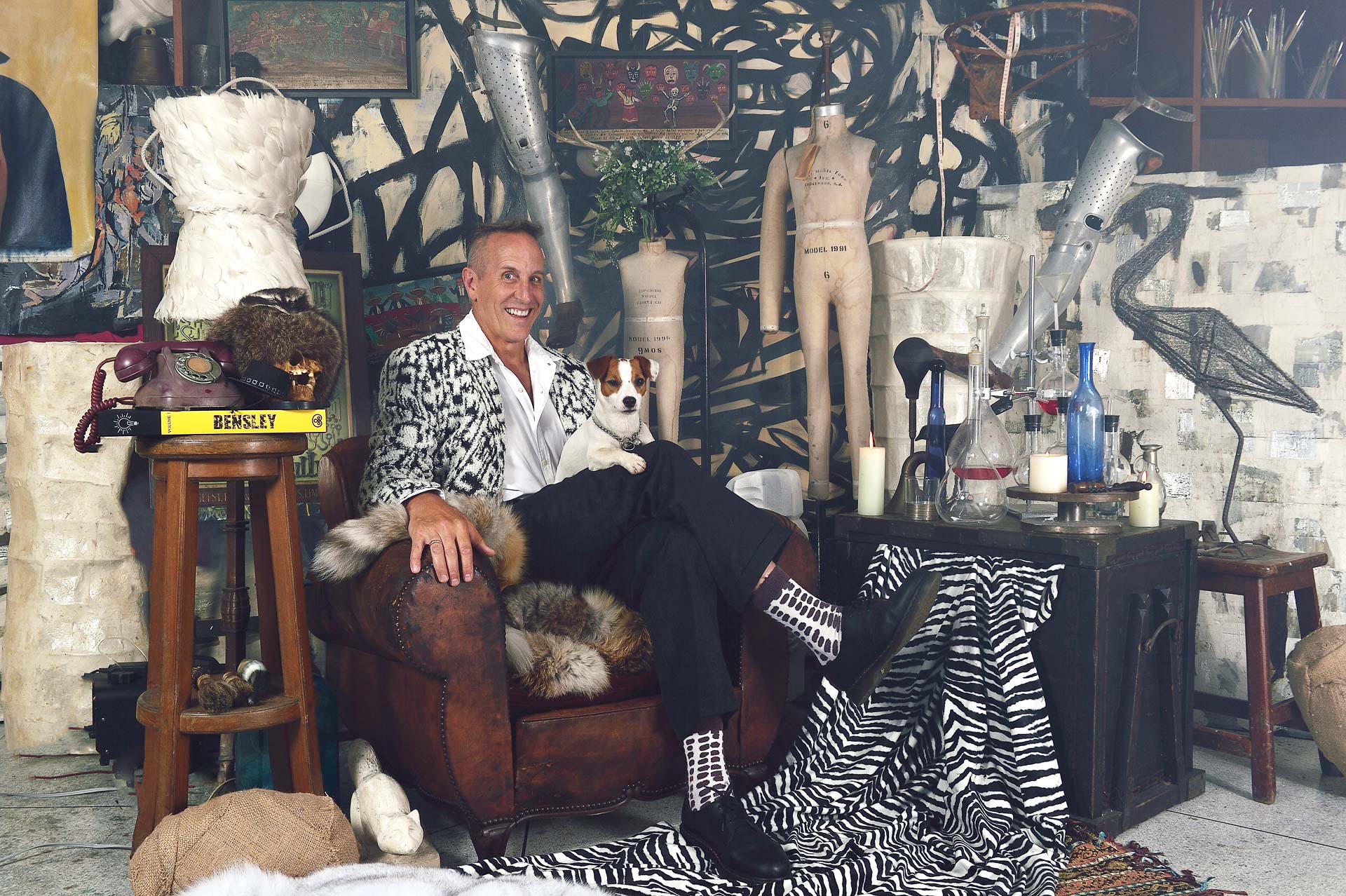 It all began in 2004, when the architect became involved with the Shinta Mani Foundation in order to provide workplace opportunities in the Southeast Asia region he lives and works in. The Foundation teaches locals how to cultivate their environment with sustainability at heart, and has gone from strength to strength, with hundreds of graduate success stories already to their name.
Many of the students of the Shinta Mani School of Hospitality go on to work in the flourishing regional tourism industry around Siem Reap, should they want to. Once the camp is up and running, priority access to the school will be given to underprivileged locals from the Kirirom, Kardamon, and Bokor national parks of Cambodia, where work is harder to come by. Over 100 homes and 1,000 water wells have been constructed since the Foundation began.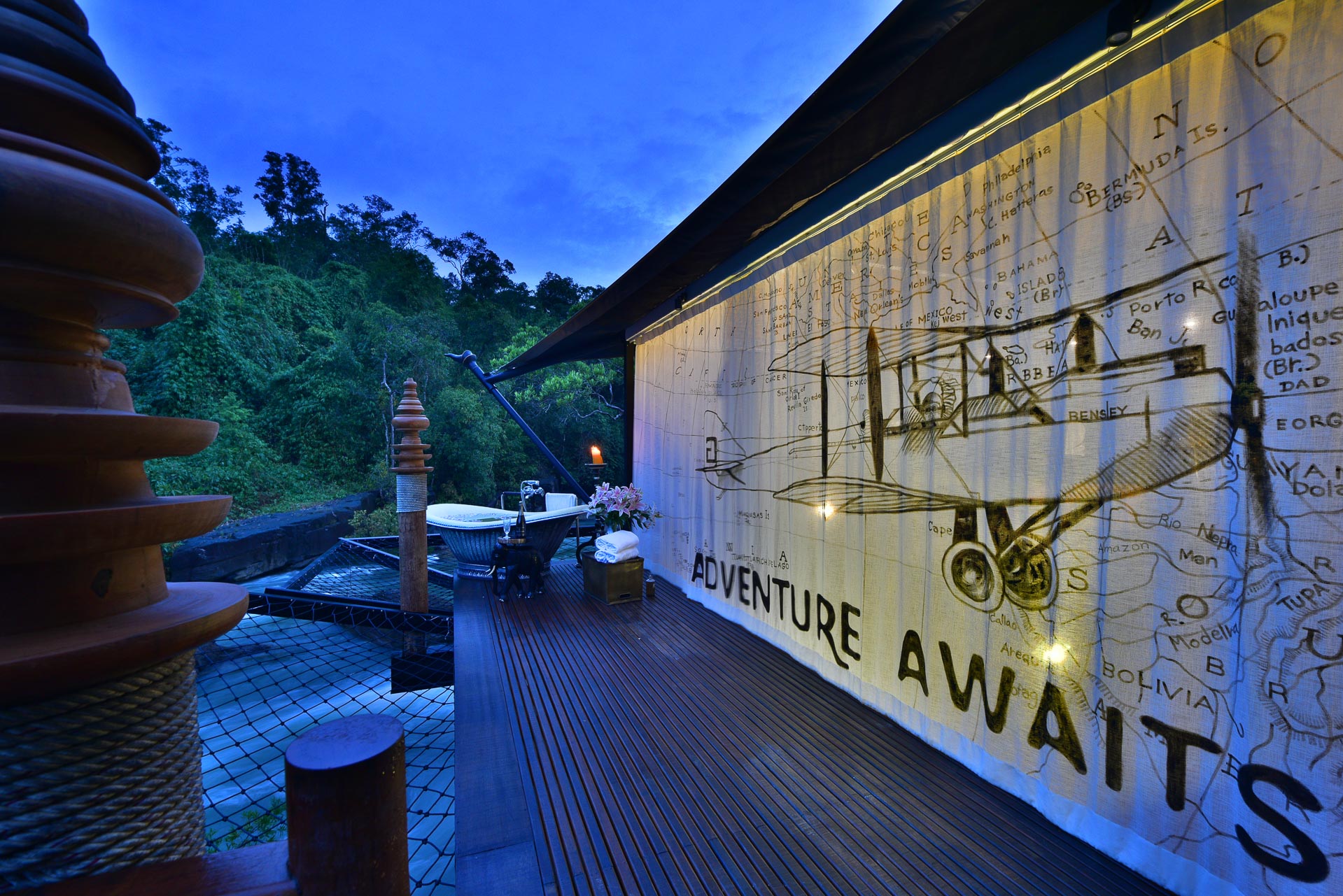 The Shinta brand (there are three Shinta hotels in Siem Reap, although none nearly as bold or as remote as his latest offering) boasts an interesting public-private partnership model, which in practice means that tourists pay big money to stay at Shinta Mani Wild, while the not-for-profit Shinta Foundation provides teaching and, thanks to Shinta Mani Wild, a base for scientific research.
Researchers will stay at the camp and document animal migration patterns and flora and fauna, exploiting the camp's remarkable position in the midst of the jungle – this research is bankrolled by the revenue generated by the luxury hotel.
The biggest issue that the luxury resort faces is poachers. The remote Tmor Rung area, which houses Shinta Mani Wild, is increasingly a target for poachers, but Bensley believes he can deter them with the work of the resort. The architect is working in collaboration with local experts to overcome the poachers, partly by providing more knowledge to local people about the ways they can profit from their environment, rather than abuse it. Now, after 14 years, the Foundation has sustained enough local interest to warrant building this daring new hotel, which will provide more jobs for graduates and fuel further research.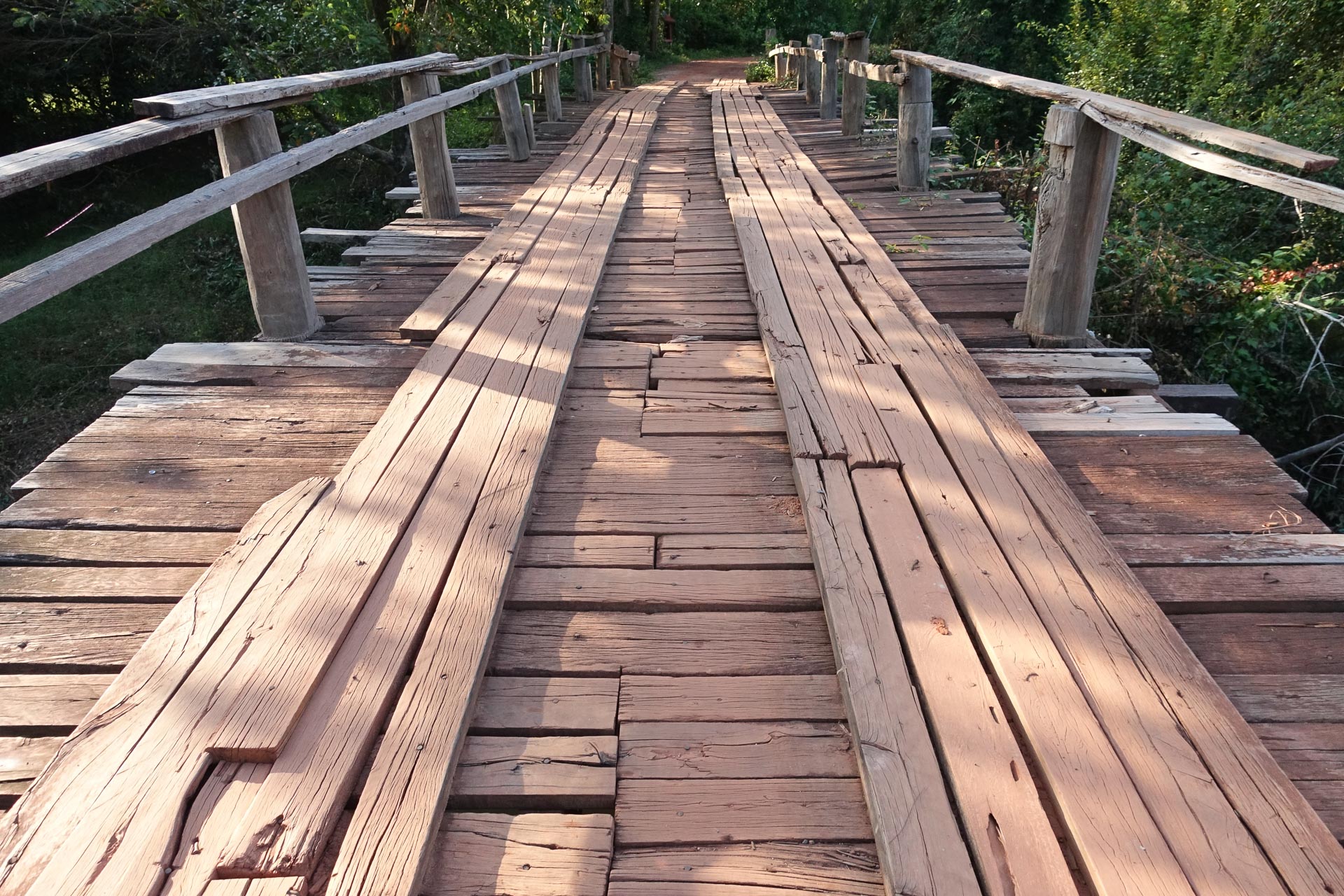 "It was the Shinta Mani School of Hospitality that first created a need for a hotel," says Shinta's director Brad Akins. "Through extensive community development programmes targeting rural families identified as being most in need, we are able to make meaningful progress."
Bensley's public-private partnership model also sees him work in a not-for-profit capacity with the Wildlife Alliance, Fauna & Flora International, The Royal University of Phnom Penh, and the Cambodian Government, to assure that the luxury retreat is as respectful to the local natural environment as possible.
Visitors, on the other hand, are set to have a blast. Guests will stay in 100-sqm tents built over natural flowing waterfalls and waterways, which Bensley says provide natural air conditioning through the tent's rattan floorboards. Tent designs "bring the outside in" with hand-designed, printed sofas, while outdoors, large iron baths perch by the water's edge for an evening's relaxation.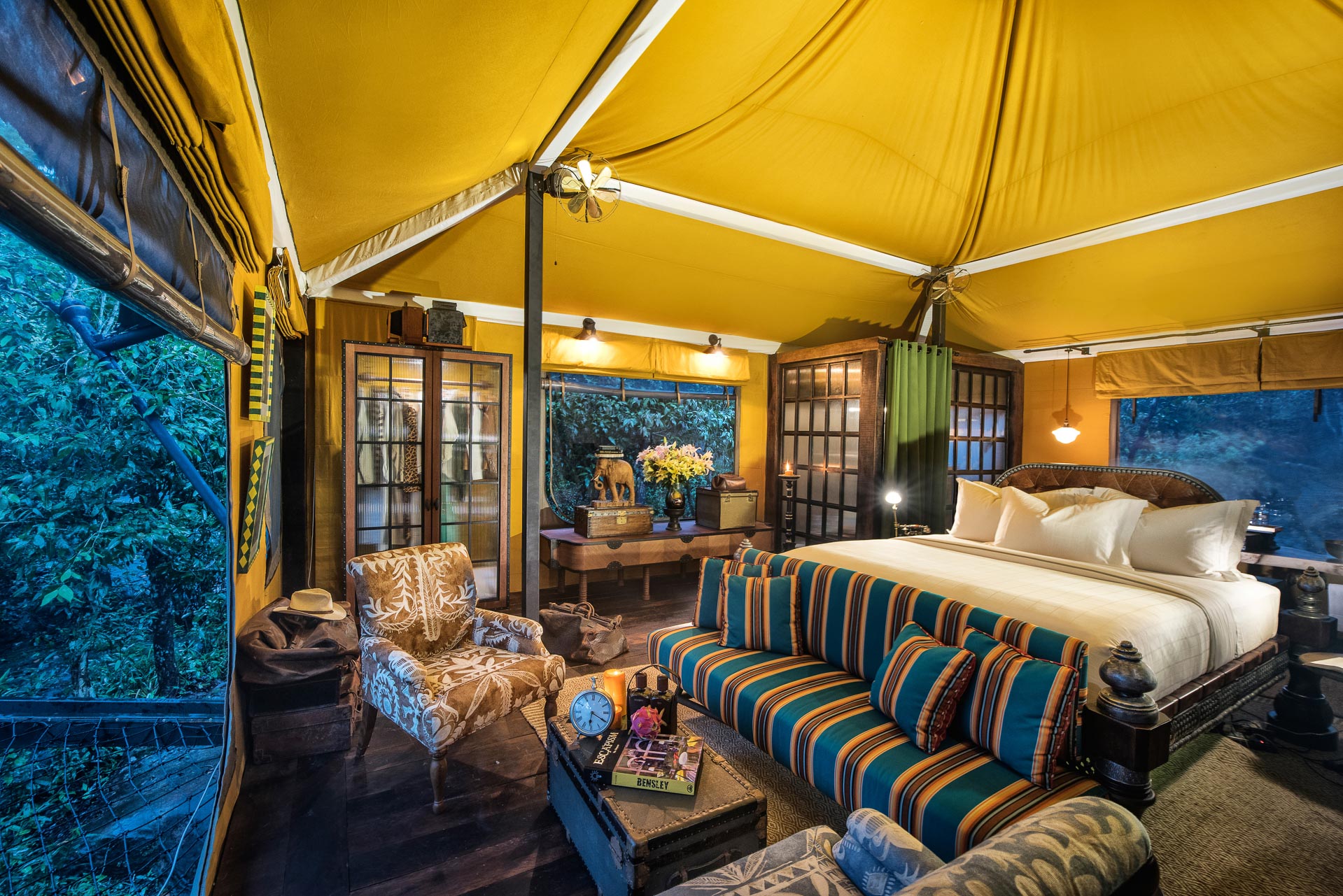 A "mess tent" will serve locally foraged foods at meal times, and each residence has been designed to evoke the feeling of being on, in Bensley's words, a "1967 safari in the jungle with Jackie Kennedy." Their spa will use only natural products, and their 'Landing Zone Bar' will be open for guests to sip G&Ts from the edge of the sanctuary's biggest waterfall. This will be radical luxury, without compare.
Visitors can hike to waterfalls, go reservoir swimming, bungee jumping, kayaking, dirt biking, mud wrestling, and even support a local raid for illegal poachers (if justice is what you look for on a safari break). Bensley has curated the activities with the knowledge of two local conservation experts, Mr. Munny and Mr. Det, who Bensley hired to bridge his vision with their homeland.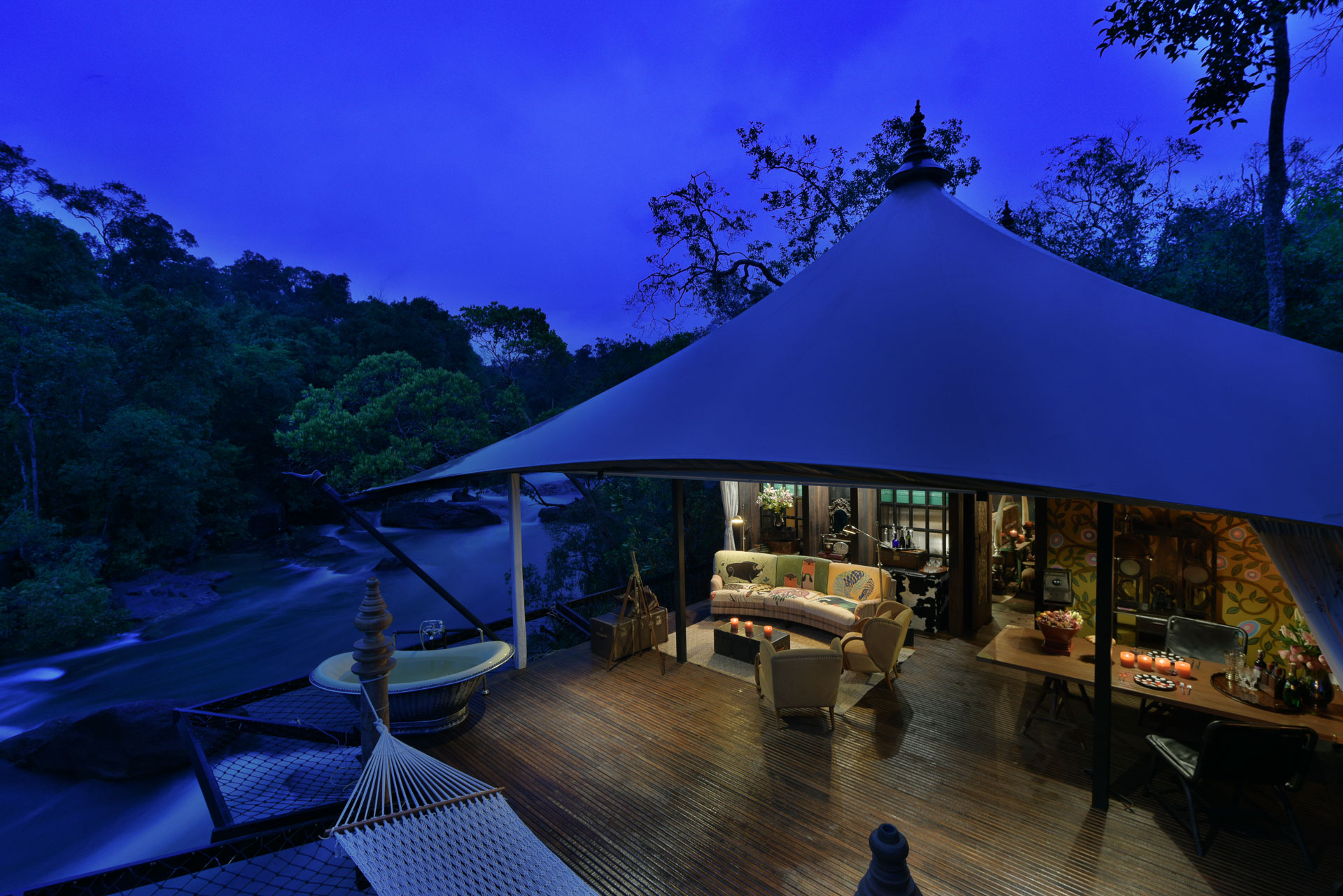 "They are well acquainted with the locals, the community and the associated problems," Bensley tells me. "Munny and Det are our on-site community reps, and have regular meetings with the village heads about the illegal logging, the access bridge, the garbage dump and the illegal poaching of wildlife."
Bensley says the true 'secret' to this brand of sustainable tourism is actually rather simple: reducing the size and scope of projects.
"What I try to promote on my projects across the world is a low-volume, high-yield type of tourism," says Bensley. "In places of environmental sensitivity, I would champion a smaller number of rooms with twice or three times the price-tag. This works: smaller is better. And I am standing by this philosophy with Shinta Mani Wild. On our land, which is the size of Central Park, we could build 315 keys, easily, but we are building 15 keys instead – which is the best way to save energy that I can think of!"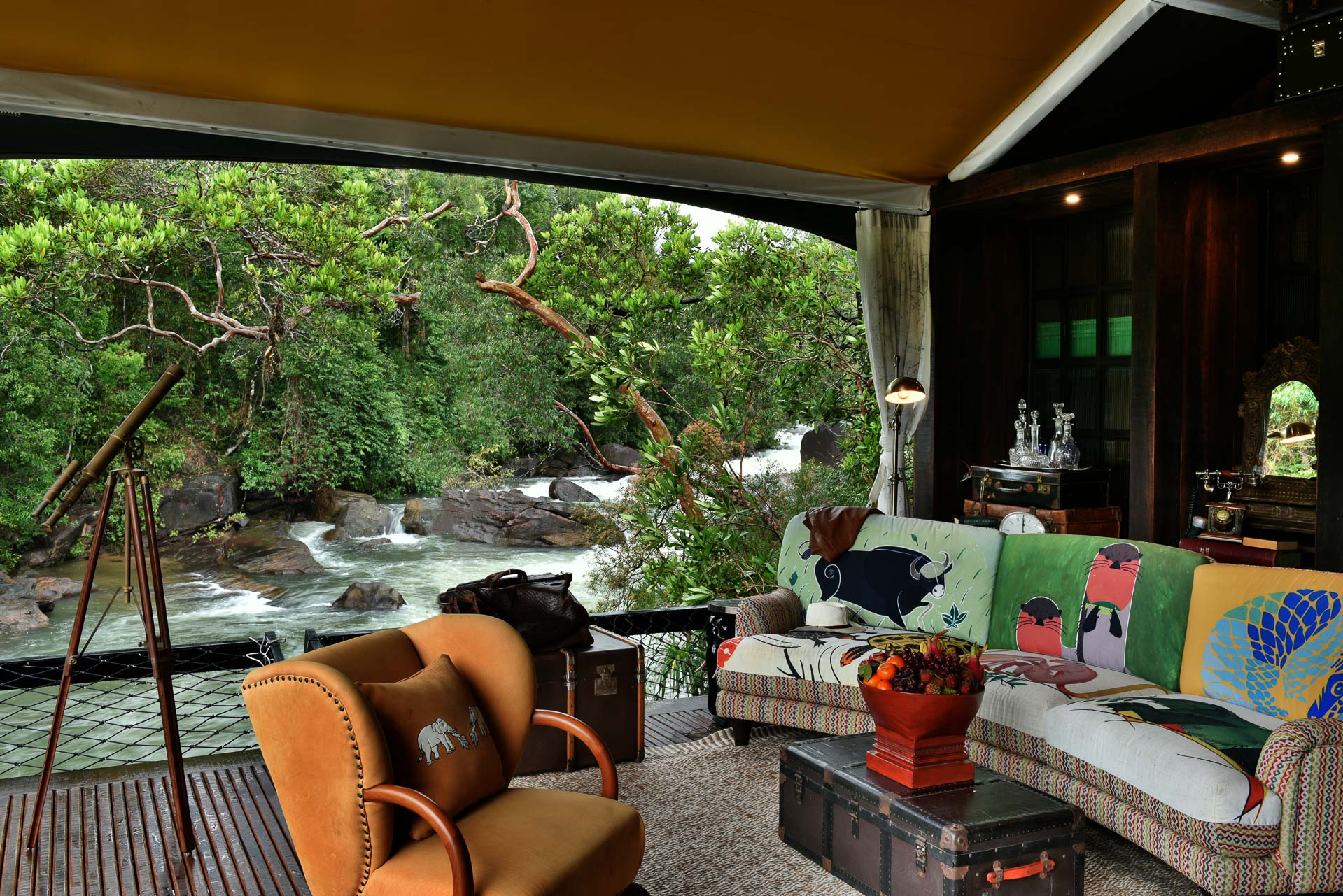 The downside to this strategy is that, beyond the sustainable business model, only the "extremely wealthy" will be able to afford a pair of those 15 sets of keys, Bensley admits.
Those wealthy tourists, however, are pawns in Bensley's strategy to "give back" to Cambodia. "We want to 'give back' an intact forest environment of big trees and an abundance of the native wild animals," Bensley says. "And 'give back' a good example of why conservation is much more profitable than extraction. We are determined."
Do It Yourself
Shinta Mani Wild opens November 2018. Flights from London to Siem Reap start from around £450 return. Get in touch with the resort to discuss pricing by emailing book@shintamani.com
For a chance to experience the Bensley hospitality for cheaper, try the Shinta Mani Shack Angkor in the more built-up Siem Reap, with rooms from £91 per night for a double room with a pool view
Adam Bloodworth is a freelance writer, based in London. Keep up with him on Twitter.