Anti Social Social Club Alternatives | Best Underground LA Brands
Had enough of your ASSC hoodie? Cop the next big thing instead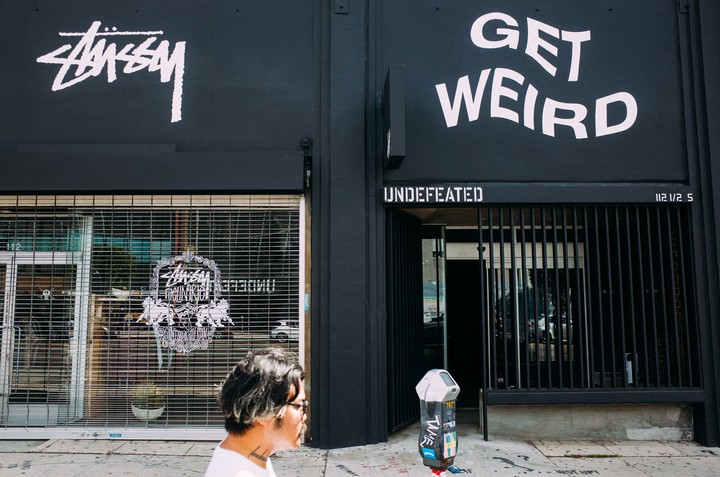 Fashion moves fast. Nothing looks worse than last year's collection in this year's scene, and eagle-eyed hypebeasts can spot a misstep from a mile off. Remember Juicy Couture? Remember Ed Hardy? History is unkind to the brands of the past; you're much better off future-proofing.
Anti Social Social Club are a streetwear ubiquity nowadays, collaborating with some of the world's biggest brands, and being worn by some of the world's biggest bands. Neek Lurk and his irreverent, melancholic designs have made the Anti Social Social Club logo as recognisable as Supreme or Palace. But who wants ubiquity, when you can have the next big thing instead? Instead of hanging around for the next Anti Social Social Club drop, check out the California brands on the cusp of greatness.
BornxRaised
Few brands ride with the intensity of BornxRaised. Founded as a kickback against the gentrification of Venice Beach, BornxRaised - ran by the enigmatic design duo Spanto & 2Tone - co-opts gang iconography and provocative slogans to tell the real story of LA, and to send a resolute middle-finger to outsiders. In contrast to the detachment and passivity of Anti Social Social Club's branding, BornxRaised are palpably raging, stamping 'Gentrification is Genocide' on their most famous collection, and 'Fuck Off' on their latest. If you want your streetwear bold-as-brass, BornxRaised are the brand for you.
Amiri
Anti Social Social Club's latest collab with BTS has caught them the headlines recently, but they're not the only LA brand repped by the K-Pop superstars. Amiri, who tilt firmly towards the luxury side of the scene, bring the strong, decadent aesthetic of 1991-era Axl Rose to their streetwear, and are keeping their founder Mark Amiri's promise to "dress the world like rockstars". BTS aren't alone in proudly showing off their Amiri gear; everyone from Justin Bieber to Lionel Messi has been spotted in one of their couture hoodies or Misfits-y sneakers. Time to get dressing like a rockstar.
Midnight Studios
Perhaps the streetwear brand with the most in common with Anti Social Social Club, Midnight Studios - brainchild of the mercurial young designer Shane Gonzales - has every last bit of ASSC's nihilism, but with a consciously punkier edge. Gonzales, who cites Vivienne Westwood and the Tony Hawk video game series as his main inspirations, is unafraid of evoking the brazen provocation of seventies punk fashion, with slogans like 'NO FUTURE' and 'FUCK FOREVER' featuring heavily in Midnight Studios' designs. Frequent collabs and shoutouts from A$AP Rocky have helped Midnight Studios shoot to success, bringing the aesthetics of rap and punk together under the same transgressive, counter-cultural umbrella.
Chinatown Market
They're the hyper-saturated, ultra-subversive darlings of the streetwear scene. They're the brand who got a $50,000 fine from the NBA after pre-announcing LeBron James' move to the LA Lakers with a picture of LeBron lacing up a pair of their Converse. They are Chinatown Market, and if you don't know them yet: you do now. Chinatown Market's designs seem to exist in world of their own: playful, cartoonish, constantly veering on the edge of psychedelic. Cop their latest collab if this sounds up your street - it's with Spongebob Squarepants; who else would it be with?
Rhude
From launching his brand with a $150 t-shirt that nobody bought, to being showcased by Kylie Jenner, Adam Levine & The Weeknd (in the last few months alone!), Rhude has come a long way in a very short amount of time. Founded by Rhuigi Villaseñor, a native of the Philippines who moved to LA aged 11, and sold vintage fashion pieces that he dug out of charity shops to get by in his early twenties, Rhude is a celebration of casualwear, with pieces that beg to be worn day after day after day. Kendrick Lamar even wore a pair of Rhude's trademark 'Traxedo' pants to accept his Pulitzer Prize: if that isn't a testament to Rhude's wearability, I don't know what is.
Tagged: