Paradise Found | How Going Off-Grid Gave David LaChapelle a New Lease of Life
The photographer explains why escaping to paradise changed everything
David LaChapelle is not how I imagined him. The affable, 55-year-old photographer is known for his bubbly personality and loud, glossy shots of celebrities, from Michael Jackson to Madonna. But meeting him at Galerie Templon in Paris this past weekend, where he just opened a solo show entitled Letter to the World, he's not living up this effervescent reputation.
"Where I live is really isolated. It's kind of a village, very small, totally remote"
Instead, LaChapelle is zenned out. He moves slowly, calmly, and in interview, he offers thoughtful responses that sound almost like haikus. This is especially unexpected when you consider LaChapelle's work (which includes some of the most exciting photos in the history of pop culture) and his signature style - which with its lurid colours and deliberately provocative riffs on religious iconography, is never knowingly understated.
But perhaps his calm mood is a reflection of the change of pace his life has undergone in recent years. In the mid-2000s, when he was arguably at the height of his fame, LaChapelle took the bold decision to up sticks from New York and move to Hawaii. "Where I live is really isolated and off the grid," he says. "I was visiting this one particular area [while on a shoot for Motorola] then I realized I could live there. I've always loved nature and the woods."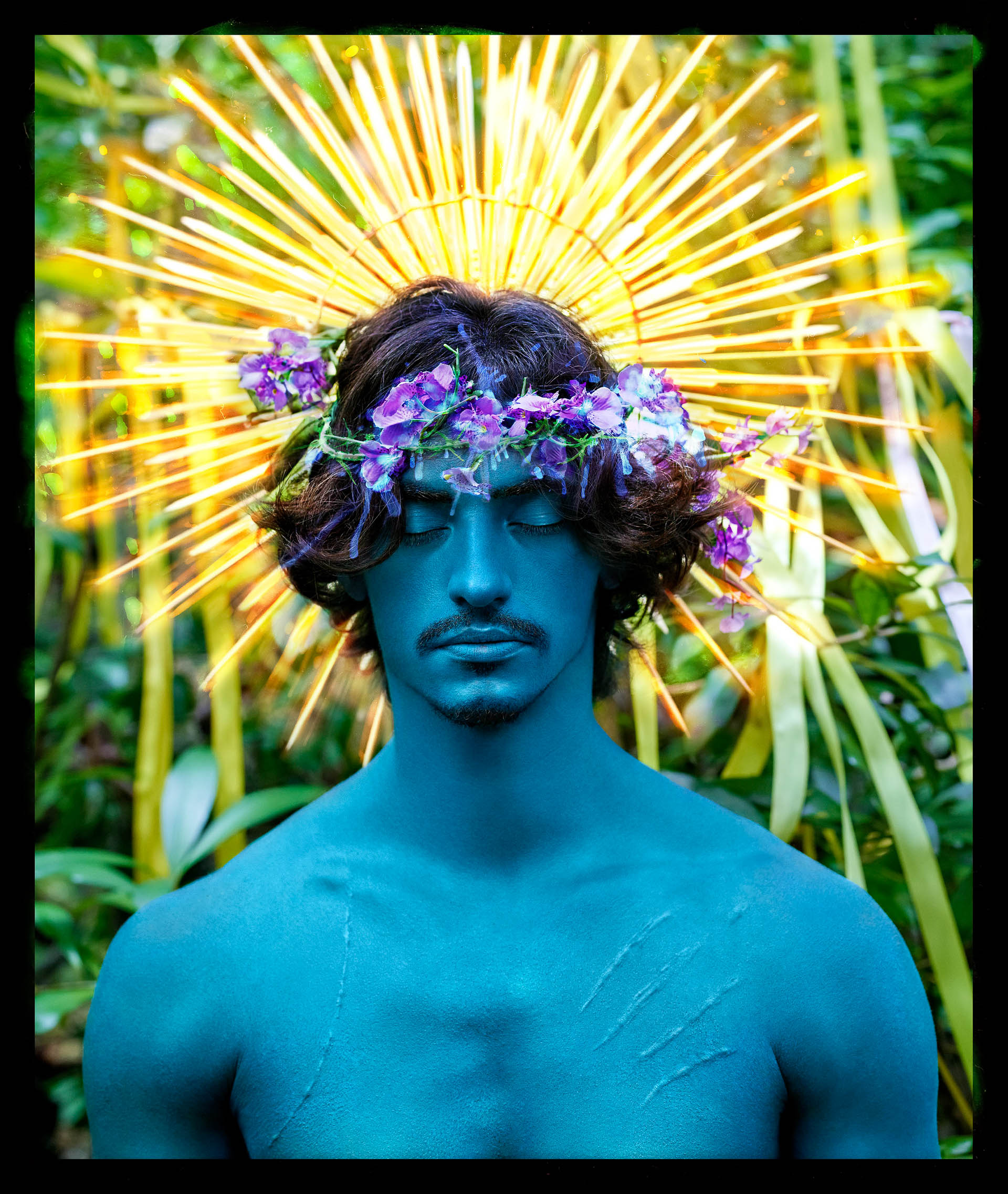 It's all a far cry from where LaChapelle started out. His career kicked off at Andy Warhol's Interview magazine in the 1980s where he was given free rein to shoot stars, starting with Keith Haring and Jean-Michel Basquiat. It led him to shooting for Vanity Fair, then album covers for Britney Spears and music videos for Gwen Stefani and Mariah Carey.
But by 2006 LaChapelle's interest in shooting fashion and the famous started to wane; he ran away from the whirlwind of a busy New York life to the rural tropics, saying that he never wanted to shoot another celebrity again. His search for a more meaningful existence was reflected in his work, which started turning to eerie landscapes and shots of figures inspired by religious iconography - much of which is published in his recent book, Good News.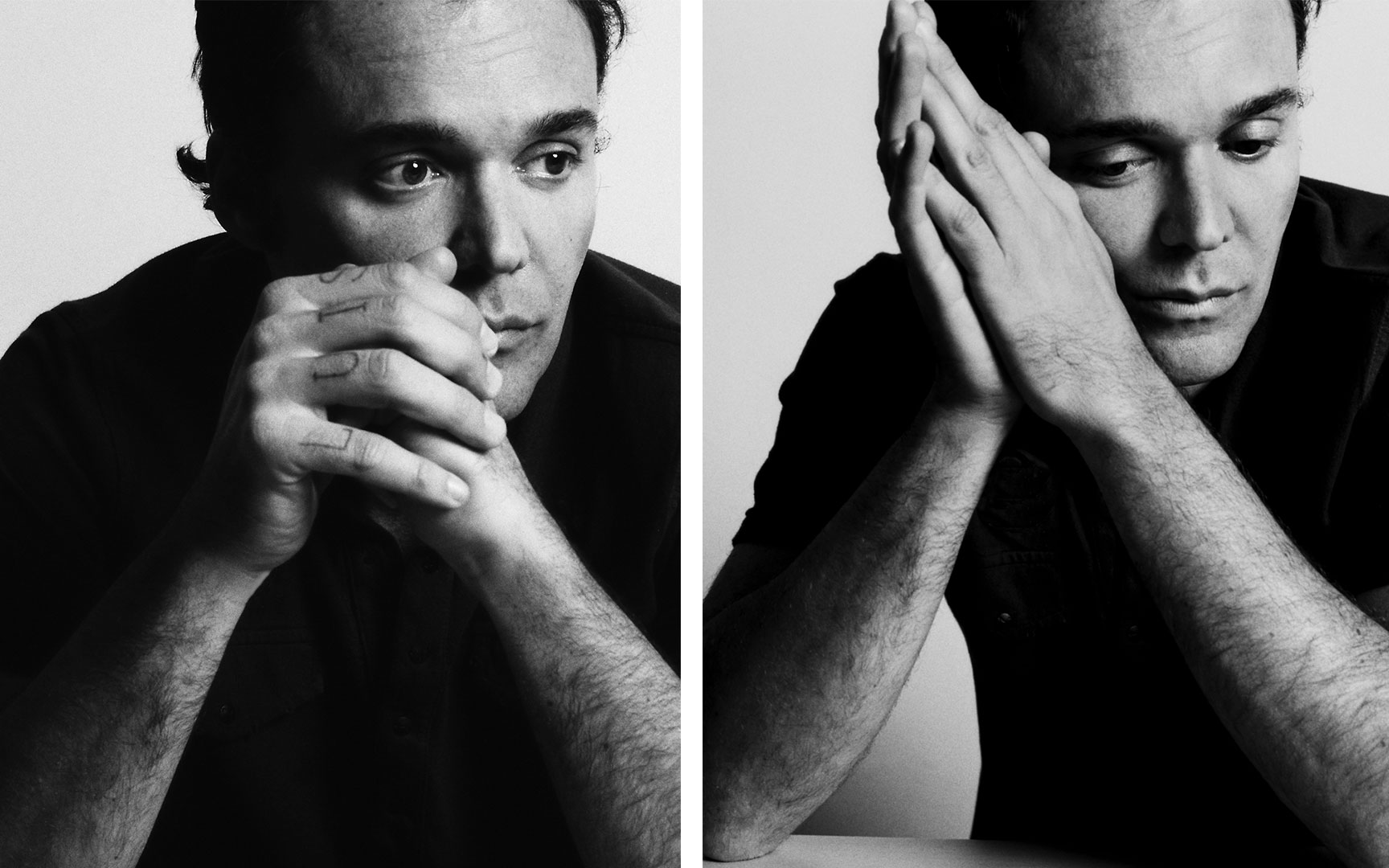 "It was a pretty drastic change from the pace I was working at," he explains. "I was going from a super hectic day-to-day. I loved my life as it was, but there are different chapters in your life".
The small village off the eastern coast of Mauithat he now calls home couldn't be more different to his previous stomping ground in West Chelsea. Hana with its population of just 1,200, is wedged between the Pacific Ocean and the Halekala National Park. The local tourist board website, boasts that it's "the last undeveloped tropical paradise".
"It's good to be alone and contemplate things and have time to think about your life, your choices and what you're here for," LaChapelle says, when asked what drove his decision to move. "I get to take care of myself and get time to think. Time goes a little slower. You [also] get inspiration."
"The local tourist board website, boasts that it's 'the last undeveloped tropical paradise'"
There is one thing his new, quieter existence has in common with the one he left behind in New York though. His house - though very different - is still stunning. Reports suggest that LaChapelle bought the property, a former nudist colony, for $1.5m in 2006, then in added an additional 6.5 acres in 2007. The area is filled with dragon fruit, jasmine and ferns.
His plantation-style house at the centre of it is a recycled masterpiece. The solar-powered, five bedroom building is made from wood sourced from an old hotel and koa trees on the nearby Big Island.
But it's nothing if not remote - so remote in fact that it's a three-hour drive to the closest hotel. Where does LaChapelle even go grocery shopping, in down season? "There is a general store and a gas station in town, if you call it a town," he says. "It's kind of a village, very small, totally remote."
Instead of shopping for everything, LaChapelle has an onsite organic farm where he grows produce onsite. "A lot of avocados, all fresh," he says, and "we have goats and chickens, we grow vegetables. 'A farm' is [maybe] an overstatement but there's lots of fruit trees."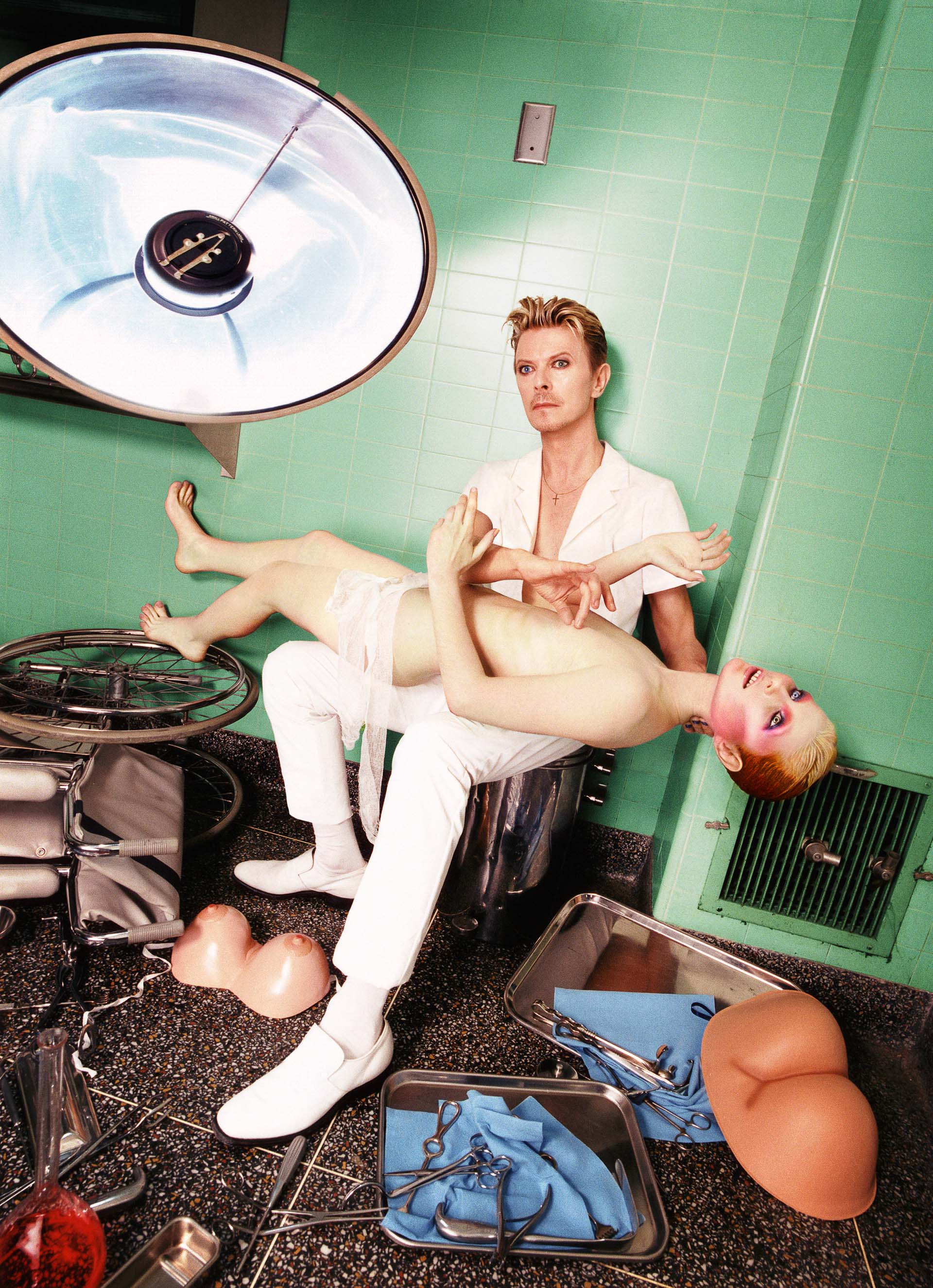 It all sounds pretty idyllic, and certainly LaChapelle's changed environment seems to have informed his latest work. The lush colourful landscapes of Hawaii provide the backdrop to his Letter to the World exhibition - a visual message, which suggests that one can have paradise, if one looks for it, by finding the Renaissance in the everyday.
"I moved there just because I loved it," said LaChapelle, "but it also inspired me to make this photo series. This last decade of work has really become a culmination of a new world paradise, which was inspired by living in a place that's really pristine, this rainforest I live in. It's a background for [exploring] the relationship between man and nature."
At the same time, the new series is also LaChapelle channeling his inner fanboy. "I've wanted to photograph heroes of mine, artists who had an impact on me," he says. "I wanted to capture the essence of them."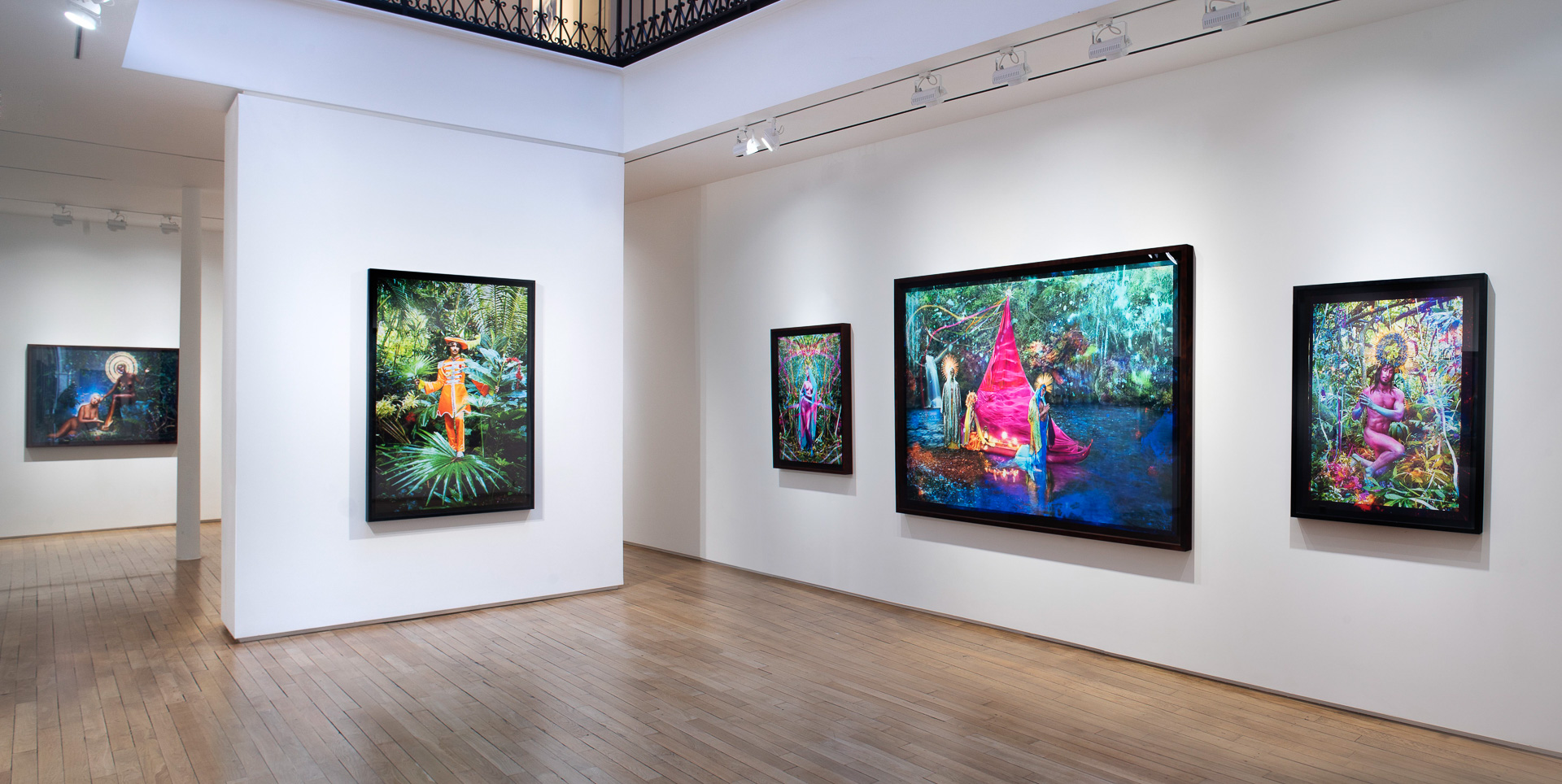 Remarkably he's found a way to do this even though some of the artists are no longer around. The series includes shots he has taken in his own backyard jungle of a Sgt. Pepper's style character, complete with a late-60s moustache, is a tribute to George Harrison.
"Harrison was a hero of mine," he explains. "When you hear songs he wrote like My Sweet Lord, it's almost a spiritual experience," said LaChapelle. "[With this series] I wanted to honor artists [like him] who have inspired me. Not just musicians, but artists and poets like Walt Whitman and George Washington Carver." Celebrating the people who he looks up to by putting them in the rainforest landscapes that provide his inspiration these days seems particularly apt.
David LaChapelle never really 'went away'. He's too important a figure, with far too high a profile for that. But looking at this latest exhibition, it definitely feels like his decision to move to Hawaii, in pursuit of paradise, has given his work a new lease of life. "It definitely gives me perspective," he says, thoughtfully. '"Solitude is really nice, it's good for my mind and spirit and health in every way to have that balance restored."
David LaChapelle's Letter to the World runs until December 29th at Galerie Templon. Nadja Sayej is a freelance writer based in Paris. Follow her on Twitter.