Paint it Black | The Sardinian Village Where Anarchist Graffiti is Encouraged
Welcome to Orgosolo, an unlikely street art hotspot in the heart of Italy's bandit country
The mountain village of Orgosolo in central Sardinia, with its sloping maze of cobbled streets, pecorino cheese, and population of just 4,000, is not what you'd usually expect of a hotbed of political anarchy.
But its position under the snow-capped peaks of Gennargentu National Park, and overlooking the Gulf of Orosei's emerald seas, has been the envy of many, and put it under near-constant siege. Carthaginians, Romans, Byzantines, Spanish, Piedmontese, and Italians have all had a go at conquering the Orgosolese people over the past three millennia. None succeeded: it only hardened their independence.
In most towns, that history might not be quite so apparent. But Orgosolo's walls are painted with a technicolour defiance. "The murals represent an answer to a government that does not support us," says Maria Franca Succu, who owns a tiny shop selling honey in the town centre.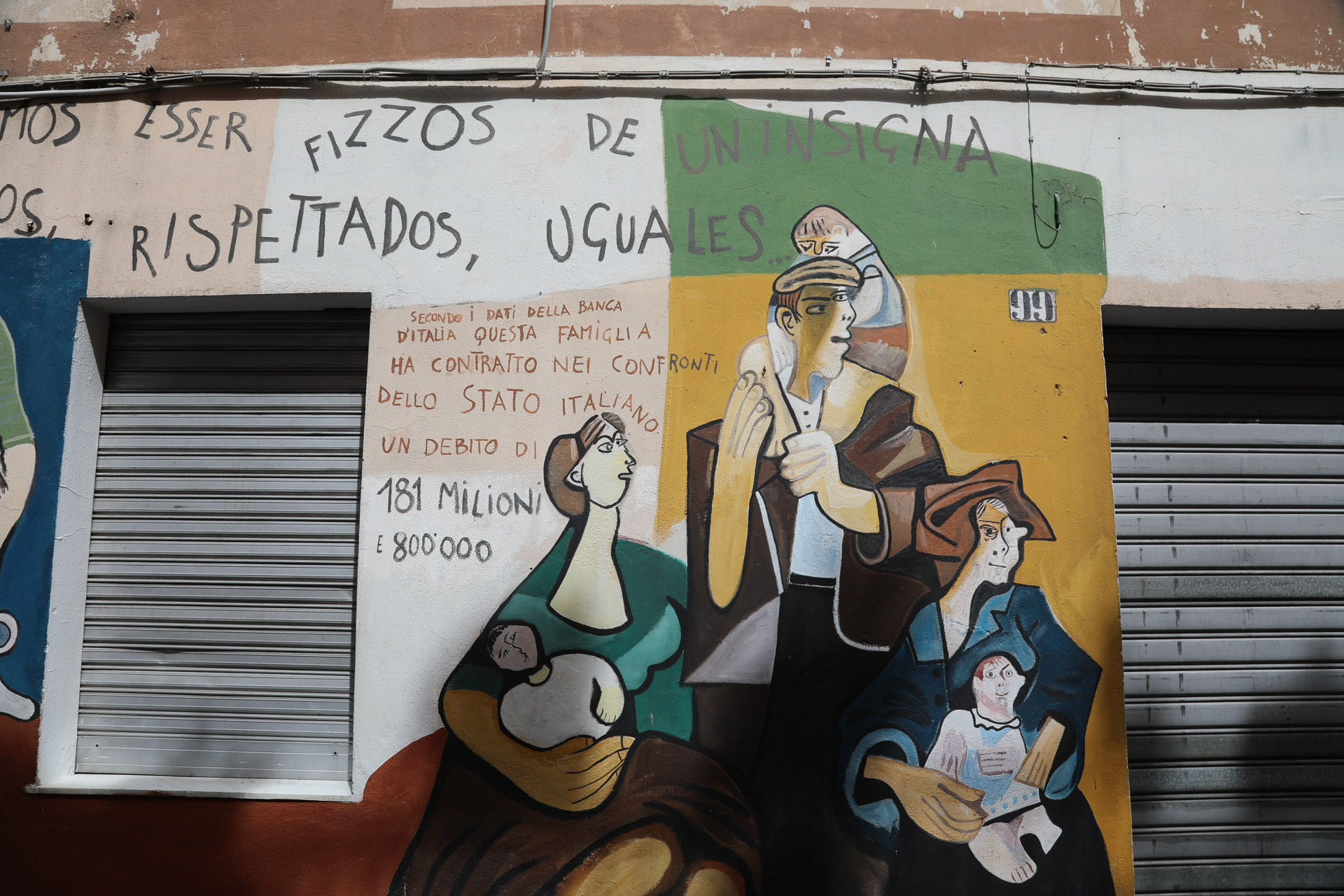 "People are not satisfied because everything is not working as it should. There are problems with health care and education, and unemployment is at the highest rates. The streets of this place are the great bulletin board of ordinary people's thoughts."

Hundreds of vibrant political murals cover the walls of the bars, restaurants, shops and even banks across town. One depicts a Bank of Italy bird carrying a bag full of money labelled "Cassa del Mezzogiorno" – a project from the 1950s intended to stimulate economic growth in the south of the country that became mired in financial mismanagement – as millions fall into the hands of corrupt men below.
"The important thing for us is that the artist leaves a message on our walls and that they tell a truth"
Another despairs at the €800,000 debt laid onto a family by the Italian state in a Cubist style very reminiscent of Picasso. A third simply quips about the many army bases built on Sardinia: "Fertiliser, not bullets!"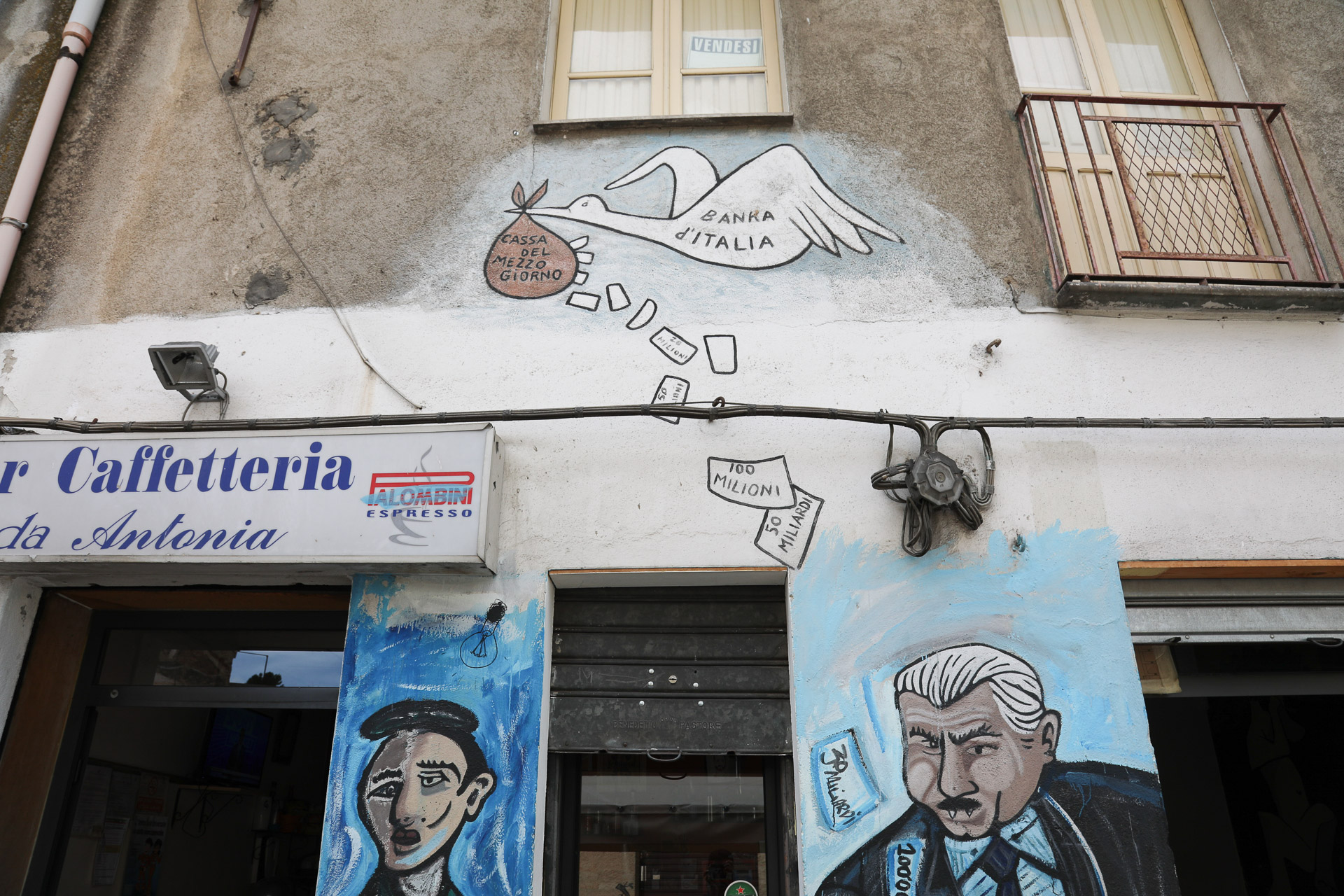 But although plenty of the paintings are directed at the mainland, there is often a distinctly global flavour to them. The walls of Succu's own store depict starving African families and slogans critiquing the rich, while the refugee crisis, the feminist movement, the global banking system, and workers' rights are among the most prominent topics.

"It's a real living tradition," says Bill Rolston, a former professor of sociology at Ulster University, who wrote a study about the murals of Orgosolo in 2014. "Young men and women are the backbone of this cultural group. They feel disenfranchised, but also a connection to the troubles in the wider world. The murals about foreign places are not only about foreign places, they also help convey the plight of the Orgosolese as a marginalised yet resistant people. The walls are a great way to get out the story."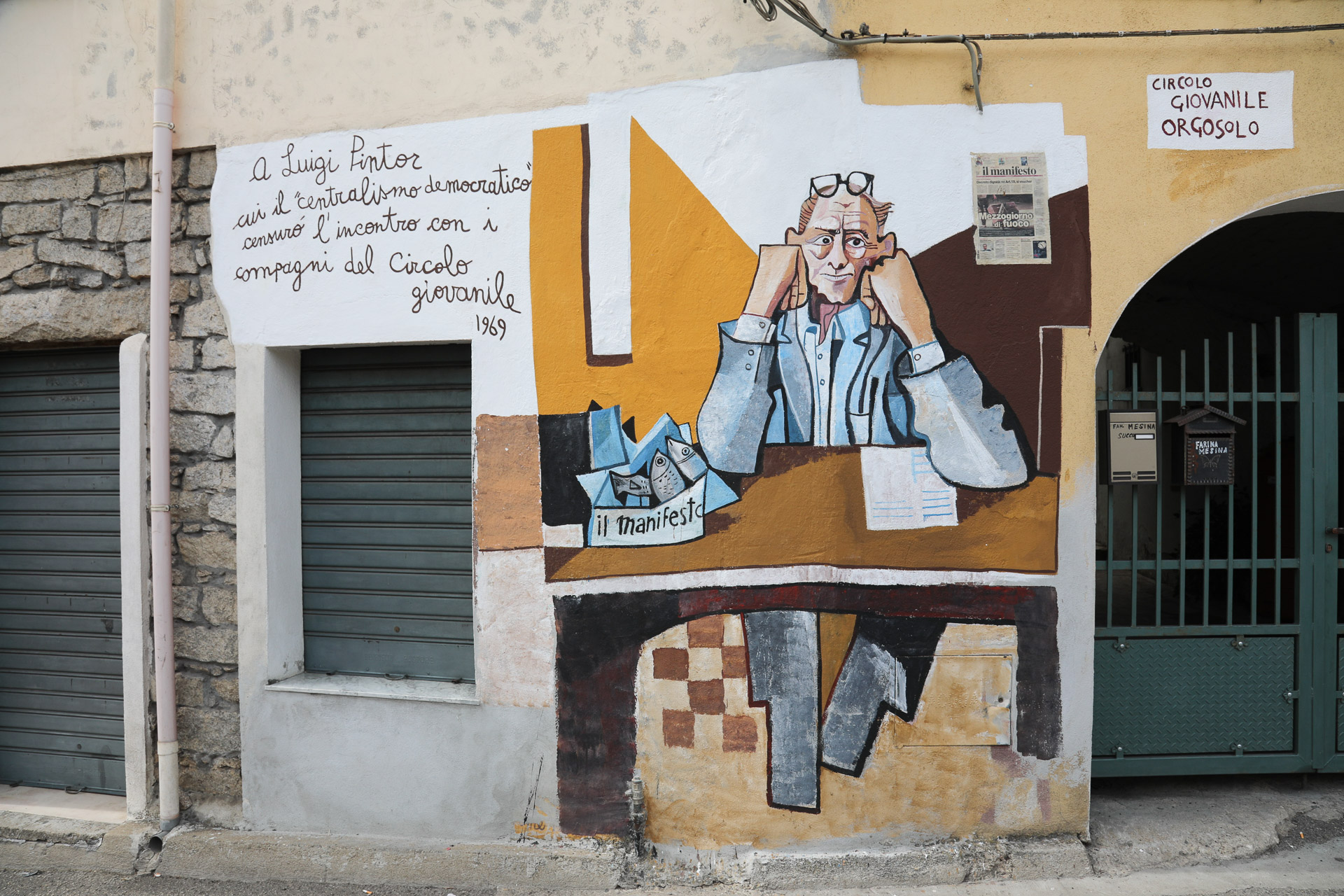 That origins of that story are somewhat "mysterious", as Rolston puts it. The surrounding Barbagia region is a remote land of shepherds, where survival is tough amid sweltering sun and stark – albeit magnificent – terrain. A bustling headquarters for communism, it never has been. It's never really been a bustling headquarters for anything. Life is delightfully slow. But Orgosolo was once the dark heart of Italy's banditry.

Kidnappings, hijackings, murders and robbery were commonplace at one time – as were the sight of street signs peppered with gunshots. Sardinia's Banditismo involved hold-ups of trucks delivering money to banks, large ransom demands for kidnapees, and even shepherds stealing from each others flocks. Unlike the mafia, there was no leadership or hierarchy. Their fiercely-kept honour code dictated how to behave and to never snitch, but that meant vendettas could go on for generations and opposing families could be decimated.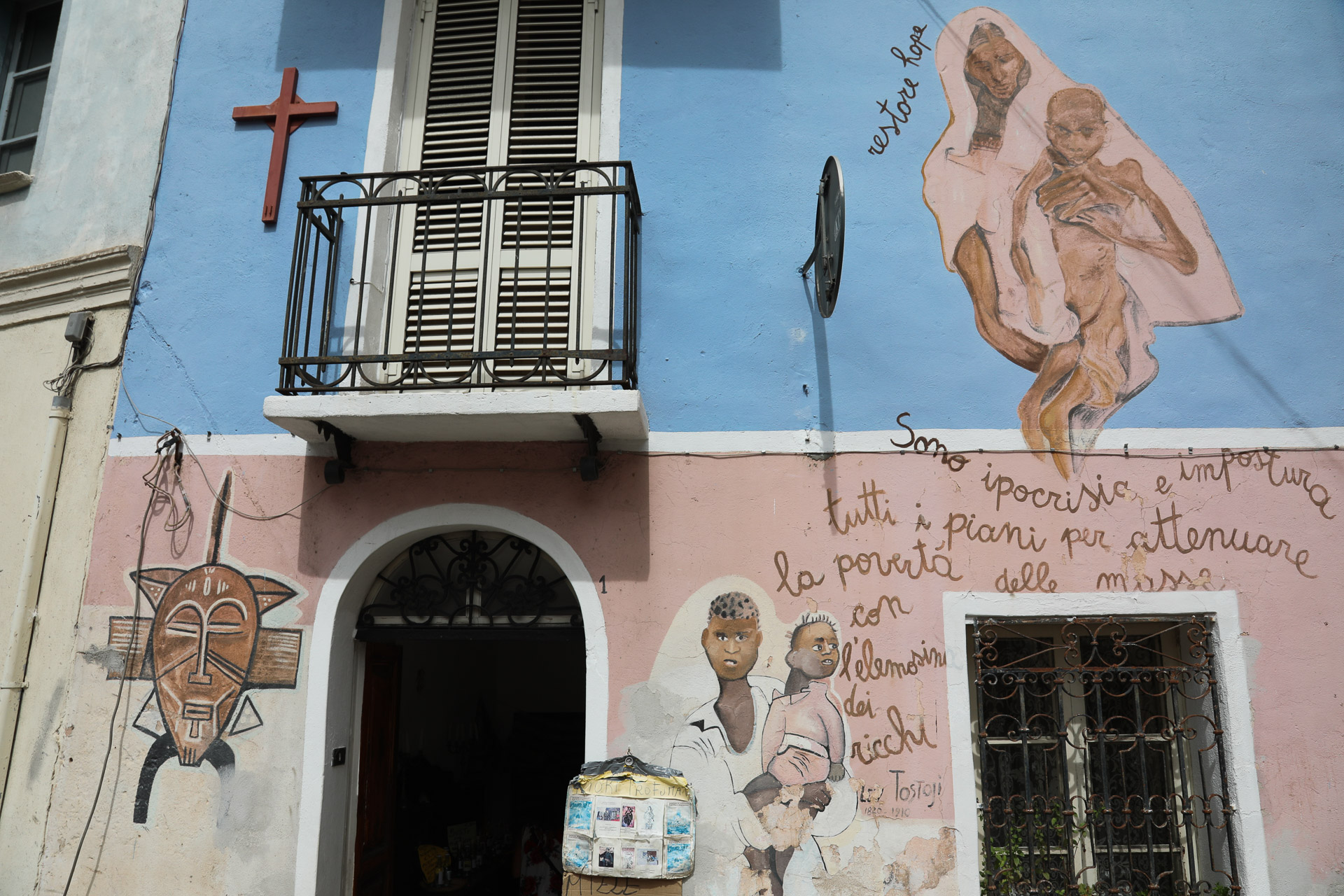 "The banditry itself was as an expression of distress," explains shopkeeper Succo. "In the sense that we needed to be redeemed from this situation. It was a cry for salvation."

This desperation was enshrined in Vittorio De Seta's 1961 film Bandits of Orgosolo, a neorealist classic of Italian cinema. A shepherd called Michele witnesses a group of bandits killing a policeman, and, after fleeing the area to protect his herd (note some hilarious chase scenes involving 50 sheep, neck bells chiming), is presumed to be guilty. He's hunted for days until all of his sheep die of thirst and exhaustion. "It's over," he proclaims, before succumbing to a life of banditry himself. And so, the circle of strife went on.
That is, until a man called Francesco Del Casino, an art teacher from Siena, came along. He was the saviour of Orgosolo, and helped turn it into a town of socialist and anarchist ideals. It was after he had moved to Orgosolo, in the summer of 1969, that the Italian army posted flyers across town informing residents to abandon a certain part of the valley called Pratobello. They wanted to set up a military base – but this land was the livelihood of these farmers. Del Casino was heavily involved as the town mobilised in protest.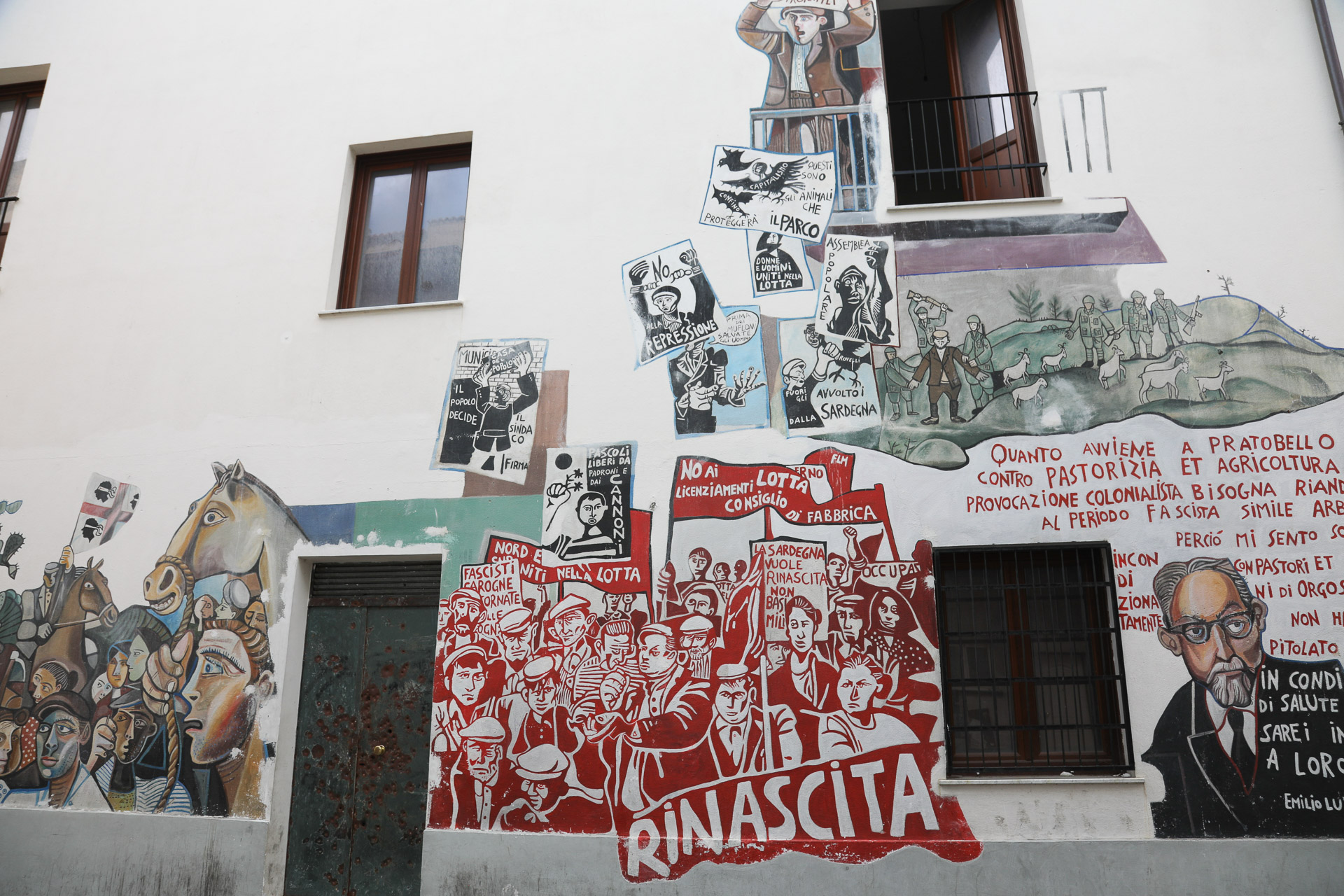 "There were five days of real struggle," he recounts. "There were a few arrests and a few slightly more violent encounters, but on the whole it was a non-violent struggle. They were beautiful years and the memory of them is still intense."

Thanks in no small part to the production of political posters, the Pratobello Revolt, as it came to be known, was a success. The military backed down. And so began the process that led to Orgosolo's murals and the Italian muralist tradition. Del Casino's first was one celebrating the liberation of Italy from fascism, which the townspeople loved. He has gone on to paint around 250 to date.
It was art taken out of the museum. "He taught his students to transfer the events that happened onto the walls," says Succo. "Each mural is dedicated to something that happened in Orgosolo, in Sardinia, in Italy, or the world," adds Pietro Pauleddu, a retiree who saw it all. Orgosolo's mayor, Dionigi Deledda, agrees.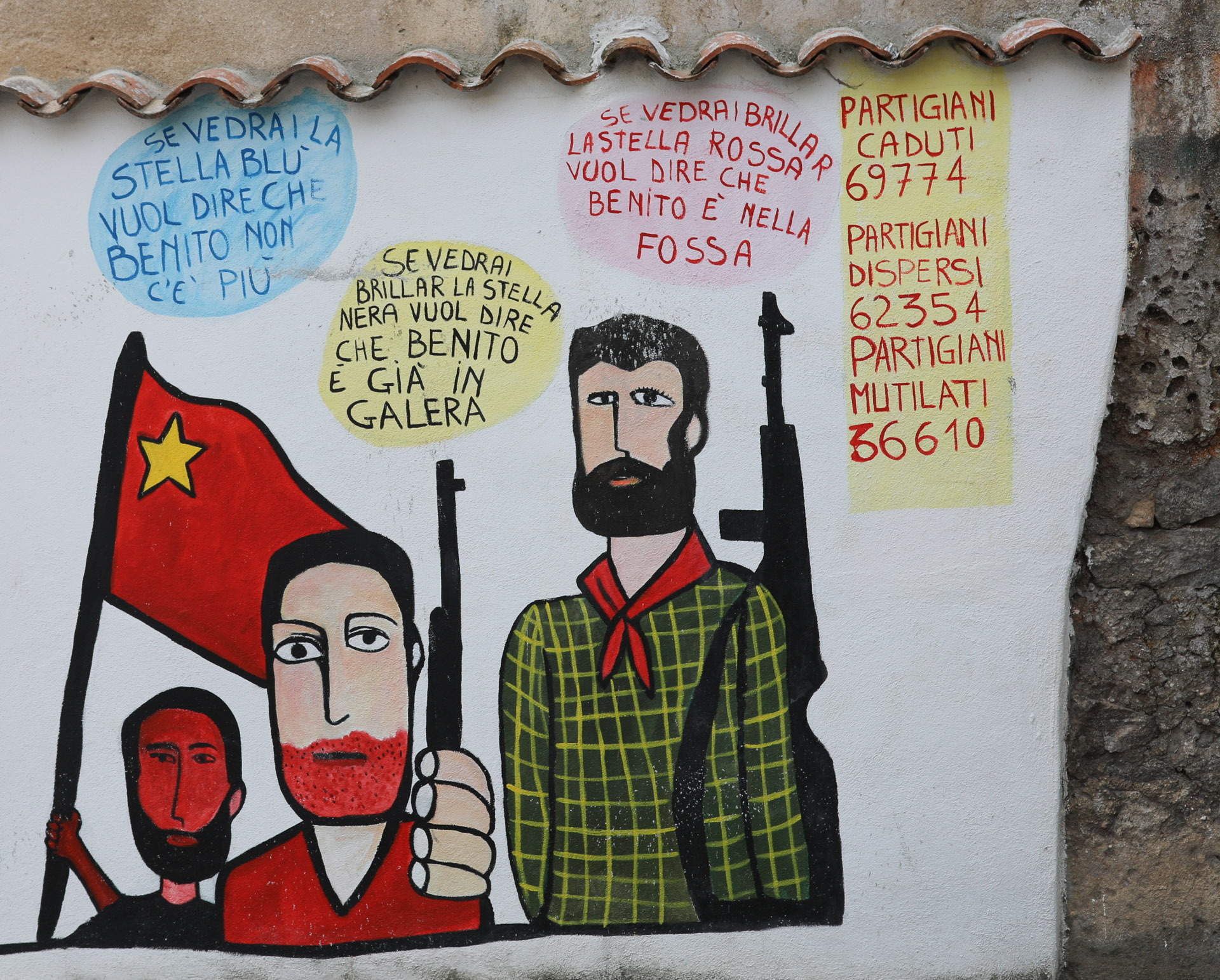 "The important thing for us is that the artist leaves a message on our walls and that they tell a truth," he opines. "People need to learn from the murals and the value they add, because men must be eternal students."

Every year Francesco Del Casino comes back to the town, according to bar owner Pina Puddighinu. "The locals make their houses and their walls available to be painted," she says. "But the murals must have a political meaning."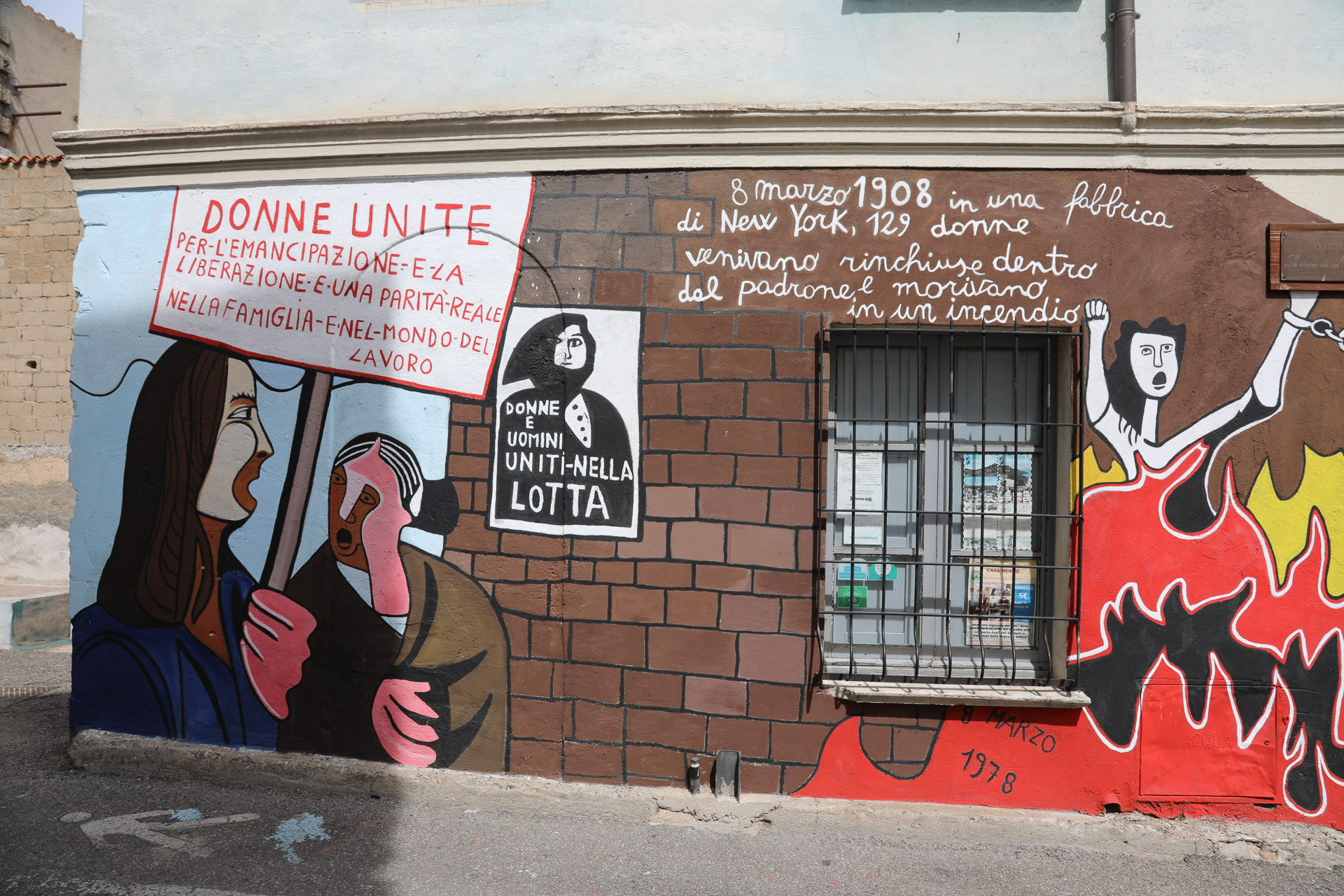 Like Berlin's East Side Gallery, Banksy's Bristol and the borders of Palestine, these murals speak powerfully and plainly about contemporary problems – and in the words of the people. "Women, unite!" cries a bold Pop Art mural, referencing a landmark women's rights protest in 1908 when 15,000 marched in New York City. "We are all refugees," declares another, amid a ramshackle raft piled high with bodies.

"Muralism is made of participation and sharing when there's a group of people or a community that actively work together," elaborates Del Casino. Through this collective endeavour, Orgosolo has discovered its own distinct identity – one that's built on far more positive foundations than banditry, stealing sheep, and the pursuit of vendettas. This sense of identity makes it a place that tourists can't miss – literally.

Peter Yeung is a freelance journalist based in London. Keep up with him on Twitter.