Georgia On My Mind | Ski Touring in the Caucasus Mountains
Escaping the Alps and Pyrenees, we discovered one of the world's best kept secrets
"Forgive me, there were stones in the road" our driver mumbled in halting English, explaining his late arrival at Kutaisi airport to collect us; his hands grubbier than we might've expected. An inauspicious start. His Toyota Delica, a rugged 4WD people-carrier with raised suspension struts and meaty all-terrain tyres was more encouraging. Hospitality, food, and wine are attributes that are a source of national pride in Georgia. Paving roads, on the other hand, is not.
An hour or so from the airport, we reached the foothills of the Greater Caucasus, a jagged range that forms the border between Georgia and Russia to the north, spanning the land-mass between the Black Sea to the west and the Caspian to the east.
The Caucasus are home to Europe's tallest and wildest peaks. As we climbed in altitude, the road quality declined alarmingly. Eventually, the driver pointed out up ahead the 'stones' that had delayed his descent to collect us. What looked like a medium sized avalanche of boulders and mud blocked the road ahead, save for a car's width gap through which we bumped and bustled.
We laughed at his joke. He didn't – he hadn't made one. Eventually we put two and two together. He'd shifted maybe a ton of rocks by hand to come and get us. Such is life on the mountain roads of Georgia. We'd had our first taste of Georgian hospitality.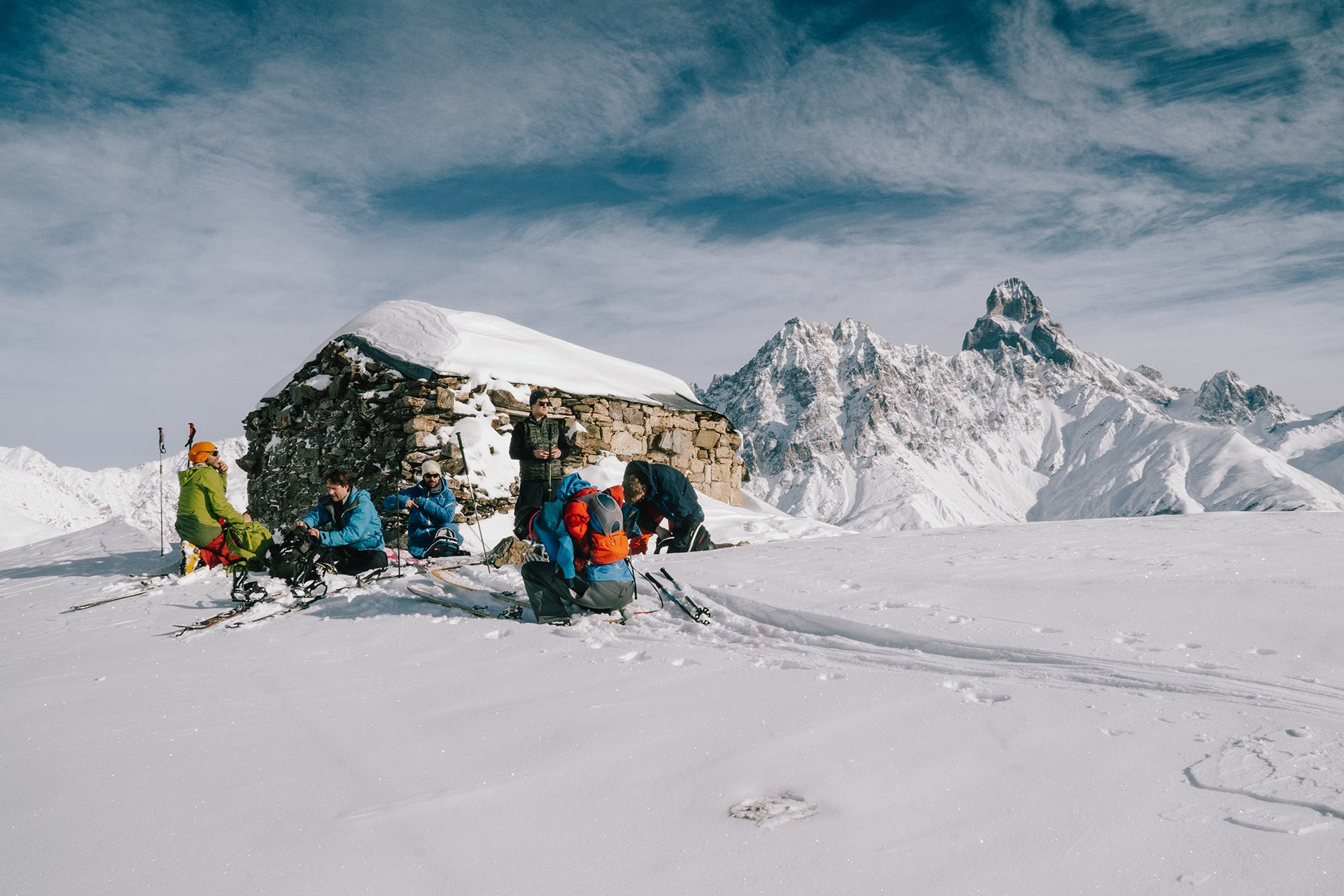 We were bound for Upper Svaneti, one of the most remote mountain regions on the planet. With several summits over 4,500m, the terrain was more Himalayan than Alpine in flavour. In the valleys, tiny villages, seemingly home to more livestock than people, were clustered around the bases of medieval castles. These were Svan towers, built centuries ago to shelter villagers and their beasts during inter-valley skirmishes. Imposing though they were, these towers were dwarfed by the vast peaks around them.
Our premise was simple: we'd ski-tour among these monstrous mountains from one village to the next, in pursuit of our IFMGA guides – Norwegian Sigurd Felde and Georgian Ilia Berulava. We would climb from the valley floors on our touring skis, split boards, and skins, overnighting in guesthouses or in the homes of local families. By Ilia's reckoning, Upper Svaneti sees only around 50,000 visitors annually. Those that do make it here in winter mostly end up in Mestia, the regional 'capital' and home to two tiny ski resorts.
Georgia has attracted substantial recent investment in ski resort infrastructure, with President Giorgi Margvelashvili reportedly a keen skier himself. Audun Lutnæs, a former Norwegian national team ski jumper, is sceptical that these investments are viable, citing a low threshold population in the region, and poor access. The recent viral video of a chairlift accident at Georgia's premier ski resort, Gudauri, is unlikely to do ski tourism in Georgia any favours either.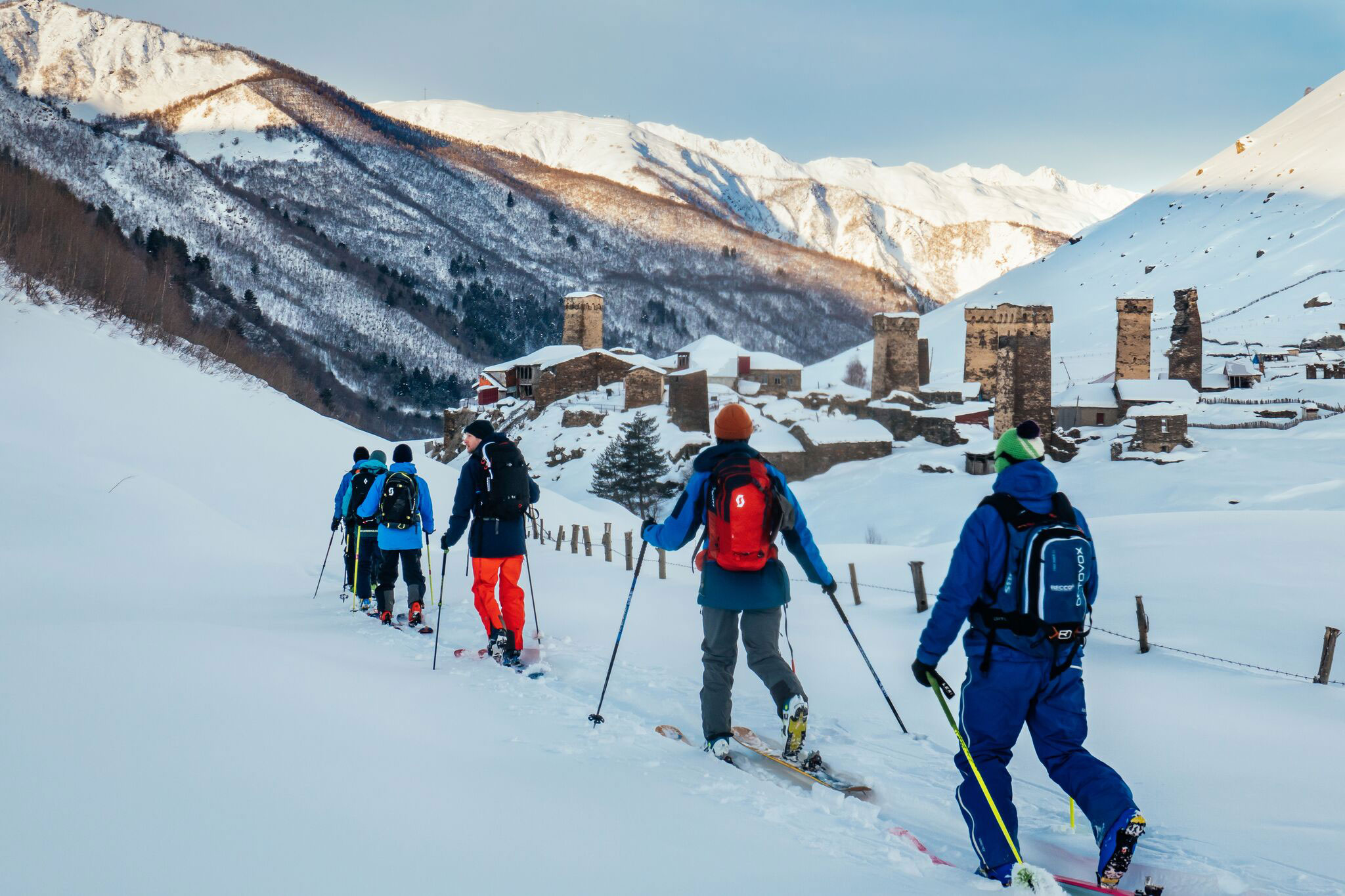 Lutnæs instead identified the potential of Svaneti as a paradise for ski touring and founded Svaneti Backcountry, an outfit that specialises in bringing small groups of adventurous ski-tourers and split borders to experience a truly authentic ancient culture.

Certainly, the lack of ski development carries huge appeal, unlike the Alps where the panorama in virtually every valley is blemished by ski lifts. Making fresh tracks in virgin powder becomes rarer by the passing of each season. In Svaneti, the only skiers that crossed our path were on the one storm day we spent at the resort of Hatsvali, and even here, their number was a dozen at most in the whole resort.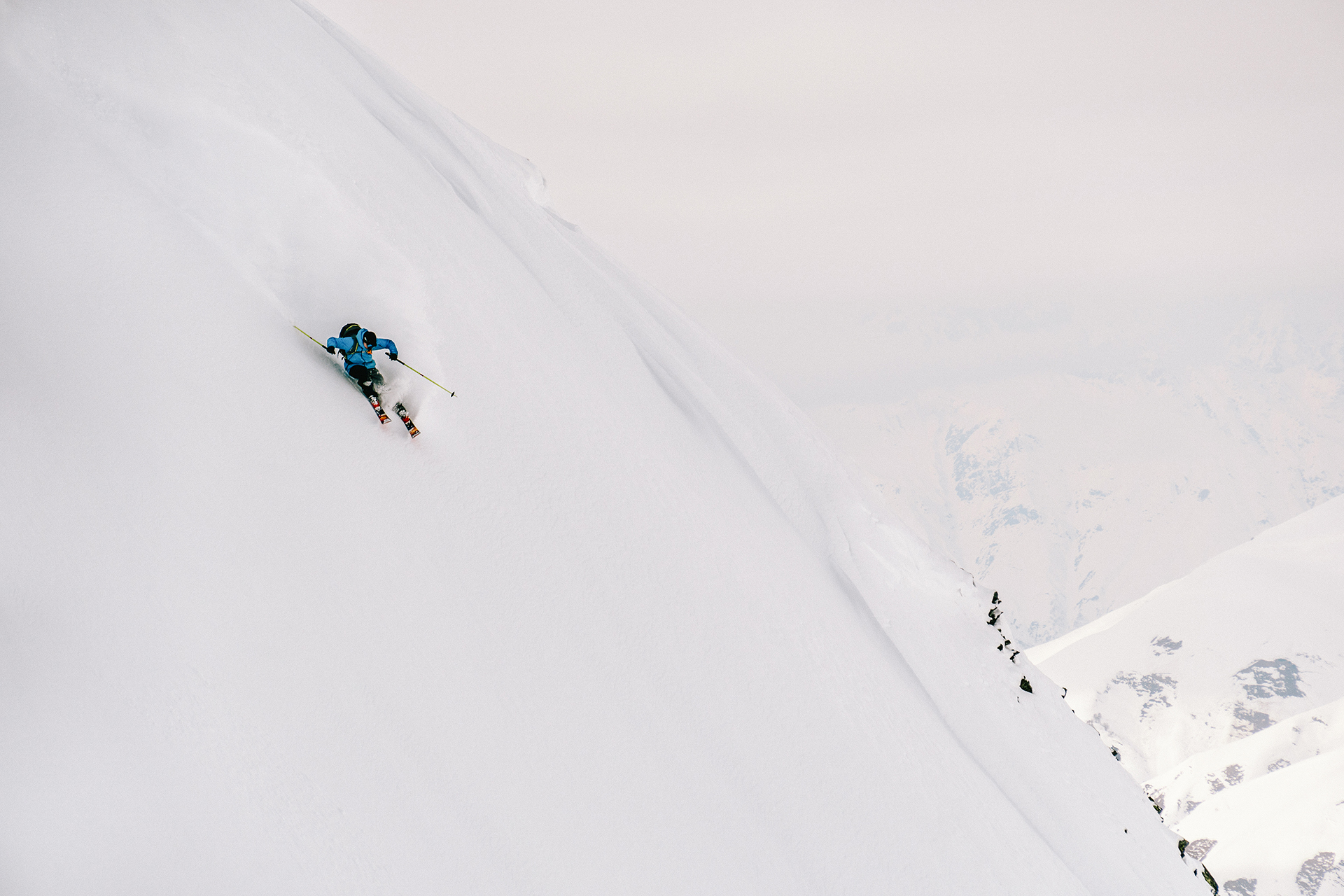 The villages conjured images of mystical ancient castles. None more so than Ushguli – a UNESCO site and one of the highest villages in Europe – accessed by way of the frequently impassable Enguri river gorge. Our cheerful driver, now with a bottle of beer in one hand and steering wheel in the other – seemed unconcerned by the icy track, the ever-present 300-foot sheer drops, or herds of wild horses blocking our way. Our eyes were wide, our knuckles white.
We applied our touring skins in the village, surrounded by the sentinel-like Svan towers. These days skins are made of synthetic hair, but the technology remains essentially the same as when hunters of old stuck strips of real animal hair to the bottoms of their skis. You can slide the ski forwards up the hill with ease, but the directional hairs stop it from sliding back down, enabling you to climb.
Doubtless unaware that their brethren had been sacrificed in the development of these ingenious inventions a motley crew of beasts – pigs, cows and dogs – ambled up and watched us sticking them on, curious as to what this bunch of humans in brightly-coloured Gore-Tex could possibly be up to.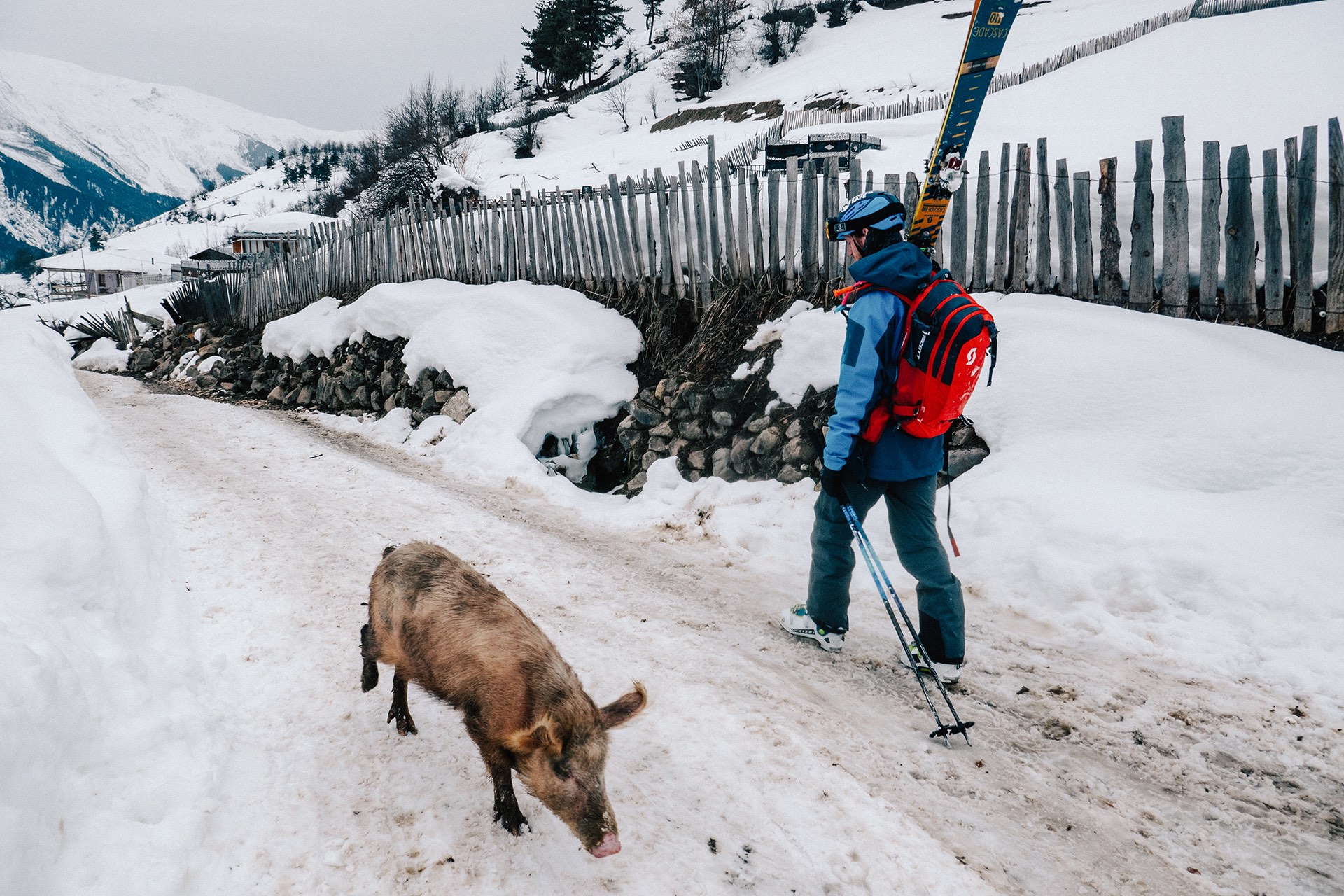 We set off on a 900m ascent towards a north-facing peak opposite Shkhara – at 5,201m Georgia's highest peak and some 400m taller than Mt Blanc. Slow and steady is the key when climbing mountains with skis strapped to your feet. Up we plodded for three hours or so. The reward was several laps of cold, velvety powder on the undulating top pitch, before swooping all the way back down to the valley floor.
That evening we toasted our days' adventures with Cha-Cha, a local – often home-fermented – moonshine of varying toxicity and flavour. The strongest of this we encountered was in the home of a farmer named Tengo, whose farmhouse we stayed at one night. He was a terrific host that spoke no English and didn't take "no, thank you" for an answer, appearing with increasingly more explosive blends.
If Georgian generosity is famous, then their cooking is equally legendary – not just for the quantities in which it is served, but its quality too. Without exception, every meal involved an avalanche of delicious fare, involving a rotating cast of warming stews and several varieties of Khachapuri (stuffed cheesy flatbreads) or Kubdari (their meaty counterparts).

We stayed at a variety of other guest houses, mostly pretty basic but comfortable. The exception was the wryly named Grand Hotel Ushba (grand in setting rather than architecture), an elegantly minimalistic yet cosy Scandi-chic place, run by another Norwegian – Richard Bærug – in partnership with a Georgian – Levan Argvlian. Bærug had fallen in love with the area on a hiking trip in 2009. Margian was his guide and so they went into business together at the foot of Ushba, Georgia's most iconic peak.
Our days followed a broadly similar pattern: up before sunrise; skins on at around 2,000m; 1,000m or so of altitude gain – usually topping out on a sun-drenched ridge; ski a few short laps of pristine powder on the uppermost pitches before a long ski down, either back to the Delica or into the next valley. The best skiing we found in a zone across the valley from Ushba. Known as the 'Georgian Matterhorn', Ushba was every bit as dramatic as its Swiss counterpart.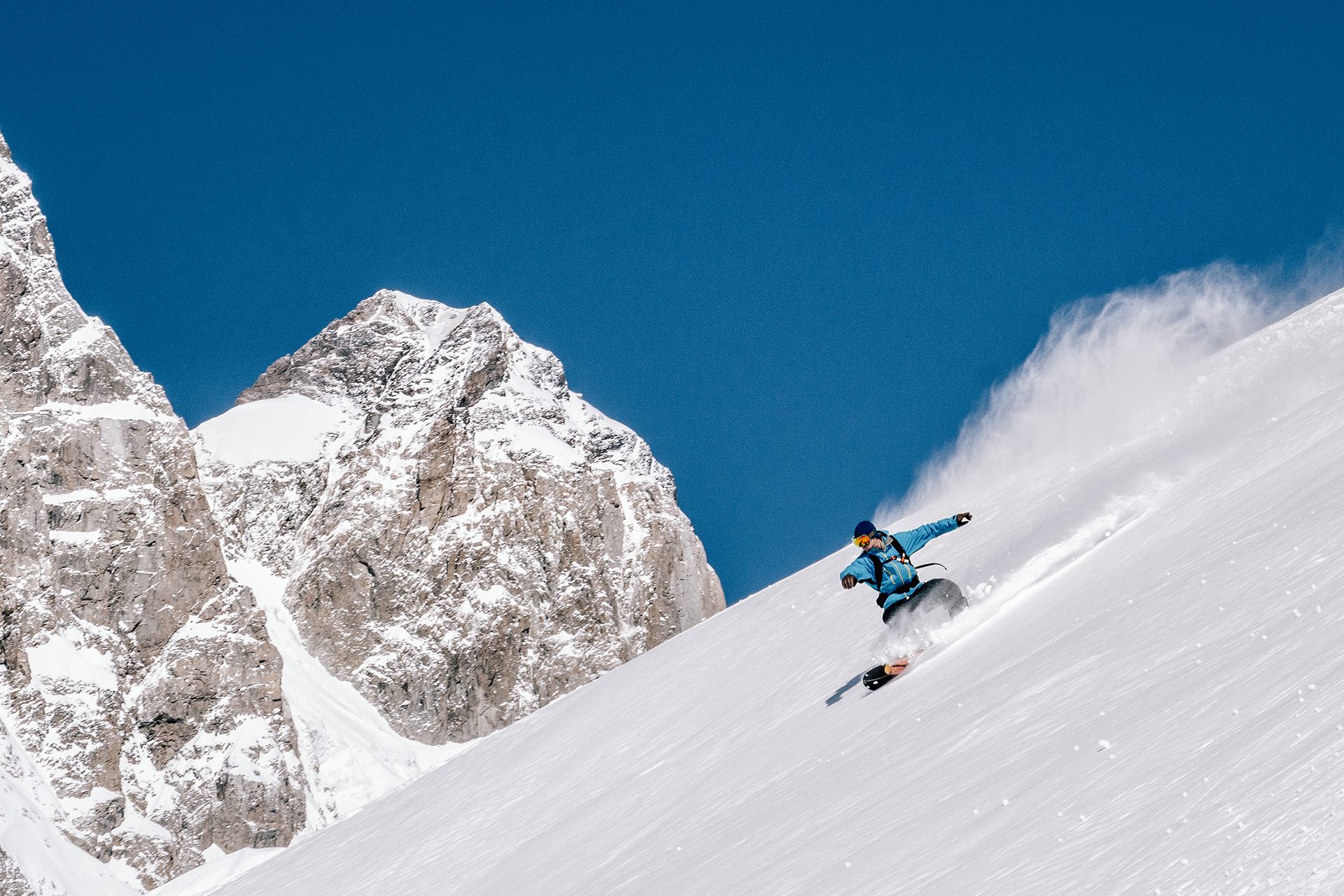 On our final day's skiing, we set off from Becho well before dawn, our numbers growing by two when a pair of Caucasian Mountain Dog puppies tagged along – trying to hitch a ride with two paws on the tail of each of one of our skis. They gamely stayed with us for all 1,300m of the climb to a peak opposite Ushba.
They then tore down the face behind us, yelping with excitement, frequently disappearing beneath the snow's surface before erupting once more, hooting and hollering in appreciation of the spectacular descent. Arriving back in Becho we all – canines and humans – were exhausted but exhilarated at the end of an unforgettable adventure in an extraordinary land.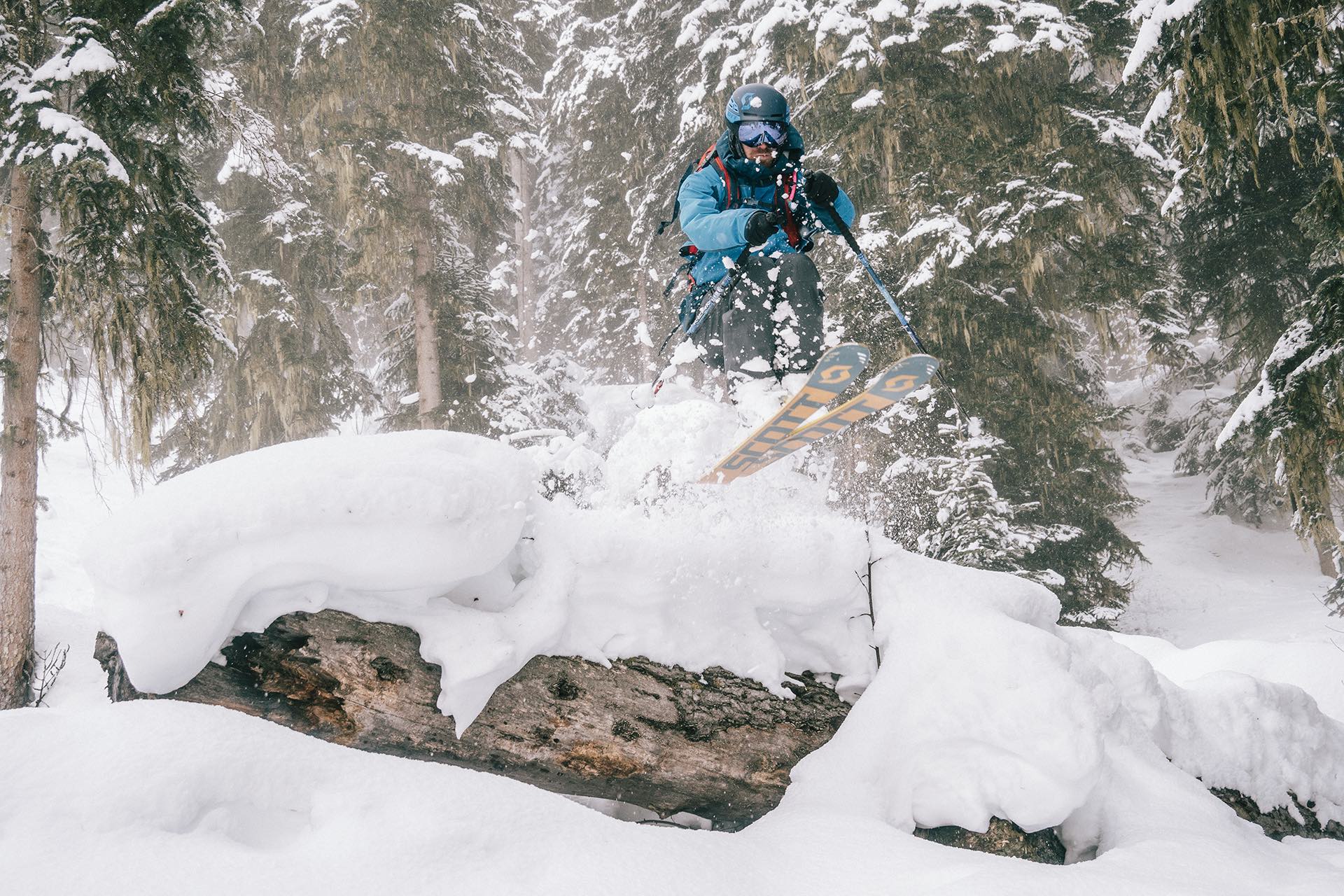 Do It Yourself:
Getting There:
Wizz Air operates direct flights from London Luton to Kutaisi Georgia, starting at £37 one way. (wizzair.com) British and most European citizens don't need a visa to travel to Georgia.
Guides & Accommodation:
Svaneti Backcountry offers bespoke 7-day ski-touring packages in Upper Svaneti in January-February, including IFMGA guide, all meals, accommodation (in guesthouses, local homestays and hotels) and transport and transfers from Kutaisi/Tbilisi, for €2,690(£2,360) per person. (svanetibackcountry.com)
Alternatively, you can contact Ilia Beruleva direct.
Cat-skiing in Bakhmaro: another way to get the goods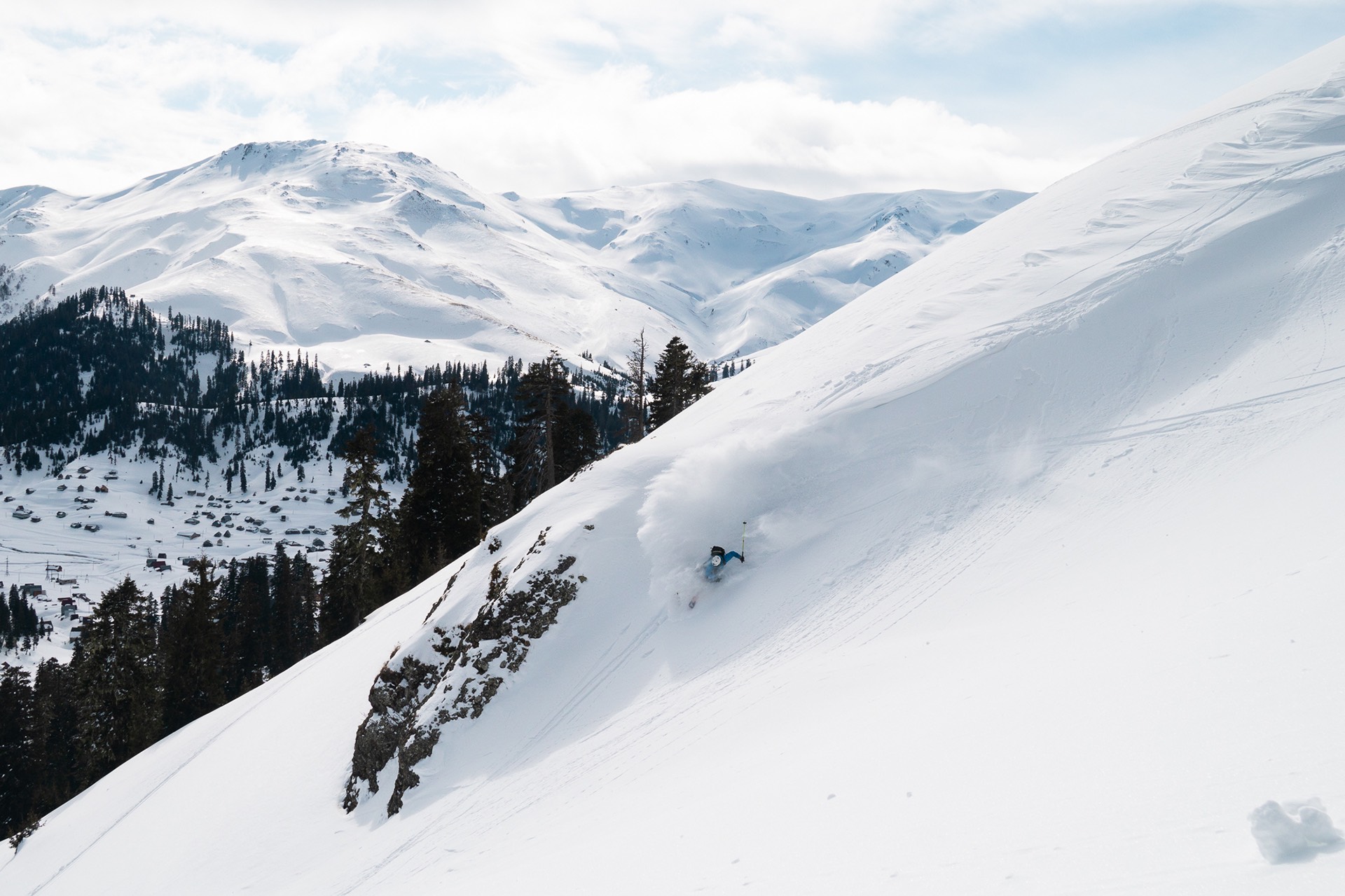 For those that like the sound of skiing deep powder off the beaten track in a faraway land, but prefer some mechanical assistance on the way up, Powderproject.ch is cat-skiing lodge in Bakhmaro. Sometimes described as "the poor man's heli-skiing," cat-skiing uses modified piste bashers to shuttle skiers up slopes a long way from the lifts.
A stunning village in the Lesser Caucasus range in southern Georgia, Bakhmaro boasts smaller mountains flecked with well-spaced walnut trees and pines – ideal for short, sweet laps. The range's proximity to the Black Sea means a conveyor-belt of storms dump huge snowfalls from December to March, making for a powder-skiing bonanza not unlike what you'd expect in Japan. We spent four days at the lodge (comfortable but much closer to an Alpine mountain refuge than a luxurious Canadian heli-ski lodge) after our week in Svaneti.
Almost two meters of cold, light powder fell during our time in Bakhmaro. In our group of six, with almost a century of off-piste skiing experience between us, none of us could remember skiing such deep powder. In winter, Bahkmaro is an hour by snow-cat or ski-doo from the nearest driveable road so, much like Svaneti, besides the other guests and Georgians staffing the lodge, there wasn't another soul for miles around.
A 7-day (5-6 days skiing) package in Bakhmaro including local guide, food and transfers from Kutaisi, costs €2,100 (£1,845) per person, a fraction of what it would cost in North America. The Swiss-owned operation financed its three snow cats via crowdfunding. The lodge is staffed by a small army of Georgians – and yes, they are also extremely hospitable.
Matt Carr is a freelance journalist based in Val d'Isère, France.