Go Bike-Packing Around Mont Blanc | The Wanderlist 2019
Why tackling the Tour de Mont Blanc on two wheels earns a place on our list of the best holiday destinations in 2019
Photo: Dan Milner
What? A true mountain bike adventure fuelled by gob-smacking vistas.
Where? Chamonix, France.
Why? Despite being one of Europe's most well-trodden trails, the classic Tour du Mont Blanc circumnavigation of Europe's second-highest mountain - oddly, despite being in Russia, Mount Elbrus claims the title of being Europe's highest - will always earn a place on the tick-list of earnest mountain bikers. It's also one of the most accessible multi-day rides you can do, thanks to a well-established infrastructure developed to cater for hikers and climbers.
But if the idea of being log-jammed behind hikers puts you off, don't worry. It's true that mid-summer can sometimes feel like you're queueing for a Beyoncé concert, but at any other time, you'll have plenty of opportunity to find solitude and the 'real you', as you scale high passes like the 2516m Col de la Seigne, or nail a rock-strewn descent. At 180km long, and passing through corners of France, Switzerland, and Italy, the TMB also wields plenty of opportunities to just pause for another espresso, or absorb the ever-evolving canvas of jagged peaks and tumbling glaciers that backdrops the endeavour.
Riding the TMB is no quick jaunt to the local pub though, and demands some fitness. But at the same time, it is no Tour de France either. Yes, the route climbs and descends over 7,000m from start to finish, but it's usually tackled by bike over five or six days, allowing for the inevitable, slow interludes of bike-pushing on some of the steeper sections of trail.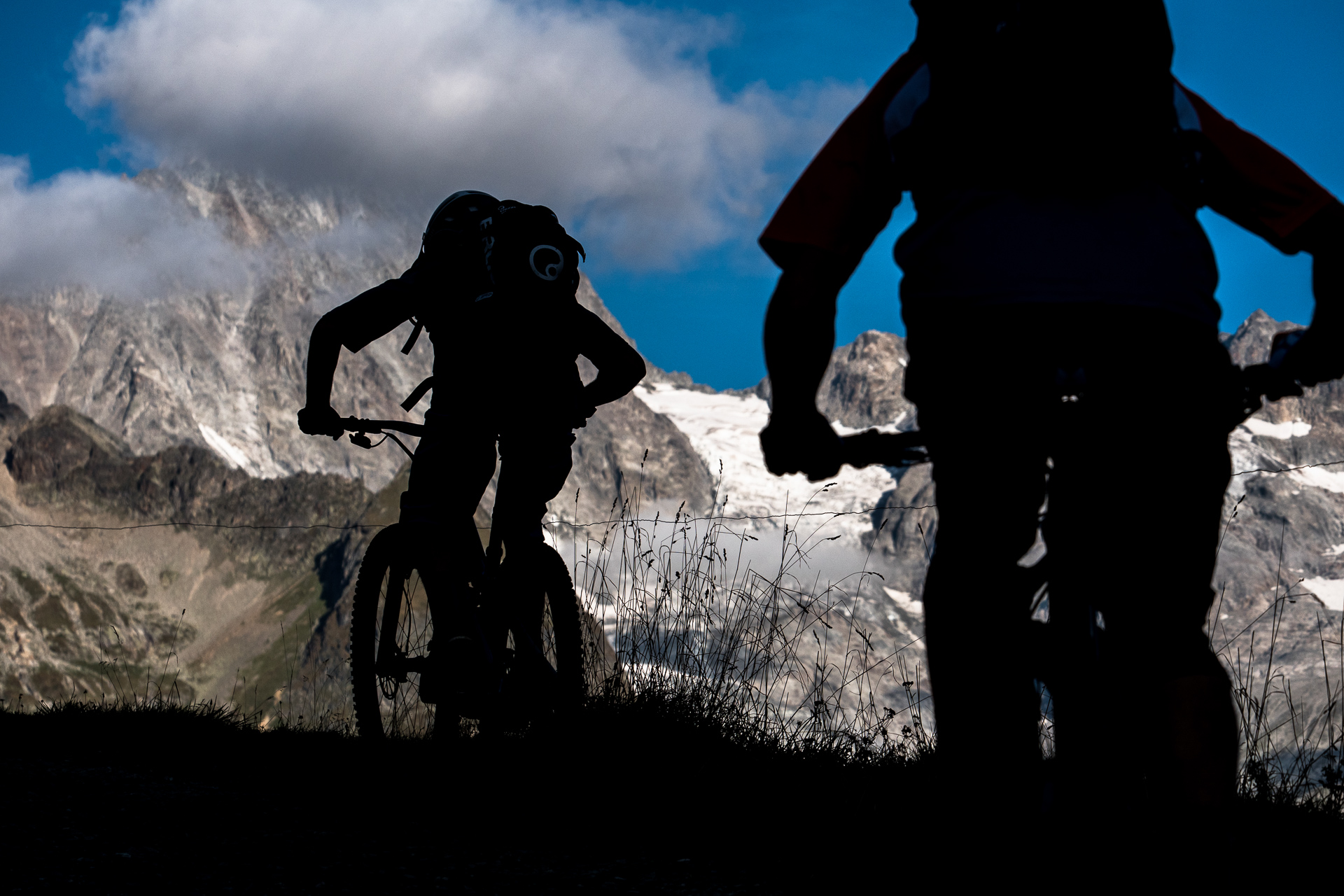 The TMB is best tackled clockwise, starting in either Chamonix, France or Courmayeur, Italy, which makes for steep descents and easier climbs. Comfortable duvet-equipped mountain refuges (booking ahead recommended) punctuate the route, letting you ride encumbered with nothing more than an overnight pack. While sections of road and 4x4 track help you score kilometres easily, the route serves up a rich smörgåsbord of singletrack —from the butter-smooth trails in Italy's Val Feret, to the rocky descents towards Champex— that will keep the most ardent rider focused and smiling.
You can choose between two versions of the TMB. The first sticks closely to the way-marked route throughout, and necessitates some bike-carrying up to the demanding, rocky 2,665m high Col des Fours. An easier option deviates by road over the Cormet de Roselend, before joining a 4x4 track climb to the Col Gittaz to jump back onto singletrack to Les Contamines. Whichever you choose, if you want your Mont Blanc laced with endorphins, then riding the TMB - not hiking - will let you find it.
When? Any time June to October, with early September being the best. Be aware that old or new snow can bookend this period. Because this is one of Europe's best travel destinations, you can expect lots of hikers in the peak of summer.
How? Geneva is the closest airport. The TMB can be ridden self-guided by following GPS tracks here. For supported or guided options, try ridethealps.com.
This has been selected for The Wanderlist - a list of the year's 50 best travel destinations and experiences, curated by Amuse. If you want an unforgettable trip, this is where to go in 2019.