The Next Gold Rush | Croatia is the New Shangri-La for Truffle Lovers
If you're into fine-dining of the fungal kind, look beyond France and Italy
Photo: Ben Olsen
Judging by the clutch of clapped-out Cinquecentos and Corsas lining the edge of Istria's Motovun forest, it was going to be busy in the woods. With the season for the sought-after white truffle nearing its end, the race was on to find the last of this year's bounty, and the owners of these trusty hatchbacks were deep among the trees with their dogs. On my way to meet some of Croatia's top truffle hunters, it was clear I was already late.
In their various guises, truffles have been on our menus since the days of ancient Rome, when their musky scent was seen as an aphrodisiac. Banned for that reason in the Middle Ages, but re-popularised by royalty during the Renaissance, these subterranean tubers - a type of fungi - have become a byword for haute cuisine.
"In centuries past, white truffles were mistaken for pungent potatoes and fed to pigs - only in times of scarcity would they be eaten by humans"
Périgord in France, and Piedmont in Italy, are the established capitals for black and white truffles respectively, with provenance a calling card for perceived quality. Yet the sunkissed region of Istria in northern Croatia is an underrated alternative. Here, humid grey soil and swathes of oak forest provide ideal growing conditions for black truffles in the hills, and the valuable tuber magnatum, or white truffle, in the valleys.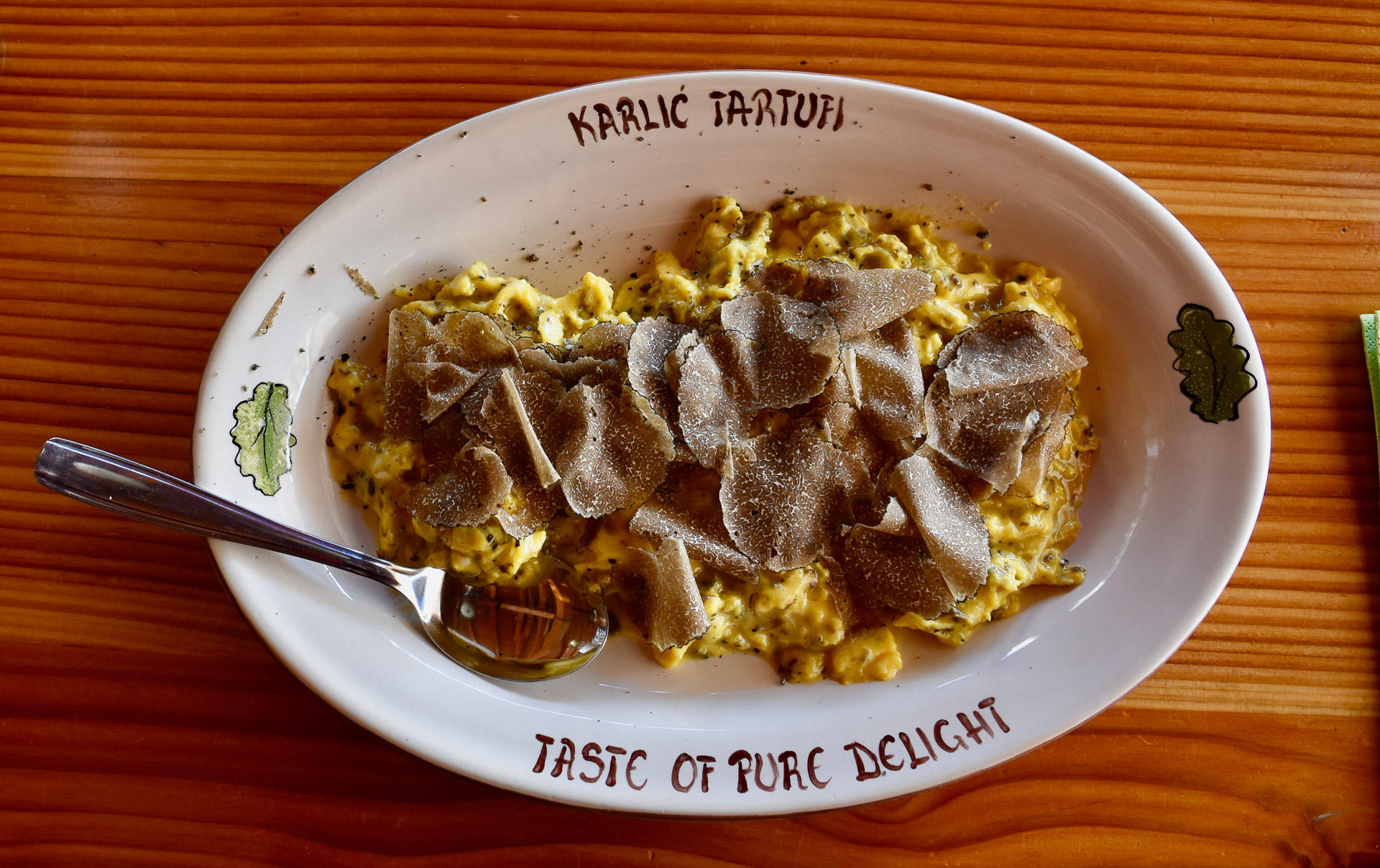 My destination was the family-run Karlić Tartufi in the village of Paladini, whose 44 inhabitants are outnumbered by more than 100 dogs. Radmila Karlić had been truffle hunting since the age of 10, before she set up shop in 1993 with her husband, Goran, and children, Ivan and Ivana. With five hunters, 10 dogs, and endless truffle-based products to their name - including oils, salts and brandies - the Karlić family are one of Istria's biggest players.
I was introduced to Sanjin - a stocky truffle hunter with a warm smile, who I'd be joining in the woods. Leading the way would be three dogs: Candy and Betty - both Lagotto Romagnolos, an Italian breed renowned for their keen noses - and a German pointer called Lela, all happy to swap their solar panel-clad doghouse for the back of a Citroen Berlingo. "Most of our dogs are mixed breed and they're all females, as they're best for truffle hunting, of course," says Sanjin, with a smile.
Training begins when the dogs are three months old. Fed truffles to familiarise them with the smell, the puppies play games to find the pungent tubers, and are rewarded with biscuits. As they improve, they're taken into the forest. "We pair them with an older dog so they get better," says Sanjin. "When the older dog starts digging we pull them back and let the younger one dig, too." Spurred on by the promise of biscuits, it's a win-win for both parties.
Armed with a bumbag full of treats, Sanjin explains that we were hunting for 'the Joker' – Istrian slang for white truffles weighing over 100g. He tells me that black summer truffles can bring in €500 (£443) a kilo, their stronger winter equivalents €700 (£620) to €1,000 (£886) a kilo and prices for the prized white version can reach €5,000 (£4,431) a kilo, depending on the market.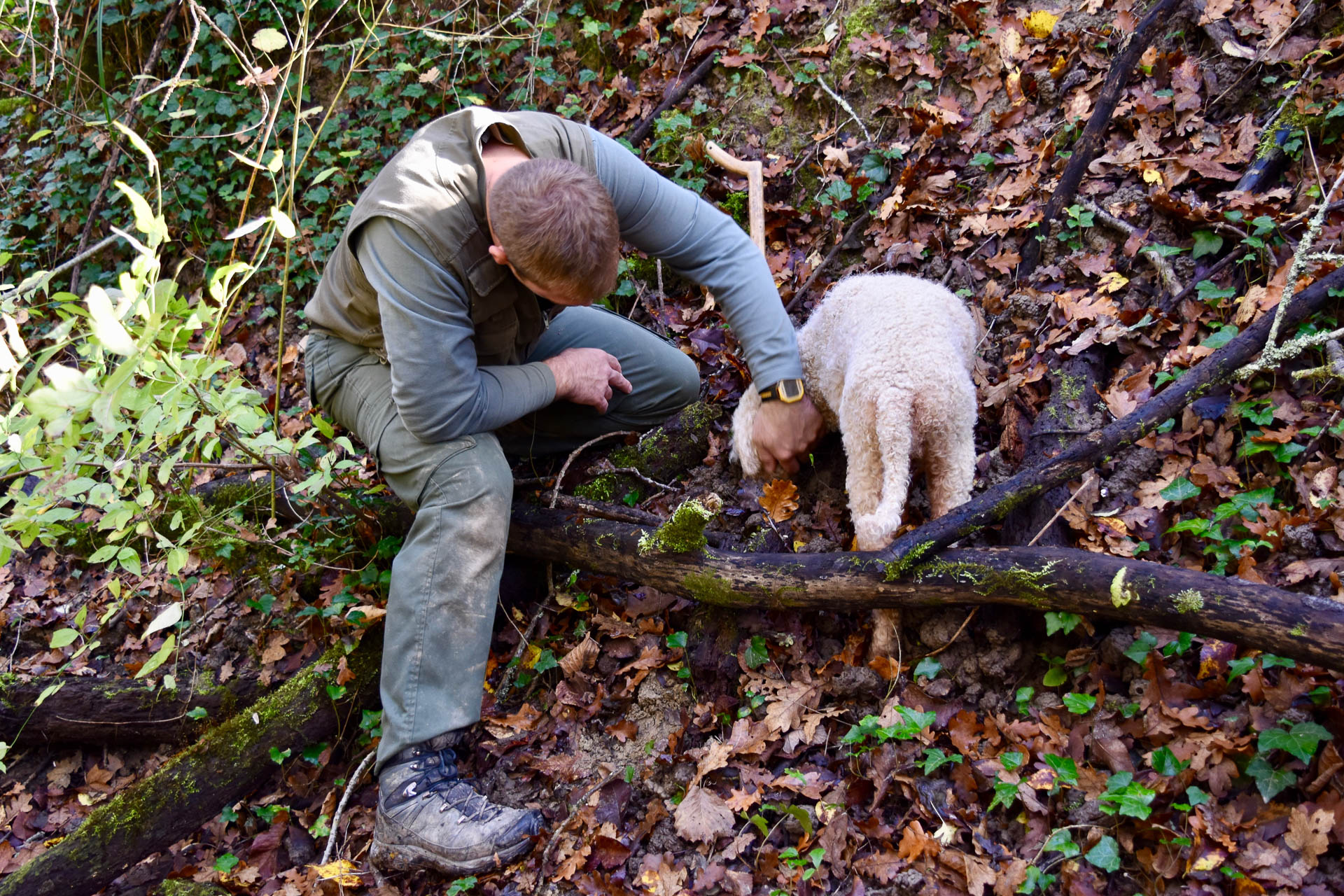 Istria's several thousand truffle hunters each pay €400 (£355) for a licence and a yearly fee of €400 to use the public forest. A significant amount of illegal hunting also happens overnight when the forest's guards clock off. Beyond their established team of truffle hunters, the Karlić family use up to 200 others, who hunt in their free time. It's a lucrative business that can earn hunters up to €15,000 (£13,293) over a four-month season from September to December.
It hasn't always been that way. In centuries past, white truffles were mistaken for pungent potatoes and fed to pigs - only in times of scarcity would they be eaten by humans. It took the arrival of the Italians in the 1930s, during the Second World War, for their culinary worth to be realised. Istria's early hunters would trade their truffles for contraband goods, and these would be smuggled over the border and sold as "Italian" white truffles.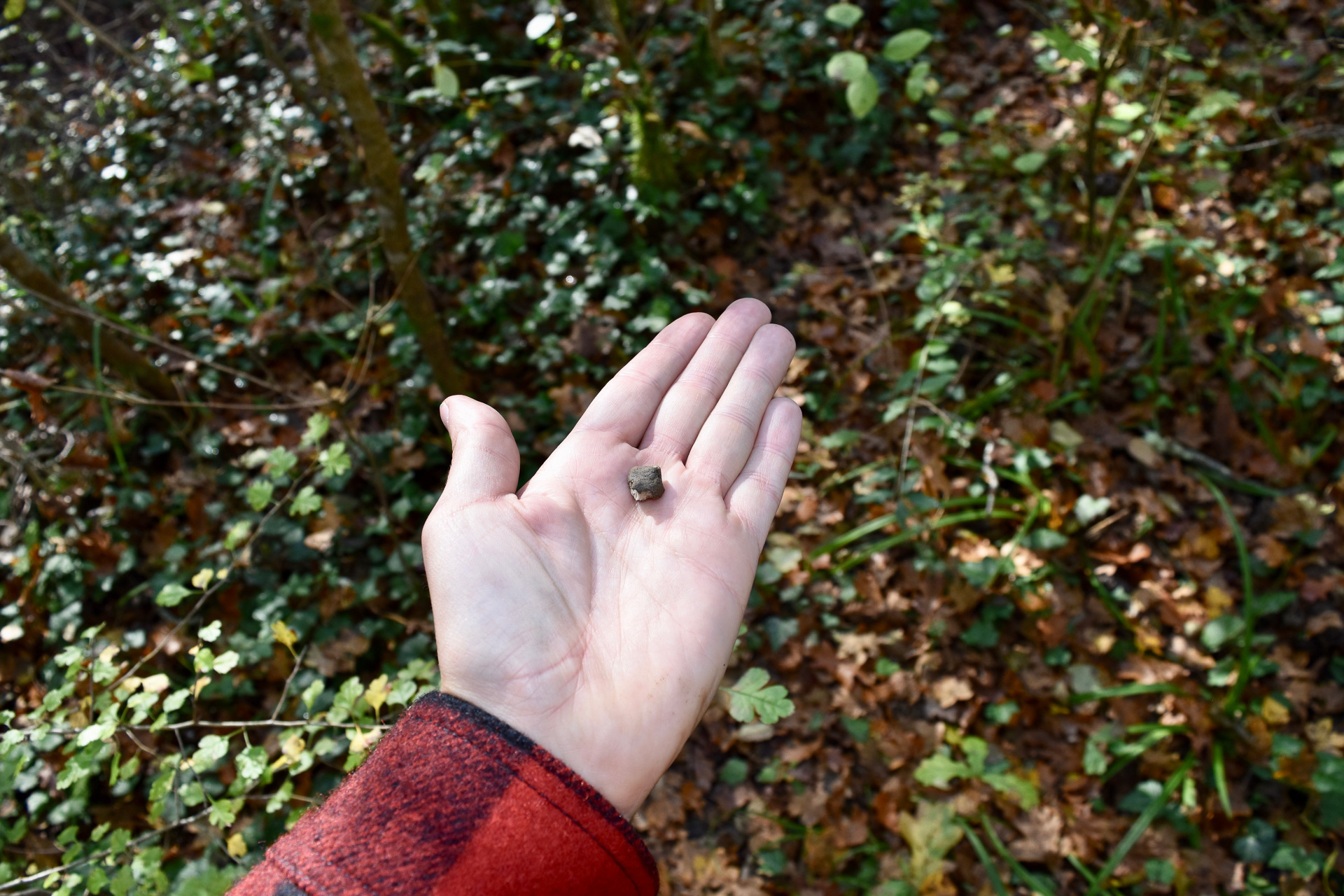 A turning point came in 1999, when the now-legendary hunter Giancarlo Zigante found a white truffle in the Motovun woods that – weighing in at 1.3kg – was confirmed by the Guinness Book of Records as the world's largest at the time. Having the effect of illuminating Croatia's potential, a swathe of newcomers hit the forests in the hope of making their fortune, as truffles started to appear on menus, tour itineraries, and souvenir stands across Istria. Each September, the town of Buzet hosts a truffle festival, with a huge dish of scrambled egg – this year using more than 2,000 eggs and 10 kilograms of truffles – kicking off the new season.
Back in the forest, Sanjin strides ahead with his dogs criss-crossing in front of him. Lela leads the way, darting into bushes with Candy and Betty following up; their low centre of gravity scouring the forest floor. Found buried between the leaf litter and the soil, truffles form from the roots of several trees species: from oak, to poplar, to beech.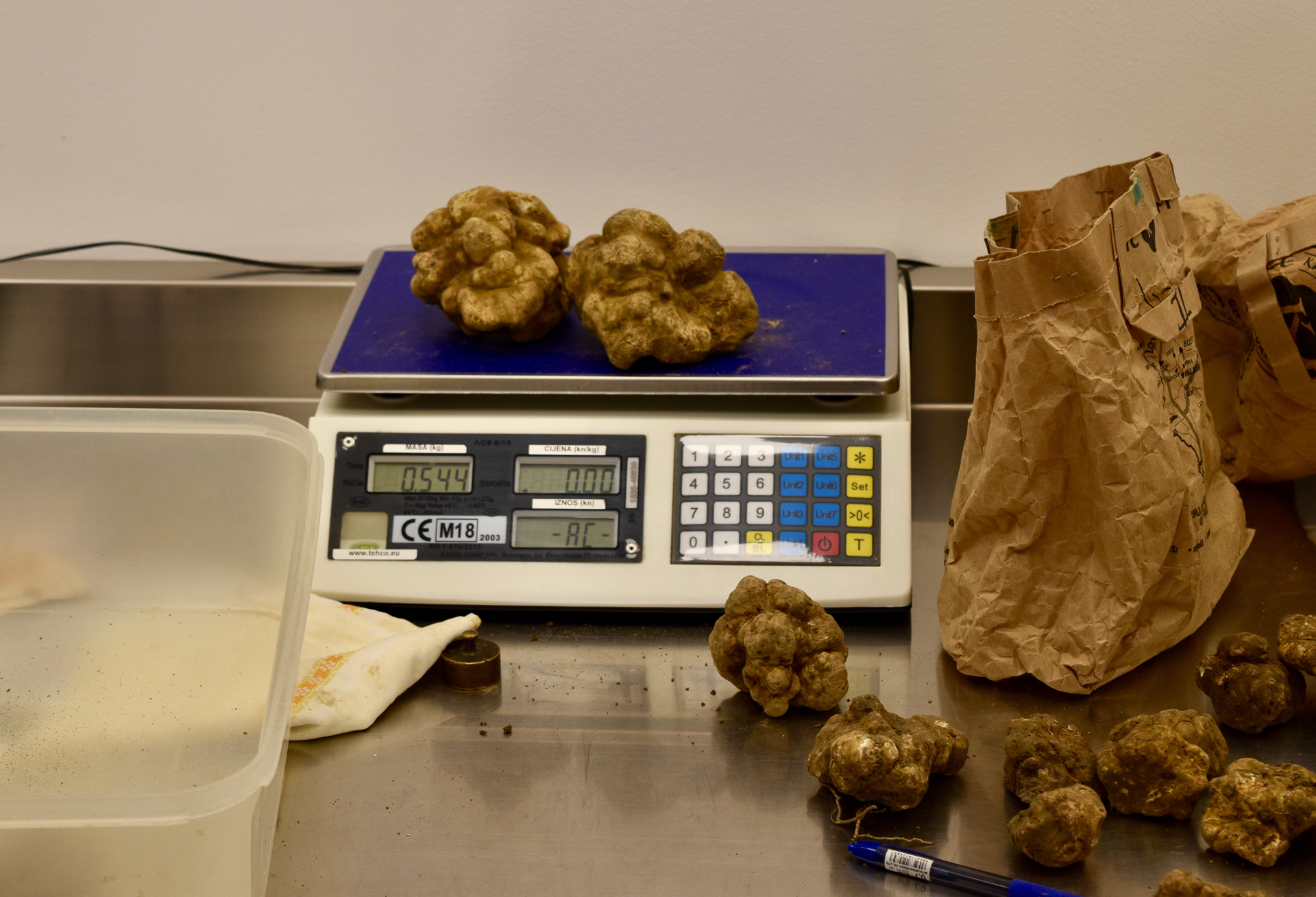 "It takes a lot of walking and a lot of luck," says Sanjin, directing us towards a deep seam between oak trees. As we weave around the forest floor, Sanjin maintains communication with the dogs, calling "Šu, šu" - Istrian dialect for "search, search" - to keep their enthusiasm high. "There's plenty of competition out here," he says, stressing that it's usually good-natured. "Other hunters might ask where you find the good truffles, but you'll always tell them another place."
He suddenly darts over to a shaded spot where the dogs are digging furiously. Sanjin manoeuvres himself between them and uses his a small otka shovel to ease into the soil, while keeping the dogs from damaging the potential treasure with their claws. He smells the soil and continues before drawing back, disappointed; we'd only found a red truffle, an inedible variant that usually signals the season is coming to an end. Further frenzied digging and raised expectations follow over the course of the next hour, and although we do finally unearth a white truffle, it's a tiny nugget – too small to be of use, and quickly discarded.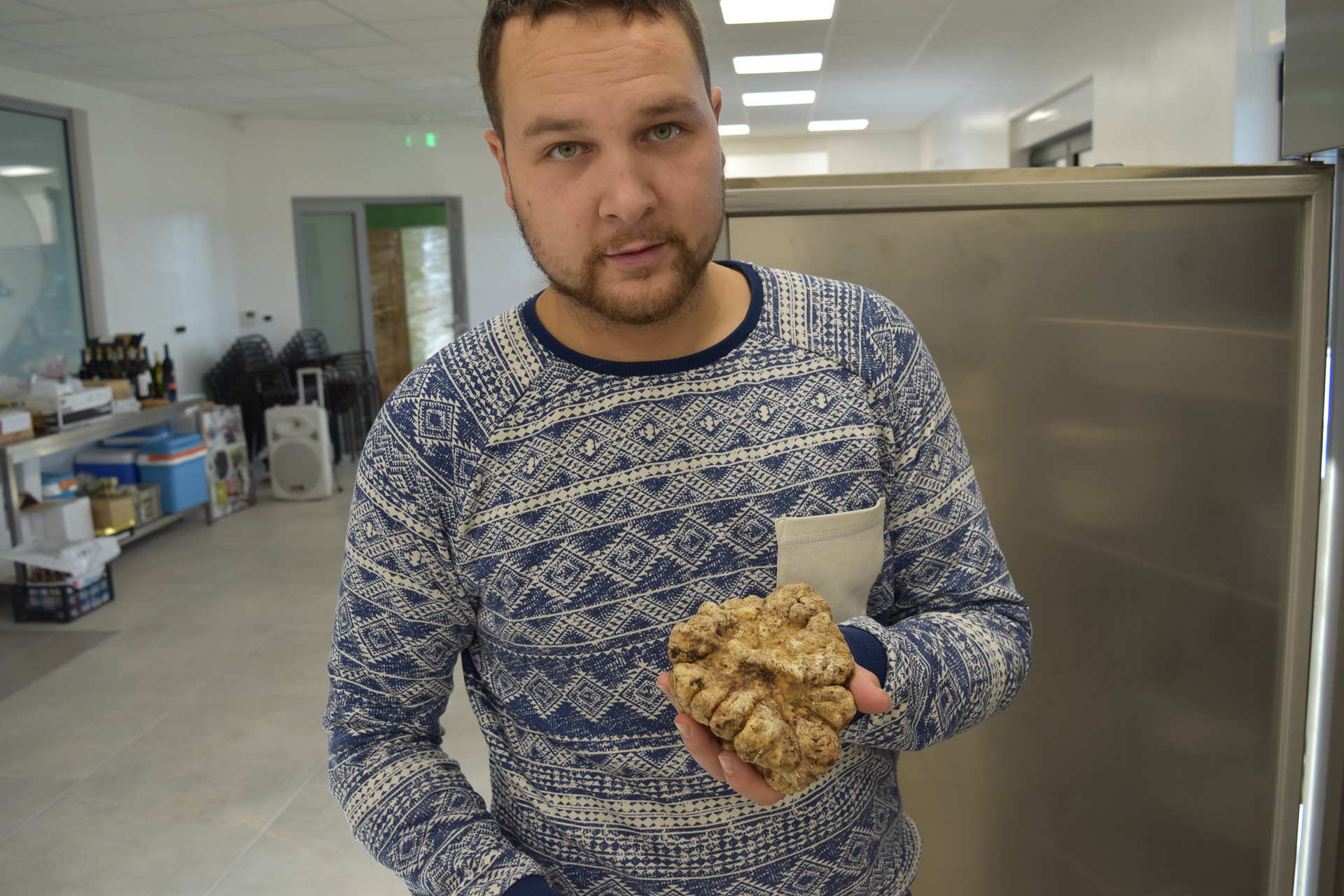 Back at the farm, Ivan Karlić consoles us after our empty-handed return. "There's no real secret to it. You have to be out in the forest every single day – that's how you find the big ones," he says, adding that it's been a good summer for truffles, although large quantities means that demand plummets. Prices have dropped from €2,000 (£1,772) to just €1,100 (£975) per kilo in the past two weeks, but Ivan counts his blessings – at just 24, he's come into the business at the right time. "Joining the EU transformed the industry here as we can now make easier shipments out of Croatia and work with more countries than before," he says, while weighing a shipment bound for London restaurants. "People are realising we have beautiful high-quality truffles, and are buying from us direct rather than Italy."
Although an astute businessman, Ivan's loyal dogs are never far from his thoughts. "I remember all of our dogs from when they were puppies – when then lost their first teeth, their favourite food and places to walk," he says. "If you ask me, there is no better job in the world: walking in stunning forests, hunting for Istrian gold."
Ben Olsen is a freelance journalist, based in London. Keep up with him on Twitter.
Tagged: