Paintings, Karaoke and Plasticine | 5 Questions With Henry Hudson
Meet the British artist making Henri Rousseau-inspired plasticine plant paintings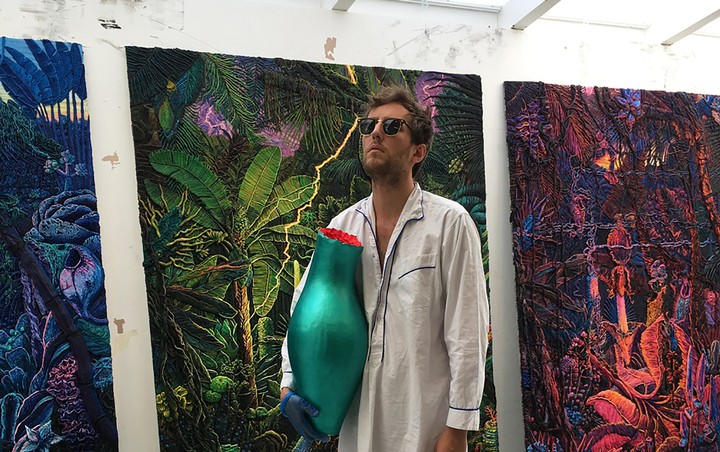 Photo: Henry Hudson in studio
A quick Google search of "Henry Hudson" brings up Henry Hudson, the British explorer, who discovered the Hudson River and Bay and much more. Then there's Henry Hudson, the 34-year-old British artist, whose new exhibition Sun City Tanning, opens in NYC at Sotheby's contemporary S|2 gallery this September.
The show will be made up of eight of the artist's sculptural, impasto paintings, complemented by eight hand-coiled ceramics made by the artist's brother, sculptor Richard Hudson, which share the exhibition's kaleidoscopic, iridescent palette.
Hudson's defining device has always been that his 'paintings' are made without a touch of paint; his preferred technique is to hand-form his tableaux using plasticine. The works that result from this punk yet precise approach are substantial; from conception to finished piece, it takes Hudson and his Roman Road studio about 15 months to make 8-10 panels, each weighing in at around 100 kilos.
Many of Hudson's previous series have been based around his exploration of the highs and lows encountered in the big, bad, city by his alter ego 'Tom Rakewell', who Henry says "was and is a total idiot. Keeps making the same mistakes and never learns.
Like lots of artists." But his new body of work features no people at all, instead pulling the viewer into a fantastical world of intertwined botanical forms and steamy jungle. The same composition – evoking the exotic Symbolist dreamscapes of Henri Rousseau – is depicted at different times over a period of the same day.
Hudson's spirit guides into liana and piranha land are similar to those made by late 20th Century and early 21st painters, such as Gauguin and van Gogh, who left the city and sought out the colour and heat of the South. Hudson, who has himself ventured far into the forests of the Congo, also cites Werner Herzog's Man Alone in the Jungle theme as an inspiration for this shamanic journey into hearts of darkness.
Amuse asked the artist a few questions about anxiety paintings, karaoke and plasticine.
With your new show focusing completely on plants, have you moved away from your characteristic self-reflexive works? Or do we just have to look harder to find 'you' in the works?
They're anxiety paintings. There's a complete battle everyday between the medium and the surface, which is a self portrait in itself. They're sort of like warts (of which I had 120 once). You keep picking and picking at them and scratching and more and more come from the stress of it. I live above the studio so they're constantly annoying me metaphysically through my floorboards and into my dreams and nightmares.
Where does the exhibition's title, Sun City Tanning come from?
Actually it's the tanning salon next to my studio. Every time I Instagrammed, the location came up. People pop in yellow and come out orange. Like Mr Trump. It's also about the fact that I've created jungle works in the East End of London having not stepped foot in a jungle.
Did you make plasticine animals as a child? How did you end up using such an unusual material as a fine art medium?
No, it came from a love of being hands-on and tactile. And not having any money to make huge Kiefer paintings. Or thick Dubuffet, Auerbach paintings. [Now I have] bought a Z-mixer which helps me mix any colour I want, as opposed to using kid's plasticine and having to hand mix everything using a hairdryer.
Would you consider contemporary London (and the contemporary art scene) to be a place of as many pitfalls, snakes and ladders as the Hogarthian era you've got such a big interest in?
Of course nothing changes about the human condition. All worlds are snakes and ladders. It's a playground. All the world's an armpit. Just some smell nicer than others.
What is the last song you sang at karaoke?
Ha ha! It was in a bar in LA, and I think it was David Bowie's Ashes to Ashes.
Tagged: