The Real World | 5 Artists Using Illustration To Talk About Real Issues
These are the perfect antidote to your quarter life crisis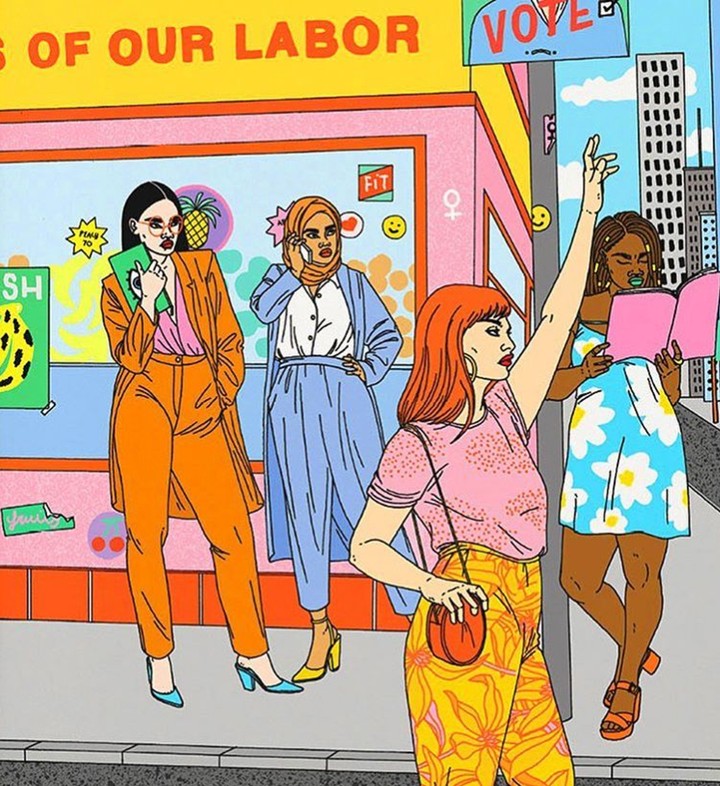 We are living in anxious times. The world is in crisis, our politicians are terrible and many of us have been forced into a state of 'suspended adulthood' – too broke to do anything besides obsessively watch others succeed on social media. Thankfully, the internet has gifted us with new and easier ways to share and wallow in our malaise. One is memes the other is a new wave of self-reflective, cathartic and often hilarious illustrators turning our vulnerabilities, anxieties and fears into art.
Their styles all differ, from crudely drawn comics to much more detailed, colourful scenes, but their underlying message is the same – everything sucks but it's okay. These five artists illustrate our vulnerabilities, anxieties and our fears. They really have us down.
Big Sis
Big Sis' work is as much about self love as it is about self loathing… The 26-year-old artist, who chooses to remain anonymous beyond her handle, draws comics about sex and relationships with partners, with friends and with yourself.

Her comics aren't glamorous. Co-dependent relationships, vulnerabilities and (sex) position politics are all unabashedly discussed in her work, alongside some more modern side effects of hookup culture; the eternal struggle of being 'chill' and fuckboys (one image caption will resonate with most, 'Honey, I'm a feminist. But I'm also an asshole – especially to girls I've fucked').
There is an academic cynicism and self reflection in her work too. She criticizes modern feminism, wonders if her work passes the Bechdel test and ruminates on whether she's a good person — all in a funny, detached way. An amazing account to relate a little too much with.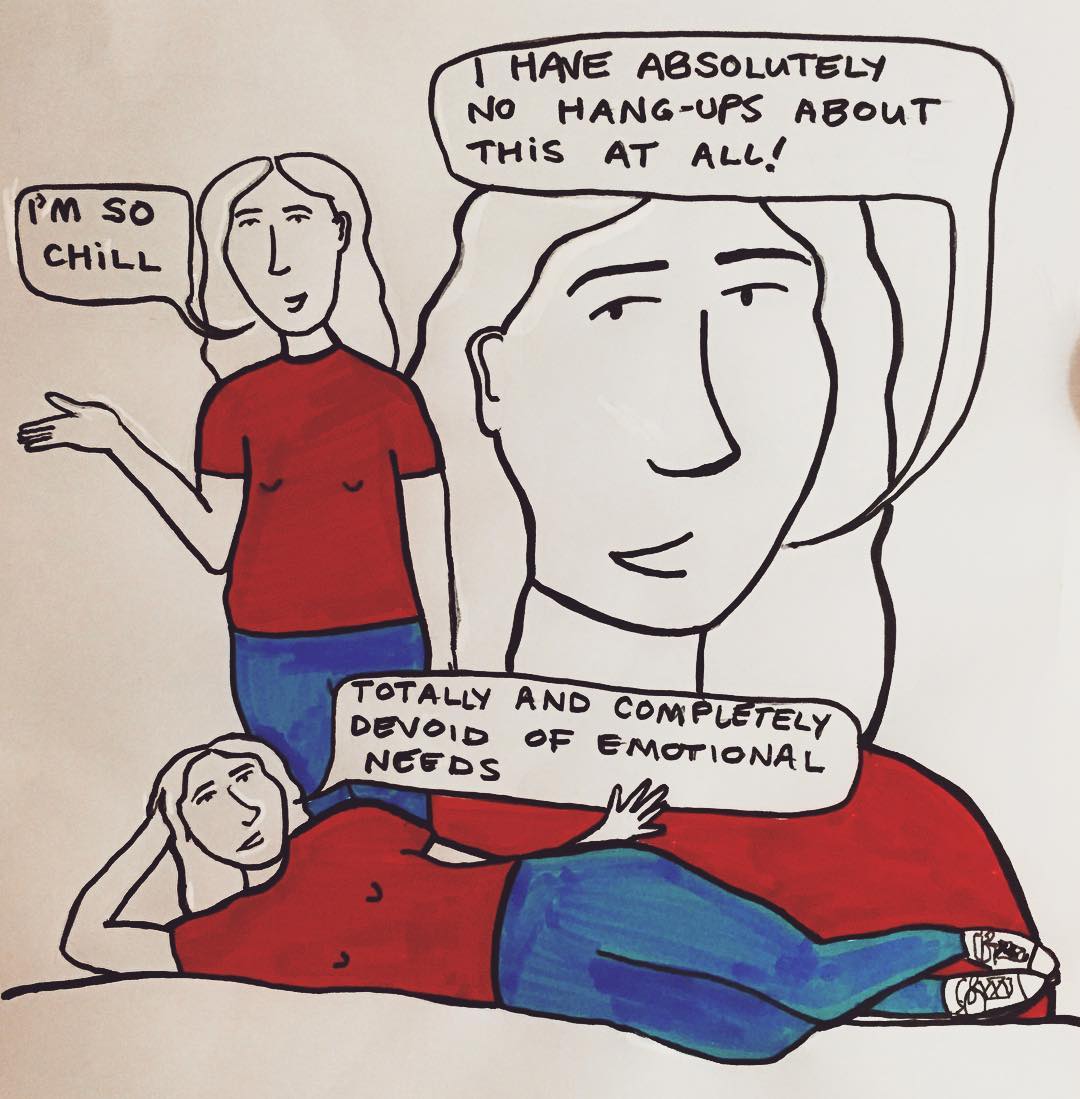 Laura Callaghan
While much of Callaghan's illustrations are overwhelming positive—she turns everyday situations, like working out or hailing a taxi, into colour filled Instagram worthy moments—behind a lot of her work also lies the anxiety of modern life. We see snapshots of bills and dismissal letters piling up on the floor, a woman crouched among carefully arranged lamps vying to get a perfect selfie, and a fed up looking portrait enshrined by pills, flowers and cigarette butts.
None of her characters seem to be in a particularly bad place though. Instead Callaghan's work shows the hidden mess and problems that characterise daily life but don't overwhelm or define it.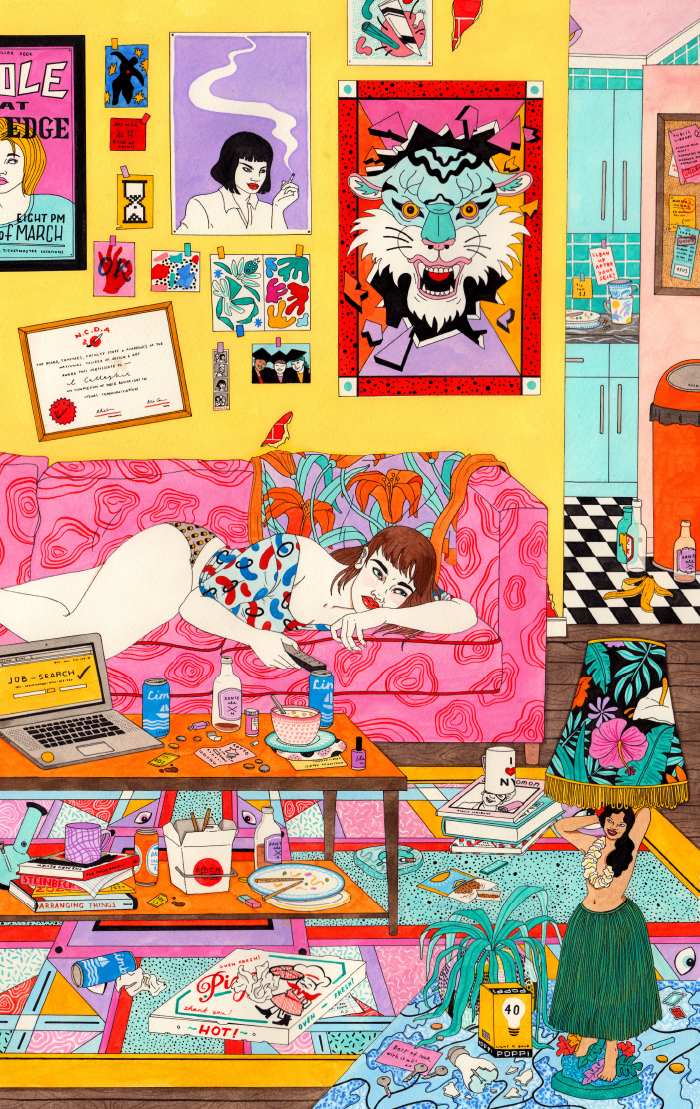 Polly Nor
At first glance, Nor's devil-filled illustrations seem like colourful depictions of hell, or at the very least some kind of otherworldly hell-on-earth. But on a closer look the lush detailed illustrations are actually documenting something much more mundane. Nor's subjects are usually alone and are joined by the demons when going about their daily lives — face-masking, doing laundry, or simply looking in the mirror.
The meaning of the devils can be read in two ways. The first, that they're representations of woes, like an external manifestation of the inner turmoil that women in particular so often keep hidden. The second, they're the parts of these women that they are shielding from the world… Either way, Nor is drawing our inner selves — and it looks beautiful.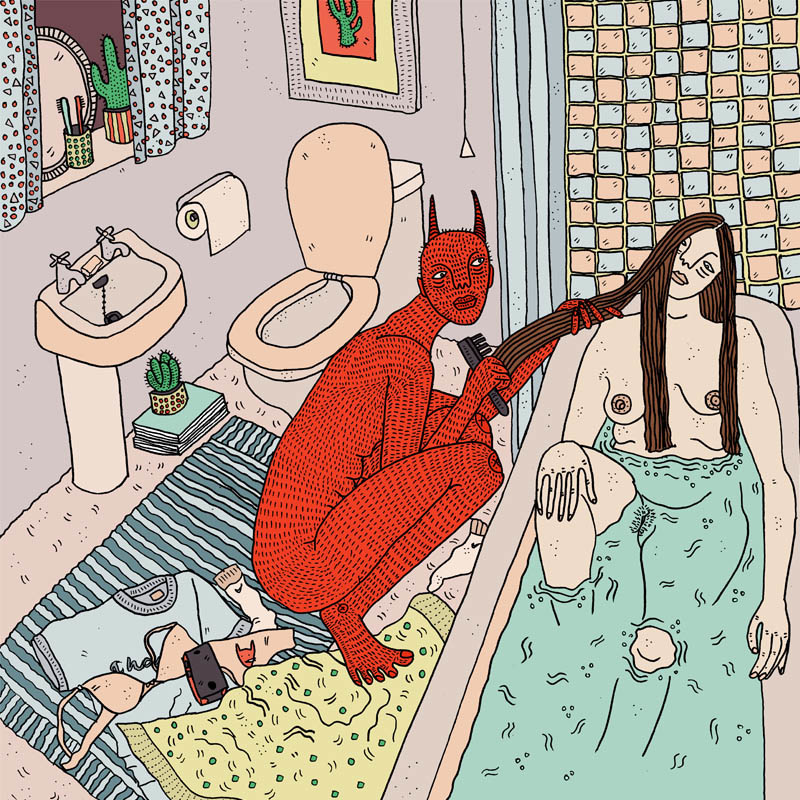 Celeste Mountjoy
In a similar way to Nor's work, Celeste Mountjoy, aka Filthy Rat Bag's illustration deals with our inner world and include a manifestation of depression and self-sabotage. Instead of devils however, it's a sketchy looking cat who among other things, implores you to drink too much and miss dinners with your mum.
Having struggled with depression and anxiety, Mountjoy draws from her own experiences resulting in honest, brutal, and hilariously self reflective work that veers from the realistic and relatable to the downright bizarre. She's wise beyond her years too, despite being only 16, her work is the perfect antidote for your quarter-life crisis.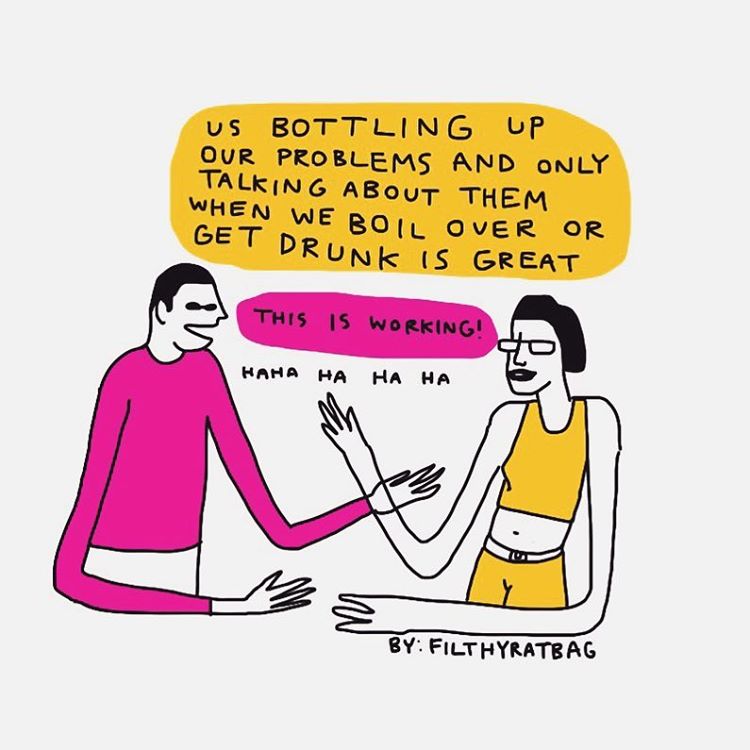 Liana Finck
Despite the relative simplicity of Finck's work, the majority of it is black and white line drawings with a caption, her illustrations are somehow able to succinctly sum up life's challenges and disappointments.
She has been a regular contributor to the New Yorker since 2013 where most recently she illustrated the Guide To Being A Good Roommate. With tips like 'plants are not decorative after they die' and 'whoever saw the mouse is responsible for buying the trap,' the guide contains some needed advice.
However, Finck's most compelling work deals with universal themes such as love, intimacy, rejection, as well as some of the realities of being a woman today — getting back at manspreading, men explaining Marxism, and the pitfalls of avoiding social situations.
Tagged: