Umfang's Underground | The DJ's Favourite Foreign Festivals & More
Discwoman co-founder Umfang runs us through what's on her plate over the next few months
Photo: Tyler Jones
Emma Burgess-Olson makes music as Umfang and the music she makes as Umfang isn't easy to categorise. Which, if we're being honest, is always a good thing. After all, the world's about to implode under the weight of faceless deep house 12 inches and needless disco edits, so shouldn't we celebrate the creators out there who merrily shun conformity? Yes. Obviously.
One of the co-founders of New York-based platform, collective, and booking agency Discwoman, Burgess-Olson can flit between barely-there super-spectral techno to dubby dancefloor destroyers with consummate ease.
That polyvocal approach to music making is reflected in her adventurous DJ sets. While the focus is nominally on techno, she's a versatile enough selector to ensure that her mixes never descend into the kind of monotonous DOOF-DOOF-OOSH-OOSH that can often turn a night in a club into an aural ordeal.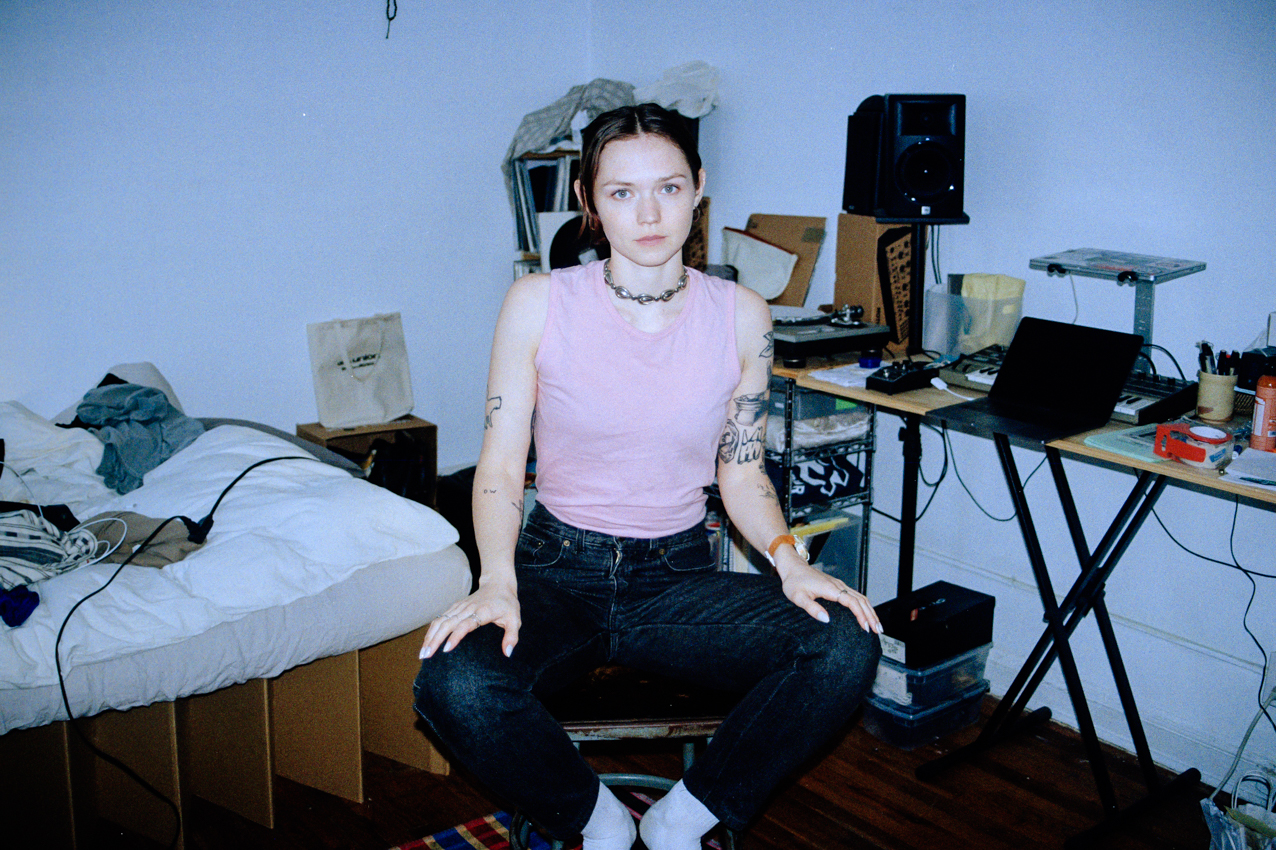 Having released material on labels like Ninja Tune, 1080p, and Technicolour, and with her star on the well-deserved rise it isn't surprising that she's spending much of the upcoming summer hopping between festivals.

Amongst them is Dimensions, the Croatian late-season party that sees thousands of dance fans descend upon a 2000-year-old Roman amphitheatre before boarding a flock of sea-faring vessels for the kind of boat parties that make you wish you never had to step foot on land again. She'll be joined by the likes of Kraftwerk, Moodymann, and Helena Hauff and you probably want to go as much as we do.
We caught up with Umfang before she hit the road to chat about festivals, caves, and orange wine.
What's the one upcoming event you'd recommend to a festival-sceptic?
I don't know much about festivals but Dekmantel is really well organized and a beautiful commute on a bike.
What festival, or festivals, would you visit for a work-free massive party?
I actually find festivals totally overwhelming in general, so I prefer the smaller, weirder ones, like Unsound in Poland, or Sustain Release in New York. I'd love to find a festival that took place in a cave.
Tell us about the festival that has the best level of hospitality…
Oya in Norway. There are osteopathic massages, great pools, all that stuff. It is totally insane.
Outside of clubs, can you recommend a music venue you try and visit as much as possible?
MoMa PS1 in New York.
Which is the last venue you played for the first time that blew you away?
Ankali, Prague. The interior details blew my mind, I could live there. Awesome lighting in the most discreet ways.
Give us the lowdown on an intimate venue you wish the whole world could fit into…
I don't want to be in a room with the whole world. I think the occasional intimate space is something to be cherished.
Where are you really looking forward to eating while on the road over festival season?
I like getting to eat local cuisine anywhere I am. Other than that I want orange wine.
Are you getting an actual holiday this summer? If so, where are you off to?
No, but that doesn't really exist in American culture. I would like to go on a road trip but it isn't realistic with my work schedule.
Where's the next Ibiza?
I haven't been to Ibiza but I think you'd have to specify what it is now versus what it once was. But maybe a Greek island could feel like an oasis for a while. Until it gets bought out by brands.
Dimensions takes place between 29 Aug – 2 Sep 2018 in Pula, Croatia.