Photo: Rosie Harriet Ellis
London or New York? | The Chefs Behind Each City's Hottest Restaurant Debate Which is Best
James Lowe of Lyle & Ignacio Mattos of Obama-favourite Estela in conversation about their hometown food scenes
Photo: Rosie Harriet Ellis
A while back now, a little black book of London's food scene elite—from Jackson Boxer to Skye Gyngell, Thomasina Miers to Ben Chapman—crammed into Lyle's to welcome a special New York guest: Ignacio Mattos.
Mattos is the man behind Estela—where Obama once famously took Michelle for an impressively clued-up date night—and he's been in London for a guest chef spot with his long-time transatlantic food friend James Lowe.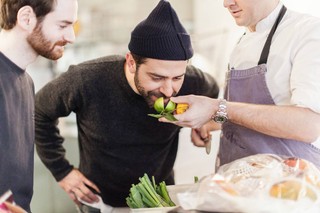 Uruguay-born Mattos trained under legendary fire-master Francis Mallman and has been wooing notoriously hard-to-please New Yorkers since 2013, when he opened wine bar and high-end snack spot Estela. He's now added Italian Café Altro Paradiso and much-hyped new bar and restaurant project Flora Bar at the Met Breuer to his roster and has just been named Esquire's Chef of the Year 2017.
James Lowe is arguably his counterpoint in the UK, with Lyle's offering a new kind of avant-garde approach to classic casual fine dining. Both share a certain post-gourmet international sensibility whilst capturing something unique to their respective cities. We sat down with them as they went head-to-head on which of their pioneering cities is best for everything from high-end dining to neighbourhood spots.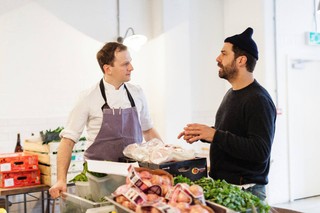 Amuse: What sets restaurants in big cities apart do you think?
James Lowe: I like the feeling that there's something going on at all times, everywhere. Almost all of our produce comes from Scotland or Cornwall—when you go to visit those places you think: "My God, imagine if we just had a restaurant here." But it's nice that there's that other side to life. For some people, that's the quiet of the countryside, but for me it's the buzz of the city.
I love the fact that a city restaurant is just busier. I love that there's a really varied demographic that come to eat here on a regular basis. The menu changes throughout the day because the people who come in the day or the evening or the people who come early week or late week are all very different. We're not a countryside destination restaurant staking everything on one thing and saying: "This is what we are, like it or lump it."
Ignacio Mattos: I feel like the produce you can get in New York is so good right now and there's a whole consciousness around that. Food has that thing—once you've tasted something good, what are you gonna do? In a way, once you've tried a certain standard, you're cursed. It happened to me with a cashew recently. I thought that I was eating cashews my entire life until I tasted this one cashew. I was like: "Hold on, I've spent 36 years of my life cheated!"
I feel like food has that power and I feel like more people are experiencing it now. Younger people are doing more accessible things everywhere.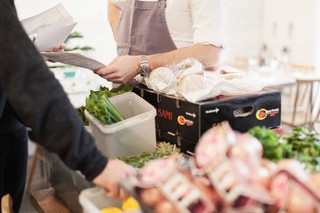 Which city does high-end dining better?
IM: I feel like London does it really well.
JL: I think America. Because of the organisation and the consistency. It's phenomenal. If you go to a fancy restaurant in London there's still a high chance that they're gonna be really patronising and potentially rude. That just would not happen in the States.
That's service. What about the food?
JL: If you look at fine dining restaurants that have been really influential – somewhere like the Fat Duck or St John – they're very unique places and they've really changed and influenced lots of people around the world. Whereas, New York, if you look at their very top end spots, places like Daniel or Le Bernardin, they haven't influenced anyone or changed anything necessarily.
IM: They're incredibly consistent and they have longevity for a lot of people. But on the food front, London might be a little bit more exciting and individual; it has personality. We were at the River Cafe yesterday. It's not necessarily fine dining but it has influenced so many people. Maybe in New York it's more business driven, which is both a good and a bad thing.
JL: I used to feel like people in London would only open a restaurant that was copying another one, because that was a sure thing. I felt like people were more willing to put money behind new ideas in New York. They were way more excited about new openings, there was so much more energy and daring. I feel like it peaked in New York about eight or nine years ago, but it's perhaps slowing again.
IM: At the end of the day it's a business. Decisions are based on making it exciting but also accessible – giving people what they're looking for but maybe in a way that they're not expecting.
Does that mean that restaurants that are proudly unapologetic don't work any more?

JL: I think that if St. John were to open today, with what was then an alien concept, they'd go out of business. They were able to do it back then because there were less restaurants and because the rents were so low for such a long time.
IM: In both cities it's very brutal to run and operate a restaurant. In New York people constantly want stimulation. But it has to be within a certain comfort zone. People in New York are out so often that they want to feel comfortable. It's not like, "I wanna have an experience." They want to know what you're going to get. They don't want somebody messing around too much and showing off. But they do want something new.
So New York wins when it comes to building hype around new openings?
JL: That implies that it's a good thing. Yes, that's part of restaurants entering the mainstream but it's not necessarily a good thing. The fact that we have St. John is fantastic. But you can't open a restaurant now, be as quiet as they were at the start, and still survive.
IM: There are exactly the same issues in New York. It's merciless. You have six months to a year to make it. People keep trying but there are so many places that open and close, open and close. Listen, you cannot judge a place on a single random experience. You have to give it a certain amount of time to mature naturally. We're in these times when everybody wants the new best thing all the time. Maybe it was good for a minute or maybe they got lucky. For me, I need to go back to a place.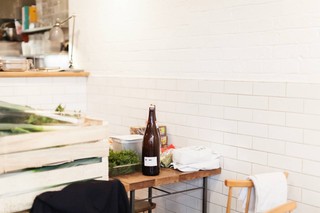 And are critics guilty of that too?
JL: Critics shouldn't have to be forgiving or understanding just for the sake of it, but there's a real issue with restaurant critics in London. Say the New York Times wants to write a review, it will come out at least four or five months after the restaurant's opened; they'll go in at lunch, they'll go in at dinner, they'll eat there at the weekend and they'll eat there during the week. We had five critics all come in within the first ten days of opening. They're obsessed with getting the first review out and that becomes more important to them than anything else.
So which city do we think does international food best?
IM: You guys have really good Indian and Middle Eastern food, which is really difficult to get in New York. But we have great Mexican and pretty good Japanese food across the board.
JL: The predominant sushi style in London is California rolls, spicy tuna mayo… very Nobu or lunchtime takeaway stuff. But it's not good sushi. It's like a British bastardised sushi.
IM: It's interesting how demographics and immigration determines the food landscape. But I think that both cities are incredibly eclectic. And it really gives them a very interesting edge and character. People are much more open.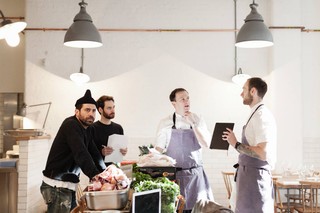 And does that influence your cooking?
IM: Being an immigrant myself in New York I feel that I can take certain liberties with utilising products. I almost feel that I have a duty to. We'll use spices from India and sauces from Japan with local meat and vegetables. Coming from a place where I've grown up eating very basic food and not having access to different flavours, I want to use everything that it makes sense to use for what I'm trying to say. It's dangerous too though. You can lose focus. You don't want it to become a bunch of stupid shit on a plate.
JL: I feel like New York is a city that has restaurants that could only come from New York. Places like Momofuku. It's not Japanese, it's not Korean, it's not American. There's French stuff in there, but it's like: "What actually is the food?"
Are there no restaurants that could only be in London?
IM: I think Lyles is London food. In the same way that Estela is a New York way of eating. In London there are places that have a certain elegance to them—like Lyles. In New York we're nervous of simplicity and bareness. There's a certain aesthetic, a certain good taste that's very specific to here.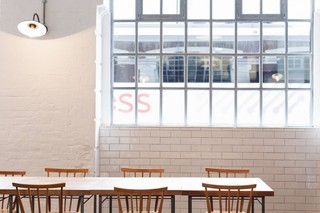 And what does New York do better than London?
JL: I wish we had good farmers markets. They're not used enough here for them to work. In London they happen once a week and who goes to them? Middle class people buying one bunch of kale for their Sunday roast. In New York restaurants go there to buy everything. The main one is right in the middle of the city and the quality is amazing.
I also noticed that in New York immigrants are heavily affecting the farms. There are loads that are owned by South Americans, Mexicans, Japanese, Koreans. And they grow things from where they're from. Then those things enter into the mainstream of the food. Immigrant populations in London don't have that farming culture. Land here is owned by old money. The populations that came here – Indian, Chinese – they live in the city and they open restaurants instead.
IM: And you guys don't do late night food. We tried to do it on Saturday night here and people were looking at us like "Whuuut?!" In New York there are a bunch of options. You can get great late night sushi – there's this place on 40th where everybody goes. It's pretty decadent – it's after midnight, you're probably drunk, there's a mix of rappers and Russians, there's a lot of cash flying around. It's a whole scene. Or you could go to the Spotted Pig and there's a scene going on there at two in the morning. Or you can go to Midtown and get some Peking duck and dumplings. Each neighbourhood has something.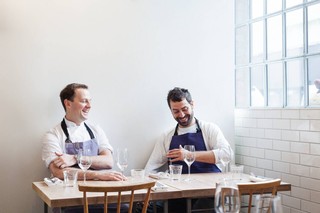 JL: The dim sum is amazing in New York. Chinese in the UK is dominated by Cantonese food. Just like every New York Chinese has kung po chicken, every UK Chinese has sweet and sour pork. There are loads of restaurants here – like with Indian restaurants – that just cater to what they think people want.
IM: It's interesting to see the next generation though. The kids of the immigrants come with something that maybe their parents didn't have. They're part of the culture and they grew up more integrated. Now they want to show a little bit more of their heritage and culture.
You have one day to show each other around your respective cities. Where do you go?
JL: River Cafe for Sunday lunch is the absolute dream. 40 Maltby Street for dinner on a Saturday. And then hungover weekend brunch at Black Axe Mangal.
IM: For breakfast let's go to Marlow and Sons – they have really good product and it's simple and cosy. Lunch at Altro Paradiso because I think he'd really like it and he hasn't come to check it out yet! And then for dinner I'd treat him to some really good sushi because I know that he can't get it here in London.