Emma Breschi, Activist & Model | I Never Leave Without… My Vibrator
Model, activist and photographer tells the honest truth about what's in her suitcase.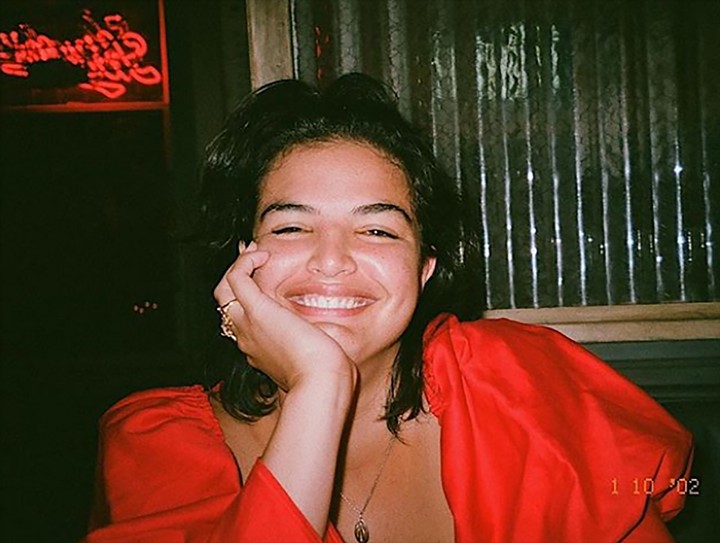 We all have them: Those few items that, whatever the circumstances, however short the trip or however small your suitcase, you'd never dream of leaving behind. This series takes a snoop inside the suitcases of some of our favourite globetrotters – photographers, adventurers, chefs, models, directors and all-round interesting people – and asks what they take with them everywhere, and why.
This month it's straight-talking model, body positive activist and photographer Emma Breschi. The face of Vivienne Westwood's AW17 campaign, Breschi has made waves in the fashion industry for her unashamedly outspoken and overtly political attitude. A true child of the world, she was born in Switzerland to Filipino and Italian parents but grew up in Thailand. As a result she's spent the bulk of her adult life travelling. Here she talks about her love of the open road, and what she never leaves home without…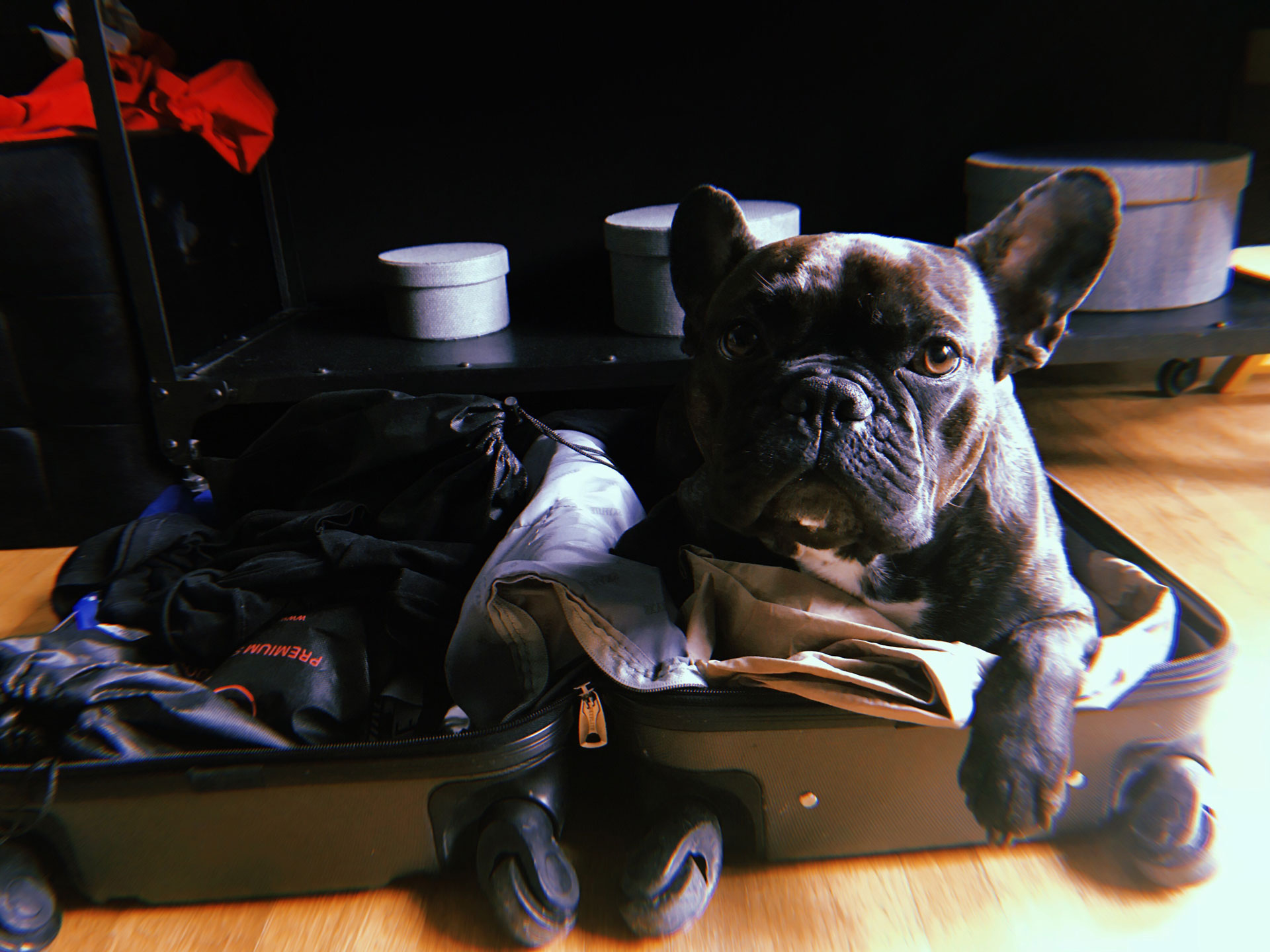 I'm very good at adapting and embracing the unknown. I guess for me, exploring new places and cultures comes naturally and feels normal. It's not for everyone, but it's what works for me. We live in such a big world with so much wonder, it would be a shame to not see or experience any of it.
There are so many people I respect and look up to that inspire me to learn and do more in this life. There's something in everyone that I see, and I gravitate towards that. We spend our lives passing by so many people that we are too scared to connect with sometimes, because they're strangers. I try to break away from that and spend my attention face up, aware of my surroundings and seeing with my eyes what life is up to today.
My Buddhist prayer beads come everywhere with me. I got them on my first ever trip to New York. A man in an orange robe cornered me, held my hands, and gave me some prayer beads, and a golden ticket that said 'Peace To The World'. I just assumed he was a kind monk putting Buddhism into practice and celebrating peace with me, before he started demanding a donation off me. I panicked and gave him all my cash, and he ran off with a smile on his face. So, having spent $30 on world peace, I've just always kept my prayer beads in my bag, hoping to make that $30 back!
My songwriting book is the second item I'd never leave behind. I'm not a musician, but I love writing songs when I travel. When you spend half of your time up in the air like I do, you get lost in your own thoughts and imagination. I just put it all down into my lyrical journal and try to write songs. Sometimes I write songs about strangers I've seen in passing, and make up very extravagant stories about them. I was sat next to this man on a plane once; he was very rugged, messy, and yet had a handsome charm about him. He looked like he could've been a cowboy on the run, and with that I painted a picture in my head and put him into a song.
"I wasn't sure if I should include this , but I'm a very honest person and the truth is that I never leave my dildo behind!"
I have a Polaroid of Lebron in my wallet – that I carry with me everywhere too. When I'm not travelling across the world, you can guarantee I'll be at home cuddling with Lebron. That's all we do really; just lay in bed together, watch Netflix, go for walks and weekend getaways. Everyone thinks he's my boyfriend when I talk about him, but he's actually my dog. He is my family though, and when I travel it breaks my heart to leave him behind. So, I always bring his Polaroid with me, mainly so I can show off how beautiful he is to everyone I meet on my travels.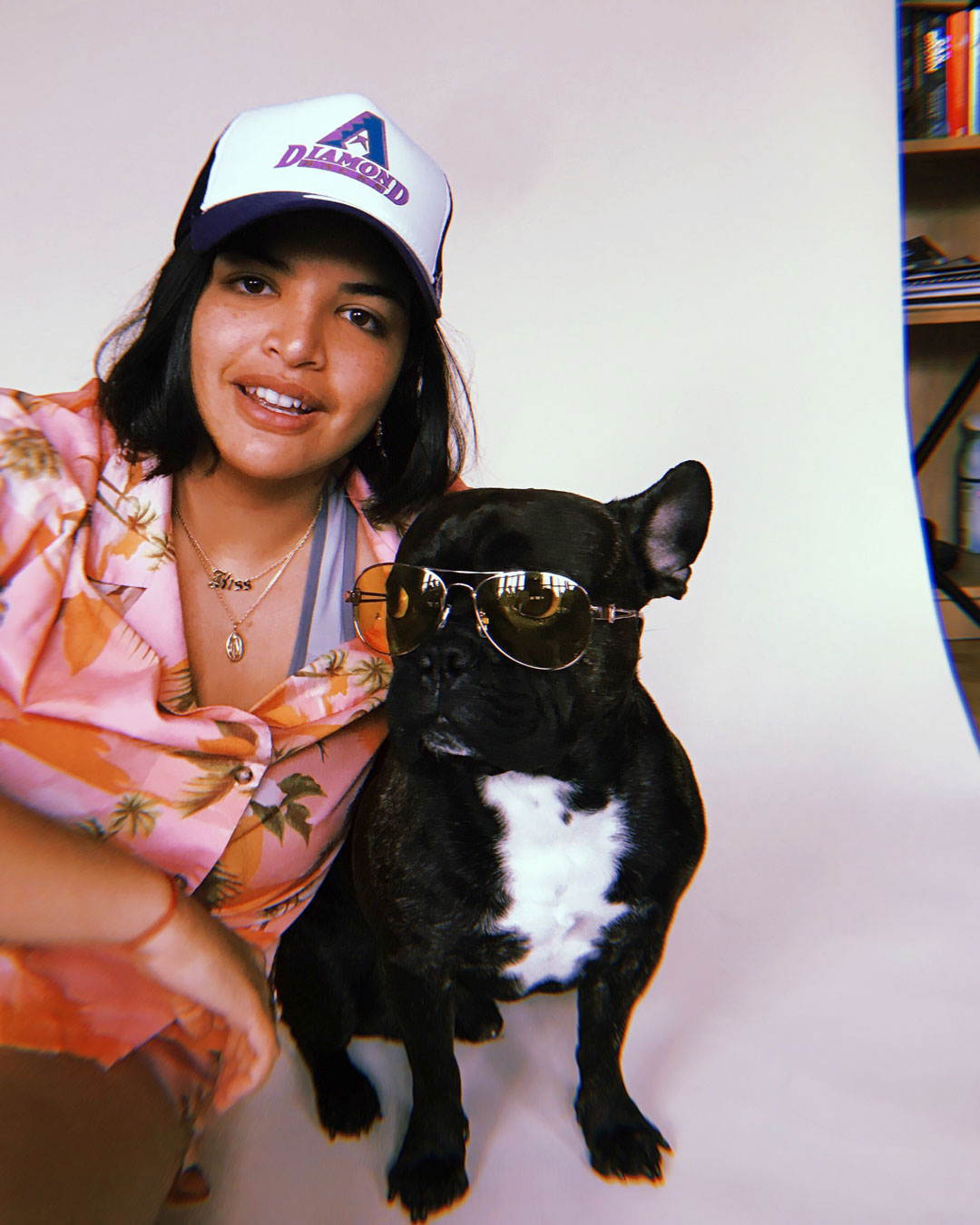 Every time I go on a trip, I buy a disposable camera. As a photographer, it would be silly not to bring some kind of equipment. I have been working on my collection of disposables for a while now and have about ten gathering dust waiting to be developed. It wasn't my intention, but they've become time capsules. I think I'll wait a few years before I get around to developing them. I just know that it will be an amazing way to relive some of the experiences I've had throughout my travels.
My final must-have is my vibrator. I wasn't sure if I should put this item on my list , but I'm a very honest person and the truth is that I never leave my dildo behind! It's one of those fancy vibrators that doesn't look anything like a vibrator – a small, discreet bullet that looks like a lipstick case. I bring this with me because why the hell not? I spend weeks at a time working hard and on my own in hotels. Sometimes a girl's just gotta have a little evening of vibrations.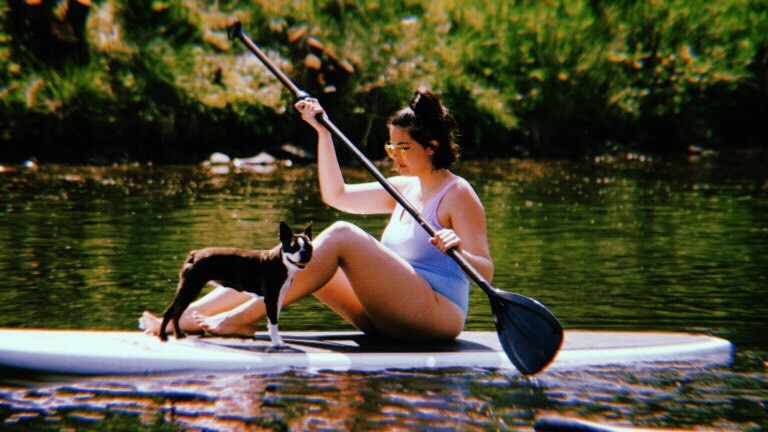 If there was one thing I'd love to take everywhere, but can't, it'd be Lebron. Hopefully one day we can sail the world together, because that seems to be the only way I can travel around the world with him. I'd just love to take him to all the most incredible landscapes, so he can enjoy taking a dump with a view. I think that would make a great Viceland show if you ask me – I'd watch a crazy mixed-race girl and her French bulldog explore the seven wonders of the world and more.
You can follow Emma around the world on her Instagram.