Five Star Dive Bar | The DIY Spot That's Barcelona's Best-Kept Secret
Two Schmucks is now ranked among the world's best bars, but the story of its success is far from ordinary
Photo: Courtesy of Two Schmucks
Sometimes you just know straight away. One of the biggest early challenges of discovering a new city is finding your bar. Where the staff remember your order; where you'd feel comfortable taking anyone. The kind of place that will bear witness to your soaring Saturday night highs, and the arduous Sunday afternoon recovery sessions.
It had taken me a while since moving to Barcelona to find the place that fit me perfectly, but, living among Raval's tangled mess of side-streets, I knew I was getting close. And that's when I found Two Schmucks, stumbling past after midnight on a weeknight when I really should have been asleep. Moe and AJ, the bar's eponymous Schmucks, remember it well. "I think you were our first real regular," laughs Moe.
A year later and I'm far from the only regular at Moe and AJ's bar. Two Schmucks has gone on to establish itself as one of the best bars in Barcelona's resurgent nightlife scene, and been named among some of the best new bars in Europe.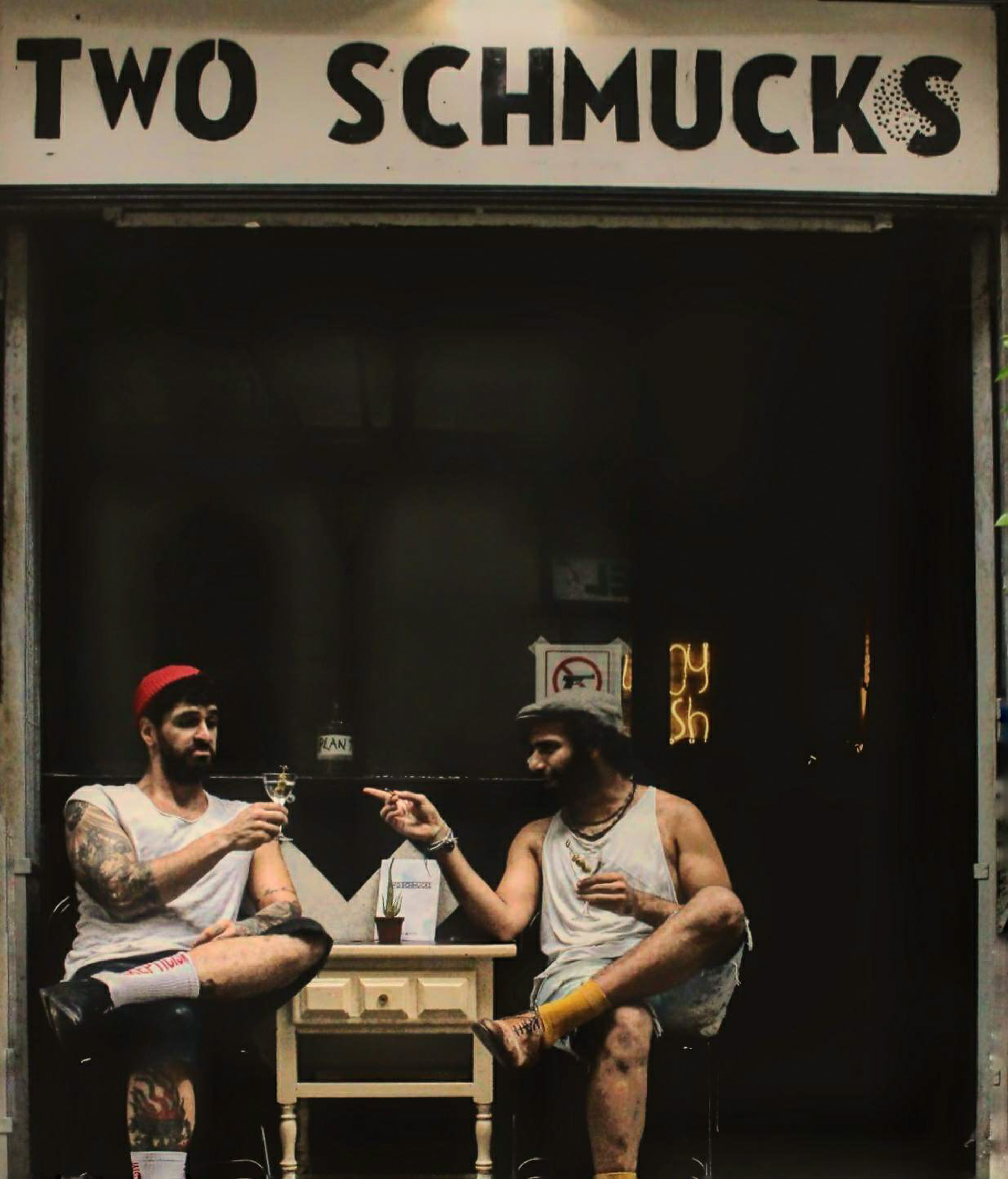 The tale of Two Schmucks is one of a hustler spirit, of DIY, and of belief in your own knowledge and ability to carry you over any potential pitfalls – all of which has helped make it one of the most interesting and compelling venues in the Catalan capital. Pinned up behind the bar is the owners' blunt mission statement: "fuck everyone, we'll do it on our own".
"Nobody tells you how fucking expensive bar stools are. When you're talking about opening your own business, nobody prepares you for the fucking bar stools"
Moe and AJ met while working in Oslo. Moe had been looking for a bar job with little luck, and managed to find himself a job as a barista at Café Laundromat, where AJ was supposed to show him the ropes. "I remember rocking up at 9am – and I was never awake at 9am – and meeting AJ. We were wearing exactly the same clothes. Same blue hoodie, same cap, same everything."
Sometimes you just know straight away.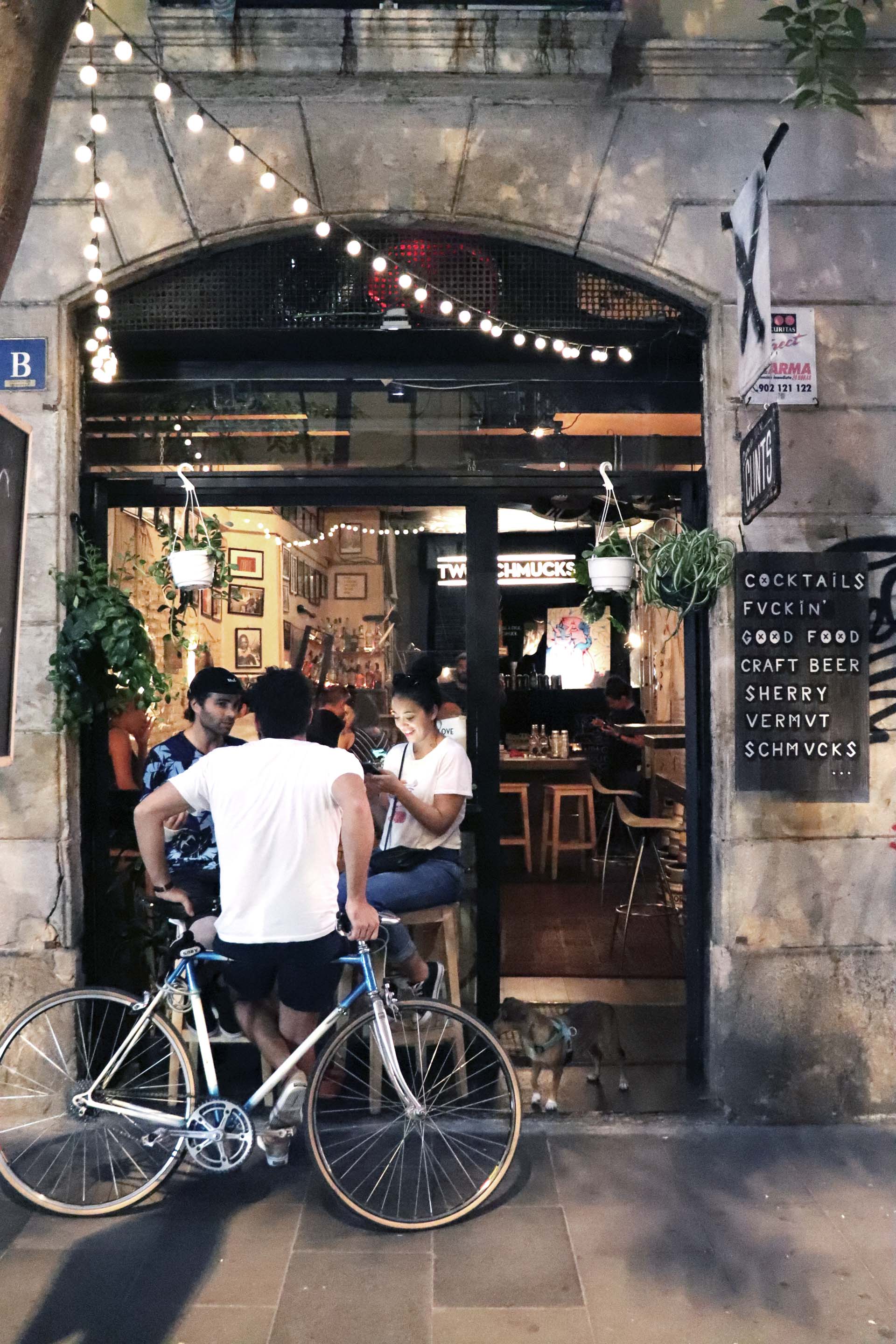 After working together on a cocktail project for the Bacardi Legacy contest and finishing 3rd, the pair moved to Barcelona together, and eventually set up a touring pop-up bar concept called Two Schmucks, which took them all over Europe and the Middle East.
"As we were doing the Two Schmucks tour, we were getting a lot of hype," says Moe, "and we kept telling people that we were opening a bar…" "We didn't even have a location!" laughs AJ.
"We didn't have shit," continues Moe, "so at the same time we'd come back and go knocking on doors. If a bar was empty at 11pm on a Friday, we'd ask the barman if he wanted to sell."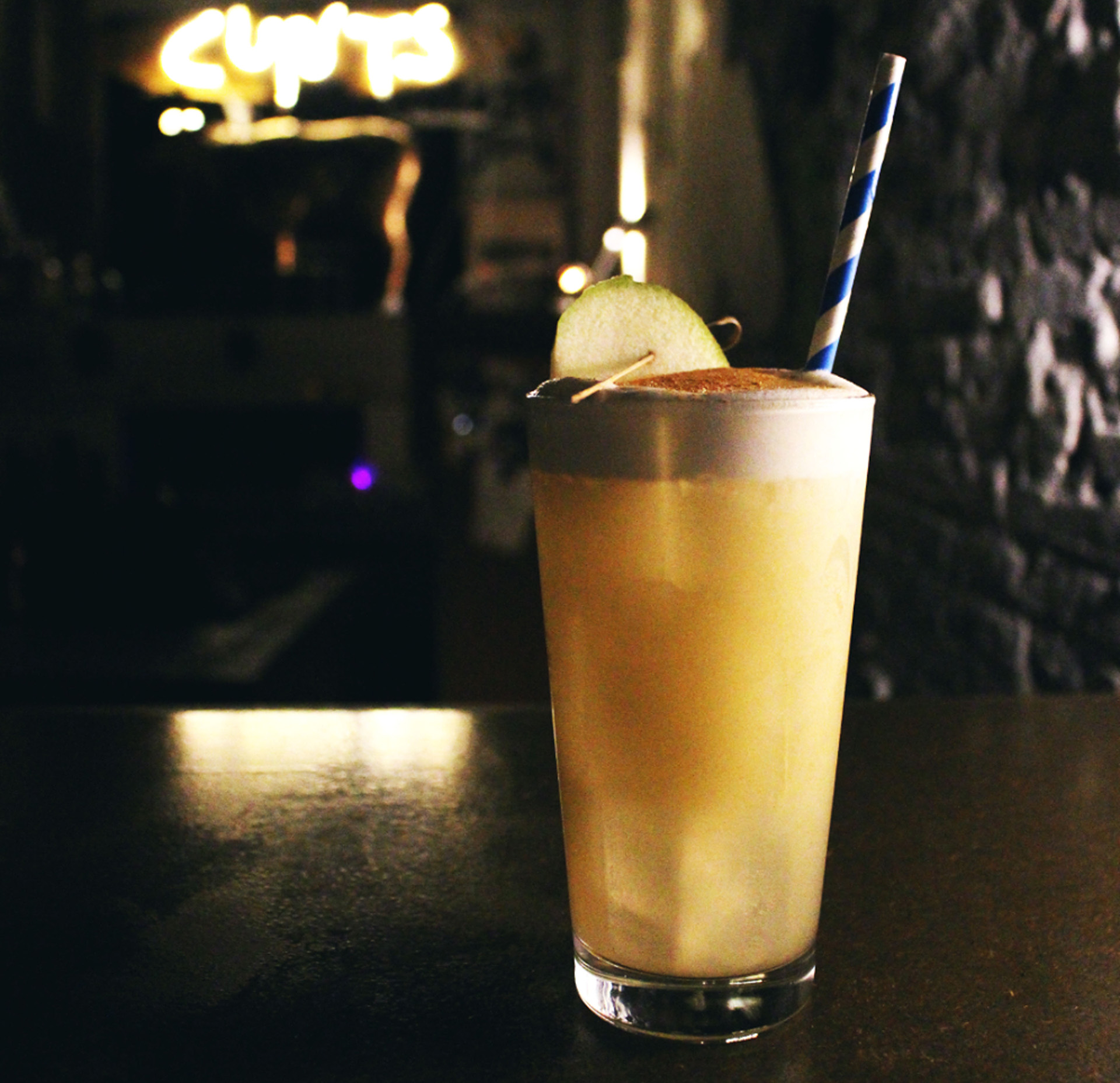 Their persistence eventually paid off. While having a drink in Betty Ford's, a famous burger and cocktail bar on Raval's less-famous nightlife hub Carrer de Joaquin Costa, Moe was told that the taco place next door had been shut down that day.
"They had a manager who was putting a lot of people in this room where the ceilings are too low, it was illegal," explains Moe. "They did a food inspection and there was food all over the floor."
"They were shut down on the spot, that's how bad it was"
"They were shut down on the spot, that's how bad it was," interjects AJ. "The inspectors came in and said 'ok, you're shut down, everybody out now'."
Within 24 hours, the pair had contacted the bar's owner and offered to buy it off him. After laying down a 10,000 Euro deposit, their application for a new business loan from the bank was rejected, throwing an almighty spanner in the works. "It was the day before we had to go and fucking sign!" laments AJ.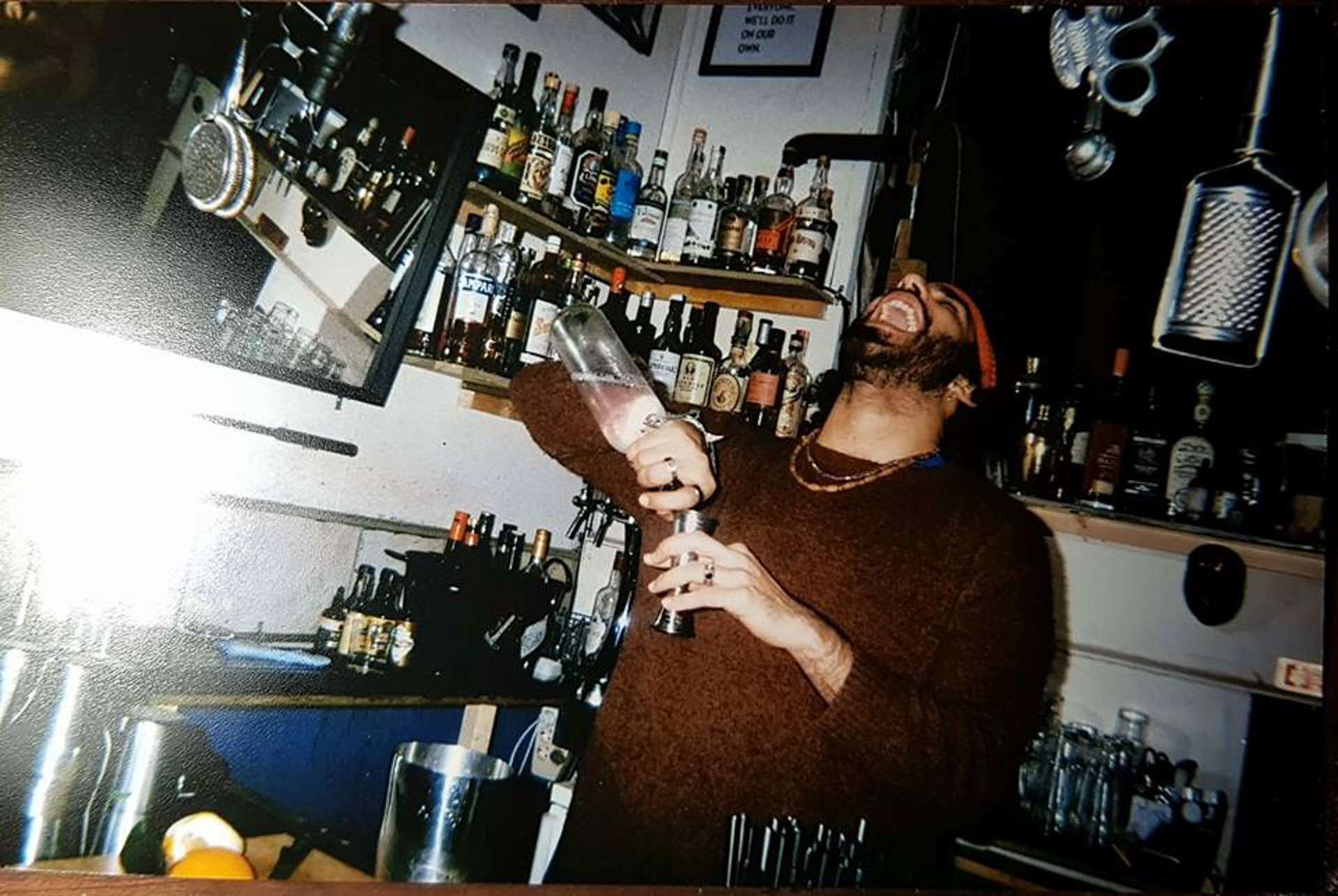 "I remember getting the call and my legs were shaking," recalls Moe, "between us, we were able to pull together 45k, but the guy needed 100k, so we thought that was it." Thankfully the owner – desperate to sell – was able to come to an arrangement where the bar would pay monthly to make up the remaining money.
"This guy had been hustled by Spanish buyers in the past, and the other potential buyers were Spanish," Moe tells me, "and he told me the next day that he'd googled us and seen some of the shit we'd done on YouTube. That impressed him; that's what made up his mind."
So now they had a bar, but the problem was that they had nothing to put in it, and very little to spend. "We couldn't even afford bar stools!" laughs Moe, "Nobody tells you how fucking expensive bar stools are. When you're talking about opening your own business, nobody prepares you for the fucking bar stools."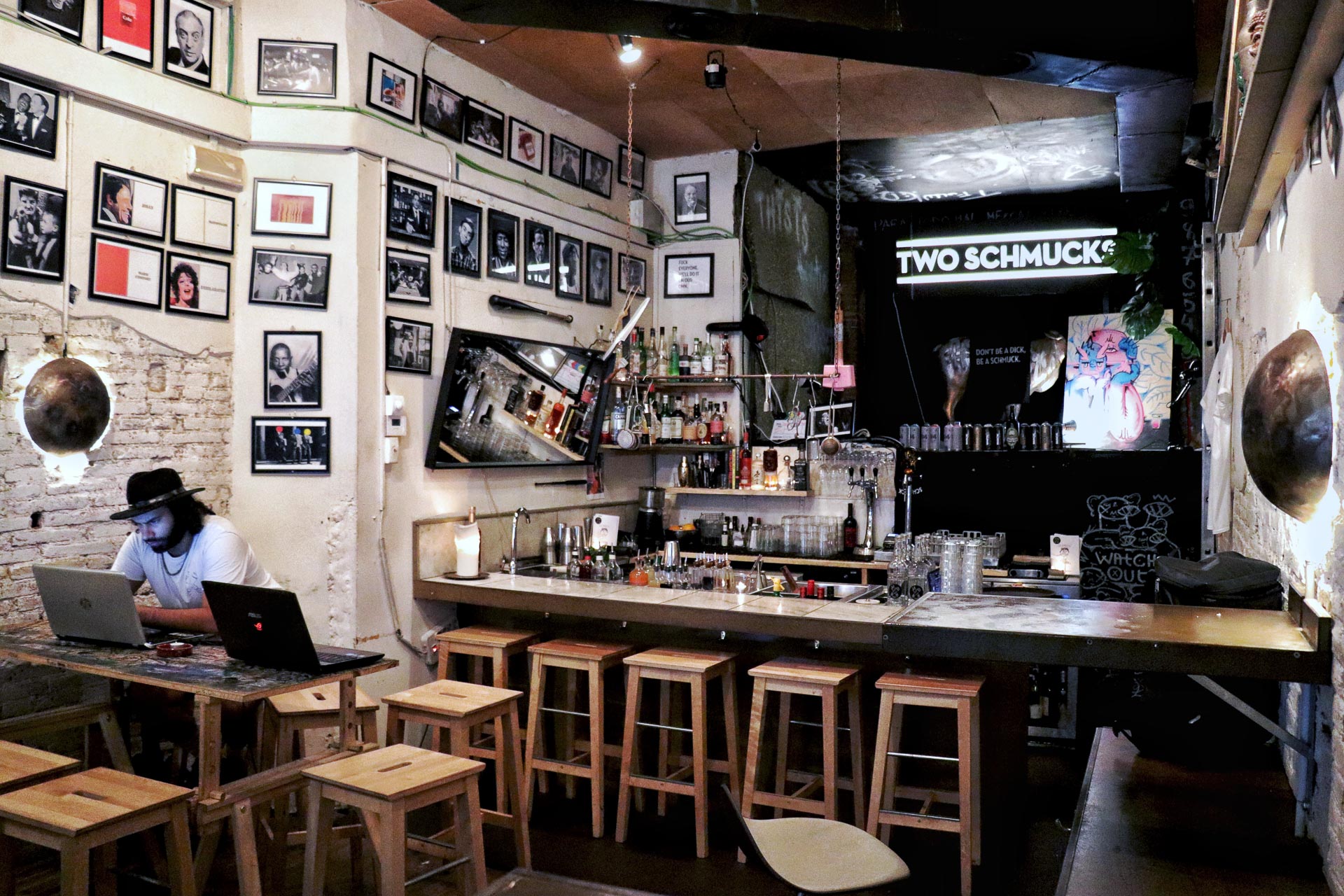 Not ones to let the bar stools get them down, Moe and AJ began to collect furniture that they could use in the bar; furniture they were gifted, inherited or – in some cases – took from the street before the refuse vans could.
In its earliest incarnation, Two Schmucks was primarily a standing bar, with a few tables and some shelves around the side. These days, it's all seated, something Moe explains is "better for service. Everyone feels looked after".
It's this customer-centric approach that makes Two Schmucks so lovable. First-time visitors are greeted with a smile and a welcome, and the bar's growing number of regulars feel safe in the knowledge that they'll be attended to, no matter how busy it gets. In a city as popular with tourists as Barcelona, that's a big deal.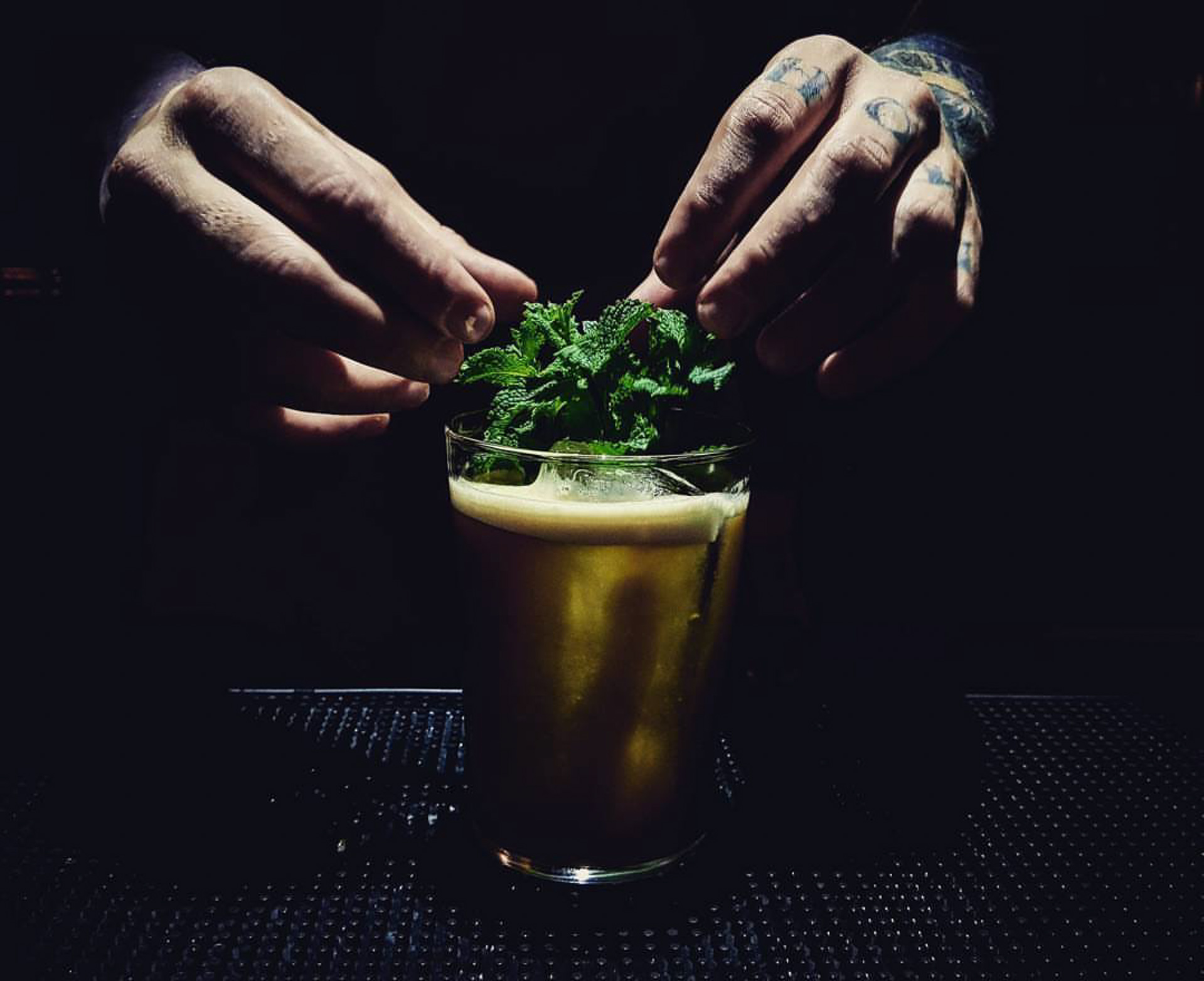 Moe describes Two Schmucks as a Five Star Dive Bar. The bar itself and the surrounding area is edgy and alternative, but you'll receive the kind of service you'd expect in any of the city's finer establishments.
They're also constantly innovating, inviting famous friends from the industry to host takeovers and residencies. Their most recent was by Munich bar Schumann's – owned by Charles Schumann, recent winner of a lifetime achievement award at the Tale of the Cocktail awards – whose team brought with them their signature white coat uniform, and a gravy and potatoes dish.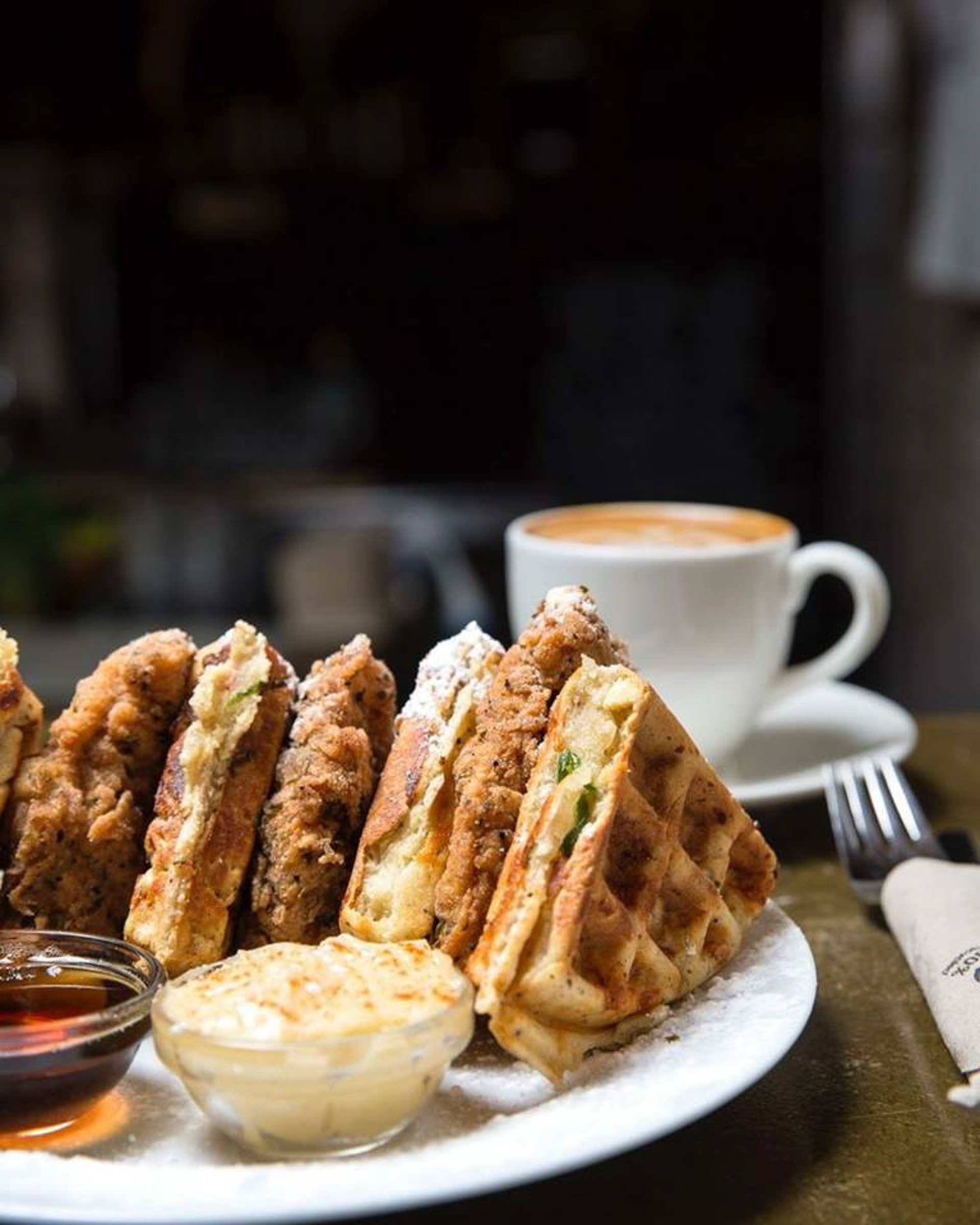 Their location – in the historically working-class and immigrant area of Raval – has also played an undeniable part in the bar's success so far. "We got lucky with Raval. This neighbourhood has allowed us to become who we are," Moe explains.
The bar's new staff wear t-shirts emblazoned with the words "Raval State of Mind", and promote what Moe describes as "community over competition." While Two Schmucks' food offering is being reworked, customers can order from Betty Ford's next door, and when Two Schmucks was serving food, they'd take it across the street to La Cobra too.
"There was an immediate solidarity on the street [here]" says Moe. "You don't find that in too many places, so when you do it's important to keep it."
Sometimes you just know straight away.
Paul Gibbins is a freelance journalist, based in Barcelona. Keep up with him on Twitter.