Photo via Wikimedia Commons
Empire Builder | A Trip Through Time and Culture on America's Most Historic Train
Crossing from Chicago to Seattle offers a glimpse of the nation's wild, overlooked beauty
Photo via Wikimedia Commons
Sliding into an empty seat, I pulled out my notebook and faced the window, pretending to scroll through music on my iPhone which was, in fact, switched off. Usually this practice served me well, allowing me to eavesdrop with ease as my fellow passengers chatted about problems at work, an evil sister-in-law, financial troubles or their neighbours' illicit affairs – interspersed with gripes about various politicians.
However, the twelve-strong Amish family I'd swooped in on like a vulture were speaking in a whistling Pennsylvania Dutch dialect, leaving me and my pen with little to do but doodle.
"It felt so much like Coen Brothers territory that I almost expected Frances McDormand to hop on wearing a grimace and a trapper hat"
Departing Chicago just after lunch, the Empire Builder train had barrelled through fog for around three hours, before pulling into a blaze of sunshine in Columbus, Wisconsin, where the family had boarded, adding to the motley crew of shopkeepers, chefs, NGO workers, retirees, runaways, railroaders, musicians, teachers, oddballs, students, and children tearing up and down the aisles tanked up on Mountain Dew.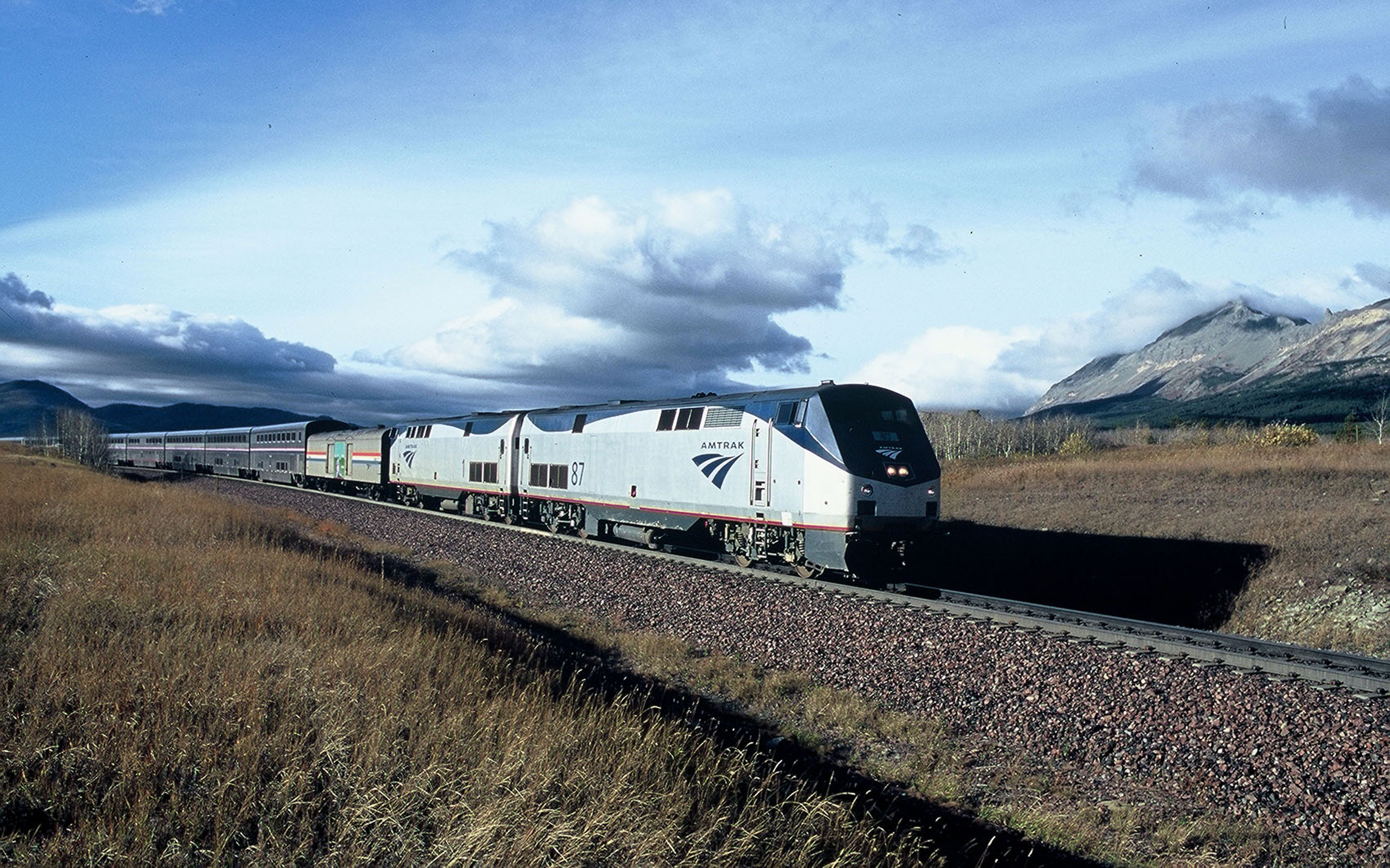 Celebrating its 90th birthday this June, Amtrak's Empire Builder journeys along the third-longest route in the US, covering 2,205 miles between Chicago and Seattle. Rising up and out of Illinois, the double-decker metal giant thunders across the northernmost states of Wisconsin, Minnesota, North Dakota and Montana, skimming the tip of Idaho before arriving into Washington State, 46 hours and 45 stations later.
One of the lesser known and poorly-used Amtrak routes, it's also one of the most wild and beautiful, featuring a cast of characters who have no option but to take the train owing to the lack of major highways in this part of the country – or in the case of the Amish, the only mode of transport they are allowed to use in addition to their horse-drawn buggies.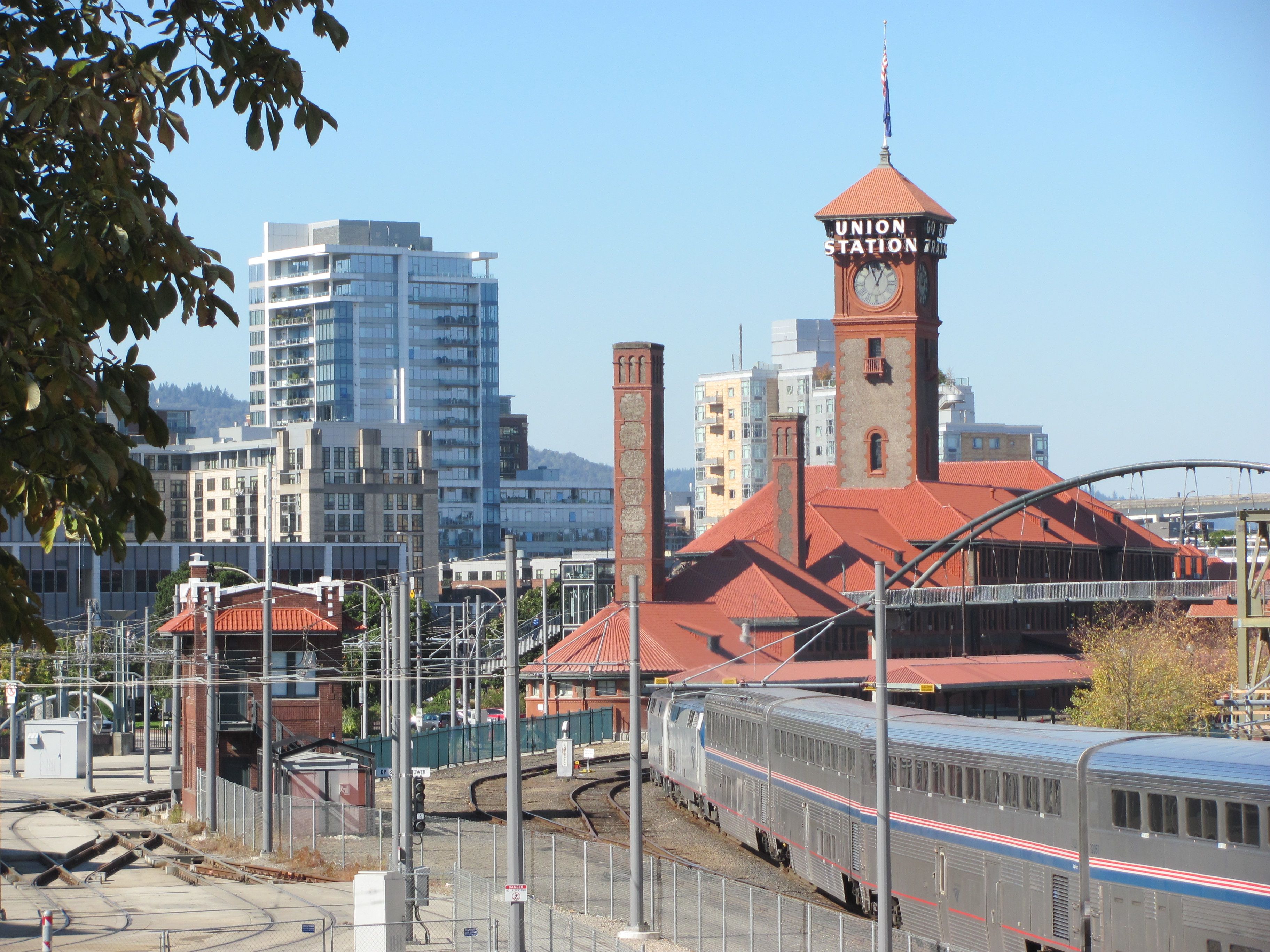 As we snaked through Wisconsin, a father of two from Fargo told me how trains reminded him of journeys with his late father, a railroader who taught him how to spot wildlife lurking by the tracks "the only place you aren't allowed to hunt, so they know they're safe". While giving way to a string of freight carriages in Minnesota, the train stopped long enough for me to stroll on a platform with a teacher from Seattle who explained how he'd taught his mastiff to break off cans from a six-pack of Coors and bring them to him while he watched The Jay Leno Show.
And in the dining car I found myself seated opposite Arlene and Russell, German Baptist Brethren from Ohio who were travelling to visit their daughter in Idaho. Over plates of roast chicken and rice, the cutlery and glasses clinking together as we curved through the mountains, Arlene described how they couldn't possibly shoot deer with "those big brown eyes", but had no qualms about popping a bullet into a squirrel that was eating up her yard.
"We deep fried it and ate it. We like that," she said.
"We like the train, too," said Russell, dabbing his beard with his napkin. "We have our pillows and blankets. And we appreciate that we have the chance to make acquaintance with different folks such as yourselves."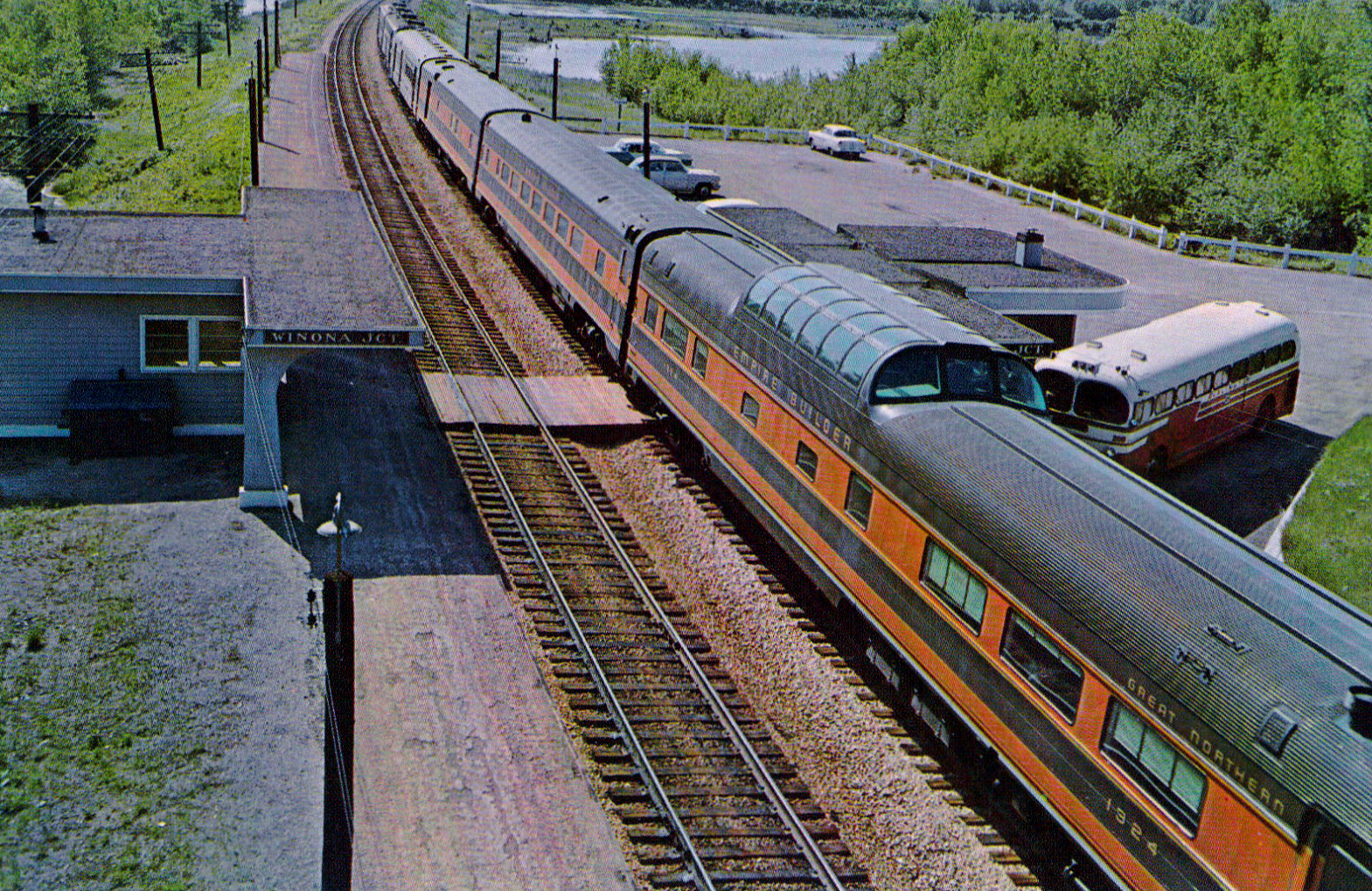 "But these trains are delayed plenty often as they have to wait for freight," said Arlene. "We arrive in Idaho around 1AM and then we have to drive two hours to our daughter's home. Without the train, we wouldn't be able to see her. It just makes you so grateful for what you have."
The set-up and culture of Amtrak's trains is so diametrically opposed to the way in which we conduct ourselves off the rails: cocooned within safe social circles, content to listen to our own echo chambers and clinging to the comforts of what is accepted and known. On board, there is only so long that you can sit in isolation before you become an outcast as everyone else lets down their guard and starts chatting to the person opposite, comforted by the anonymity unique to train travel.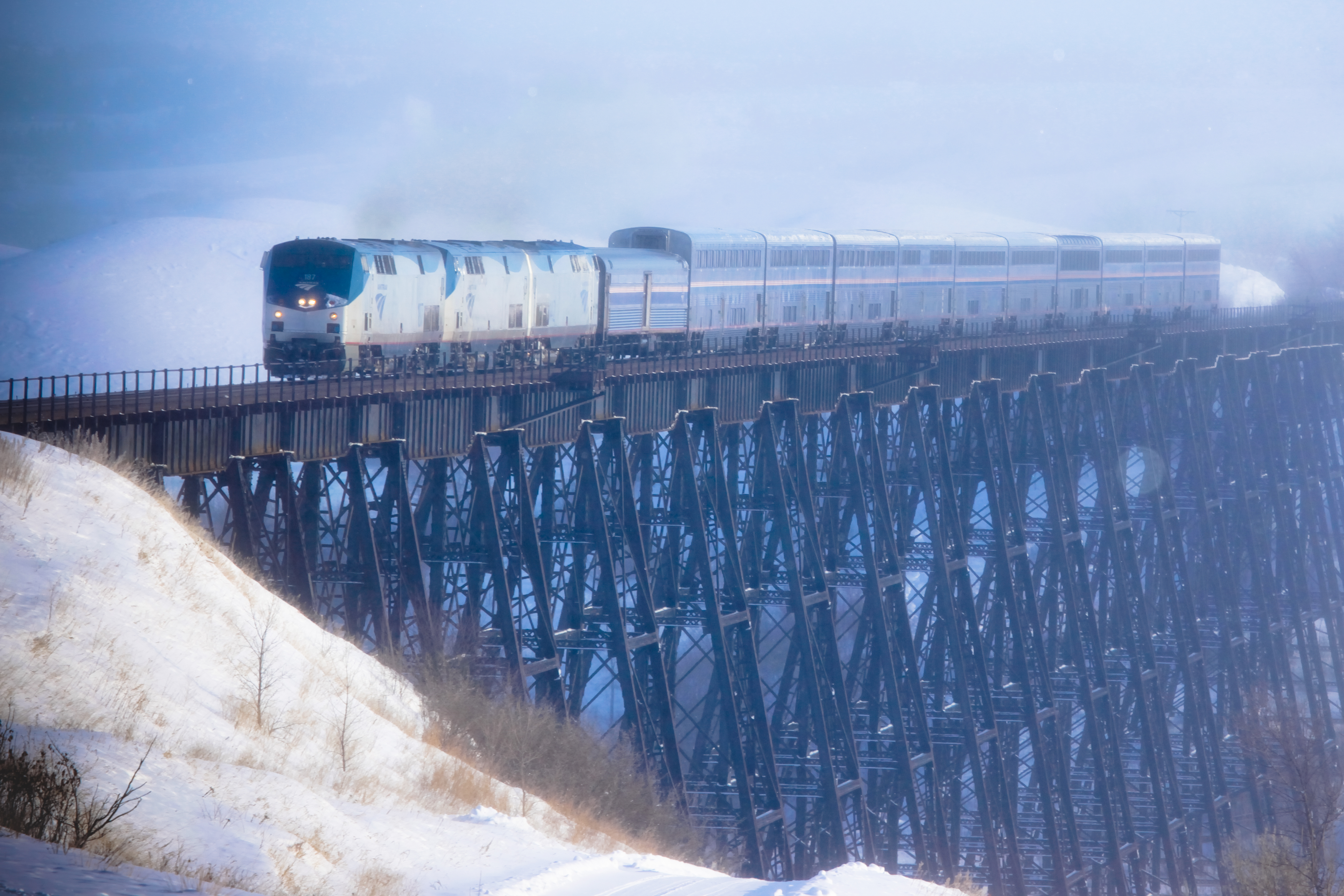 But as much as I thrived off entertainment within the carriage, the glass-domed viewing car presented the perfect opportunity to gaze at the vastness of the expanse outside as we crossed the Mississippi and the Missouri, rocking for hours through North Dakota seeing no more than a scattering of farms and a series of billboards in what looked and felt so much like Coen Brothers territory that I almost expected Frances McDormand to hop on wearing a grimace and a trapper hat.
That night the Empire Builder swept across Montana, shadows of cliffs and hills rising and falling like ghosts creeping up on the train. With my sleeper sheet pulled up to my chin, I plumped my pillow and glanced around the angled necks, wobbling in the near-darkness. This train was a sanctuary for loners to find company, children to find play and daydreamers to reminisce. Over two days we had ploughed through rain and fog, forests and falls, rolling by rivers and shuddering through towns so small they were no more than a gas station, a church and a school. Tomorrow morning the train would breathe a sigh as it crawled into the grandeur of Seattle's King Street station, abandoned by its passengers who would wave at friends, kiss lovers, hail taxis or simply pick up their bags and walk away, slipping back into the rhythm of their lives.
Do It Yourself
Fly into Chicago O'Hare International Airport and take the train from Chicago Union Station to Seattle's King Street. A saver single starts at $147. Book at www.amtrak.com
Monisha Rajesh is the author of Around the World in 80 Trains, published by Bloomsbury at £20.