Anti Social Social Club | How Neek Lurk Made Money from Melancholia
The Anti Social Social Club founder on building hype through negativity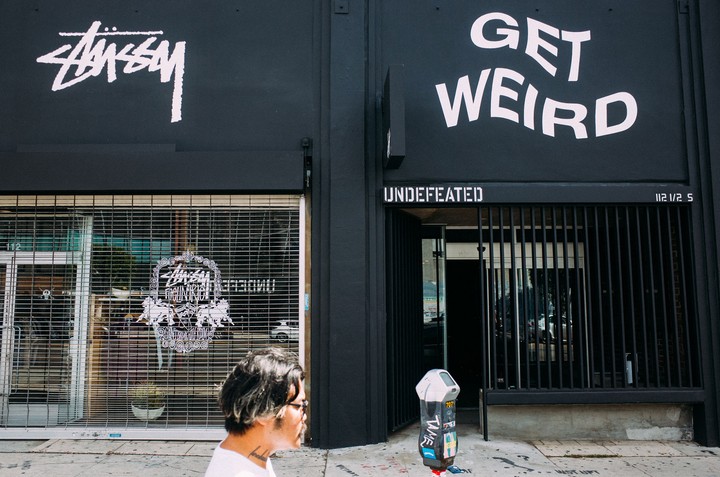 Photo: Michael Faso

Anti Social Social Club is a clothing brand built on its 27-year-old owner's fluctuating mental state. Founded by Neek Lurk in LA just over a year ago, this month saw the first physical incarnation of the ASS Club in the city in which it started – a pop up shop on La Brea.
"The pop-up was done once they cut [an actual] pop-up off my fucking face," Neek said, referring to a big boil he needed surgically removing the morning after he saw hordes of ASSC customers lining up down many blocks for a chance to purchase the hoodie, hat, and t-shirt he made exclusively for the day.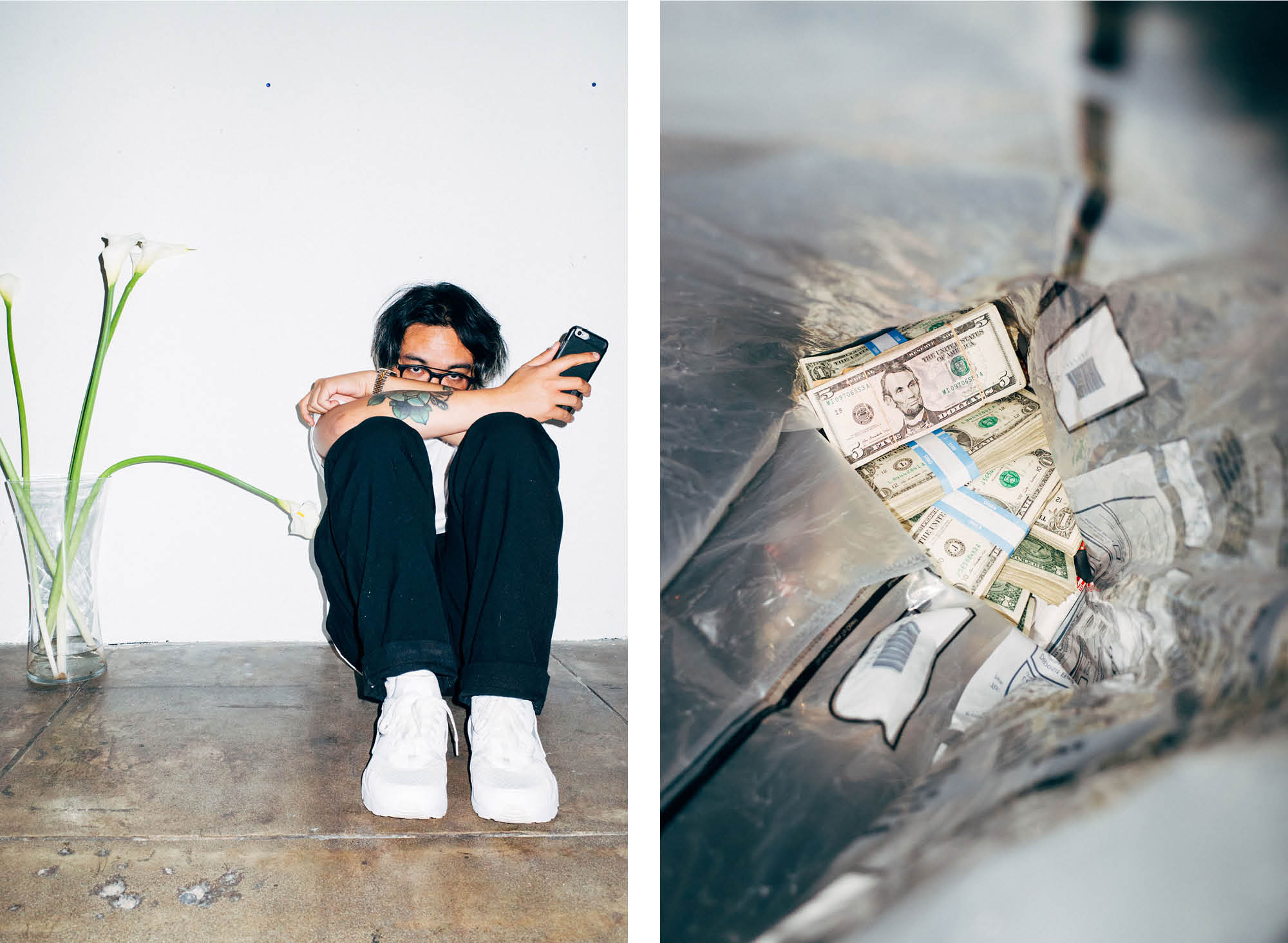 When you think about the attention the brand has received lately, most publicly seen through the their growing following and celebrity co-signs like Mike WiLL Made-It, Wiz Khalifa, Travis $cott and Ian Connor. Neek's focus on his own oozing dermatological sore is very Neek: honest, vulnerable, and unafraid to talk about how gross life (including his own success) can be and feel.
Neek's successful company is also about his own self-doubt (the company's Instagram bio says exactly that). A veteran at sharing on the internet (plenty of his teenage blog posts and sneaker forum discussions are still readily accessible in a single search), Neek's taken his adolescent hobbies and interests, namely posting about cars, clothes and Japanese porn, and turned them into a lucrative, independent business that counts people like Kanye and Kim as fans. But of course, he's always going to be anti-social.
When you started Anti Social Social Club last year, did you have a product or just a name in mind?
I didn't have anything. I moved to LA two years ago and took photos on my Ricoh camera. As corny as it might sound, I've always been documenting, but I like making stuff too. I photoshopped an Anti Social Social Club t-shirt and when I posted it, people bought them – 12 of them. I was like, "Oh, cool. I can make shit. I can just make these 12 at least." That's what I've been doing since high school: making things and selling them. But never this big. Now it's a whole different beast.
What one thing did you do at the beginning that got you a lot of customers?
Hats, starting with basic hats with the logos on the side. I made one Anti Social Social Club hat and everything that's happened since has been because of it.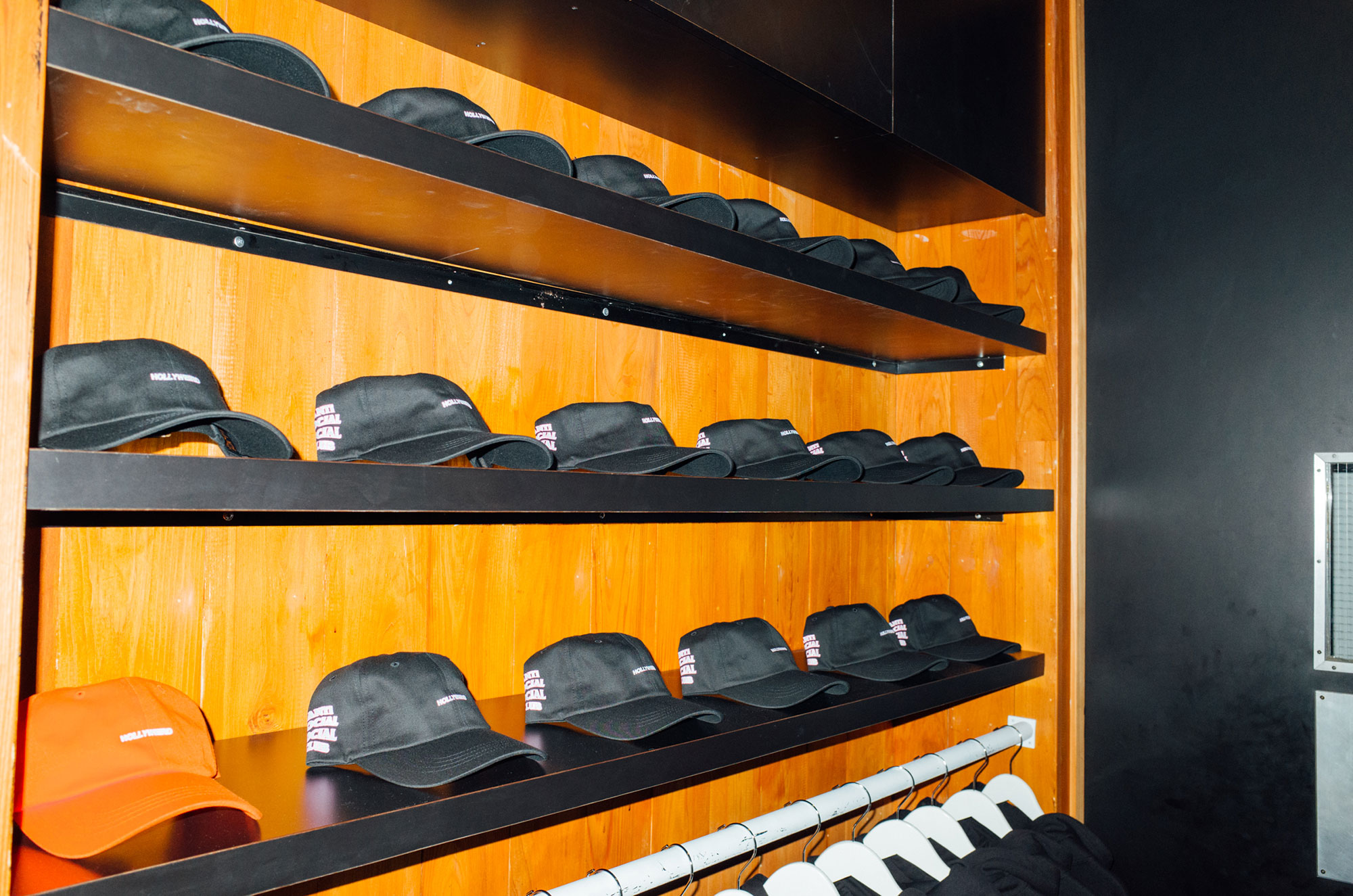 Online, you appear to be extremely open with your feelings. You post phrases like "Everyone goes away in the end" on Instagram. How personal is that stuff? How exactly do those emotions influence your products?
I base the brand on all the negative stuff in my life. Last year there was a Korean girl I was talking to and we had this gnarly thing. So I made a bunch of stuff with Korean influences because of her. I hated her and made this stuff, so it's like little hidden messages. I made a hat saying "suicide club" in Korean that people thought meant Anti Social Social Club. When I make it, people just think it's cool. The Kanye West of Korea [G-Dragon] wears it and Korean culture fucks with it hard. My brand is a perception that people buy into.
If Anti Social Social Club is your emotional outlet now, how did you deal with stuff before?
I didn't. Before the brand, I didn't express things as much.
I feel like people fuck with it because of your honesty. I think most people are lonely and depressed. Or at least think they are.
That's me.
Did you ever think your depression would be so lucrative?
No.
But you make money by sharing all your anger and sadness.
I didn't realise I would make money off it when I started. I was just using social media to communicate.
Kind of abstractly?
For example, last year a girl owed me $780 because she needed a flight back to LA. I cared about her. After that, it sucked. I was miserable, so I made a hat. Nobody had ever made me feel that way. So that money she owed me, you can add more digits after that – that's how much I've made because of that hat… But without that person making me feel a certain way, I wouldn't have made it. It's capitalism, it's money.

During NYFW, Kim Kardashian wore the "I miss you" hat for what seemed like days in a row.
Yeah. A couple months after making that hat [about the chick who owed me money] Kim Kardashian wore it. But Kim Kardashian would never have worn that hat if I hadn't felt that way about that girl. Kim made me a lot more money than that other girl owed me, but that's the only repayment I'll ever get. I made money in a really weird way. My negativity has got me heated seats in my car. If someone in my cars asks me how to turn the seat heaters on, I tell them press that button and then that button. But in between those buttons are five years living with my fucking crazy head.
Do you like yourself better as a brand than as a person?
Somebody recently told me, "That girl is just wearing you." That girl is just wearing you. But that's it! I want more. People are just wearing me.
So do you need new negativity to prompt your new products?
Yeah, that kind of sucks. But I can't go out looking for new negatives because that's not organic. Someone once told me, "You're arguing with me because you want inspiration for your brand." That ruined my day.
Have you always imagined yourself having a successful brand?
No. I have no goals in life. It's all gut feelings.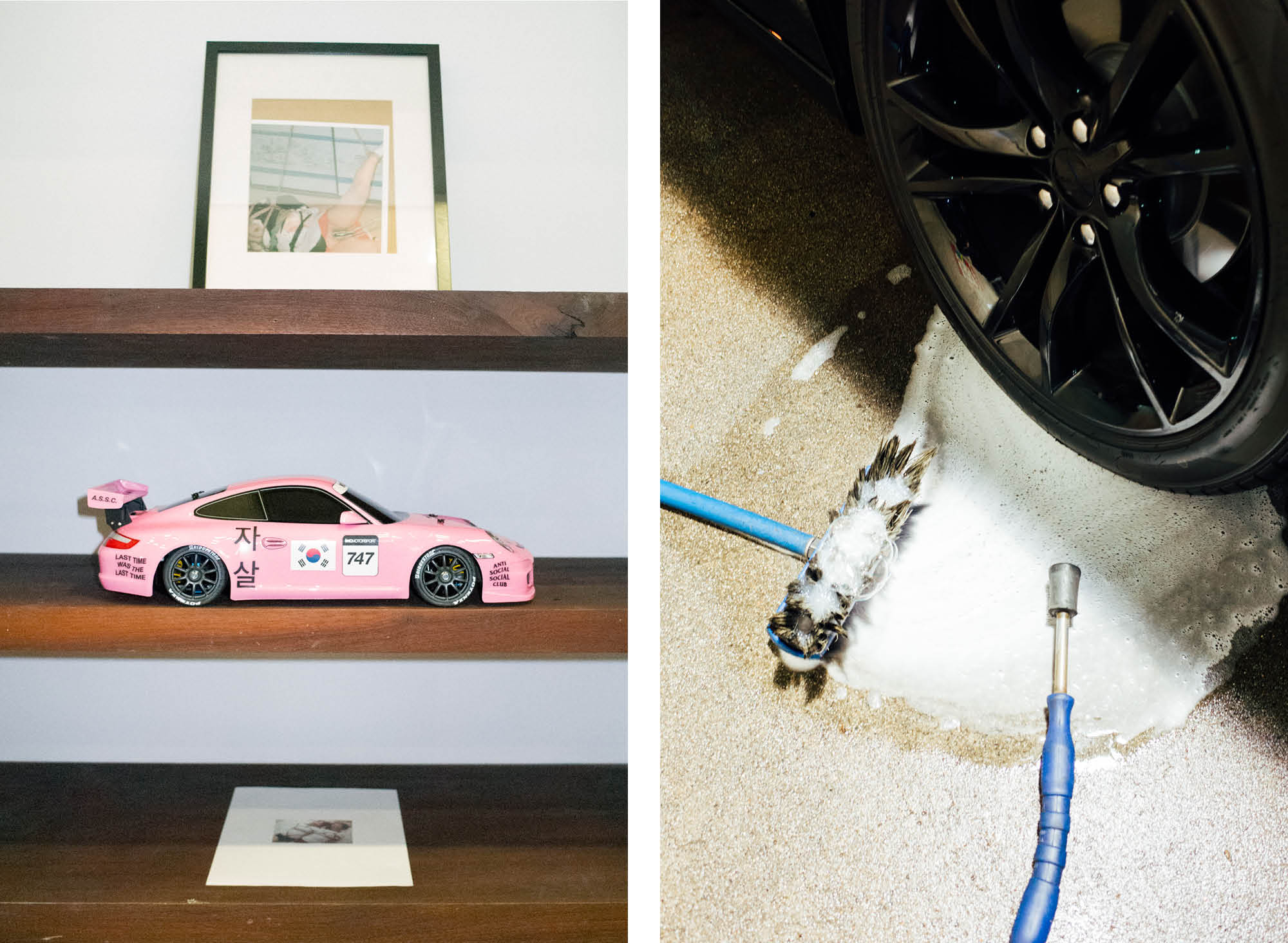 What about mentors, who has been your most important advisor?
My mom. You know why? Because she's not here. I never used to understand what my mom would say to me, and people don't understand what I say. But in time, they will. Foreshadowing. She always told me to foreshadow everything in my life. That's why it's tattooed on my neck. All the money I've made is from her. She's up there like, "I'm going to put you through some rough shit and then…"
Has being hyped online made you ultra-critical about your posts on Instagram and Tumblr? Sometimes people with big followings scrutinise their posts for really absurd amounts of time.
No. When I post stuff, I don't hesitate. For me, foreshadowing is about following my gut feeling and that feeling always works. If I didn't feel like going to that pizza meeting with a couple friends, I wouldn't have had the chance to do my Dover Street Market collab. I'll buy a car in ten minutes. I'll choose a colour in one second. I'll change a song 20 seconds into it. I change my mind so much. I get bored and make quick decisions.
Has that been advantageous to your business?
This brand is successful because I'm really quick. Quick decisions, quick production, and quick reactions to the internet. And the internet and SoundCloud and life right now is really quick. I'm quick with this stuff and that's good. My emotions happen, I ponder and think, but when it comes to making decisions, I just go for what I want right then. What colour? Baby Blue. K, 184. Done. A Valley hat? Helvetica Neue Bold, 2-inches, done. I'll give myself that.
Hypebeast called you a manic depressive, sadistic, masochist. Which is the most true?
All three.
A decade ago, you were already getting attention for your style on the NikeTalk message board, where thousands of people are still online at any given time talking about shoes.
I grew up in Vegas and stayed on the internet because I hated Vegas. I felt like I had no other option than to be alone and stay home. What else was I going to do? So that's where I learned the Internet, sitting in a Vegas suburb. I was in my room 24/7, except for school. I still don't have any friends from Vegas. It was just me, my computer and my room.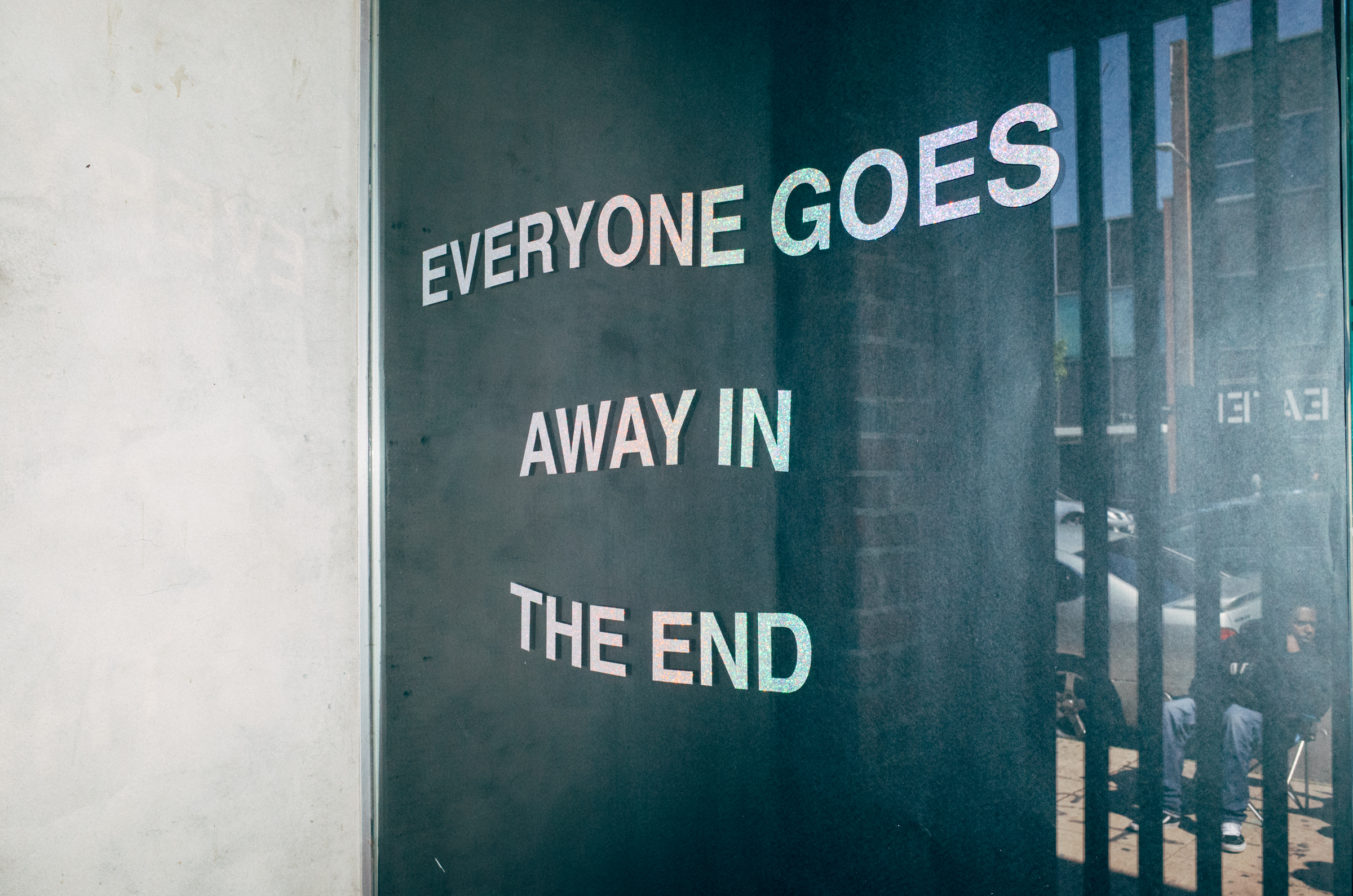 I heard there was a popular message board slogan, pre-hashtags, back in the day on NikeTalks that went, "Kanye wears tight pants because of Neek."
Vegas was very cliquey. I didn't really have friends, but the ones I did have were the skater kids, the emo kids, the scene kids. On the forums, at first, it was a bunch of east coast guys in baggy pants calling me a faggot for dressing the way I did.
A lot of other early internet-style influencers got put on mood boards but never got around to monetising that attention or starting their own companies.
My moods are my mood board. But as people that get put on those moodboards, those moodboards you're in then go back and influence you. Perception is everything.
Your forum hype began over ten years ago. In between then and now, did you ever feel like you had fallen off or didn't have as much influence online anymore?
Yeah. Thankfully, I worked at Stüssy and had other real life experiences during that time doing stuff I liked. Now my life has become a lot about the internet again because of what I do.
You get off on the hate?
The internet is negative. If nobody is talking, nobody cares about the product. The more positive the talk is, the less impactful it is. The more negative hate you get and harsh it is, the more people are looking. Negative is positive.