Paige Powell with Jean-Michel Basquiat in Hawaii. Image courtesy Paige Powell Archive.
Polaroids from Paradise | Basquiat's Time in Hawaii
Amuse speaks to the personalities that welcomed the troubled artist to the Hawaiian island, alongside this series of never-seen personal photographs
Paige Powell with Jean-Michel Basquiat in Hawaii. Image courtesy Paige Powell Archive.
In the wake of Philip Seymour Hoffman's death by overdose in February of 2014, I was reminded of how much I'd always wanted to write about Jean-Michel Basquiat's frequent travels to kick heroin in my home state of Hawaii. By several accounts it was a successful gambit for the artist, who was able to stop using for months at a time, while hiding out in the sleepy town of Hana on the east coast of Maui.
Hana and its neighbouring communities have been protected from developers by a treacherous single point of entry – the infamous 'road to Hana'. Nausea-inducing switchbacks, the threat of falling rocks, single lane bridges and constant road work force cars to slow down to a horseback pace. This explains how driving a mere 60 miles can take up to three hours. Only 1,200 of Maui's total 160,000 souls live on the east coast, and the ones who aren't native Hawaiian are a special breed of haole (Hawaiian for stranger).
Beautiful dreamers and modern-day seekers such as aviator Charles Lindbergh, Beatle George Harrison, actor Woody Harrelson and most recently, photographer David LaChapelle, are among those who were also convinced that east Maui had enough mana (spiritual energy) to tame their demons.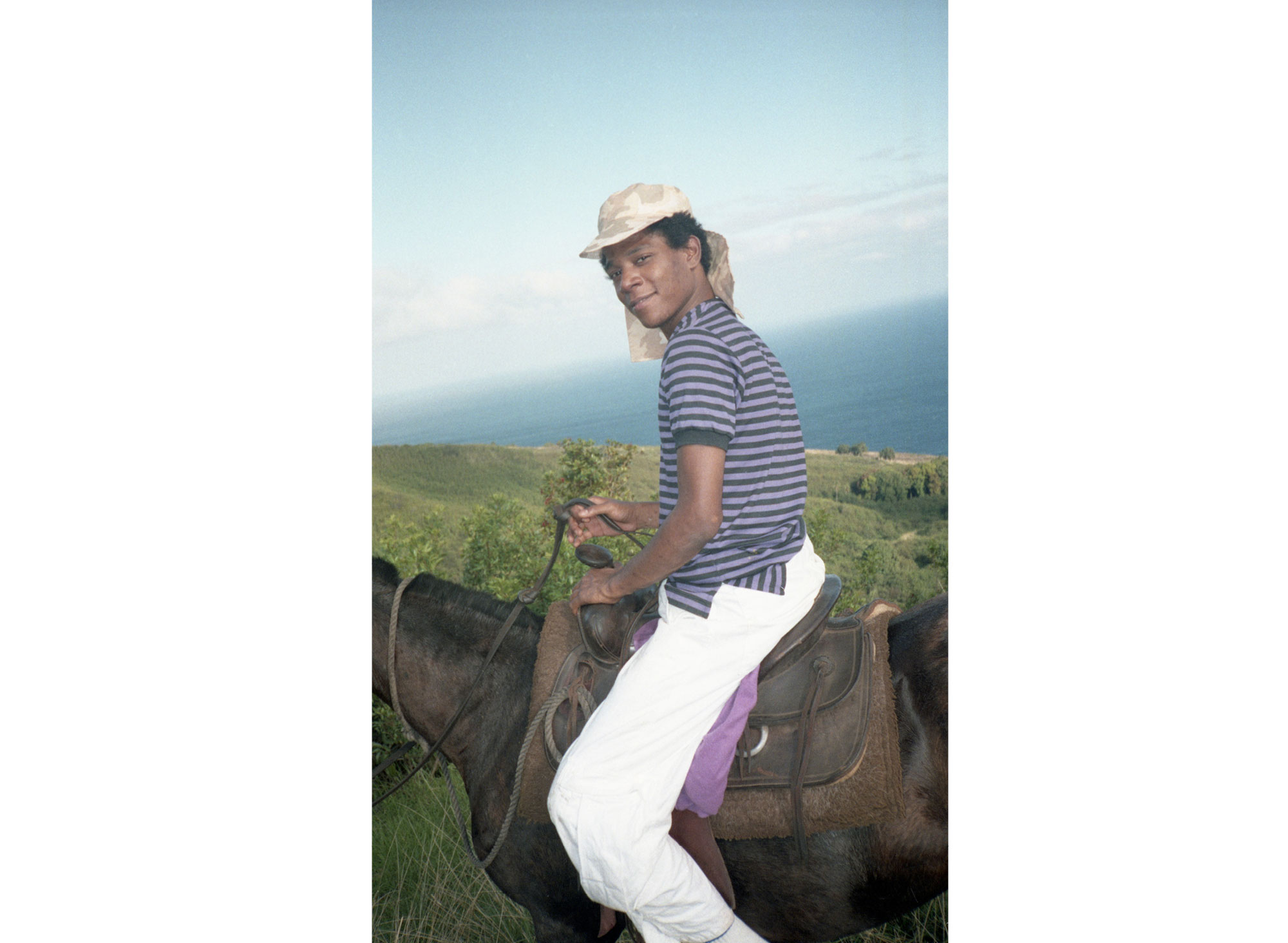 Hana's tropical jungles, so fertile and alive that any man-made object left untended is reclaimed by the land in a matter of weeks, evokes my own mid-1980s internment in pre-internet paradise. As a tween, I was unceremoniously dumped in Hawaii after my mother re-met a classmate at her 20-year high school reunion. True love compelled her to uproot us from our cosy bungalow in Los Angeles to a creaky island house permanently located under a rain cloud. A place where nightlife was comprised of furious flip-flop swatting battles with spiders and roaches the size of Star Wars action figures.
A lifeline appeared not a day too soon in the magazine aisle at Long's Drugs – a single issue of the original Details magazine. Before it became a high-end lads' mag, Details documented outrageously coiffed, cavorting downtown denizens like Jean-Michel Basquiat, and fuelled my neon-graffiti daydreams of a future as far from 'the rock' as I could get and still be a US citizen.

It was with a mix of shock and awe that I realised some 20 years later that those same melancholy days I had spent obsessing over my escape to Alphabet City, my favourite artist of all time, Jean-Michel Basquiat, was desperately seeking an antidote to his New York City success/excess in my backyard.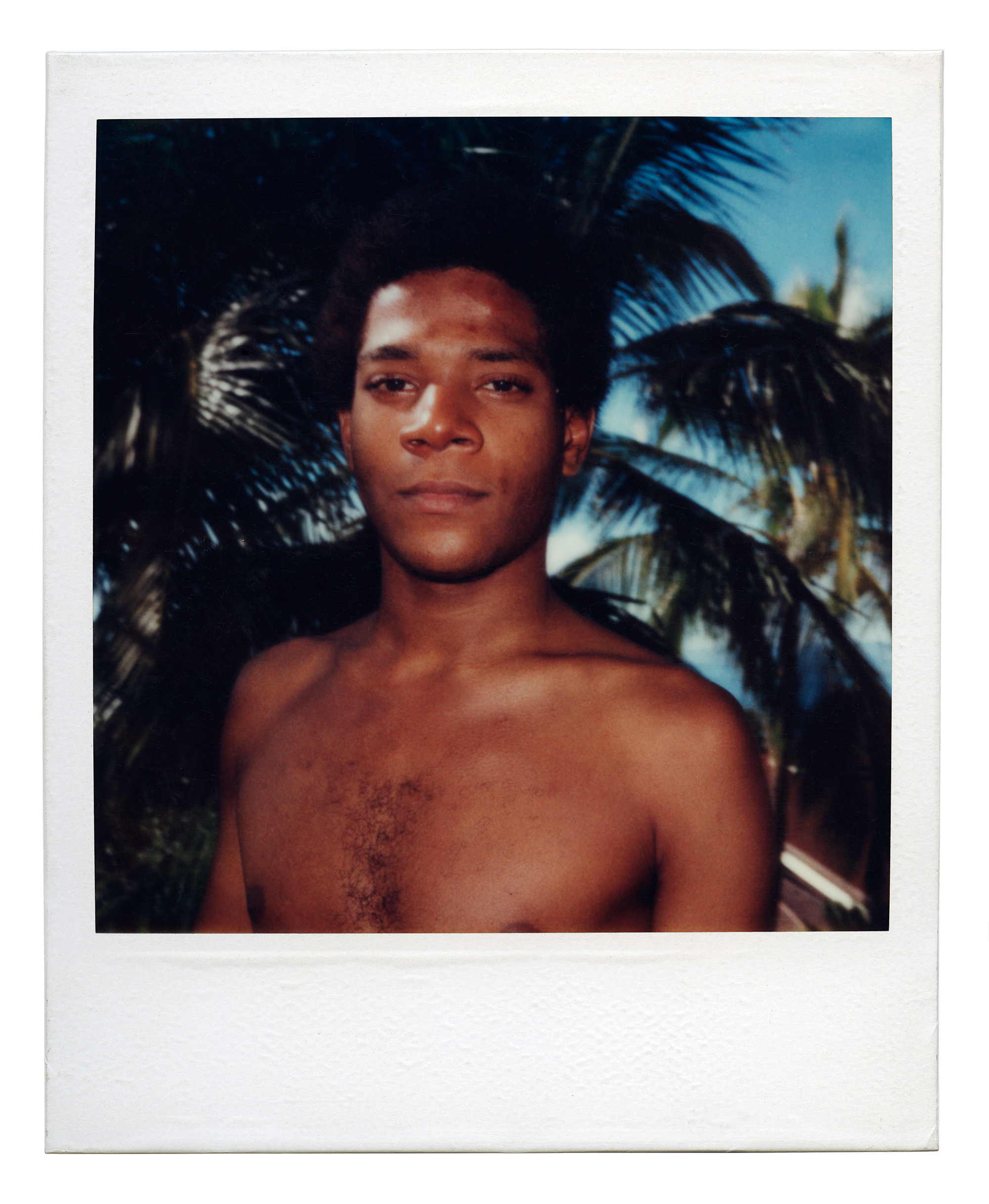 Former Interview magazine associate publisher and girlfriend of Basquiat, Paige Powell, has photos of the artist's first trip to Hana in 1984 – though so much for the rite of passage of driving in, they took the millionaire's shortcut. "Jean-Michel and I, his father Gerard, his stepmother and his sister Jeanine, all helicoptered to Hana," says Paige. "It was an amazing introduction to the lush landscape – just so beautiful and wild."
"People think of Jean-Michel as essentially urban, but there was a part of him that loved nature and really was at home in Maui"
Powell, still slight but with blonde wavy hair and softer edges, recalls dense green valleys with little trace of human intervention and black-as-coal lava rock that crumbled in to the relentless azure-blue sea. They stayed in a plantation-style ranch house, located a ten-minute walk mauka (towards the mountains) from the Seven Sacred Pools. She believes it belonged to art collectors from Texas: "We landed right in the yard."
When asked why Basquiat sought out this inconvenient haunt, Paige offers, "He was staying away from hard drugs. Maybe he smoked some pot, but it was clean living – we cooked every night, rode horses, played tennis and went for meandering walks. He was so happy and free."
Paige, who now splits her time between the Pacific Northwest and the East Coast, is just beginning to organise her massive treasure trove of photographs and videos and show them through the Suzanne Geiss Company and the Portland Museum of Art. She took a Polaroid of Basquiat that perfectly captures the moment: bare-chested and a deeper shade of bronze, he looks triumphant as palm trees sway behind him.
"The colours, the fragrant air, the fresh fruit – he loved cracking coconuts open with his bare hands," she recalls. "People think of Jean-Michel as essentially urban, but there was a part of him that loved nature and really was at home there."
"Pretty much all we did was sit around smoking weed and philosophising, either by the falls or in my old car. That's where he wrote on my stuff – my mail, books, scraps of paper."
Basquiat made several visits to east Maui, and I wondered about the locals who encountered the artist, imagining that, to his delight, they had no idea who he was. Case in point: Hana resident Mike Cappadona. As the New York Observer first reported in 2005, Mike befriended Basquiat thinking he was a penniless hitchhiker, and by chance saved some drawings and furniture Basquiat 'doodled' on.
Having discovered more than a decade after his death that Basquiat was a famous artist, Mike was travelling the world on income from the proceeds of sales on saved scribblings. Intrigued, I used my own local contacts to track the technology-less Cappadona down at a roadside fruit stand near Wai'napanapa State Park.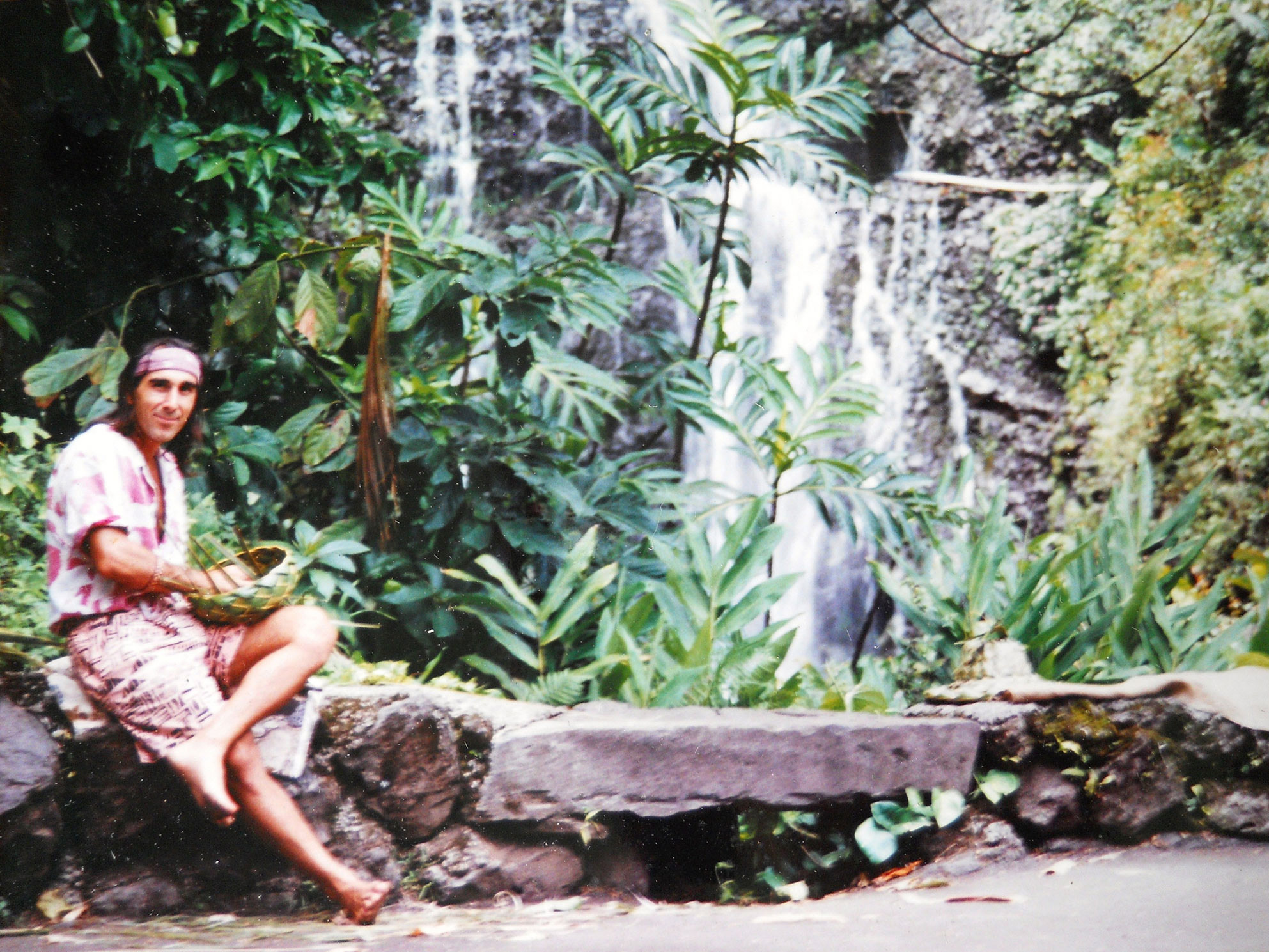 An affable, compact man in his early fifties, 'Maui Myke' had just returned to Hana from a five-month trek going overland from Cambodia to India, through Thailand, Myanmar and Nagaland. Mike relayed his story to me while weaving a palm-frond hat in the traditional Hawaiian-style. The hats sell for a suggested donation of $10 – the $7,000 from the 14 Basquiat drawings and two paintings he sold on eBay and through friends of friends is long gone.
Mike left New York City himself when he was seventeen, and still has a Brooklyn cadence. He remembers that he first met Basquiat, roadside, in 1984, when he sold him some pot. On subsequent trips between 1985 and 1988, they hung out almost daily though they never had an organised plan. Mike explains, "I was easy to find back then. I had a spot at Wailua Falls where I sold my hats to tourists. I'd hear him call out, 'Hey, bag man!', and there he'd be, barefoot and looking to score some weed."
But Mike's account of Basquiat's time on Maui is a drastic contrast to Paige's description of his first trip. As far as Mike knew, Basquiat was sleeping in an open-air shack with a mattress on the floor owned by a Hawaiian family whose Christian charity compelled them to help indigents.

"If someone drives up here with $25,000 in cash, I'll sell it"
He says he never saw Basquiat ride a motorcycle or even go to the beach. "Pretty much all we did was sit around smoking weed and philosophising, either by the falls or in my old car. That's where he wrote on my stuff – my mail, books, scraps of paper." Mike says he threw most of it away. "The drawings I kept just happened to be on the back of something important, like letters from my old girlfriend."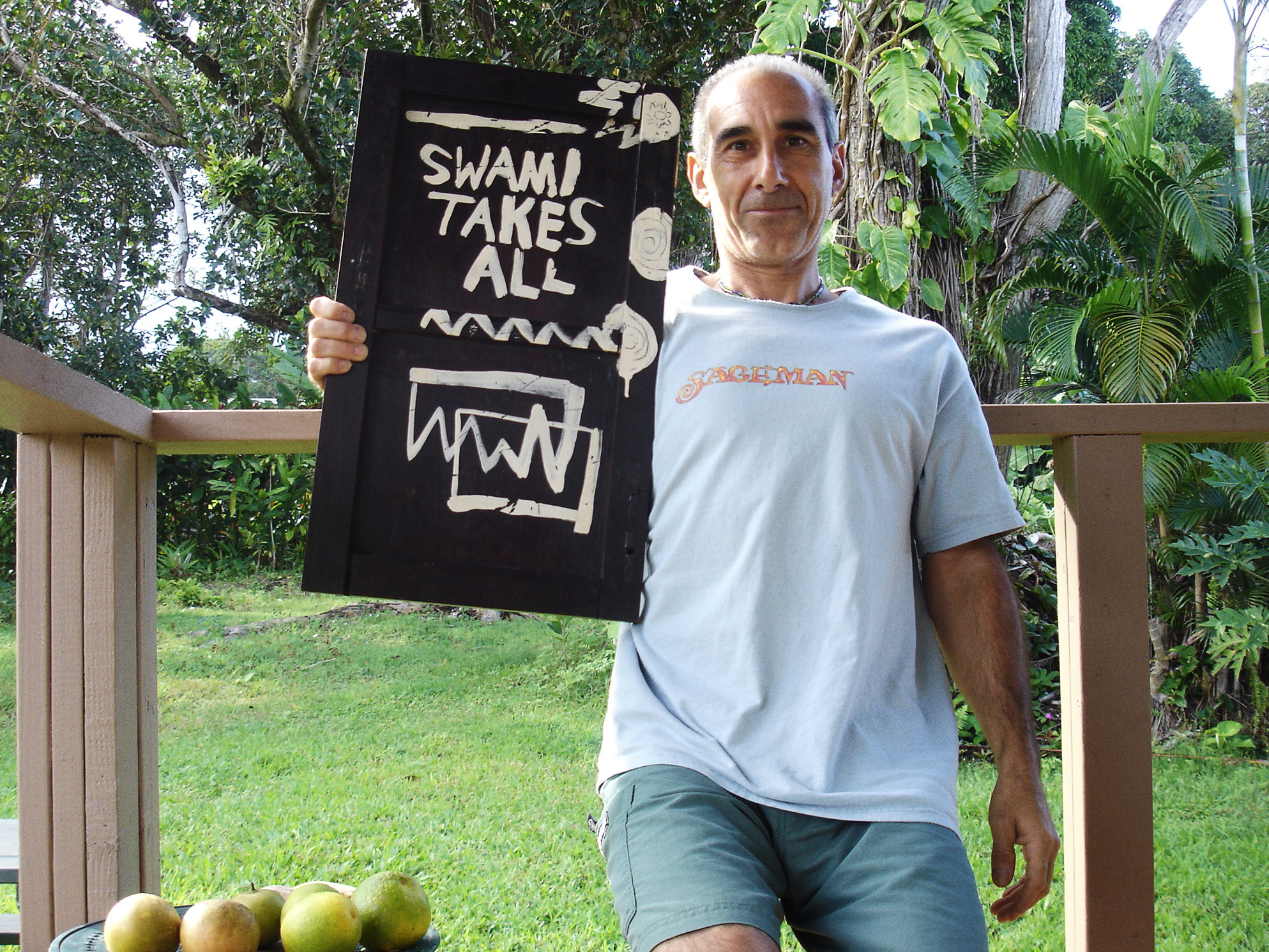 Mike remembers he learned his friend had died from someone driving by his stand, but he can't recall what year it was. "After 32 years of living here without clocks or calendars, time is kind of loose," he says. Then, sometime in the early Noughts, he was at a friend's house who had got a pile of old magazines from the Hana Public Library. One of them had Andy Warhol and Basquiat on the cover.
What followed, basically, amounts to clumsy wheeling and dealing and people taking advantage of Mike, which is still a sore topic. "It's not my world, you know? At one point, I was willing to sell the whole lot for $500 – that was a lot of money to me." Mike says he still has one of the panels Basquiat painted on – a small black cabinet door, approximately three feet tall, that says "Swami Takes All" in eggshell-white house paint. Also on the piece is a five-point crown that is atypical of the artist's work. Mike is ready to put a bounty on it now – "If someone drives up here with $25,000 in cash, I'll sell it."

The only artefact Mike can offer as provenance for the artworks he sells is a copy of a treasured Polaroid of himself and the artist taken by the late Kelle Inman, Basquiat's girlfriend who accompanied him on his final visit to Hana in 1988 – one month before he fatally overdosed. The Basquiat in this photo bears little resemblance to the artist in 1984. His face is badly scarred and his glassy eyes are dull.
The idea of Basquiat falling in love with Hawaii's wide-open spaces and the sense of freedom it gave him, and subsequently shipwrecking himself in Hana when he was so far gone is truly heart breaking. To sit in an old beater car is tragic. The addict's world gets smaller with a singular focus — chasing that high.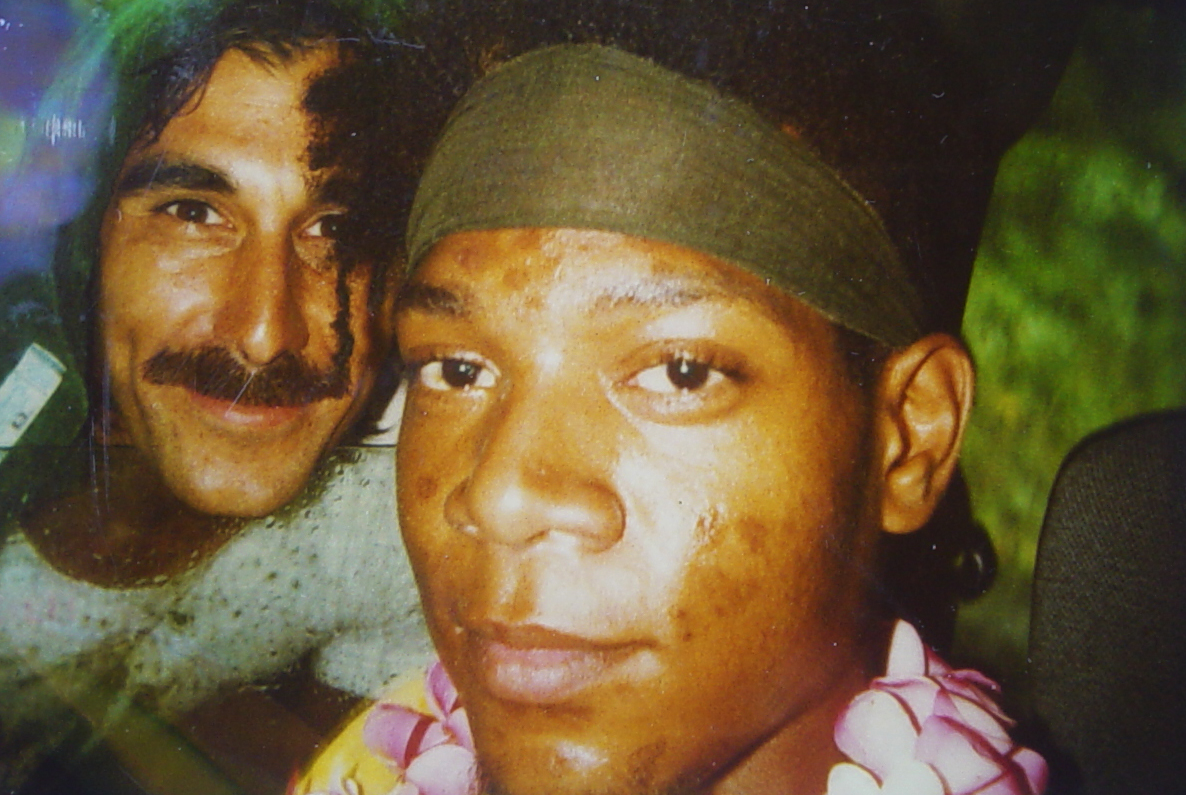 But perhaps that's what Basquiat was doing in Hana that last trip – chasing the feeling he had during his first exile in Hawaii, when life seemed golden and he hadn't drifted so far away from himself that he couldn't find his a road back.
As I drove to my beach house on the dry, sandy side of Maui, taking another treacherous road—the one that connects the east coast to the south—I think perhaps Basquiat would be pleased to know that he was right about Hana being a constant. It just doesn't, or won't, or can't, change. Even today there are no traffic lights, still only one place to get supplies – Hasegawa's General Store, and one big hotel, now called the Travaasa Hana Resort. But may east Maui always be—as Basquiat loved it—stuck in 1984.

A signed limited edition archival print of "Jean-Michel Basquiat (Hana, Hawaii 1984)" is available for purchase through Exhibition A, in collaboration with Paige Powell and The Suzanne Geiss Company.
This fall, Powell will premiere a three-channel video work at the Portland Art Museum in Portland, Oregon as part of the installation The Ride. Featuring rare archival footage of Andy Warhol and Keith Haring, the video work is accompanied by nine large-scale archival photographs as well as an interactive reimagining of Powell's 1983 photography exhibition at former New York art bar Beulah Land.