Land of Hope & Dreams | Uncovering 'Real America'
Photographer Chris Bethell heads upstate in search of authentic American life
British photographer Chris Bethell, in part three of his westward trail across the United States, drifts upwards from Manhattan to the strange American hinterland of New York State, Pennsylvania, and Ohio, by way of the Niagara Falls. Here, Bethell and his partner Bekky escape the metropolitan trappings of the big cities, and begin to truly explore the authentic Americana they have been searching for.
Riding along the open roads, dwarfed by gigantic SUVs, Bethell encounters all manner of everyday Americans, stopping for chats and trading stories. He captures the humdrum, with all of its innate beauty, as an observer of life ticking along in the small towns of the American north.
"Independent attorneys advertising themselves where people sit. America's cliches are alive and well in Erie, Pennsylvania"
Amuse has been serialising Bethell's 'Land of Hope & Dreams' series, featuring Bethell's street photography of – and commentary on – Boston and New York City. These photo essays will continue in the coming weeks, as Bethell chronicles his thoughts and feelings around his own American roots, and the nation that has always captivated him.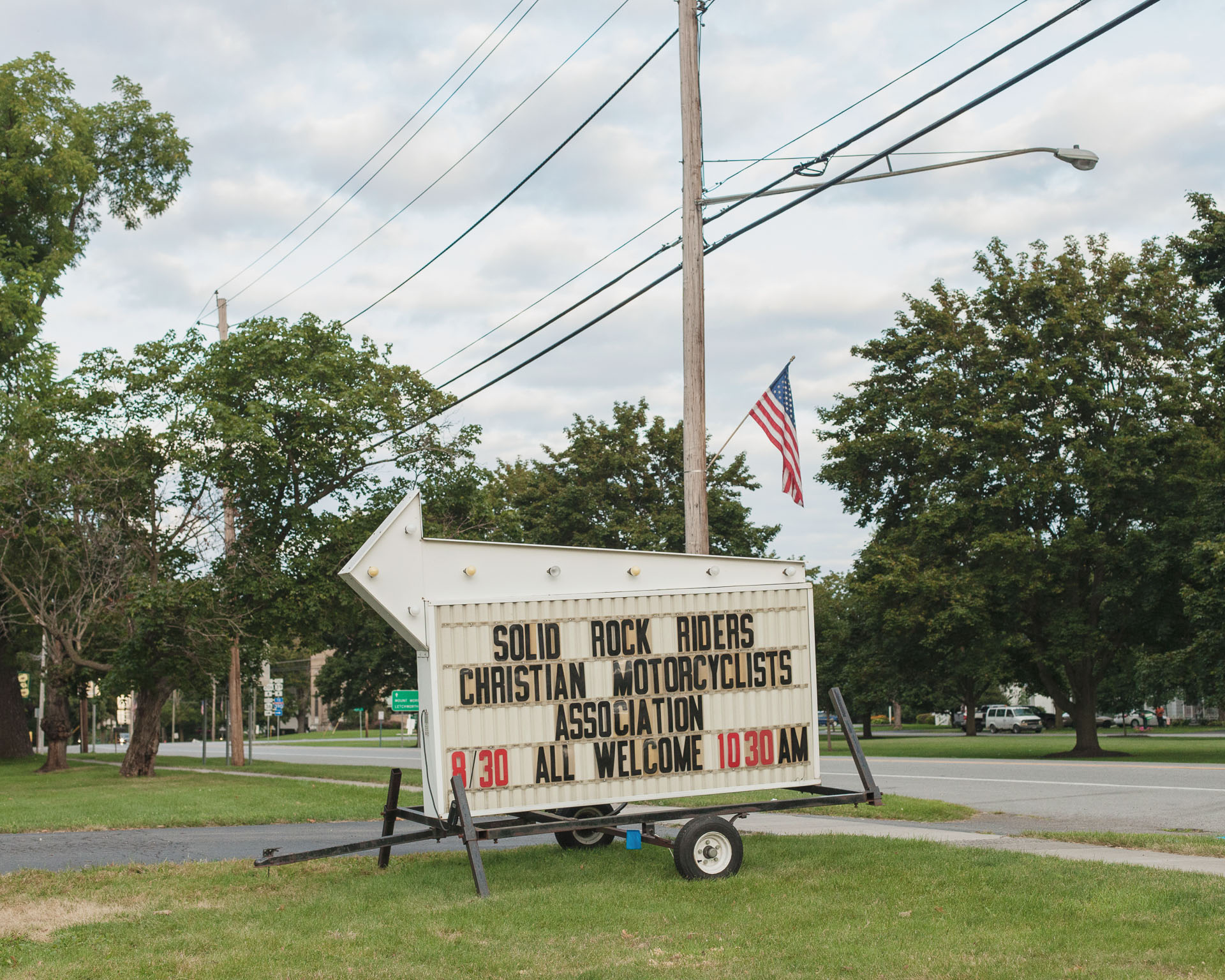 Leaving New York City was exhilarating – suddenly the scale of the journey we had ahead dawned on us. We had spent all of our time so far in urban environments, and it was time to discover things much less photographed than city skylines and everything that falls below them.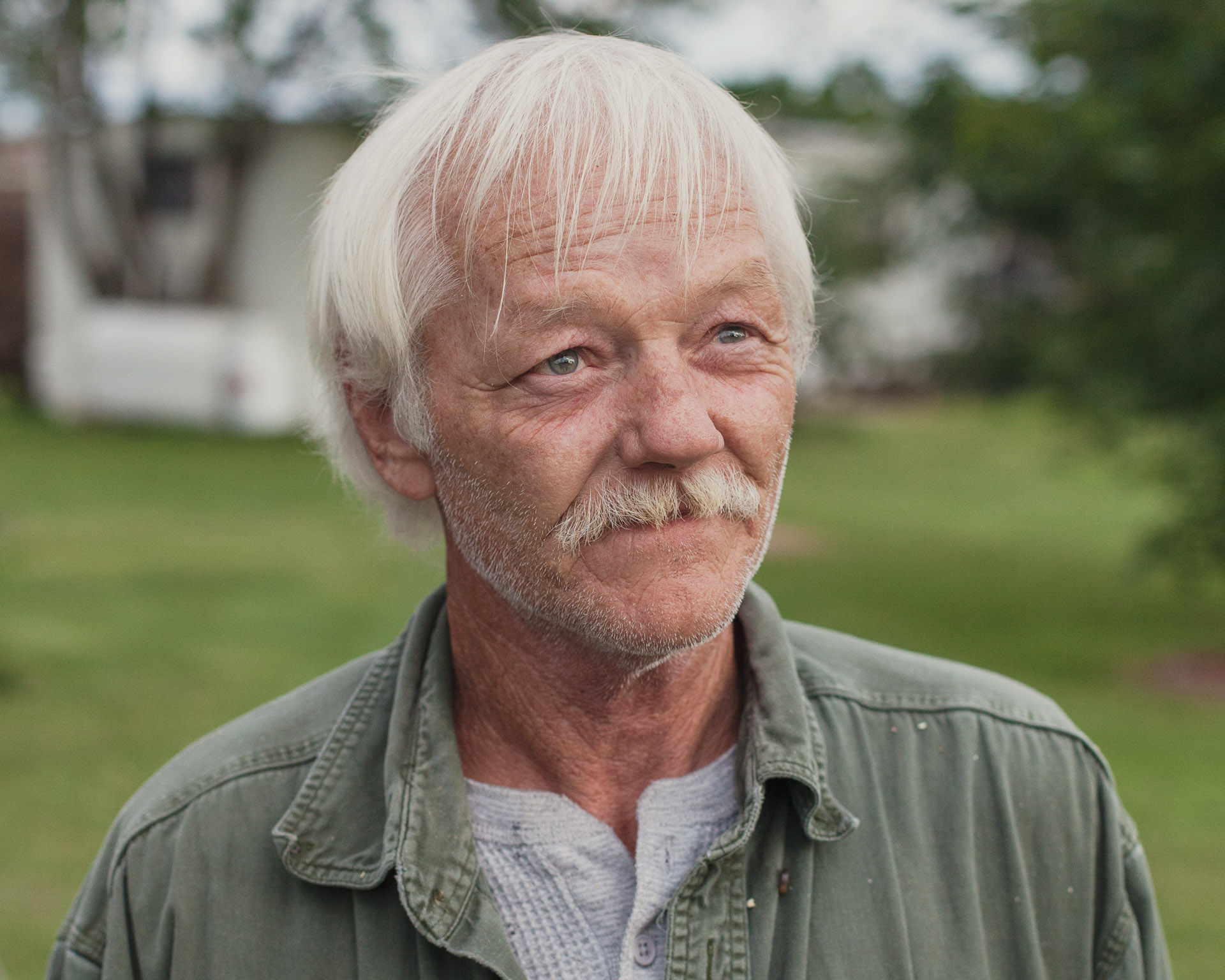 This is Spiritwalker, or otherwise known as Floyd. I saw him out of the passenger window as we were driving towards Niagara Falls – he was cutting down a huge tree at the side of the road. We pulled over for a chat and to ask whether I could take some photographs of him.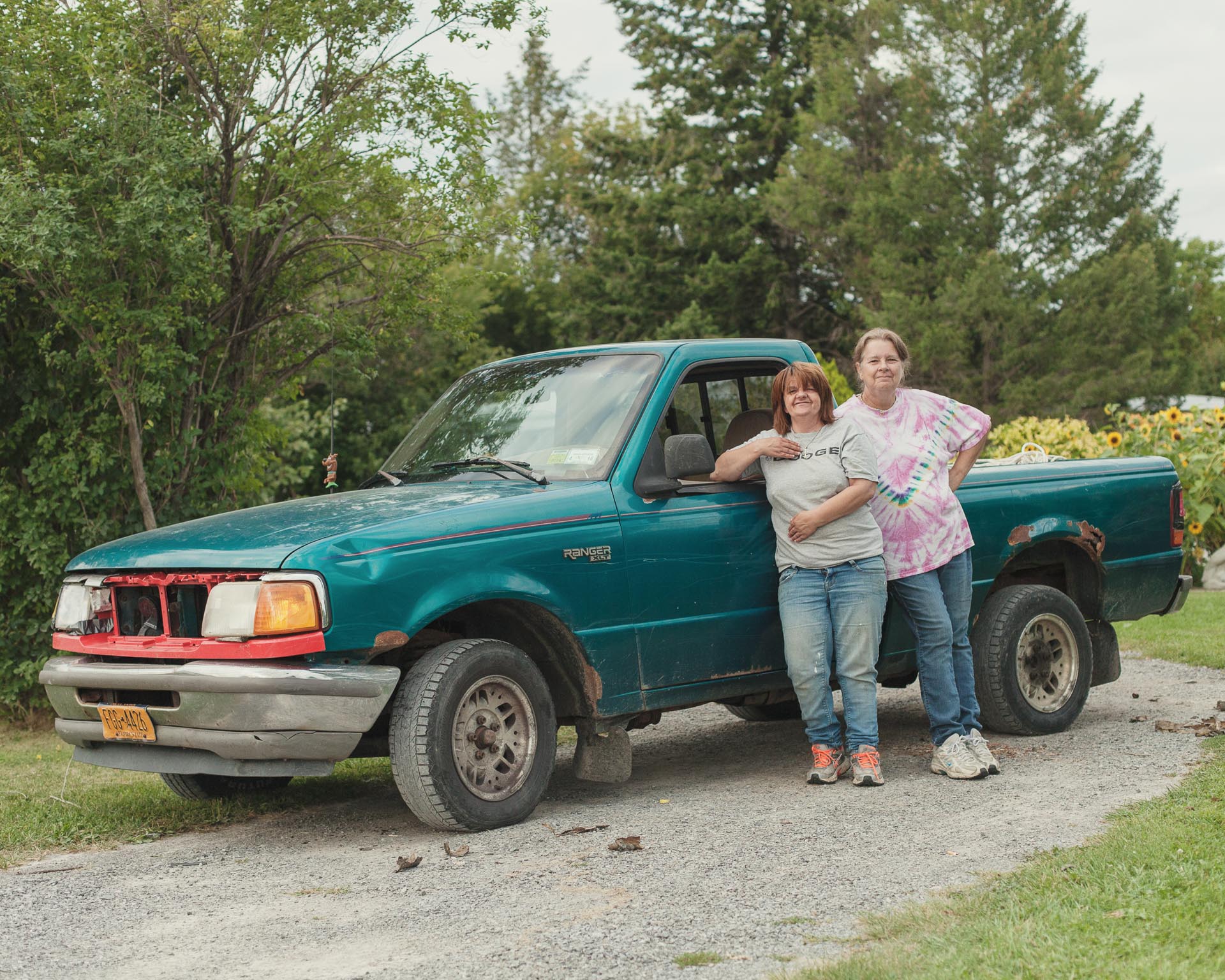 And here is Susie – Floyd's wife – and her sister. They both asked to be photographed with their pickup. I can't tell you how special it was to meet these three; instead of seeming suspicious about why we wanted to chat, they welcomed our intrigue with open arms and minds.
Susie's sister ran off back to her house at one point, and brought us back some native Indian arrowheads that they had found in the freshly-ploughed fields nearby. The arrowheads must have been hundreds of years old, but she offered us one each as a gift. Floyd and Susie told us all about a festival that they go to every year, where Floyd makes his own tools and crafts his own arrowheads. I would really love to go with them one day.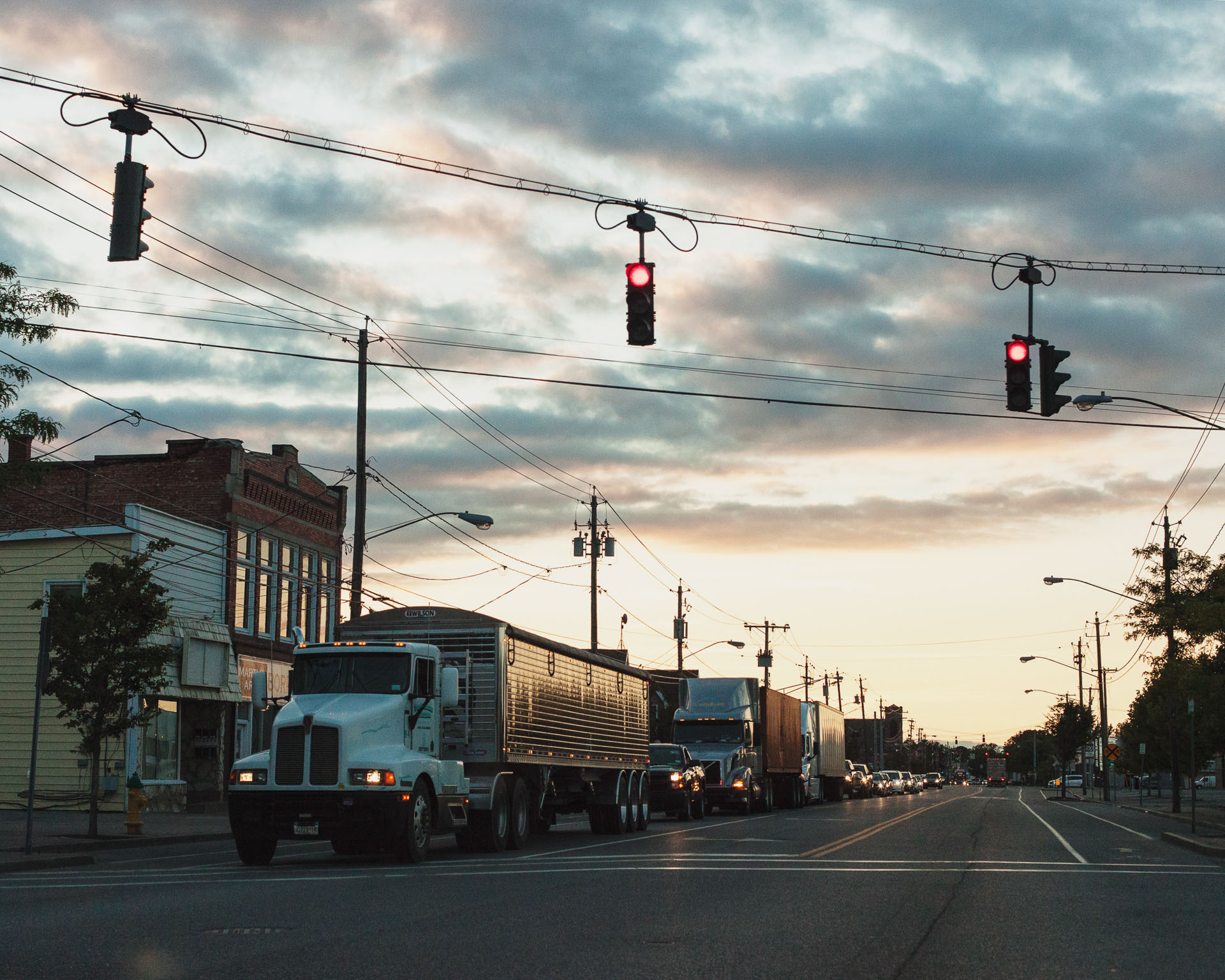 As we pushed further on through New York State, it became apparent that no one around here drives hatchbacks. We barely saw any saloons similar to our rental car either.
Nearly every vehicle on the road would have looked ridiculous in England – pickups with monster-truck style wheels. We were told later in the trip that these cars are popular because people feel safe driving in them on the same roads as eighteen-wheelers.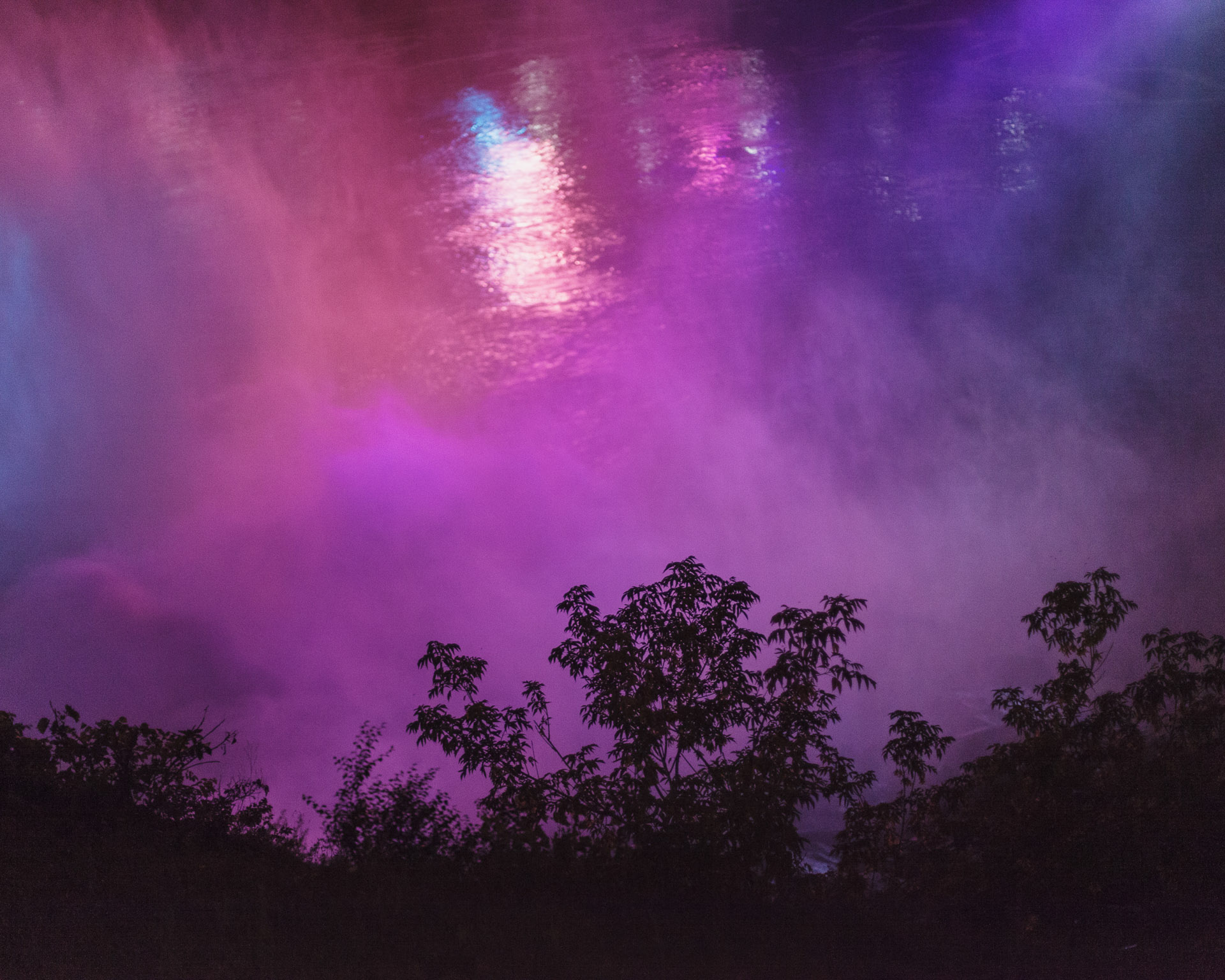 We reached Niagara Falls by dark. It was surreal to see such a powerful force lit up by fluorescent blues and pinks – illuminated in the same manner as a fountain in a posh restaurant foyer, or your mum's kitchen. It was beautiful to see the foam glisten against the dark sky, and to see the plants thrown into stark silhouettes, but the colour choices felt tacky.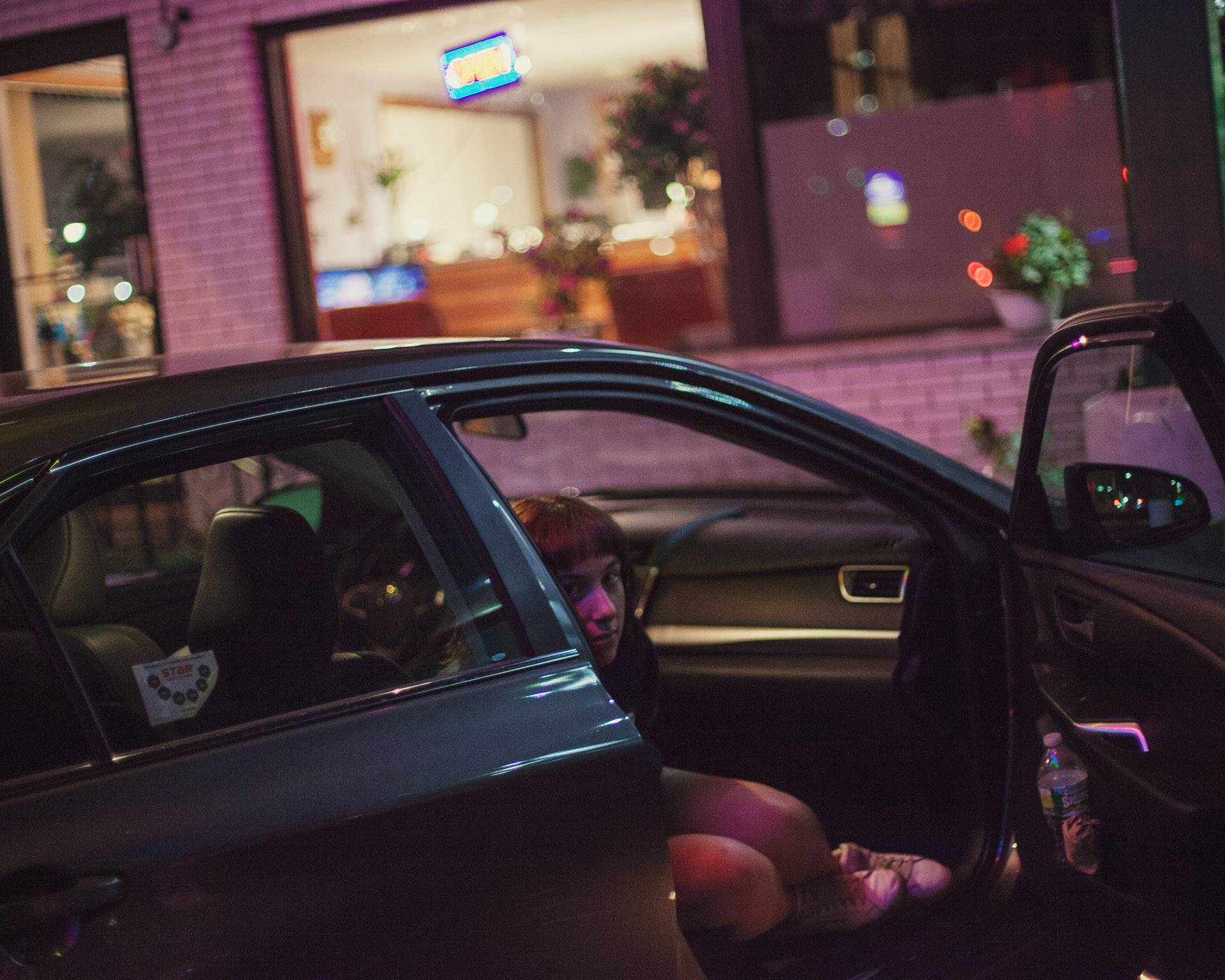 The motels seemed to be cheaper on the Canadian side of the Falls, and seeing as neither of us had been to Canada before, we thought we'd spend the night outside of the USA. It was really interesting to see the difference between how the border police treated you upon leaving the States and returning the next day.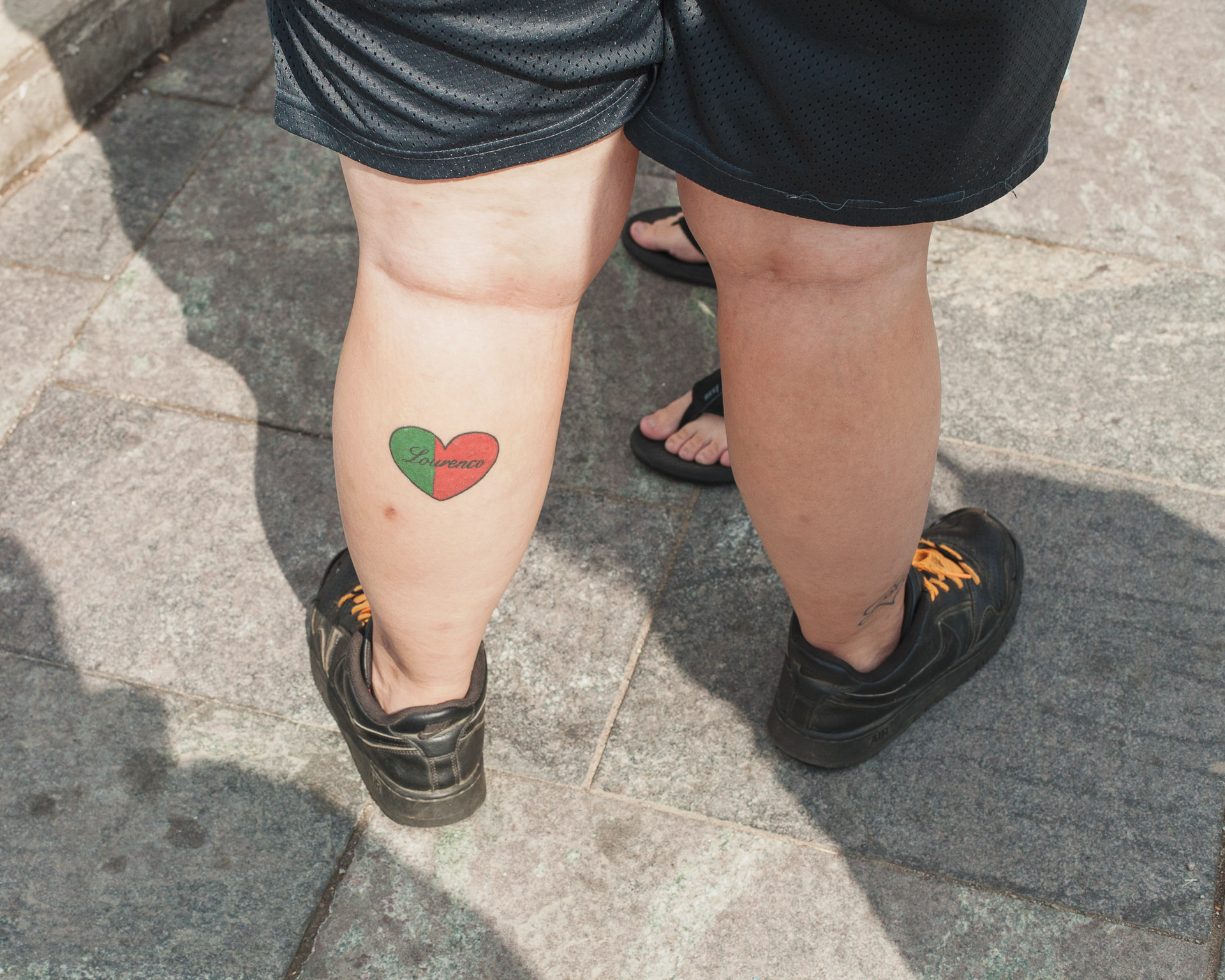 I'm not sure who Laurenco is, but I sincerely hope that this person still loves them as much as when they got the tattoo.
Alec Soth's Niagara is one of the most influential photobooks to my practice, and my approach to the world. He turned his camera on the newlyweds and lovers that visited Niagara Falls – some to get married, others to just be with each other.
The contradiction of the power expelled by the water that crashed over its edges, and the peace you experience when observing it; something about this makes it so romantic. And so I turned my camera on Bekky for a moment, instead of the crashing waters.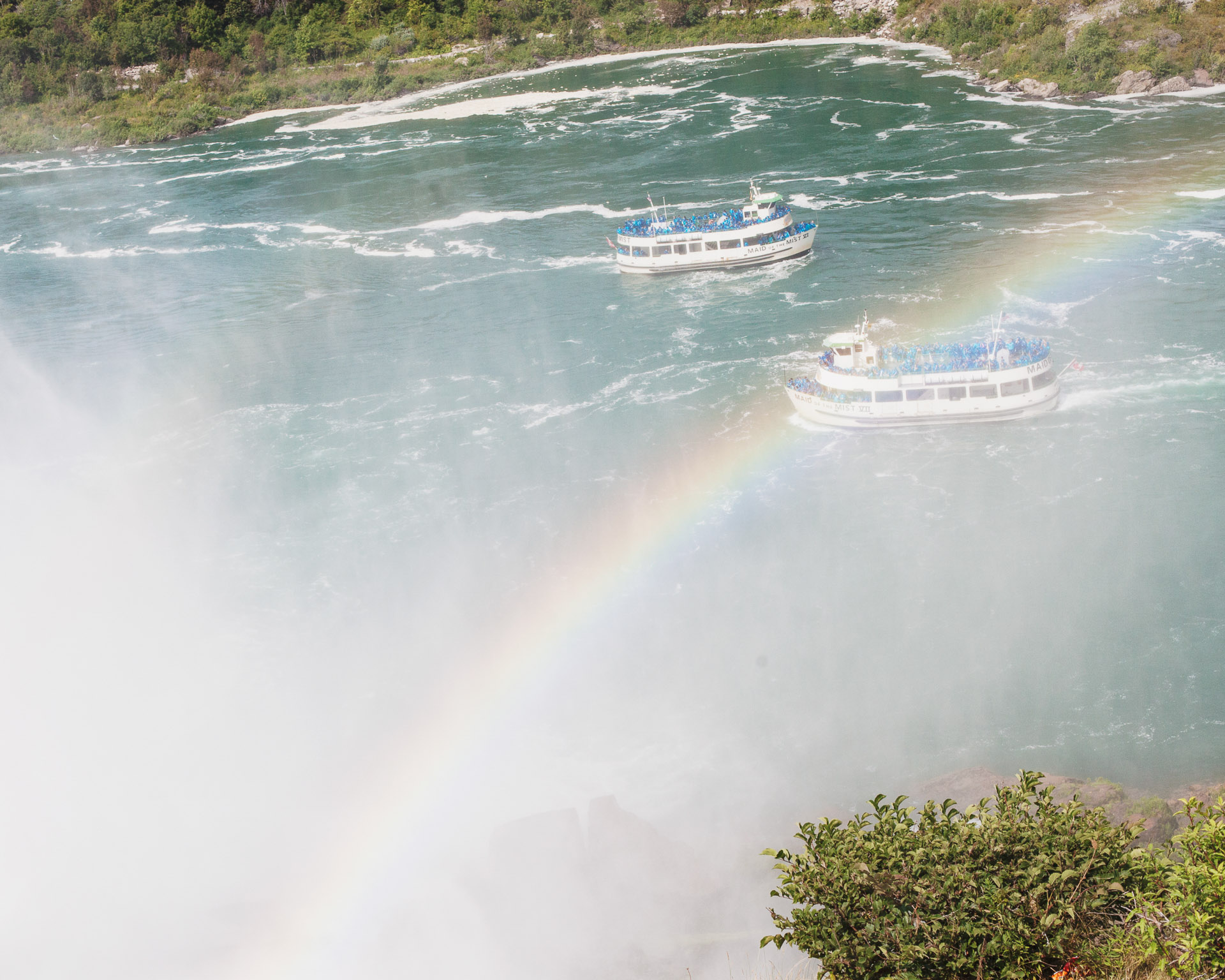 This is the view from the top – looking down upon the boatloads of tourists passing each other.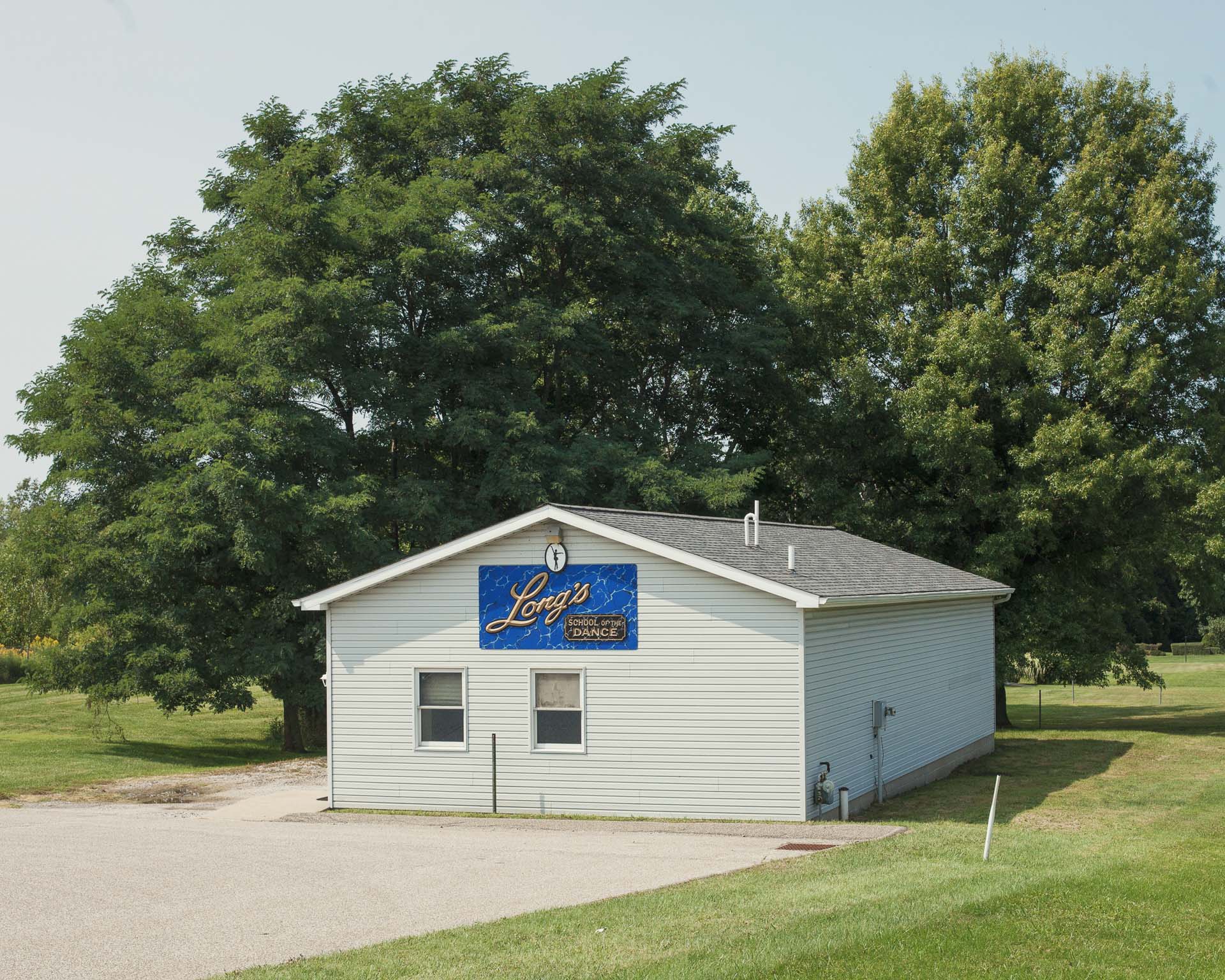 I love the bold signage that adorns this building. The mundanity of the wooden structure surrounded by tamed grass and trees really makes the colours and energy pop – Long's School of the Dance.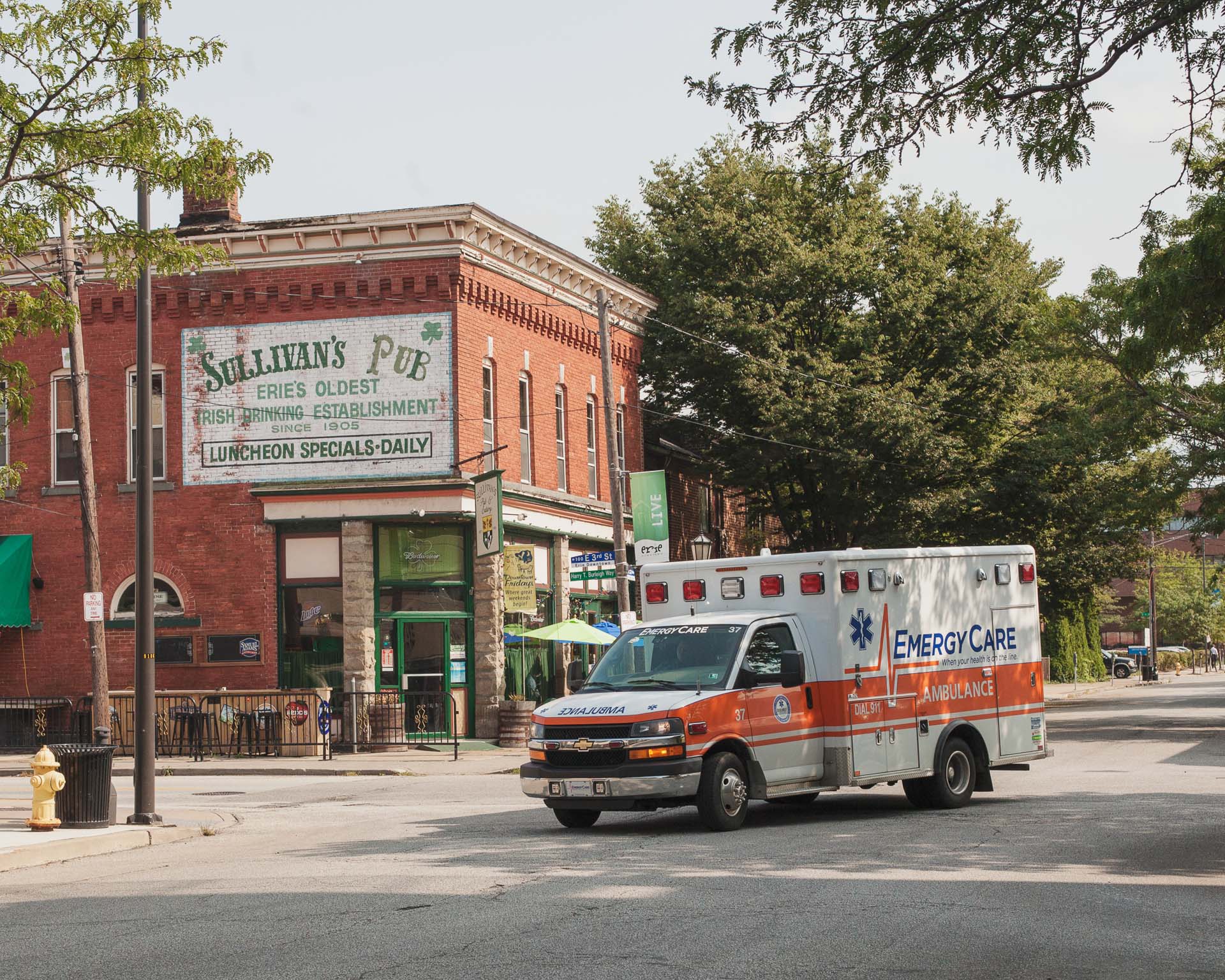 I look at this and wonder where the ambulance is heading – maybe it's hanging in the wings for Sullivan's regulars; its heavy drinkers. Then I catch myself and think that's it's not good to internalise such stereotypes. But then I remember that I'm more than a quarter Irish and I definitely drink too much.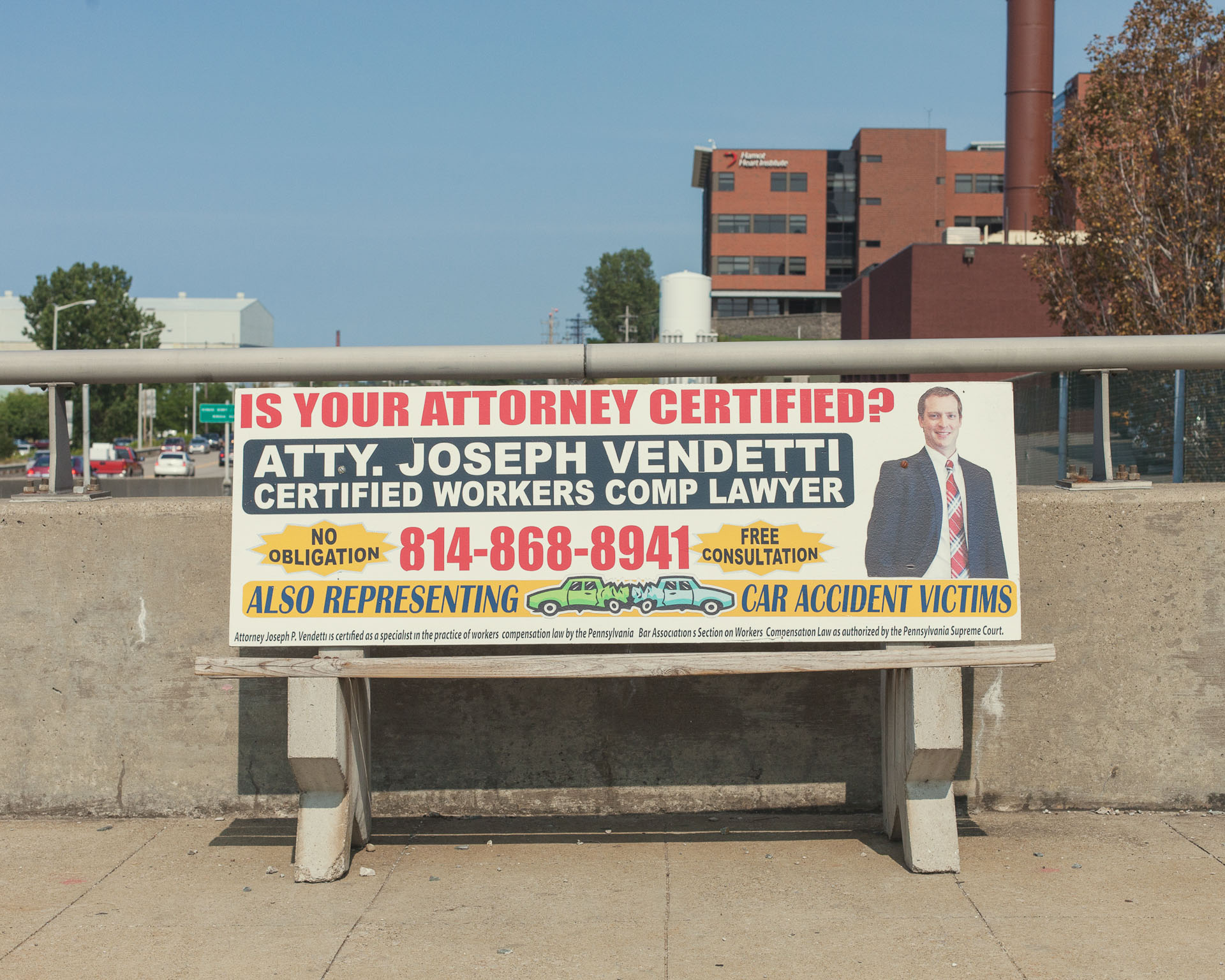 I'm the first to say that this isn't the best photograph I have ever taken, but I was amazed to see that these things actually exist. Independent attorneys advertising themselves where people sit. America's cliches are alive and well in Erie, Pennsylvania.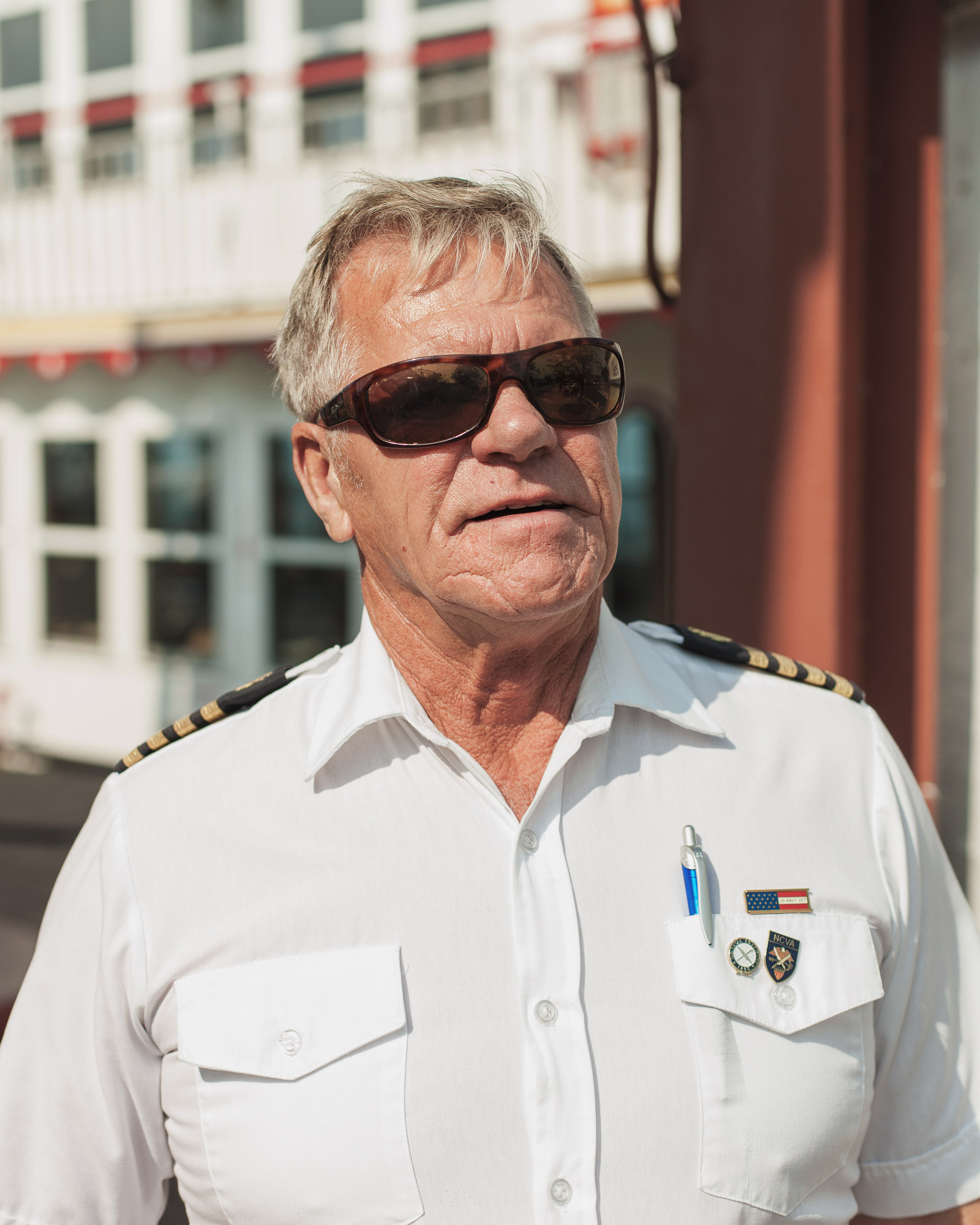 I didn't catch this man's name, but he was the captain of a steamboat docked up in Erie. I was drawn to how official he looked, with his badges and pocket pen.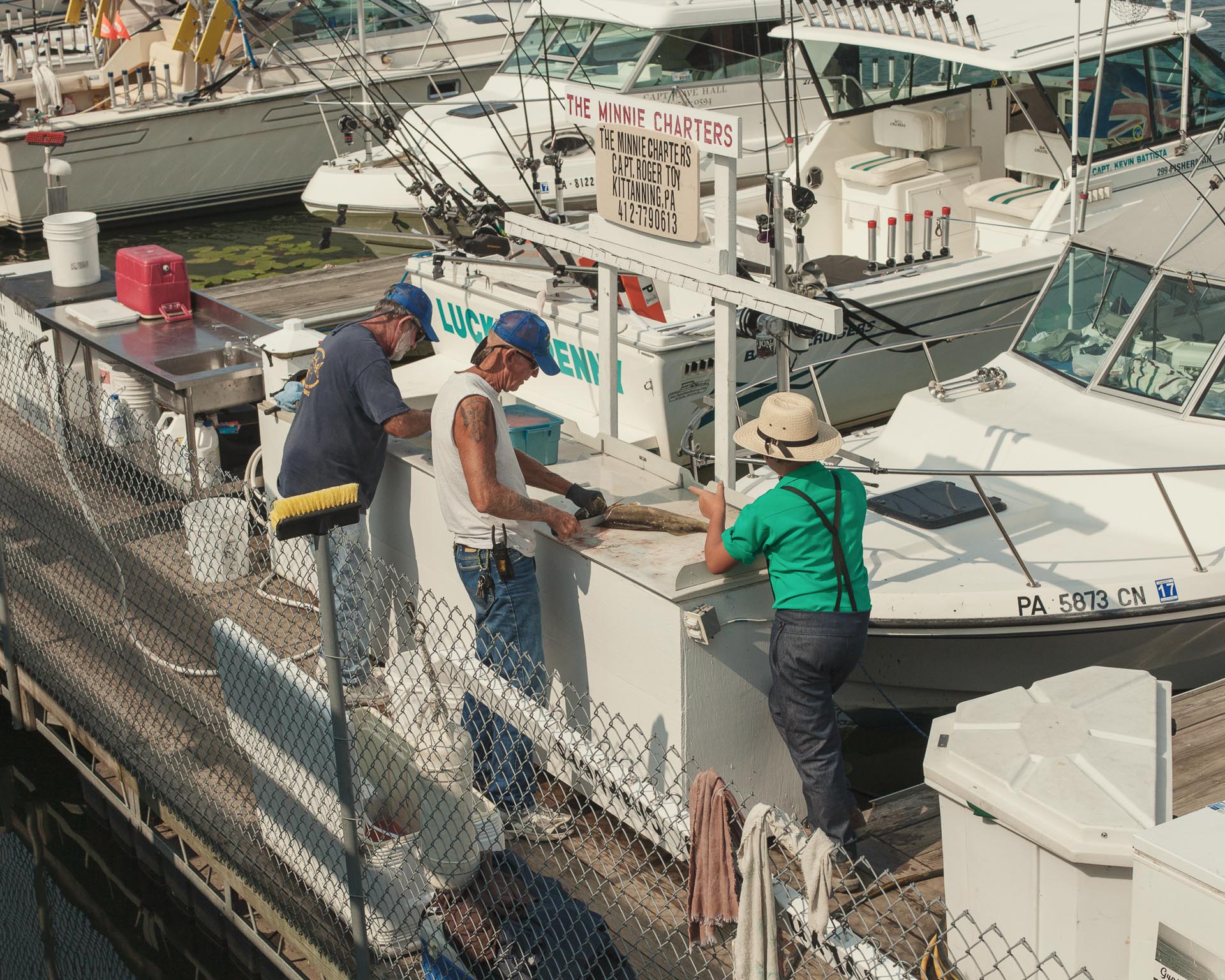 These three men were gutting their fish in the late afternoon.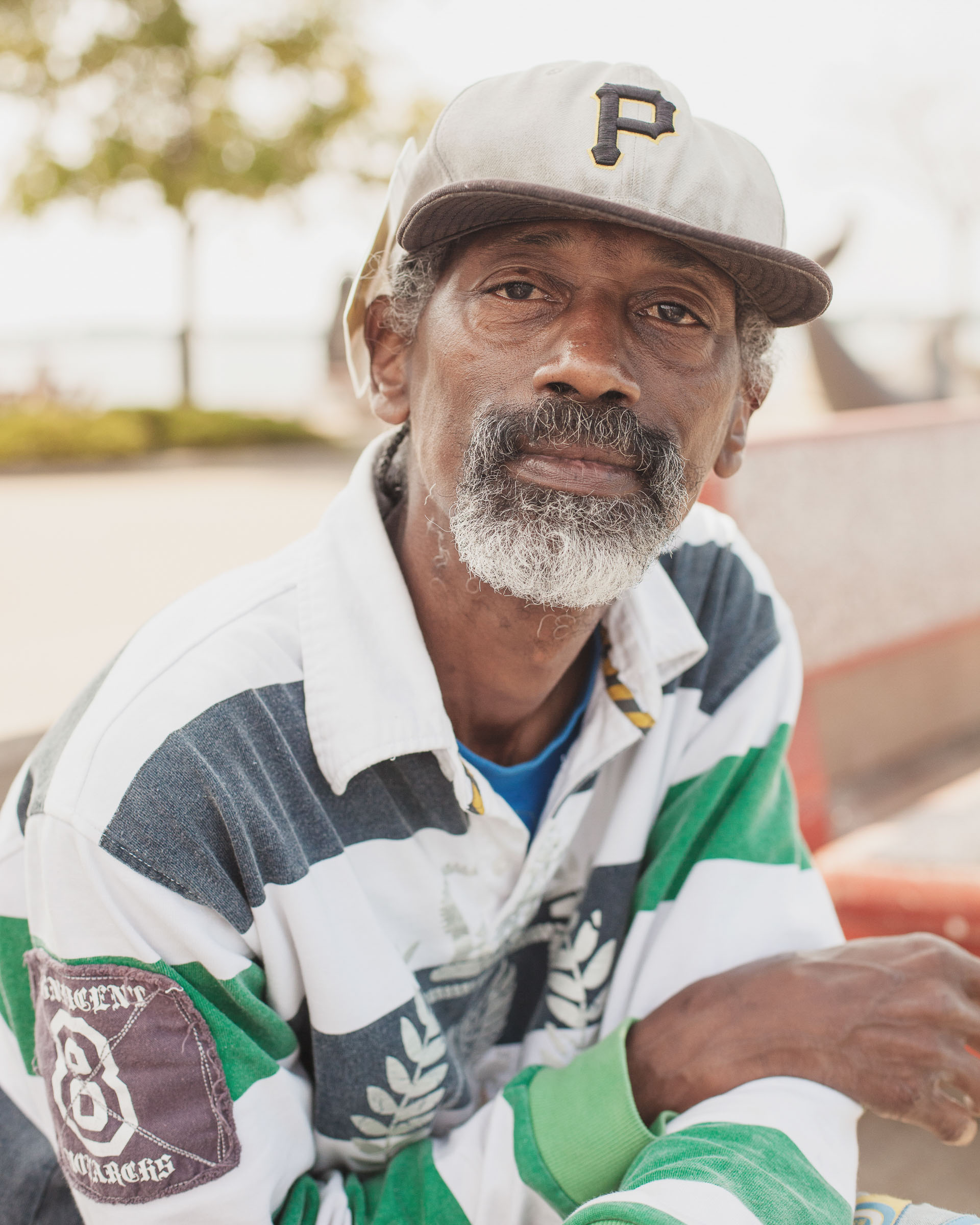 I'm awful with names, but I approached this guy as he was fishing on Lake Erie. I took a portrait of him as he waited for a fish to bite on his line, and then he offered me a swig of his beer.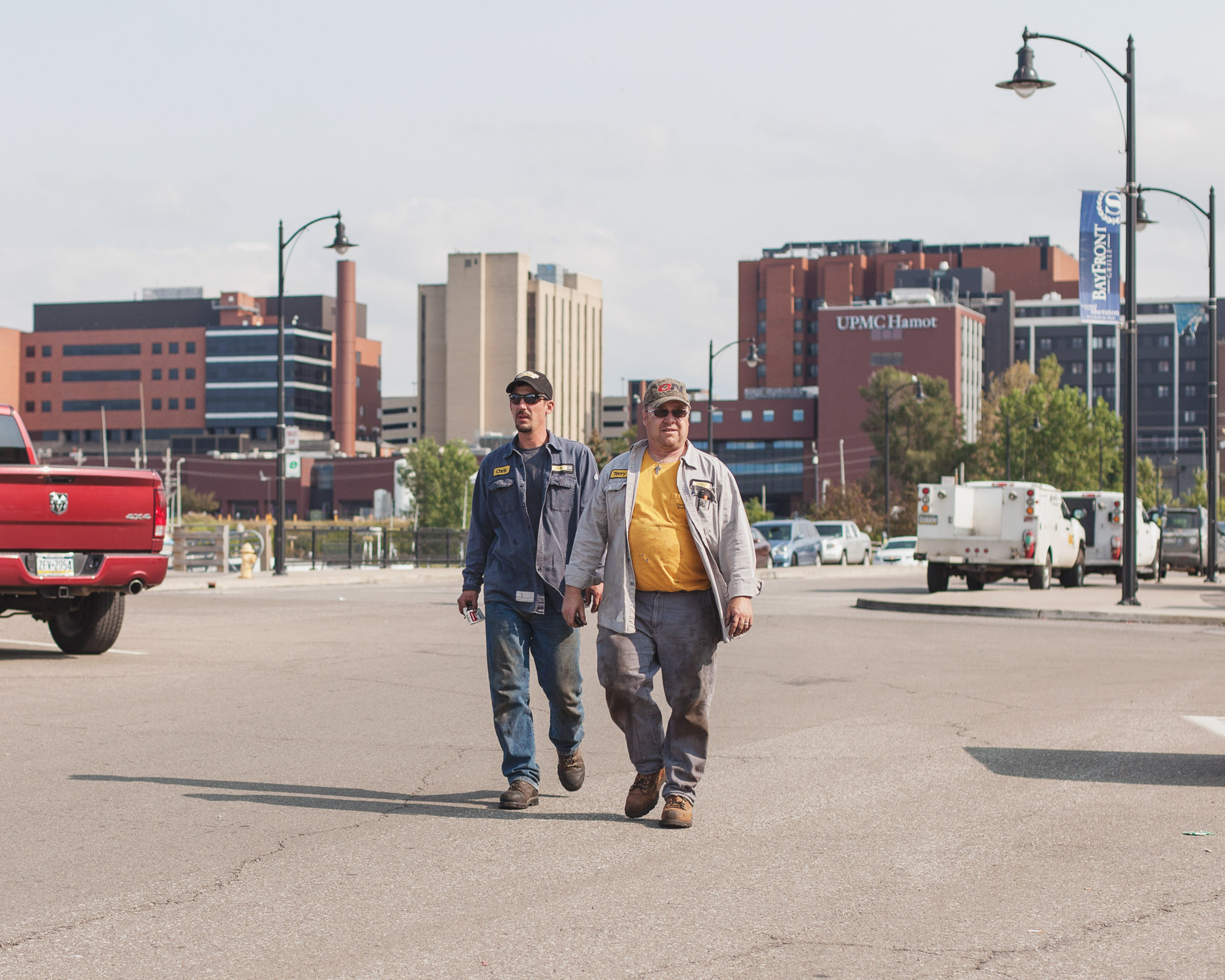 Chris and Terry. I only know their names because of their name tags, but I have a huge fiction surrounding them already. Similar to the couple I photographed at Coney Island, I imagine them to be the stars in a Hollywood flick.
The film would start with them stumbling into some kind of trouble – perhaps finding themselves caught up in a drug-smuggling scheme, before teaming up with the local police to bust open the case and expose the real goings-on.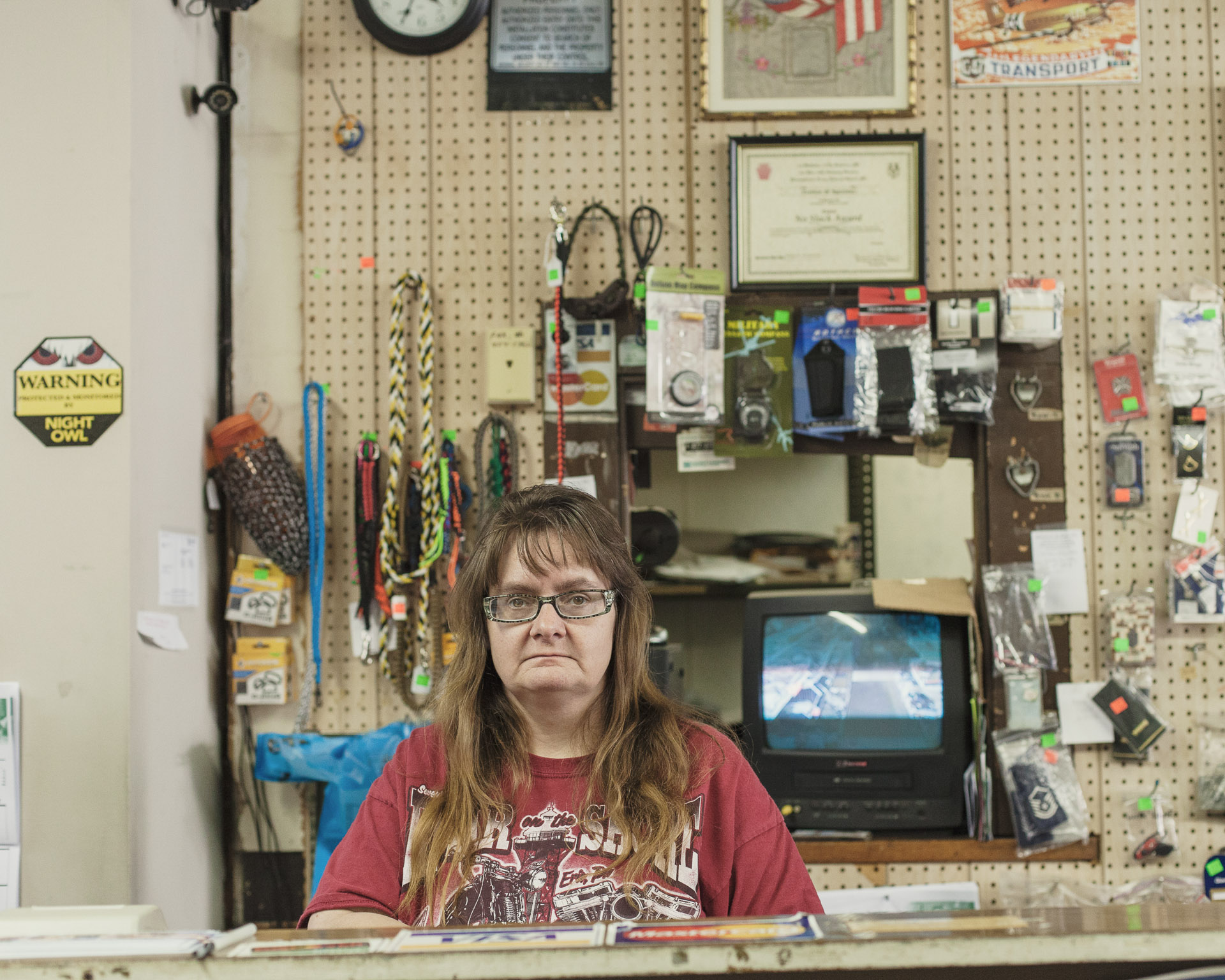 This woman runs Erie's American Surplus Store – 'Supplying you with all the Military Surplus, Military Memorabilia, Camping, Cold Weather and Survival Gear you've been searching for.'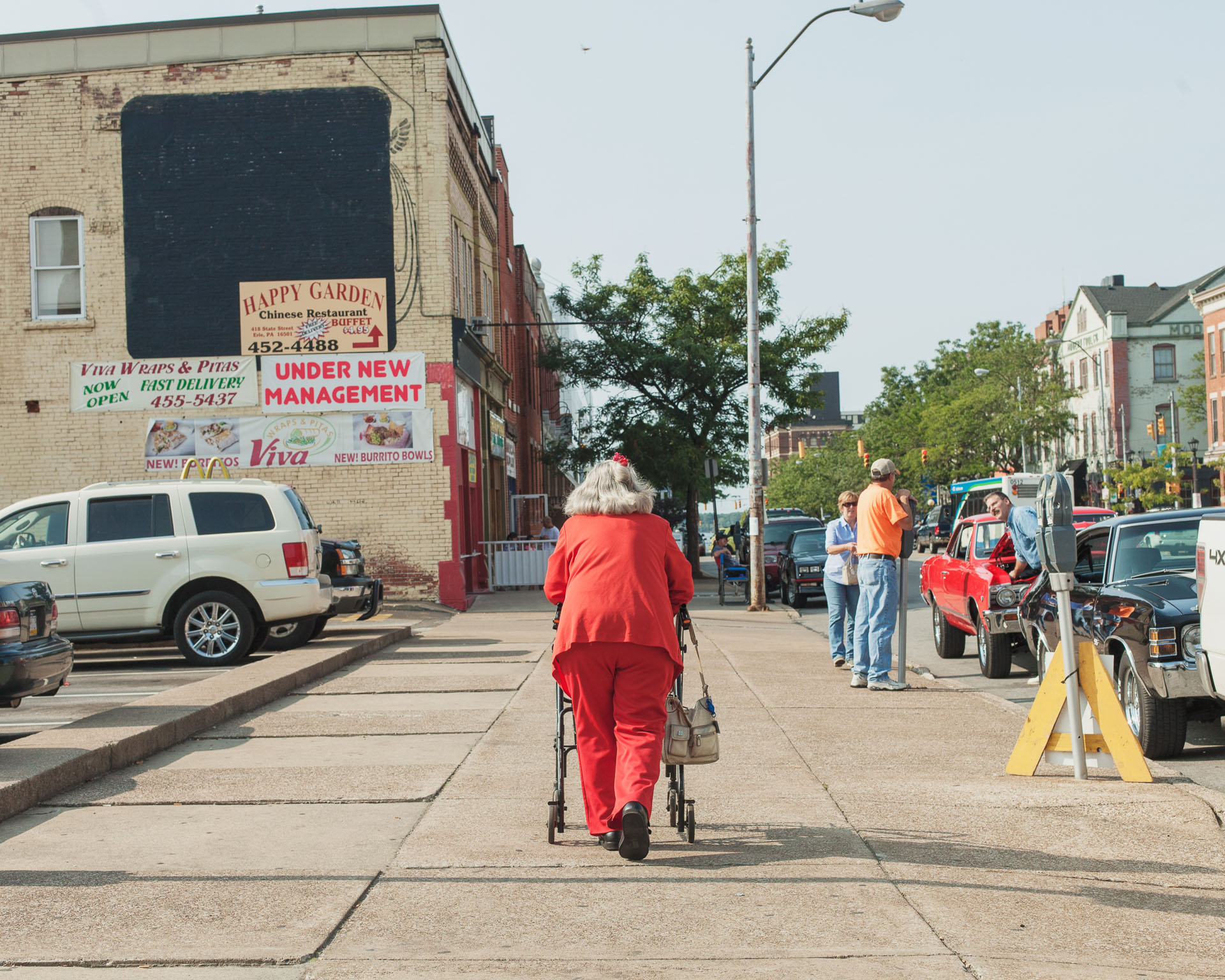 I love this photograph because the moment I took it, I felt like I was within a Fred Herzog photo. The bold red of this woman's outfit against the crisp street scene ahead.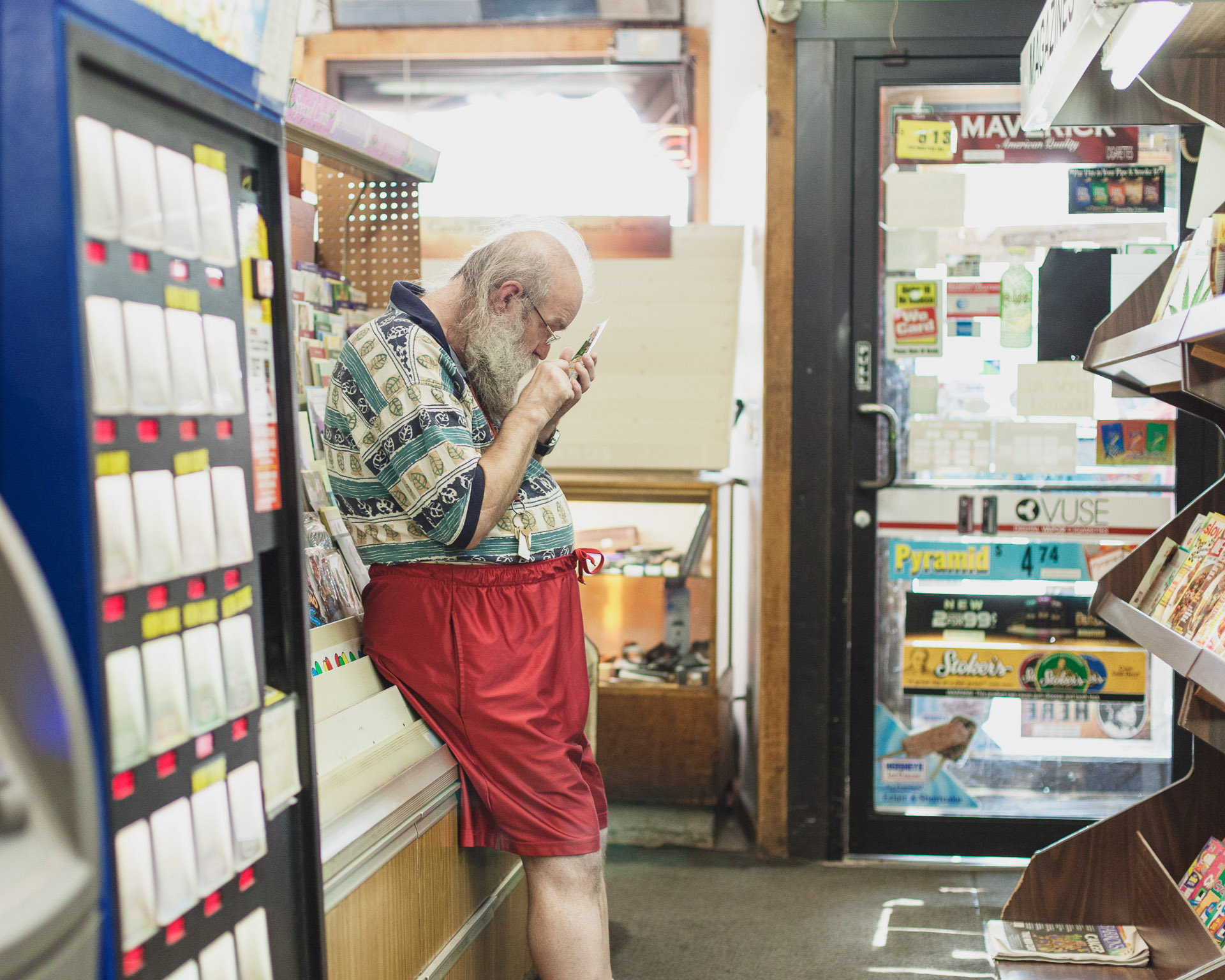 We ducked into a shop to buy some refreshments, and found this man repeatedly buying scratch cards. Over and over again, he would head to the counter, purchase exactly one scratch card, and take it to a different corner of the shop to frantically reveal his fortune.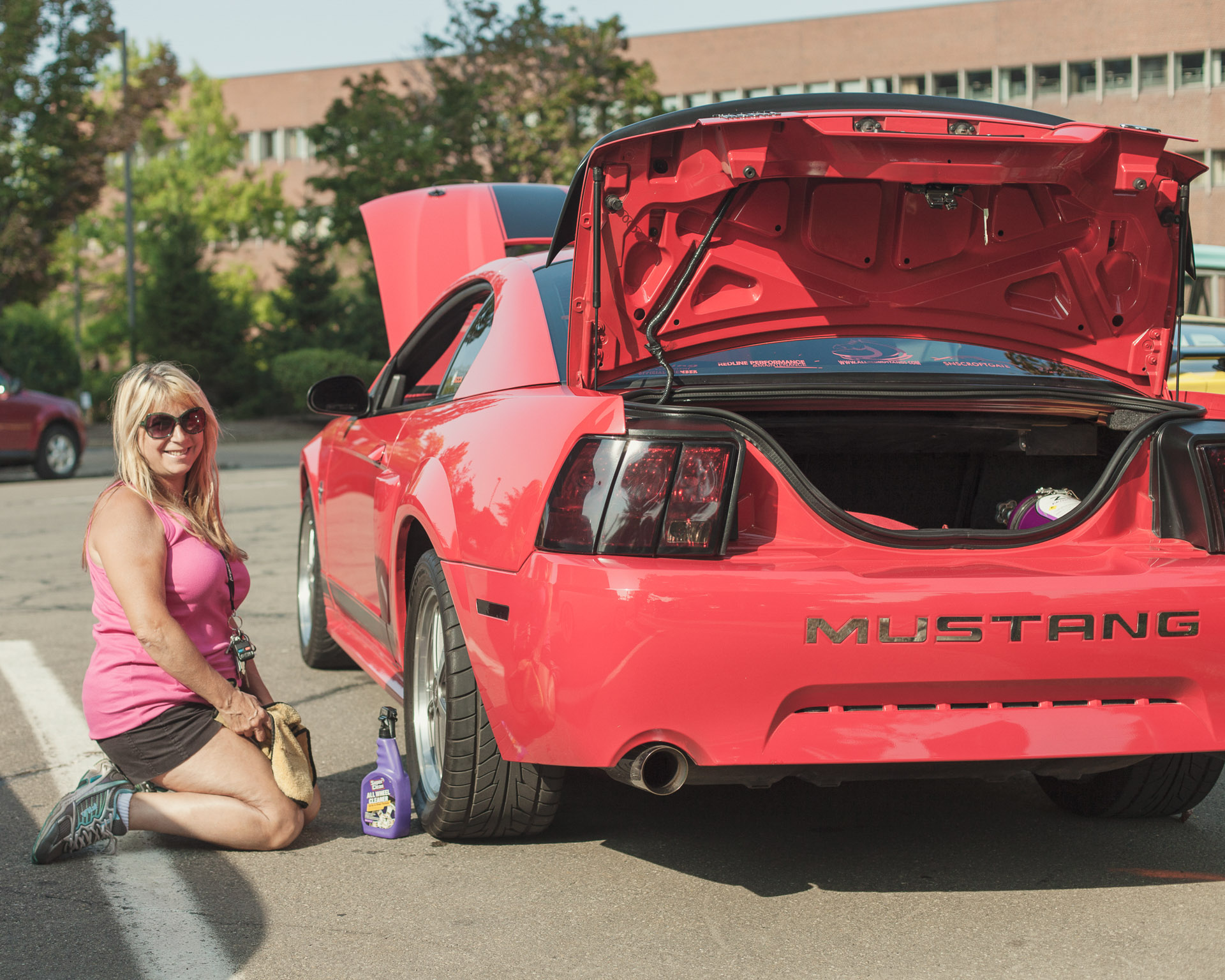 When we arrived in Erie, we were confronted with all sorts of beautiful cars – old classics, muscle cars and bizarrely shaped SUVs. At first, we just thought that was the identity of this city, but soon discovered we'd arrived on the day of a car show.
Hundreds of cars were paraded up and down its streets with man after man behind the wheel. This woman was a welcome relief to the testosterone swelling around Erie. We chatted as she cleaned her car's alloys.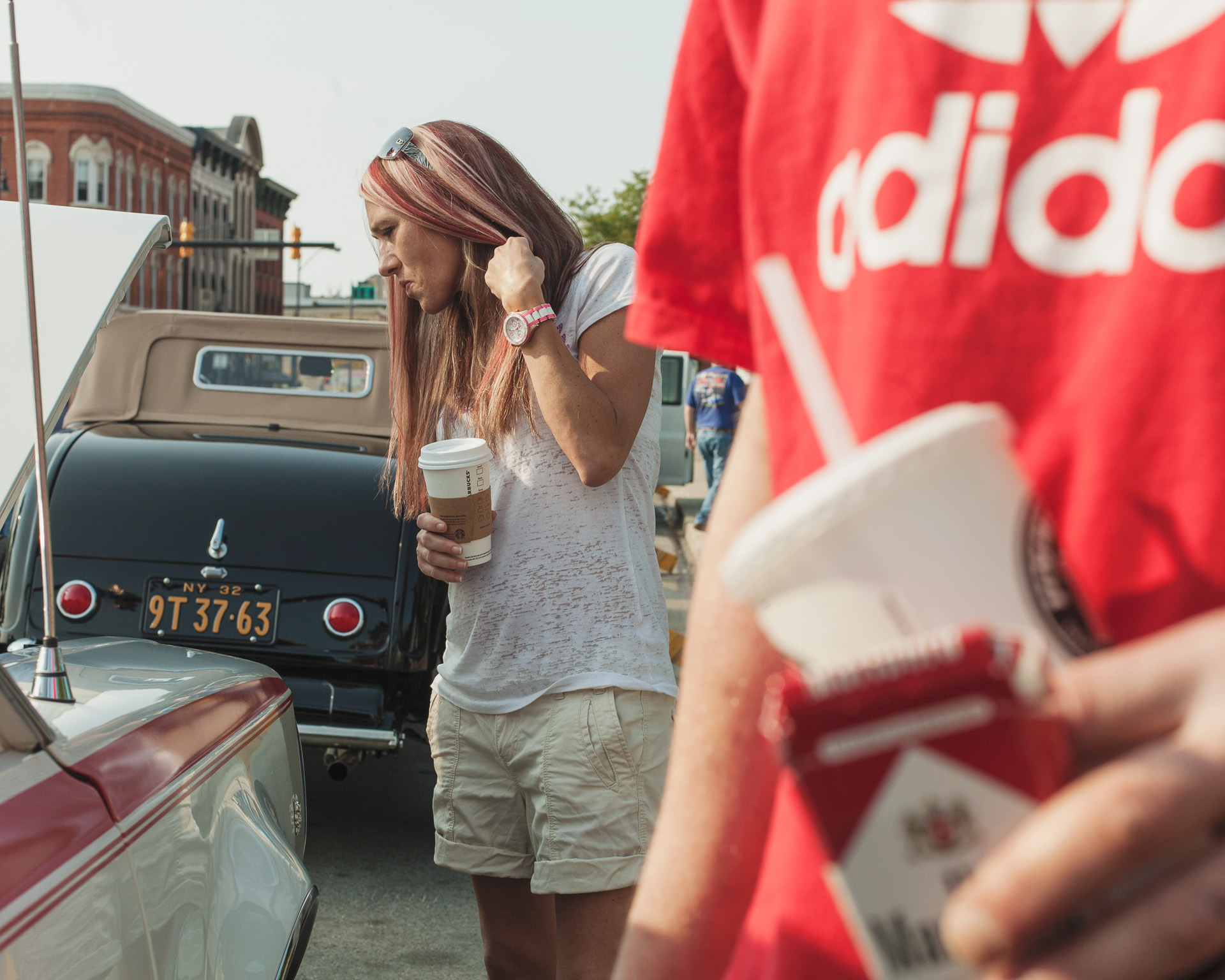 I really like this for its composition – the two layers involved. In the foreground, and out of focus, is someone branded in Adidas clutching a Starbucks cup and a pack of Marlboros. In the background is a woman peeking under the hood of a car.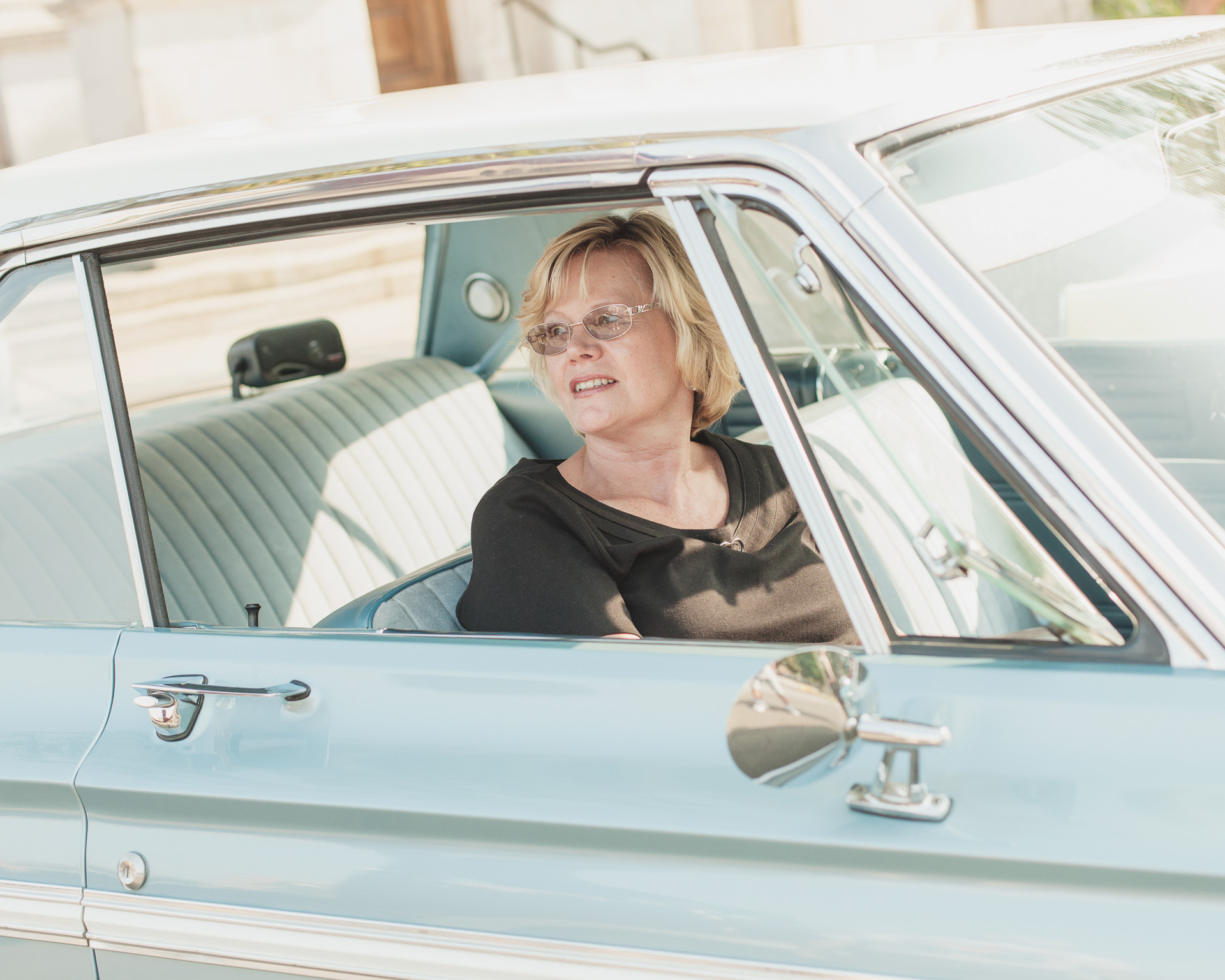 The thing that makes this photo so interesting for me is in the detail. Her expression is ever so slightly startled – it's not obvious apart from in her eyes. Reflected in her sunglasses is the body of a man, his head cropped off by her frames. His arms hang limp by his sides as she turns her head towards him.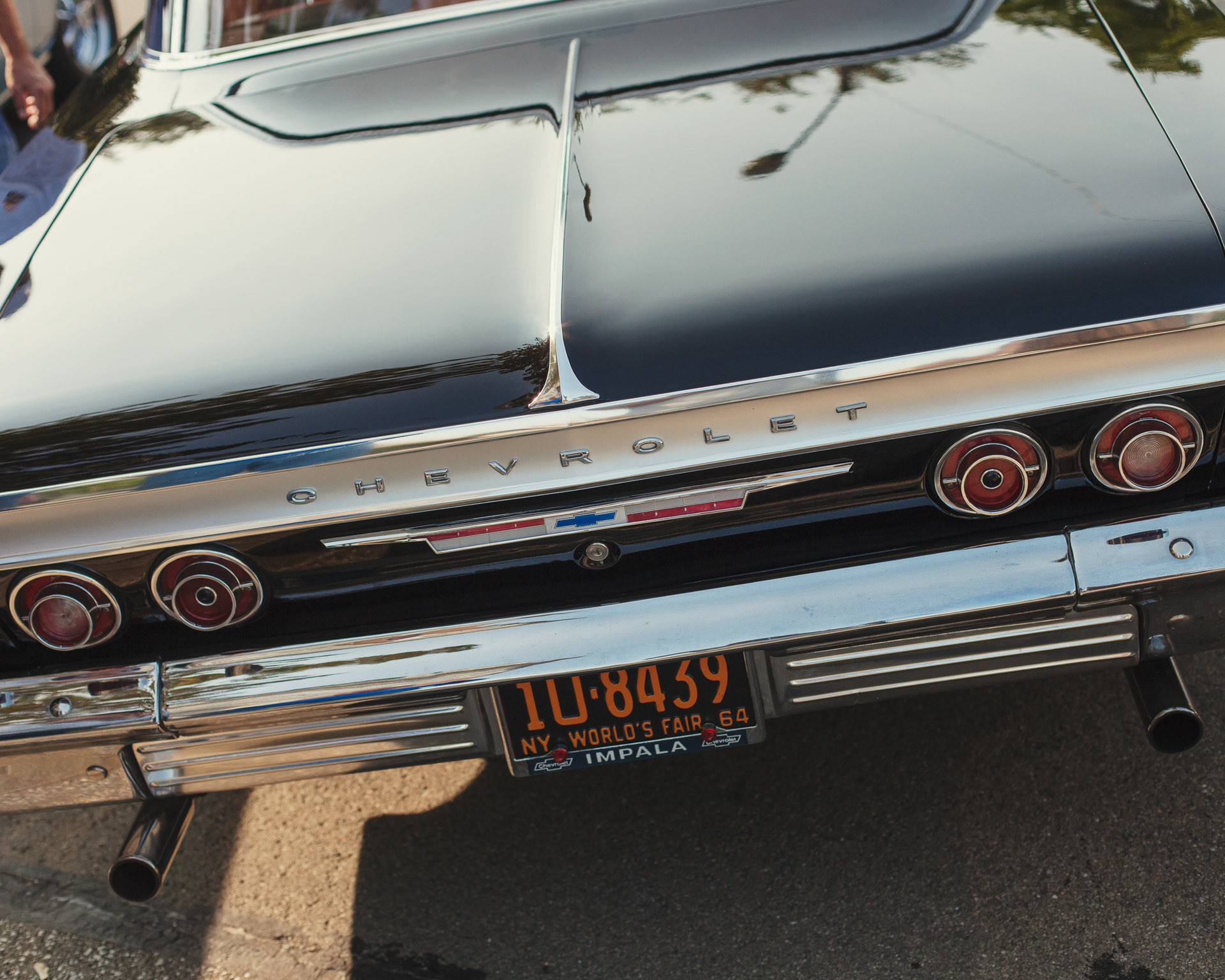 Is there anything that screams 'AMERICA' more than the back bumper of a classic Chevy?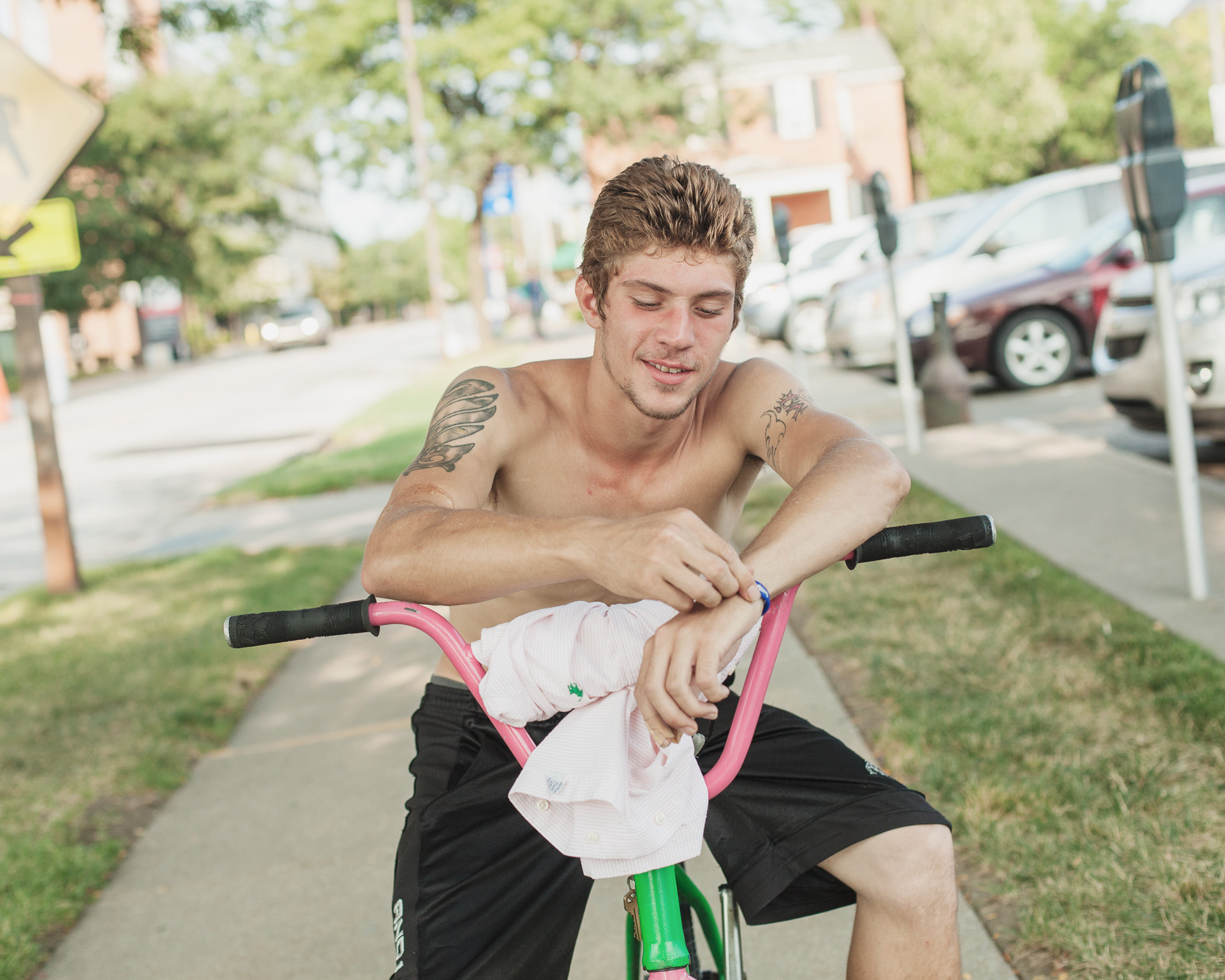 I stopped this guy for a portrait, as he looked so wildly different from the archetypes I had encountered so far in Erie. Its population until this point mostly consisted of people over the age of forty. I hadn't noticed at the time the scars on his arms that he assumedly got from his hobby.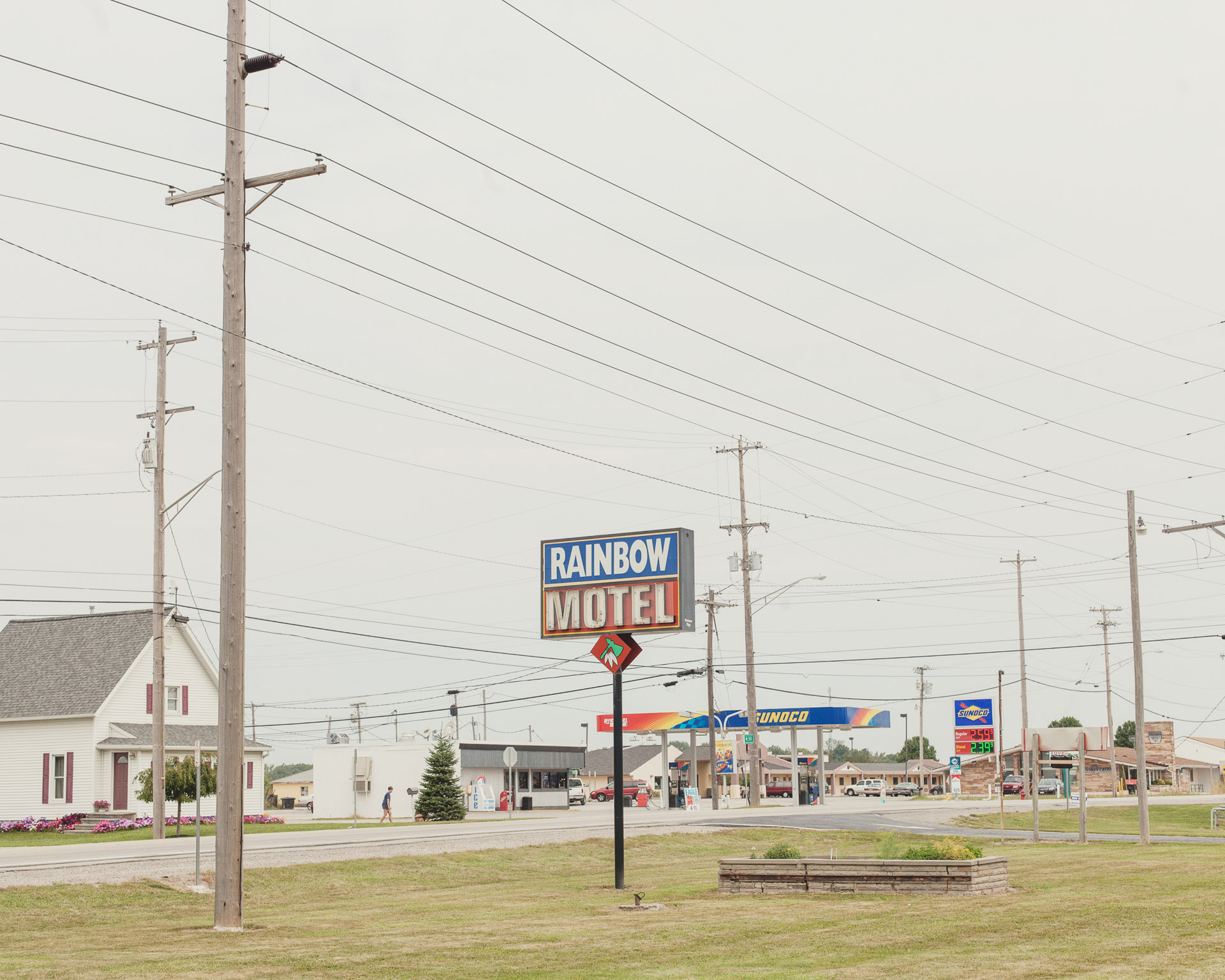 The Rainbow Motel was our first American motel. It's an independent motel ran by an Indian (not Native American) family. We were hesitant about our first proper Motel experience after having watched too many low-budget horrors, but we had a pleasant sleep and the duvet covers had nice patterns on them.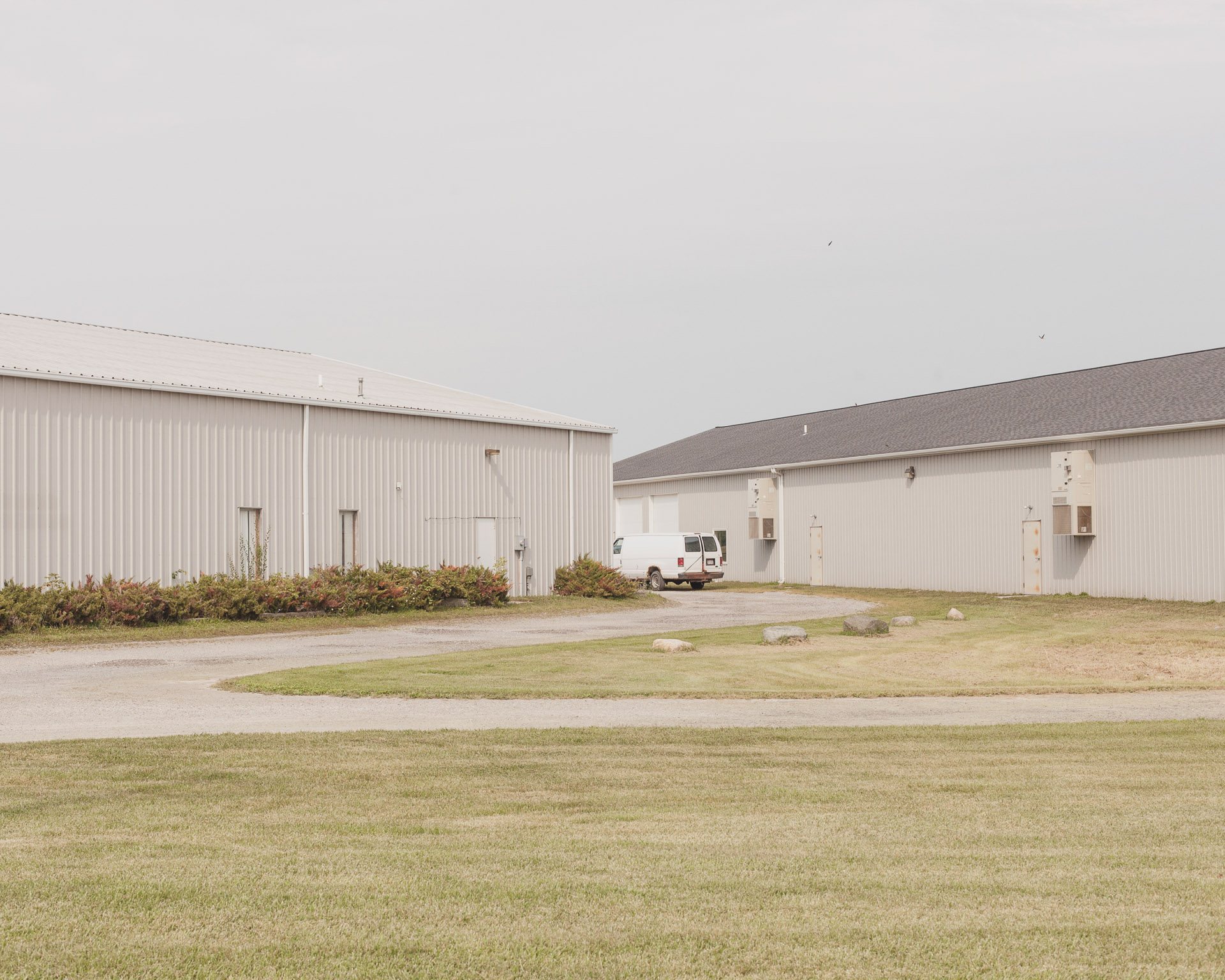 This is actually one of my favourite photos. I love the mundanity of the scene – the two warehouses meeting in the middle of the frame, the dirt road snaking up around to them. But the white van in the middle adds something sinister to it all; I think it's because it's seemingly abandoned, but with one of its doors left slightly ajar.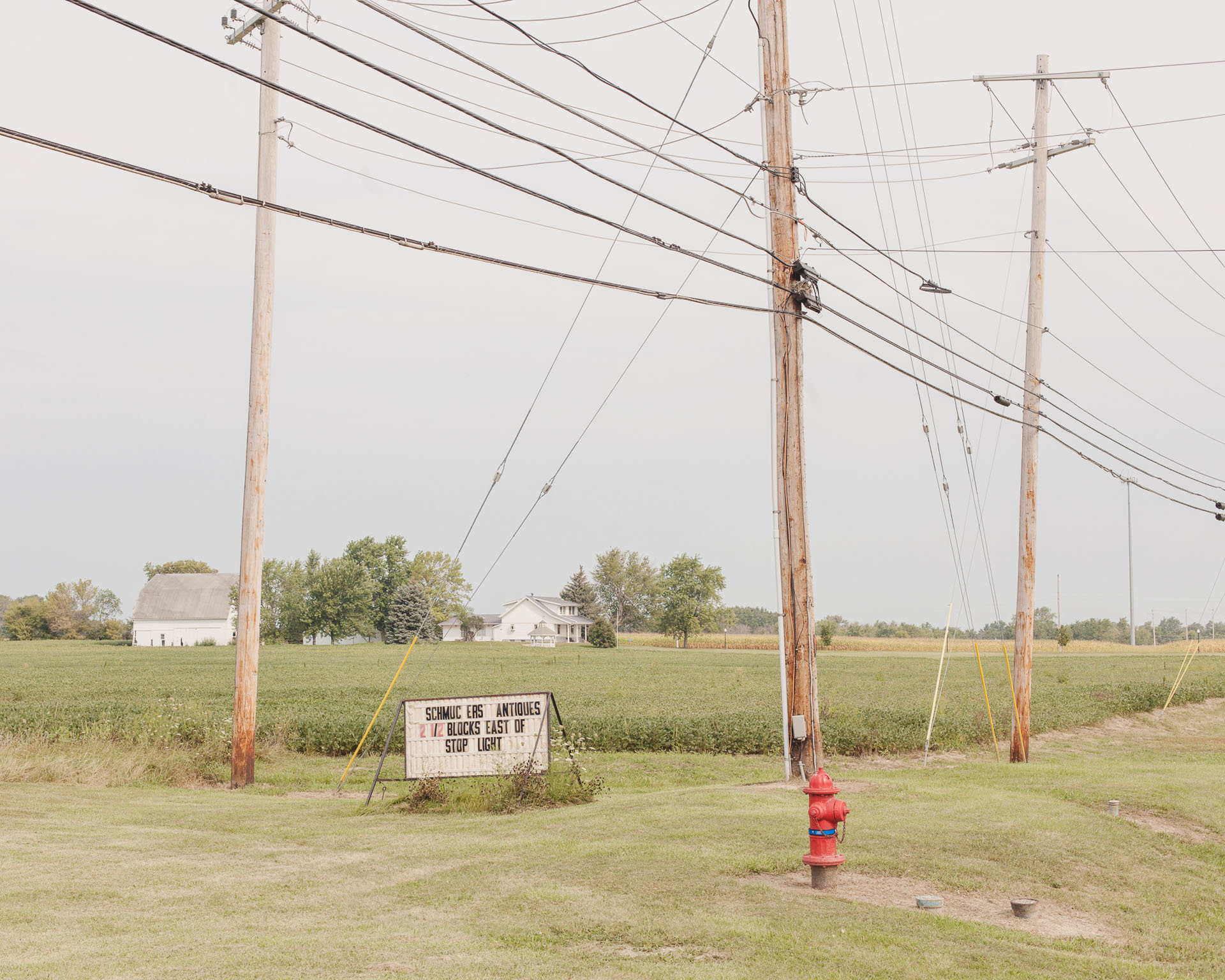 I love the landscape of Ohio. It's so vastly different to the urban thrall we'd existed in previously. The horizon extends all around you, and every road is entangled in networks of cables that lie twelve feet above.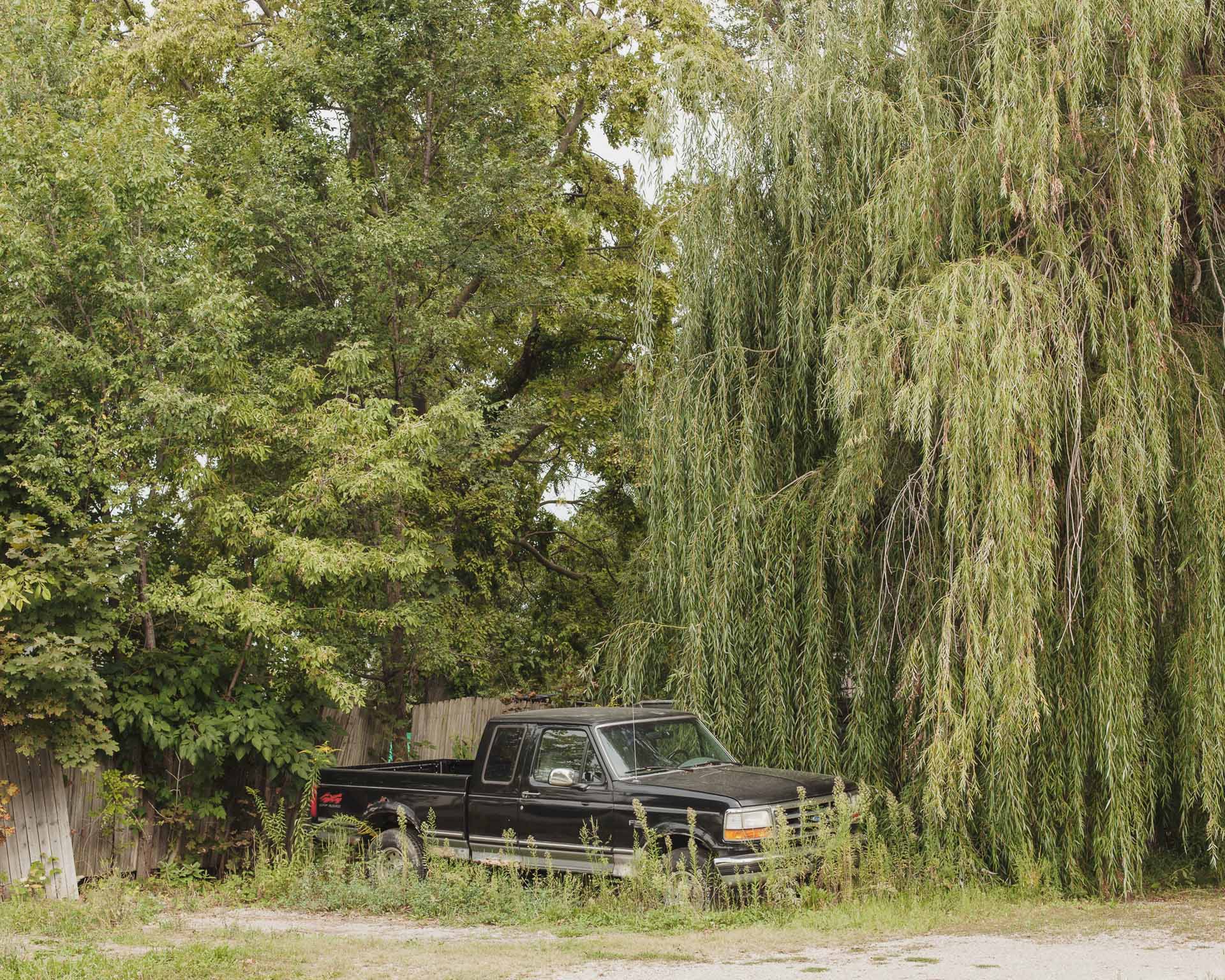 After our night in the Rainbow Motel we headed to Pioneer – a town with a cute name we'd seen on Google Maps a mile or two away. Pioneer broke up the landscape with its towering willow and oak trees lining each property. This pickup hasn't been used in a while.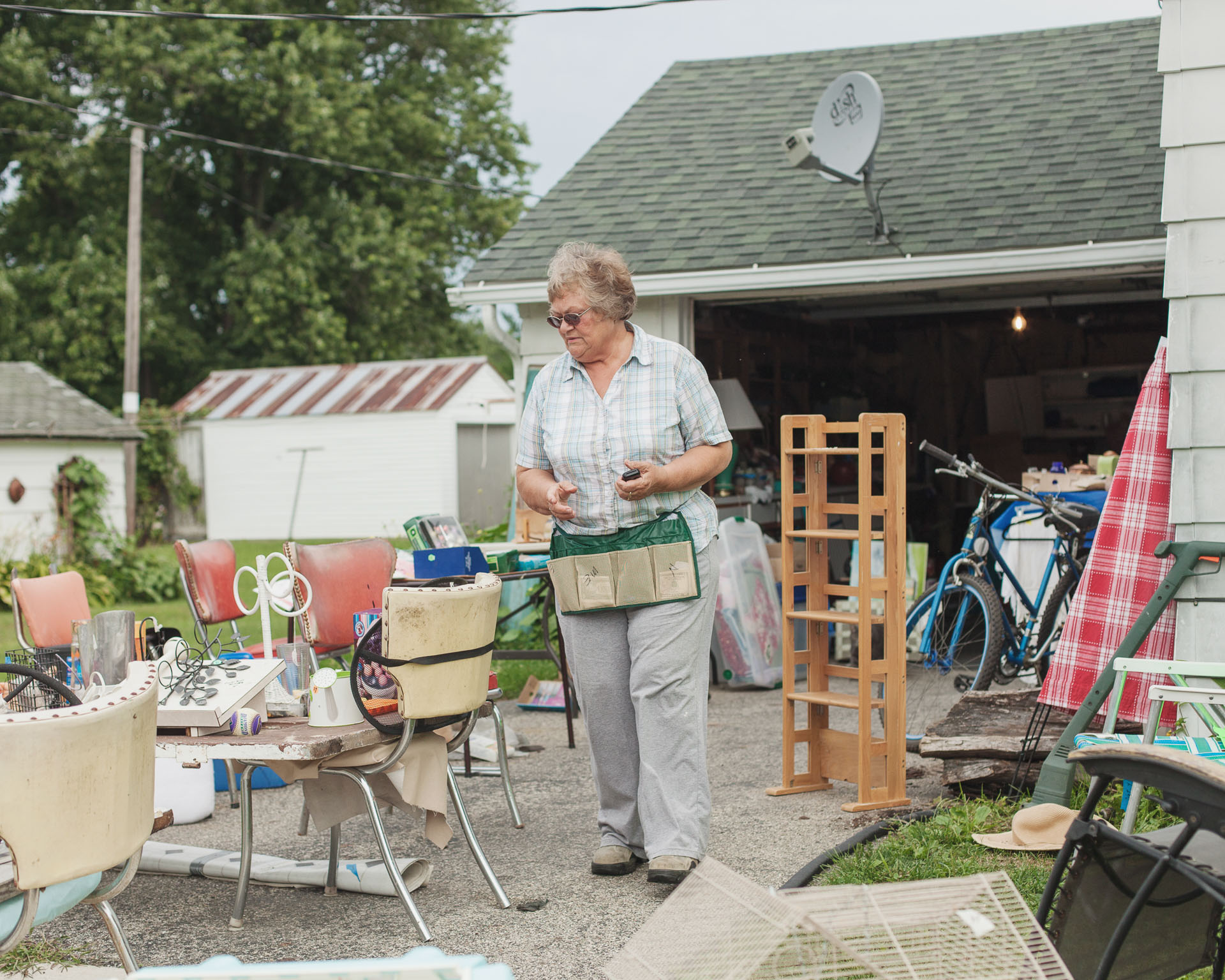 We saw a sign for a yard sale – our first American yard sale. As we rooted through the belongings laid out on chairs and makeshift tables, we were greeted with a warm voice. The lady in this photo introduced herself as 'Nana Pat', and immediately headed back into her kitchen to make us some iced tea. Ushering us into two of the camp chairs she was selling, she asked us about our accents and our journey ahead. Nana Pat told us that she was moving to Phoenix to be closer to her friends as her husband had passed away. We talked for what must have been two hours before she got up and grabbed the blue baseball you can see in the photo. She gave it to me after telling me that it had belonged to her husband, and that she wanted me to have something to remember her by.
Chris Bethell is a photographer based in London. Keep up with him on Instagram or his website, and keep your eyes peeled for the next instalment of Land of Hope & Dreams on Amuse.