Pastel Paradise | The Untold Stories of Instagram's Favourite Buildings
These postmodern masterpieces have been photographed a thousand times, but how much do you actually know about them?
If you've used Instagram in the last few years, you know the aesthetic. In post after post – pastel pinks, washed out blues and soothing ecrus.
When it comes to buildings, the architectural school which fits the Insta aesthetic best is postmodernism. A style which thrived from the mid 1970s until the early 1990s – eventually killed by an unfortunate association with bad shopping centres and cheap office complexes. Yet now, in the age of iPhone photography, the look is being reassessed, revived and reposted.
The danger of course, as with the Instagramisation of everything, is that any deeper meaning is lost. Here are the untold stories of these architectural masterpieces.
Muralla Roja by Ricardo Bofill (Calpe, Spain)
A true Catalan artist, Ricardo Bofill has long been obsessed with the project of integrating regional romance into the modern age. His Muralla Roja (Red Wall) housing project is a dense, labyrinthine riff on the fortified Kasbahs he found strewn across the old Hispano-Moresque world. As an avowed socialist, Bofill also lent heavily from the geometric 'Constructivist' style popularised in post-revolutionary Russia.
Perched as it is on a cliff side in Calpe, Spain, the Muralla's many pastel-tone walls are often bisected by brilliant shocks of light and shade. Meanwhile the Escher-like complexity of its steps, stoops and bridges present a billion photogenic angles. It is no wonder then, that this housing project in a remote Spanish town has been the star of multiple major music videos – including 'Do It Right' by Martin Solveig and 'Gang Signs & Prayer' by Stormzy.
The Aquasun Lido by Richard England (Paceville, Malta)
While perhaps not the most auspicious establishment on the island of Malta, the 'St George's Park Hotel' does boast an unsung classic of the postmodern style – Richard England's 'Aquasun Lido'. With its arches and capitals, at once cartoonish and strangely austere, from many angles the pool appears to be a two-dimensional drawing. It seems too perfect to be real.
Despite studying under the great Gio Ponti, and working occasionally alongside renowned figures such as Ricardo Bofill, England's own reputation has not extended far beyond the island of his birth. The world's loss is Malta's gain – no trip to the archipelago is complete without capturing a couple of his impeccable compositions.
Steigenberger Resort by Michael Graves (El Gouna, Egypt)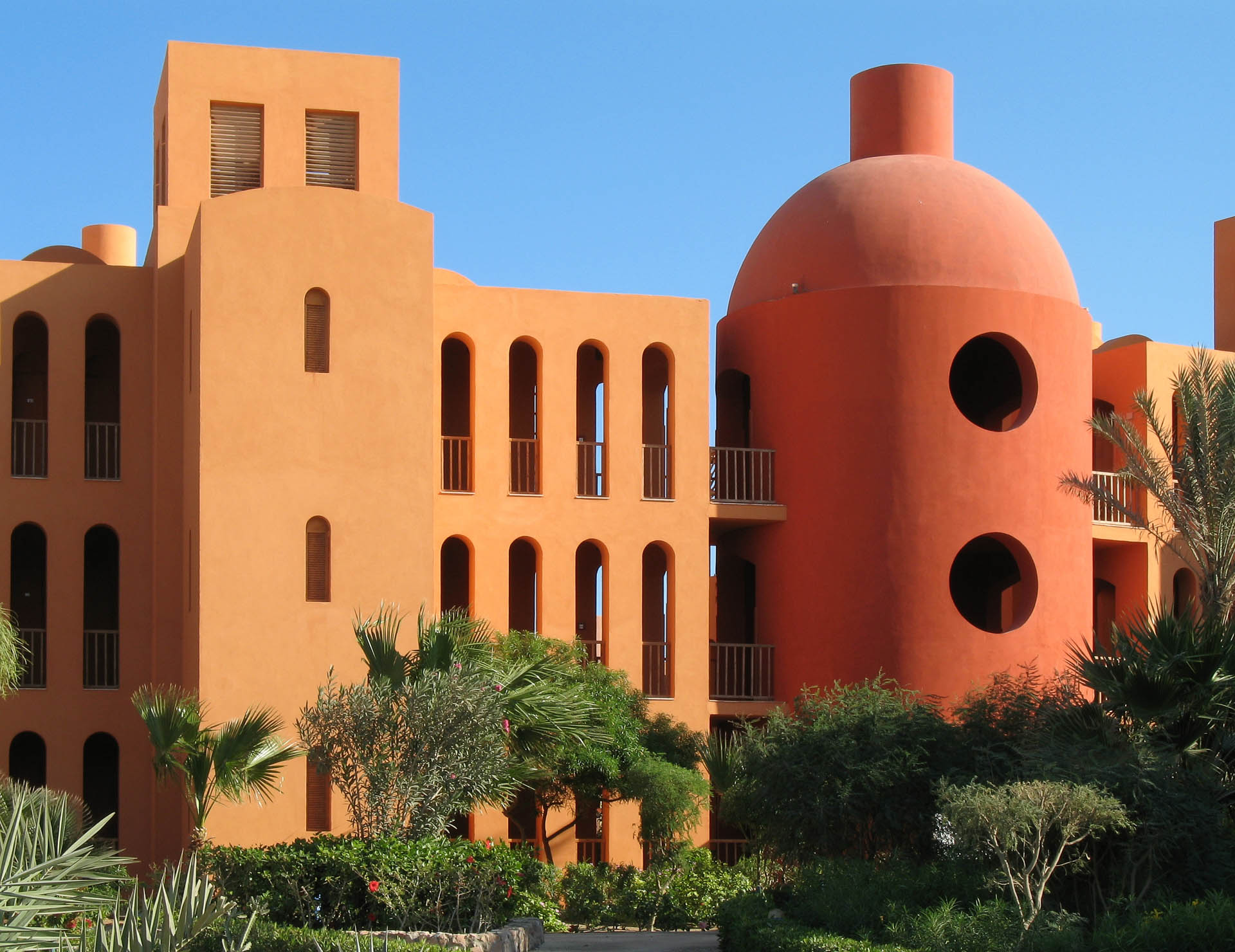 So many hotels – even those of the five star variety – commit the cardinal sin of blandness. We've all had the experience of walking through a bar or lobby, unable to tell if we're in Brighton or Burma. It was an aversion to this phenomenon that led star architect Michael Graves to complete this orange destination in the desert of El Gouna.
Packed to the rafters with Turkish Baths and pyramidal bars, the complex wittily applies ancient Arabic forms to modern hospitality. The clumsy, irreverent approach Graves took to its source material only adds to the hotel's surreal charm. The Steigenberger is a mecca for golfers, but would also make a dreamy backdrop for your next POMO photo-shoot.
Babylon Apartments by Arquitectonica (Miami, USA)
Built in 1982, the ziggurat-inspired 'Babylon' building was the first major project by the cult postmodern firm who put Miami architecture on the map. Backdrop to countless 80s cop shows, Arquitectonica's joyful experimentation in colour and formal blocking lent the entire city a distinctly decadent flavour.
Compared to their other works the 'Babylon' block is pretty minimal – just a stepped gable facade, intentionally flat and cartoonish in effect, from which the whole building extrudes. Yet its influence was so great that, when its owner threatened to raze the building to make way for a condo mega-tower, petitions and protests sprung up across the industry. As with many masterpieces of its era, the 'Babylon' has fallen prey to the fickle tastes of the developer class.
Cuadra san Cristobal by Luis Barragan (Mexico City, Mexico)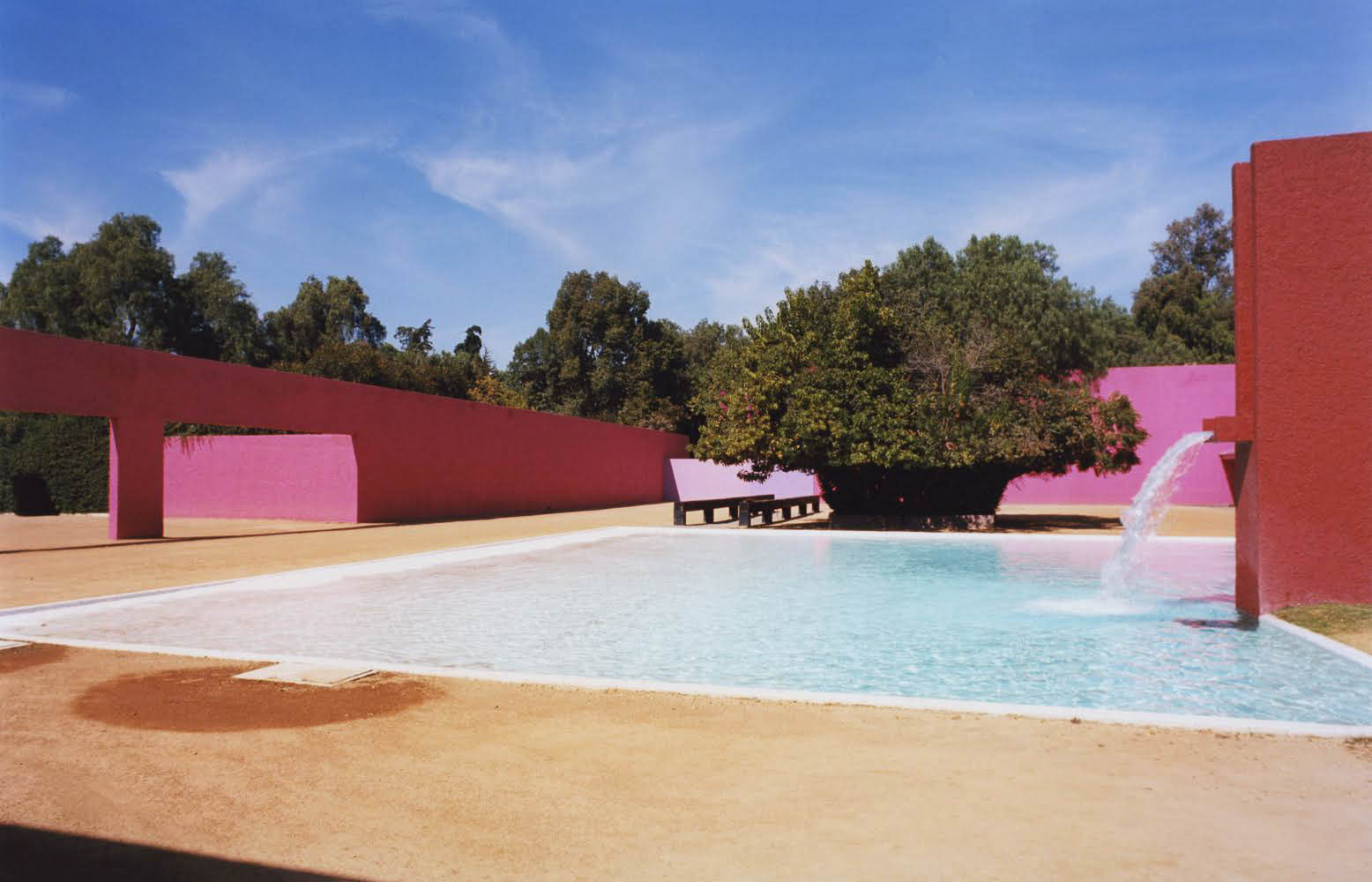 Luis Barragán was an architect renowned for his use of colour. Structurally minimal, yet daubed in palettes of incredible delicacy, his works pack a powerful emotional punch. The Cuadra san Cristobal in Mexico City is no different. Sprawling around a cool central pool, the many-toned stucco walls of this modernised hacienda form a perfect space for contemplation.
Built in 1968, the Cuadra is technically too early to be considered postmodern – but it certainly represents a bold and intentional step away from the monochrome austerity of International Modernism. It now plays host to a series of abstract art installations, and was the backdrop to Louis Vuitton's 2016 pre-fall campaign featuring Léa Seydoux.
San Antonio Public Library by Ricardo Legorreta (San Antonio, USA)
Despite taking influence from the world over, Ricardo Legorreta's single greatest love was his native Mexico. A disciple of Luis Barragan, he too viewed modern architecture through a romantic, regionalist lens of soft Adobe earth tones with vibrant pops of primary colour. His work never took itself too seriously, and this building is no exception.
This grand library was Legorreta's tribute to San Antonio, Texas – an eccentric piece of built branding for the city. It's near impossible to visit the Lone Star State without grabbing a snap in front of its eccentrically geometric facade.