Surf Empty Waves on Jeju Island, South Korea | The Wanderlist 2019
South Korea isn't well-known in the West for its surf scene, but it should be...
What? A South Korean tropical island with untapped surf potential and friendly locals.
Where? Jeju Regency Hyatt overlooking Jungmun Beach, the premier surf spot on the island.
Why? Jeju Island is a popular tourist destination for the affluent city folk of Seoul and Chinese holidaymakers, but it remains off the radar for most Western surfers, mainly due to the fact that there are closer wave-shaped rewards for anyone unwilling to sit through a couple of long and expensive flights.
That said, anyone who ventures to this paradisiacal volcanic island perched in the Korea Strait will be treated to balmy weather, breathtaking scenery, and potentially empty waves, making for one of the best off-the-beaten-track destinations in surfing.
Speak to locals enjoying a coffee in The Stone CafE (Seo-Soo-Kkak region), which also plays host to a small board repair shop out back, and you'll discover that the art of wave-sliding only really landed on the island in the mid-1990s, despite the East China Sea often receiving large swell from typhoons and ocean storms.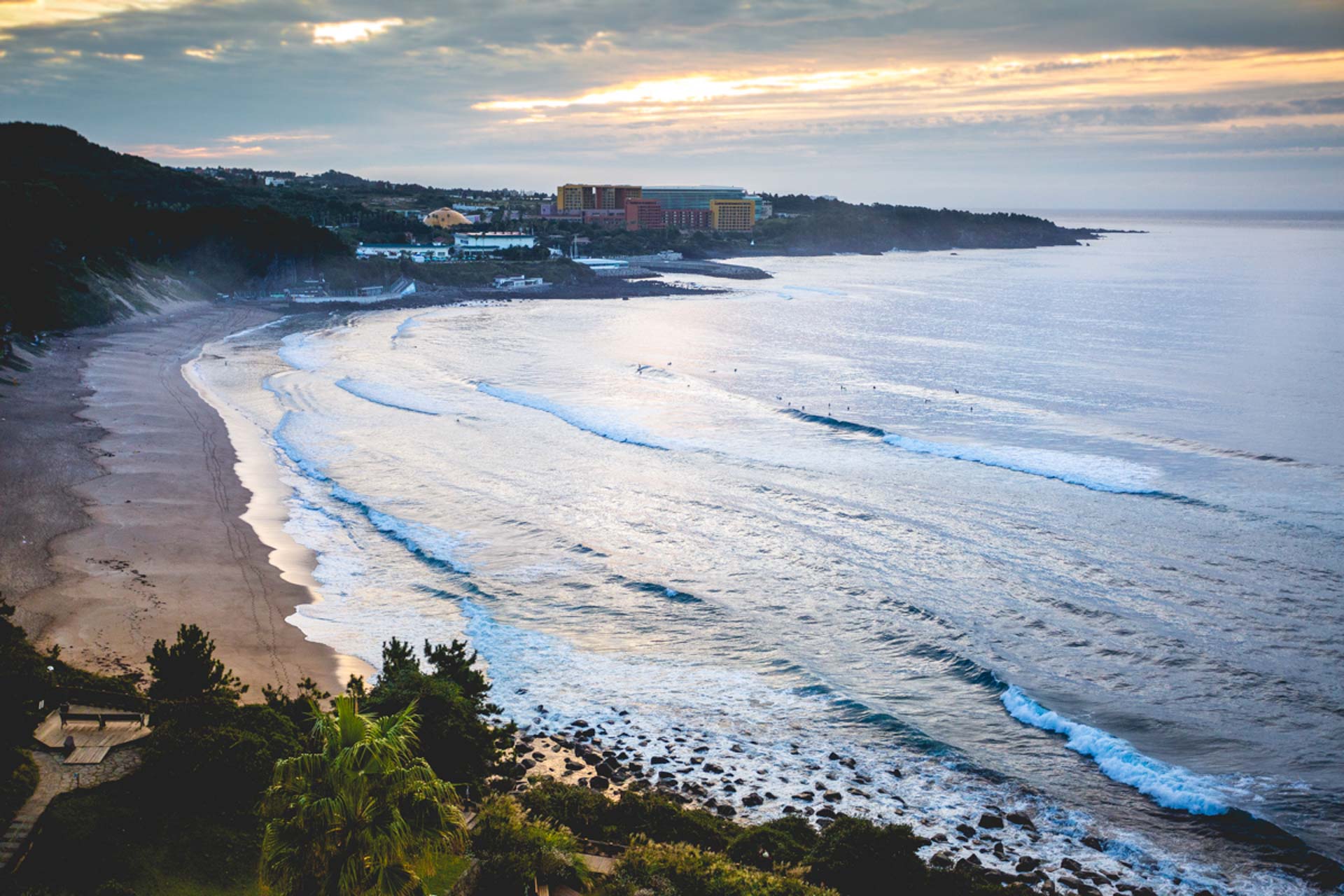 It may sound a tad crass, but the fact that surfing is very new (and most of the locals can't even swim) means the standard on display isn't exactly mind-blowing, leaving ample room for more accomplished board riders to enjoy first refusal on waves and admiring crowds. The waves aren't huge, and nor are they as consistently good as in more celebrated destinations like Indonesia. But if you're up for an explore, there's plenty of fun to be had here.
Once arms become weary from all that paddling, you'll have ample opportunity to enjoy the neon lights and sweltering Korean barbecue establishments of Jeju City, while a jaunt out to the centre of the island reveals Oahu-aping volcanic scenery and lush vegetation that's perfect for inquisitive hikers.
Jeju Island certainly isn't cheap but it's packed with charm and history, neatly demonstrated by the smattering of Tol Harubang statues located across the island.
Found on roundabouts, in front gardens and outside shops these 'stone grandfathers' are supposed to bring good luck to the islanders. Rub his nose and women will become mothers to a baby boy; pull his ear and you get a girl. It's a quirky tradition that somehow seems appropriate for this quirky and unusual surf destination.
When? March to April offers the most pleasant climates but those chasing swell will have to bear the soaring temperatures of summer, which sees the best conditions for surfing.
How? Various local surf schools on Jeju Island offer lessons and board rental. There are plenty of flights from both London Heathrow and Gatwick, typically involving a connection in Shanghai or South Korea's Incheon International Airport.
This has been selected for The Wanderlist - a list of the year's 50 best travel destinations and experiences, curated by Amuse. If you want an unforgettable trip, this is where to go in 2019.
Tagged: