On the Shoulders of Giants | Traversing the Atlas Mountains in the New VW Touareg
Our car columnist tackles some of his sketchiest roads yet
With 'The Road Less Travelled', we aim to cover cars a little differently: putting them through their paces by seeing if they can handle a real adventure. This month, we're heading up above the clouds in the brand-new, ready-for-anything Volkswagen Touareg.
---
Anyone used to the smooth surfaces of a British motorway would likely describe the road ahead of me right now as a 'dirt track'. A dirt track that just so happens to cling to the edge of a perilous cliff edge, hovering above a decidedly deep and craggy ravine.
"This is like the autobahn compared to some of the 'roads' we are about to drive on," remarks my off-roading colleague in his thick German accent; the word 'roads' accompanied with elaborate air-quotes.
"I'm called forward and deliberately avoid using the word 'journalist', but still receive a lengthy shakedown"
He is right, because once the enormous Volkswagen Touareg I'm carefully piloting crests the barren-but-beautiful Toubkal Mountain - North Africa's highest peak - the only way to get to our planned lunch stop is via a network of sinewy tracks that are barely wide enough to accommodate a donkey, let alone a two-tonne 4x4.
But this is what drew us to Morocco in the first place: the chance to sample Volkswagen's flagship SUV on terrain that would challenge both car and driver. So the only thing to do is draw a deep breath, and inch along the route with caution.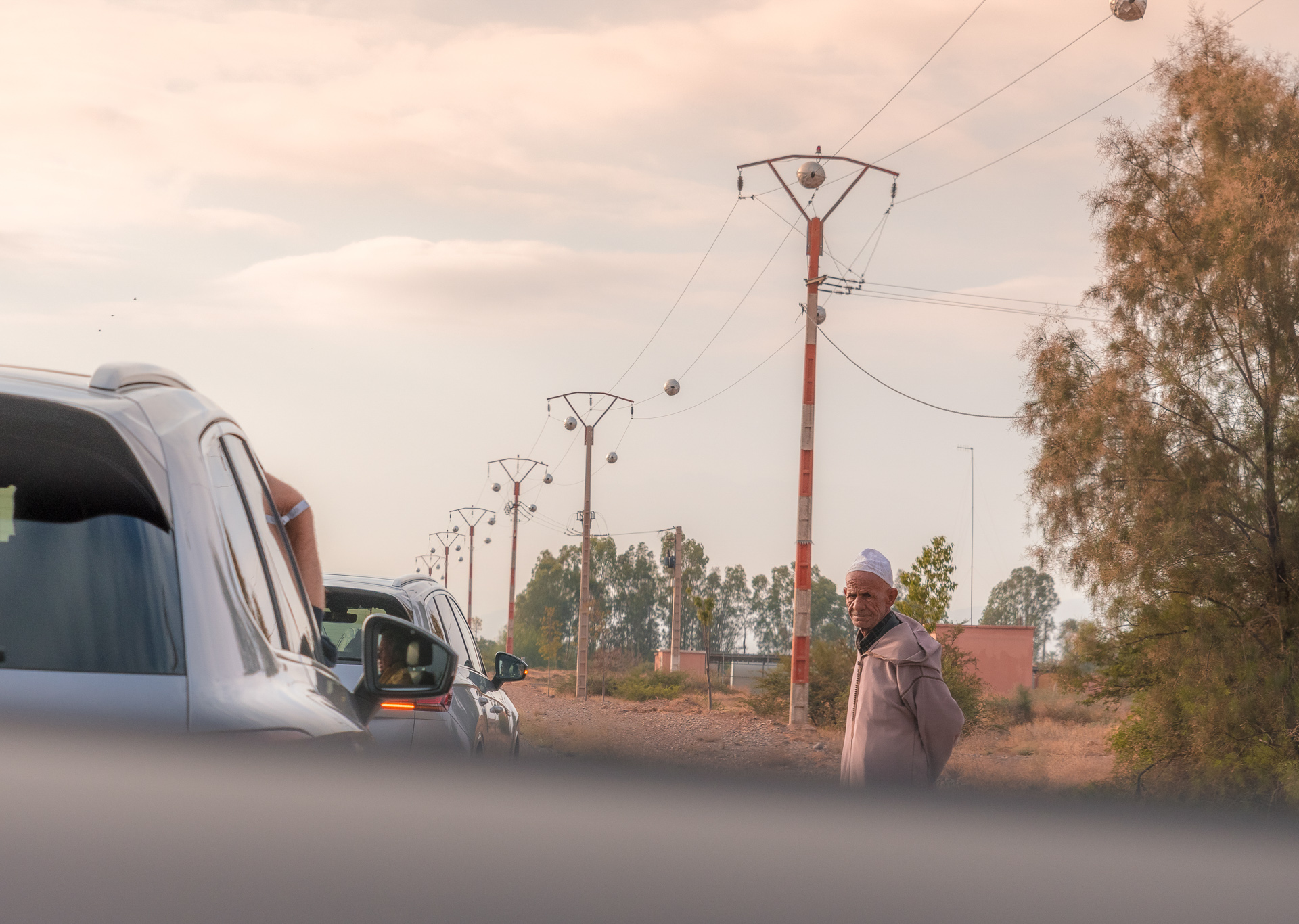 Hordes and Hammams
Rewind 18 hours and I'm touching down at Marrakech Airport, navigating the bustling halls of this modern structure and attempting to dodge the hordes of young families in search of some final winter sun.
The Red City has long been popular with artists, bohemians, and trendsetters, thanks to its vibrant visuals and energising spirituality, but wealthy holidaymakers in search of a pampering getaway have also adopted it as their own.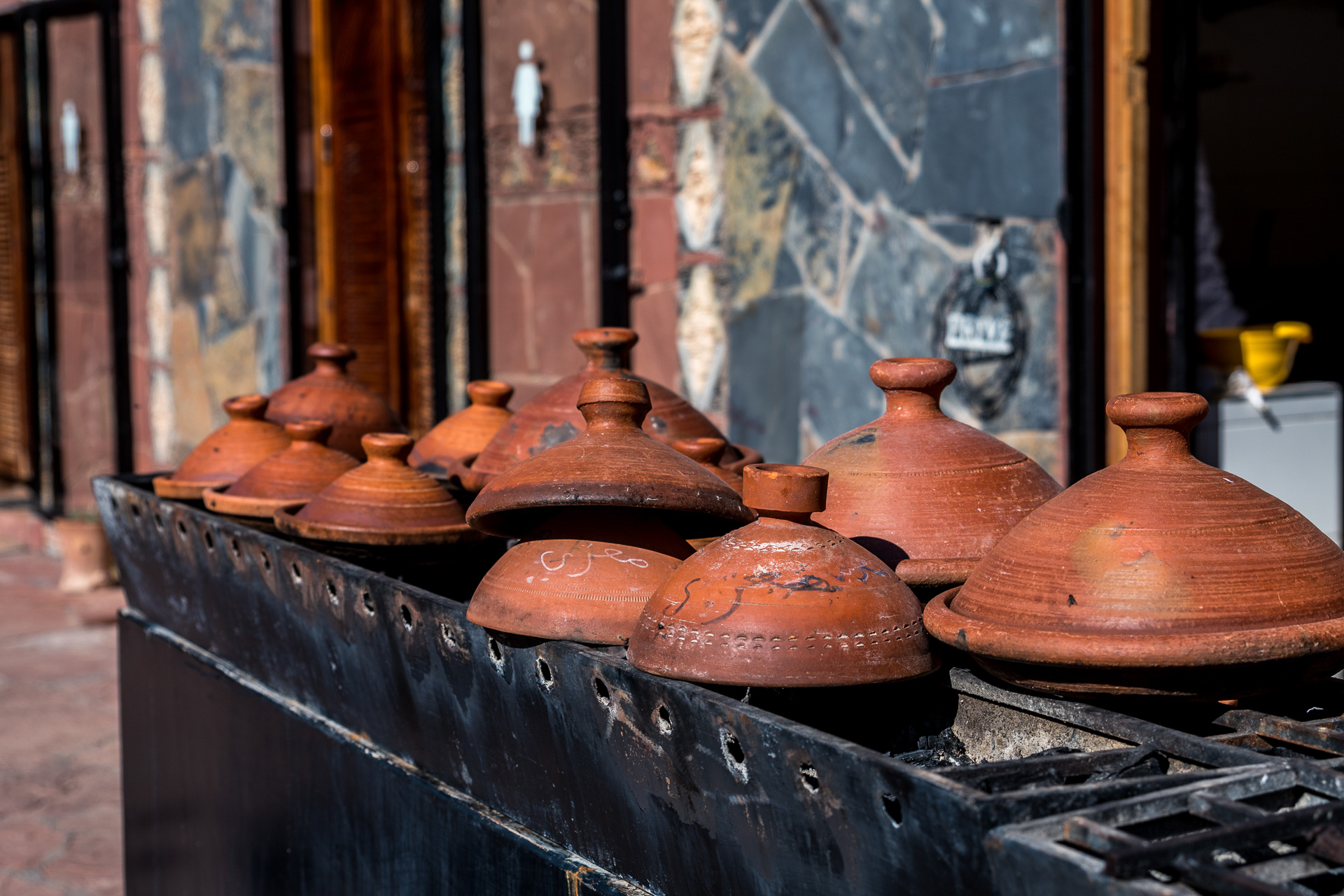 Border control is predictably manic, with stern-faced guards questioning everyone that wishes to enter the country, no matter how innocent the reason. I'm called forward and deliberately avoid using the word 'journalist', but still receive a lengthy shakedown, due to the fact that my backpack is stuffed with camera equipment.
"Do you have a drone? Do you know what drone is? You plan to use a drone?" the security guard manning the x-ray machine barks at me.
I don't have a drone, but apparently some filmmakers decided to nab some aerial footage of the residence of King Mohammed VI and, quite unsurprisingly, the country has been vehemently against the flying devices ever since.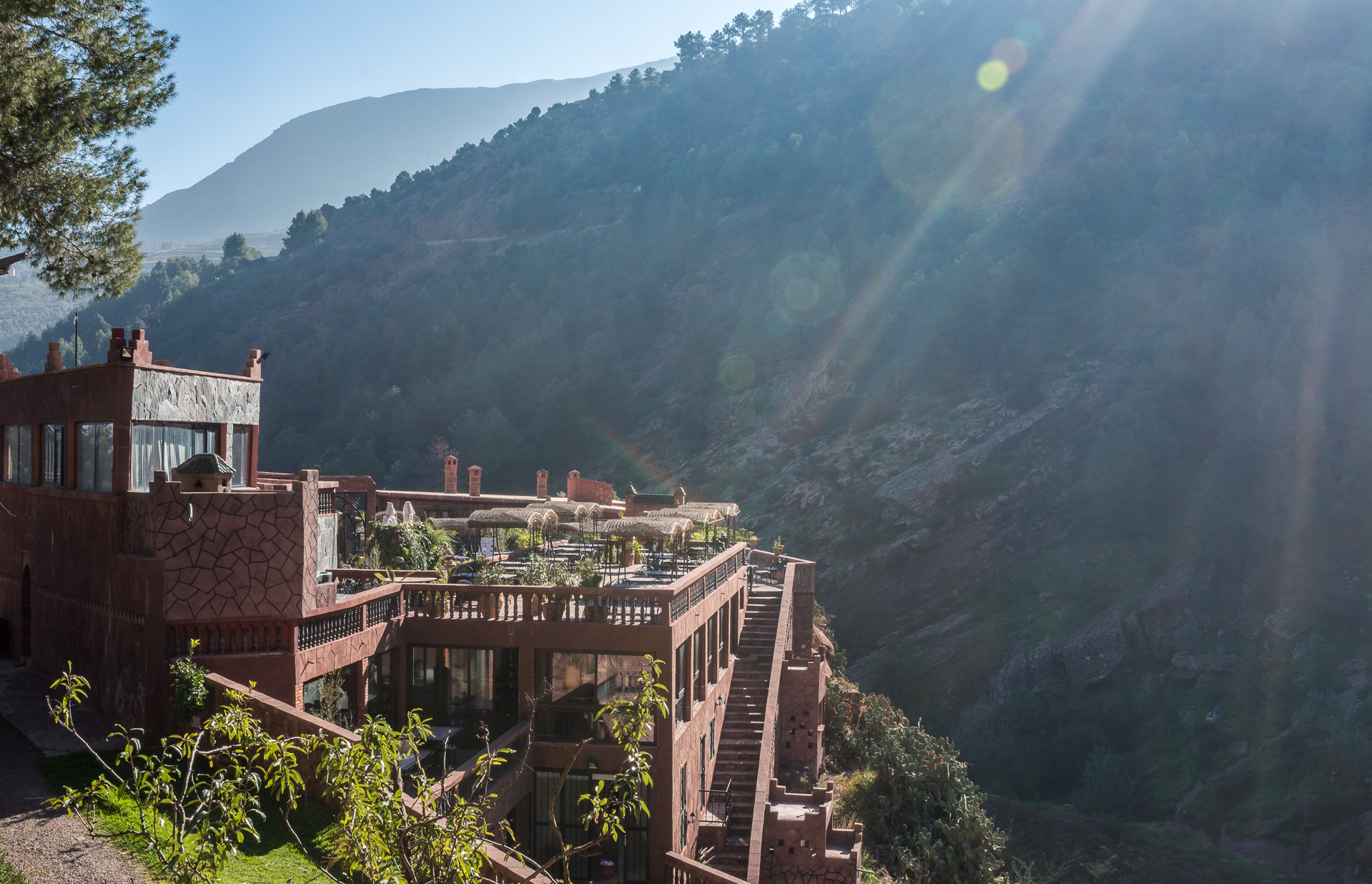 Two hours after landing and I am finally through, heading out into the balmy North African night, and fumbling my way to my exotic lodgings in the Selman Hotel. Owned by horse-mad Saida and Abdeslam Bennani Smires, the resort, which was designed by architect Jacques Garcia, sits at the foot of the Atlas Mountains, and feels as if a royal family willed it into existence.
From the cool and beautifully tiled courtyard gardens, to the exotic open stables that house dozens of Arabian thoroughbreds, it oozes luxury, and offers an oasis of calm on the outskirts of buzzing Marrakech. There is time for a quick cup of sweet mint tea, which is poured politely from a great height, before setting the alarm for the crack of dawn and bedding down for the night.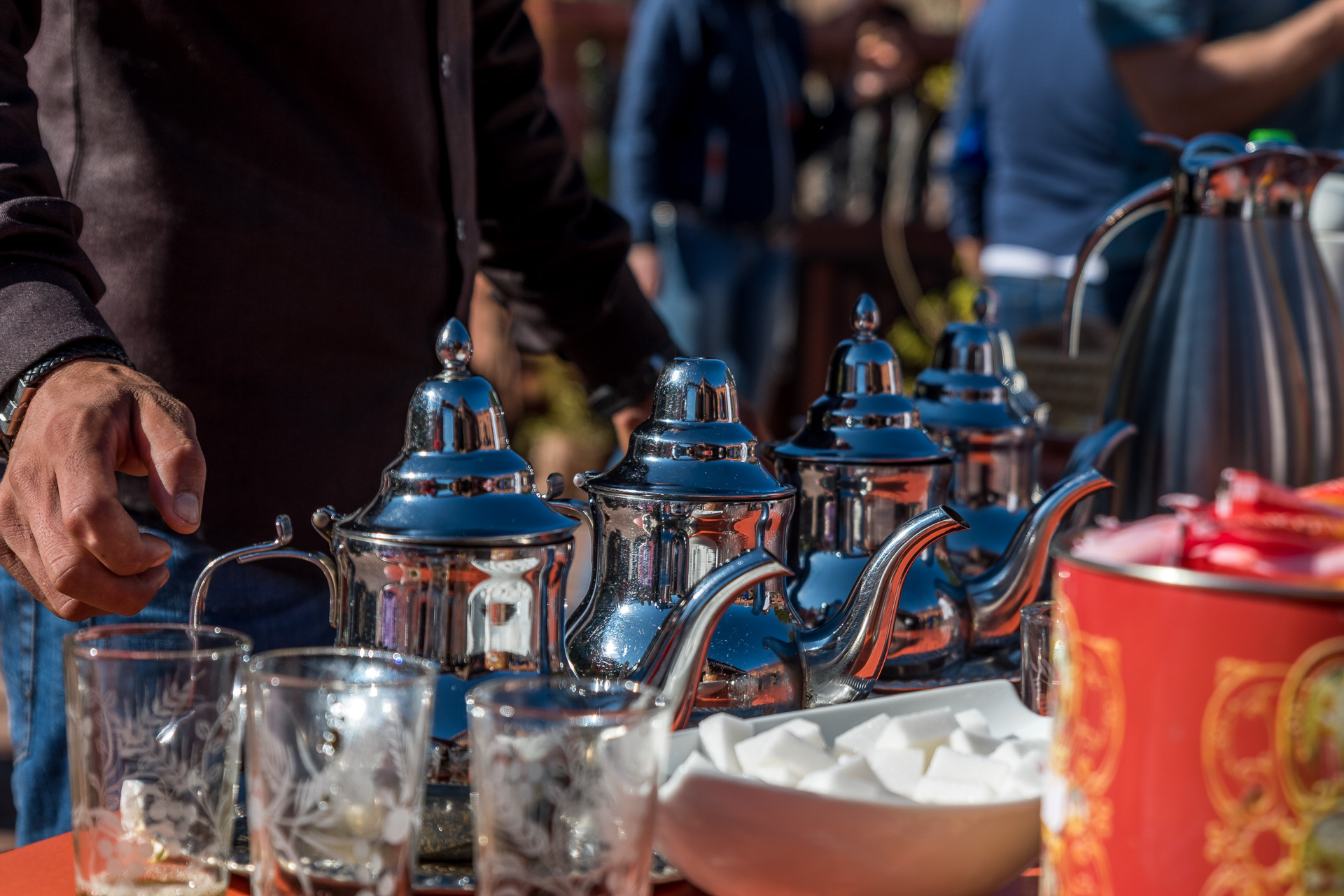 Trail Kings
The sun rises from behind the dusty Atlas Mountains and bathes the hotel's courtyard in a vivid red light. Peer out at the landscape and you'd be forgiven for thinking you'd landed on Mars. A box-fresh, steely grey Volkswagen Touareg sits idling in front of us, standing tall on chunky off-road tyres, its ultra-bright LED headlamps cutting through the early morning mist.
A big German bloke introduces himself as my co-driver and points to a few important things, such as the fire extinguisher located underneath his seat and a vague route that's highlighted on the plethora of digital readouts and displays, before we carefully inch out into the hubbub of morning rush hour.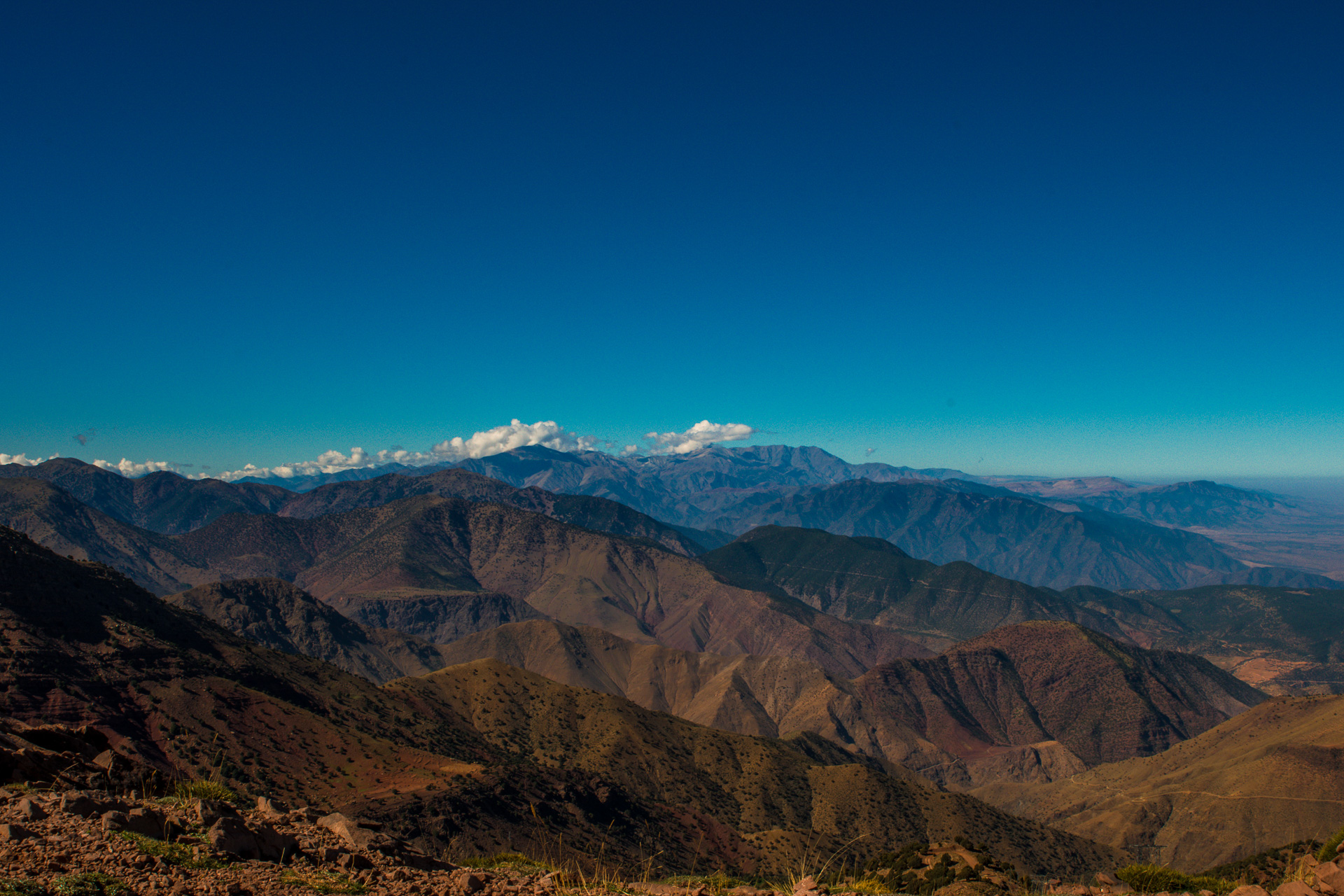 The piercing beeps of scooters and swarms of lunatic taxi drivers soon dissipate, as we cruise along the P2024 towards our first stop at the foot of the Toubkal Mountain - the highest peak in North Africa. During winter months, this area plays host to a few ardent skiers, but there's little in the way of facilities or apres-ski; just a rickety looking chair lift that zig-zags up the piste.
The roads up until this point have been fairly challenging but have at least resembled roads. From our vantage point at this impromptu off-road playground, it is clear things are about to get a lot harder.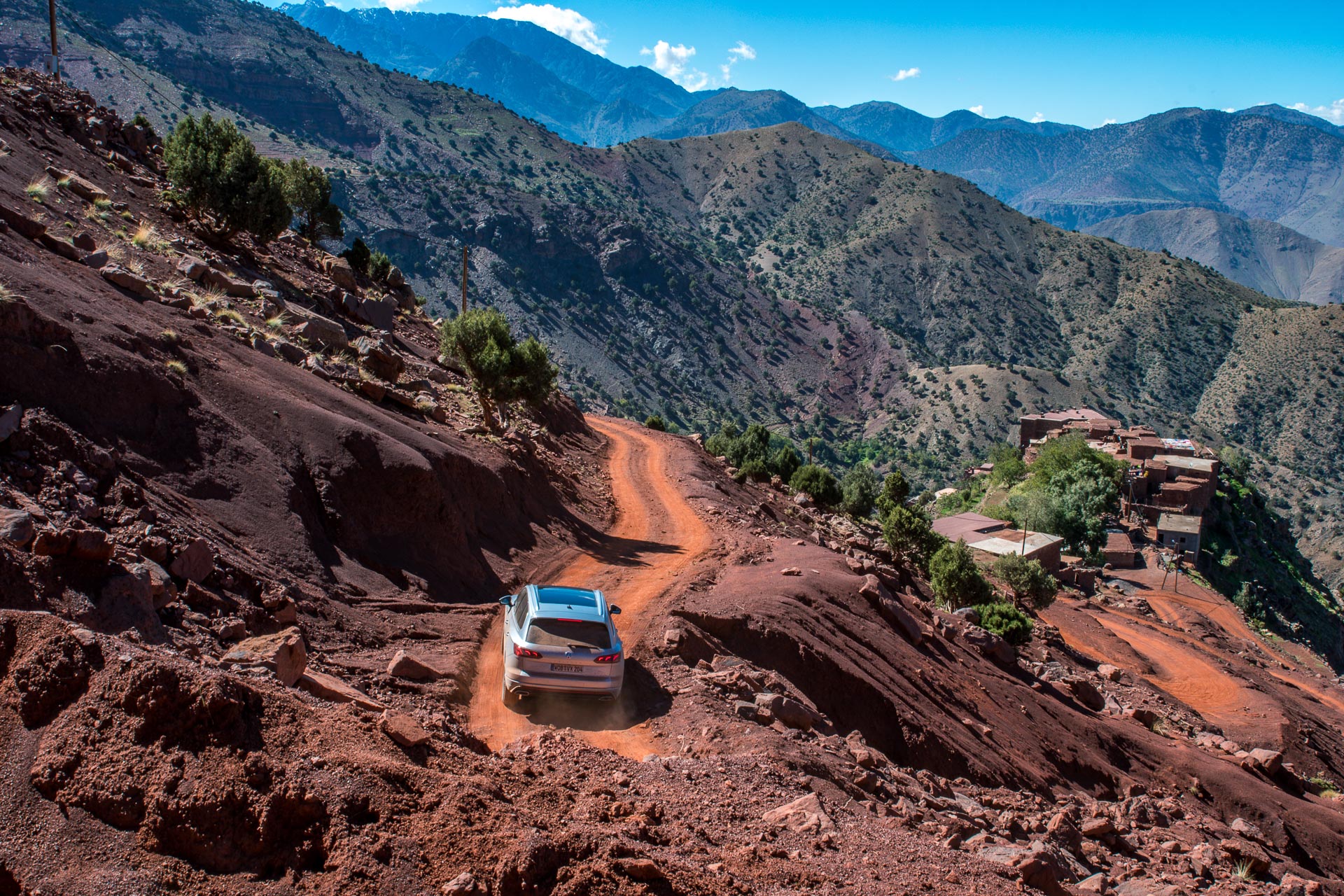 To make it to our planned stop at Richard Branson's super-exclusive Kasbah Tamadot (which he apparently fell in love with on one of his ballooning expeditions), we would have to work for our lunch, and traverse a route only the odd local frequents.
We push on the dirt path that hugs the mountainside and ribbons down towards sea level, before turning on itself and scampering back up again. The landscape moves miraculously with every corner - bright red rock occasionally giving way to Alpine-esque vegetation, which morps into bright turmeric earth and transitions back to terracotta again.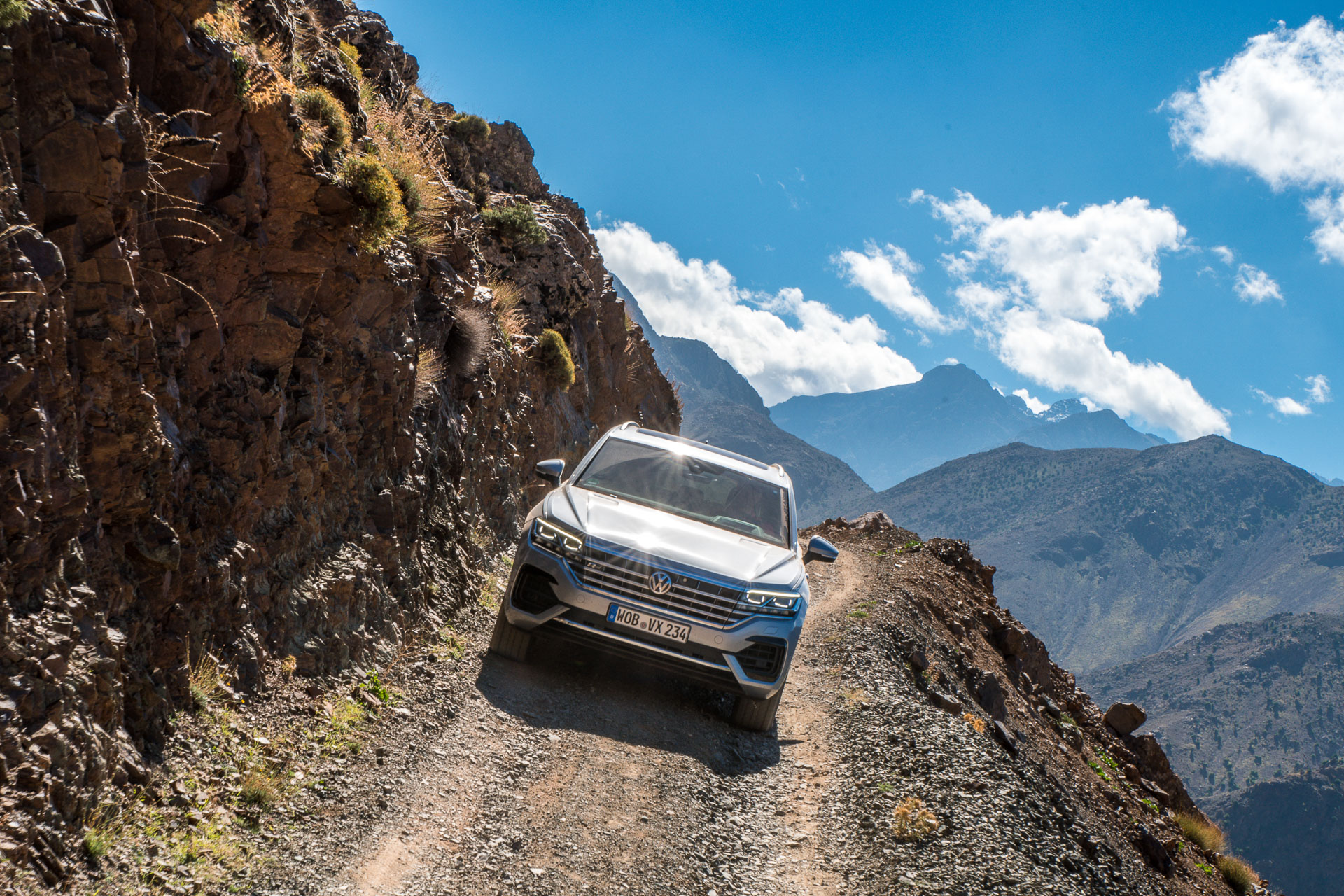 The route isn't long, but it is slow and arduous; the occasional delivery lorry laden with people and goods forces us to stop, reverse, turn and mount the hillside in order to let it pass. But with its beefy 3.0-litre V6 turbo diesel engine and staggering 600Nm of pulling power, there's not much that fazes the Touareg, which manages to take this route in its stride and flatten every unexpected hazard.
It feels strange that a vehicle based on the same framework as the luxurious Bentley Bentayga and Audi Q7 is here in this wilderness, but Volkswagen wants to prove its £50k flagship model is more than a match for its more expensive siblings.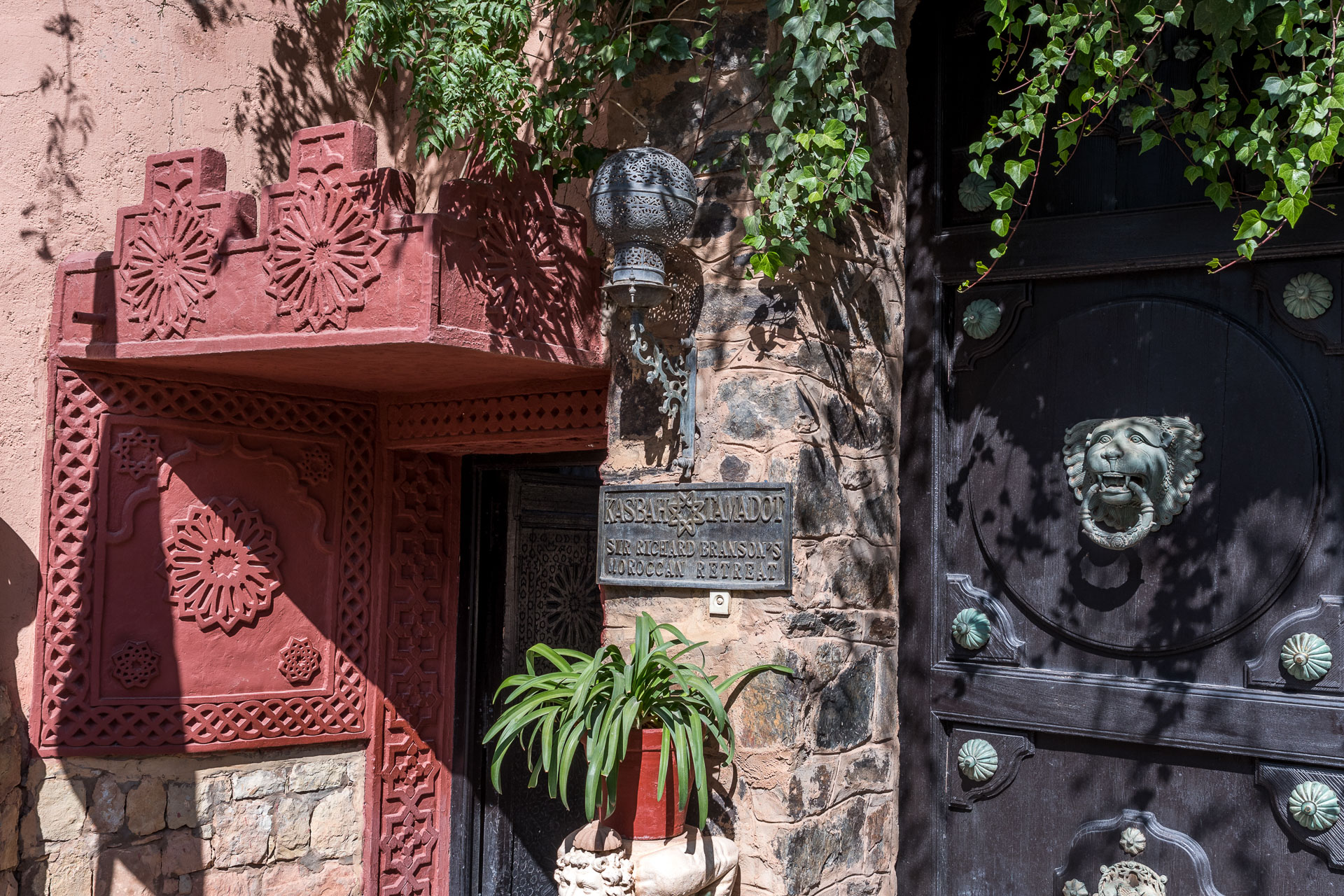 True all-wheel drive technology with numerous off-road modes, automatically adjustable air suspension and all-wheel steering are just a few tech tricks that it hides up its sleeve, all of which are essential for an expedition of this nature.
We continue to slowly pick our way over stray boulders - the optional metal bashplate doing its best to protect the delicate underbody - round hairpin bends, ignore sheer drops, power up insane gradients and force the big VW into ludicrous lean angles that the digital displays vividly portray via crisp computer graphics, but it handles it with minimal fuss and maximum comfort for all passengers.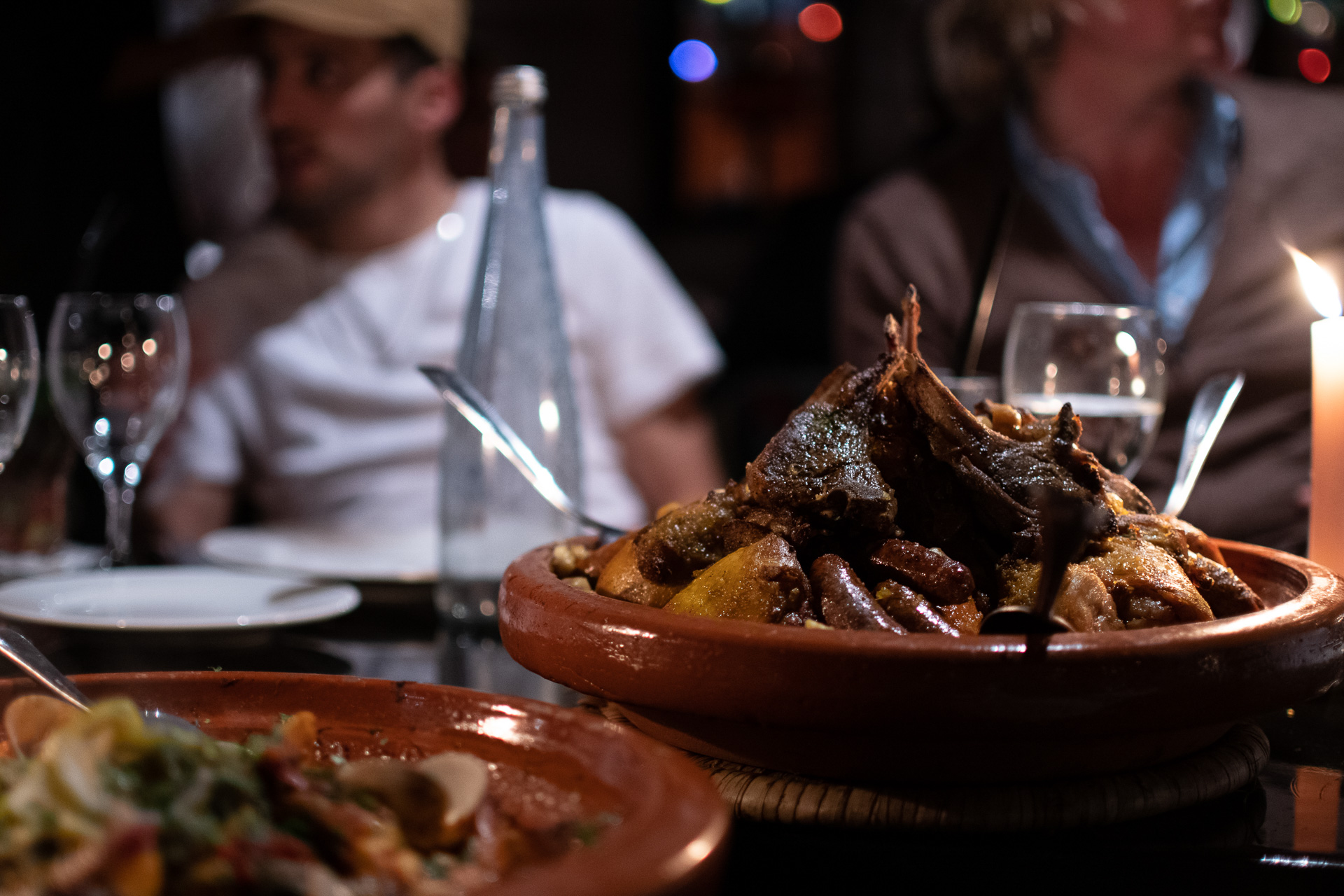 Children run alongside the windows as we pass through the tiny villages of Tamatert, Amssakrou, El Bour, and Tansrat - the Touareg's futuristic styling clearly striking a chord with the locals.
Several hours later, we wade through a shallow river and cross the valley to the 28-room Kasbah Tamadot, which sits majestically on the edge of rich red hillside, and offers some great views out across the valley. Its chefs prepare a feast of steaming tagine, flatbreads, and spiced kebabs, which are enjoyed with more sweet tea while the cool mountain breeze takes the edge off the hot afternoon sun.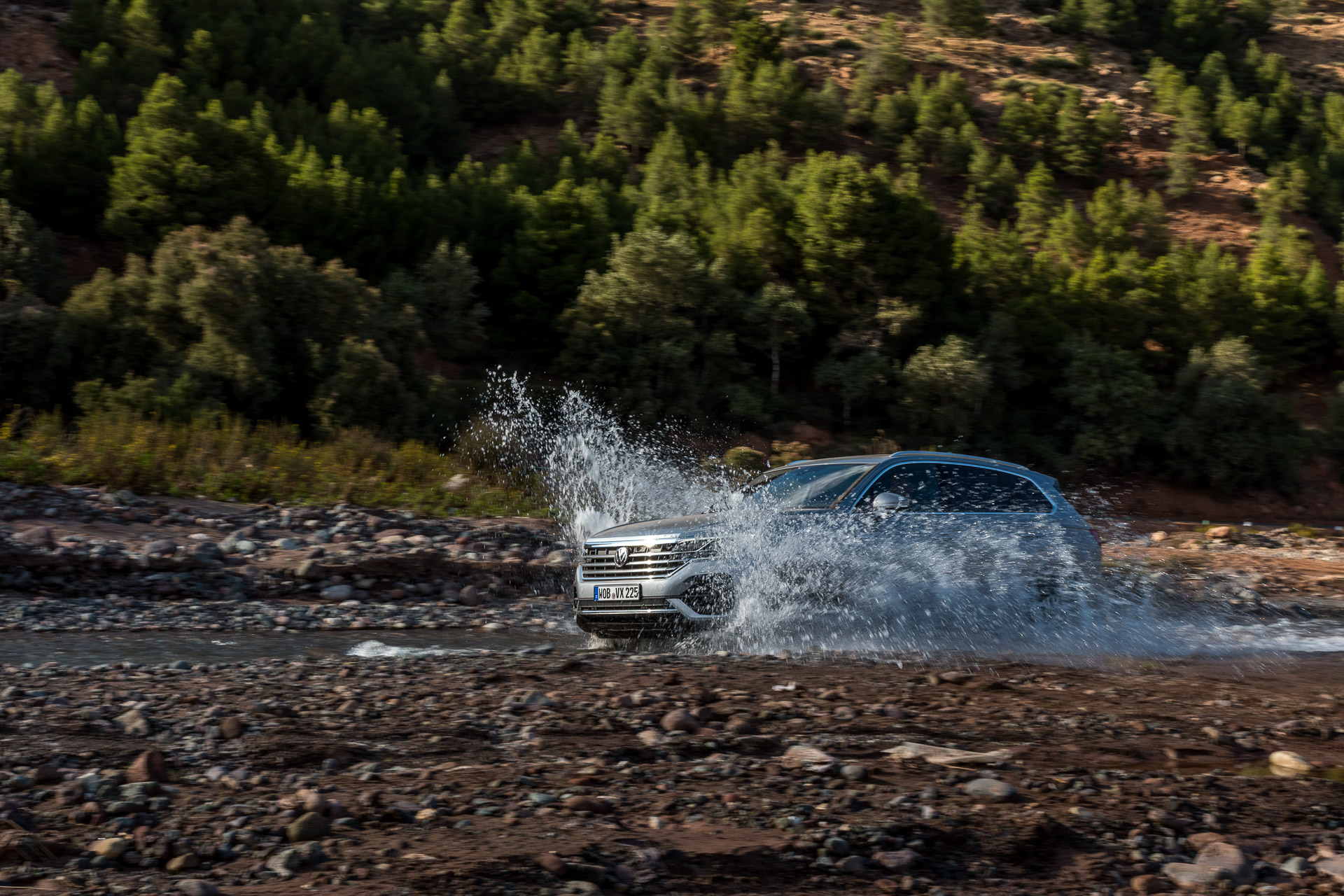 Man About the Medina
After a brief diversion to one final off-road playground, where we can nerd out over axle articulation and get excited about lean angles, we hit the tarmac and cruise back into Marrakech. As dusk descends, there is time to walk the freshly paved streets of Avenue Echouhada, which houses some of the newest and largest nightclubs in the region.
More food is consumed at the Comptoir Darna restaurant, which neatly blends Moroccan tradition with modern cocktails and noisy entertainment that draws a fashionable crowd. I deliberately overload on beautifully fragrant meat under the impression that I shall be heading back to the mountains tomorrow for a mountain bike tour, but the plans fall through.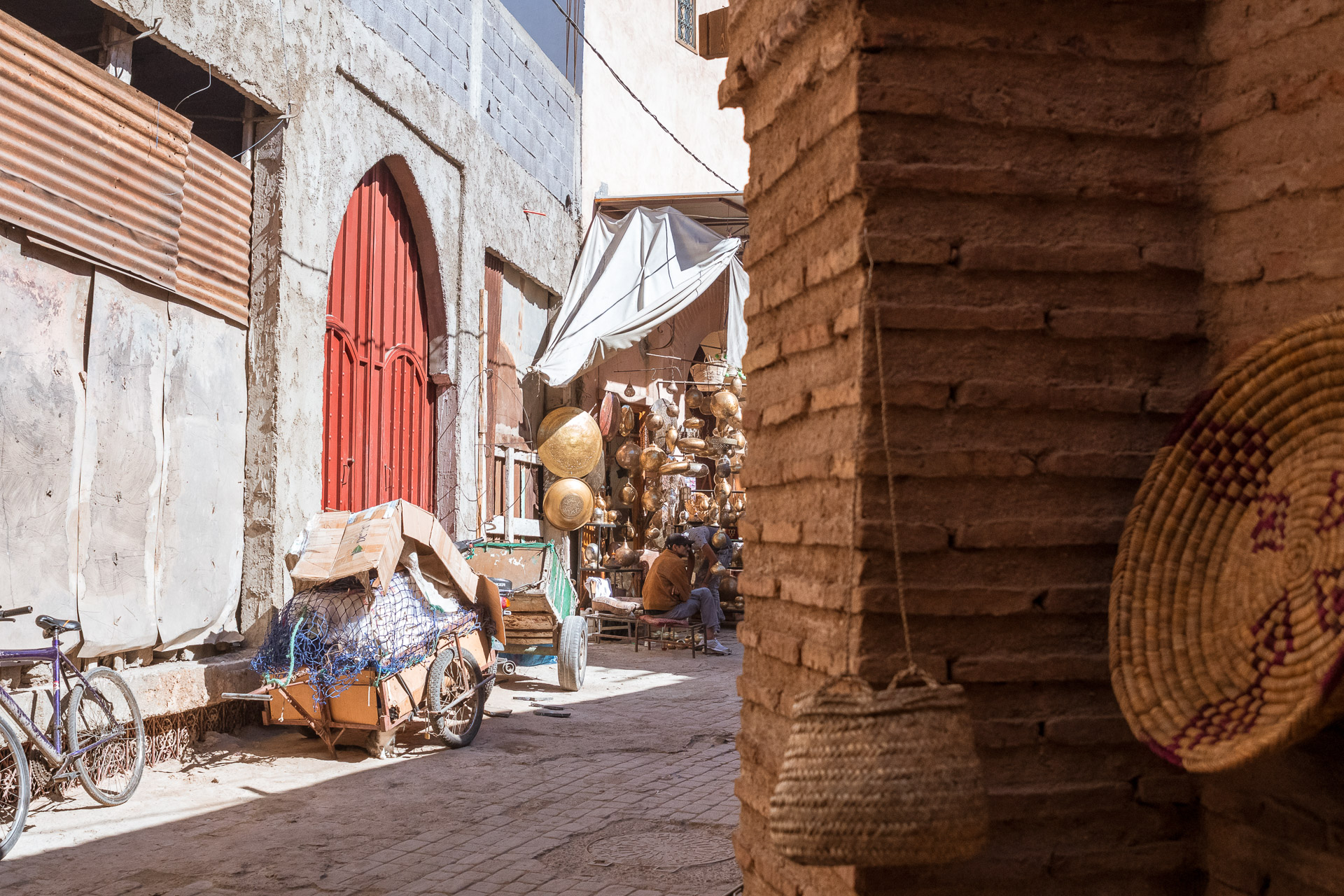 The guide I had contacted fails to show the following morning, so I quickly arrange a local walking tour to show me around the various souks and markets of the medina. With the Touareg parked outside the walls of the old city, we venture inside for our first look at the intricate tiling and architecture of some traditional riads.
From here, we embrace the noise and sparks of the metalworking souks, the earthy smells of the Cherratine (or leatherworkers' market) and take in the visual feast of the carpet-making areas. It would be entirely possible to get completely lost without a guide, who regularly reminds me of medina etiquette, and suggests I tip some of the workers I photograph.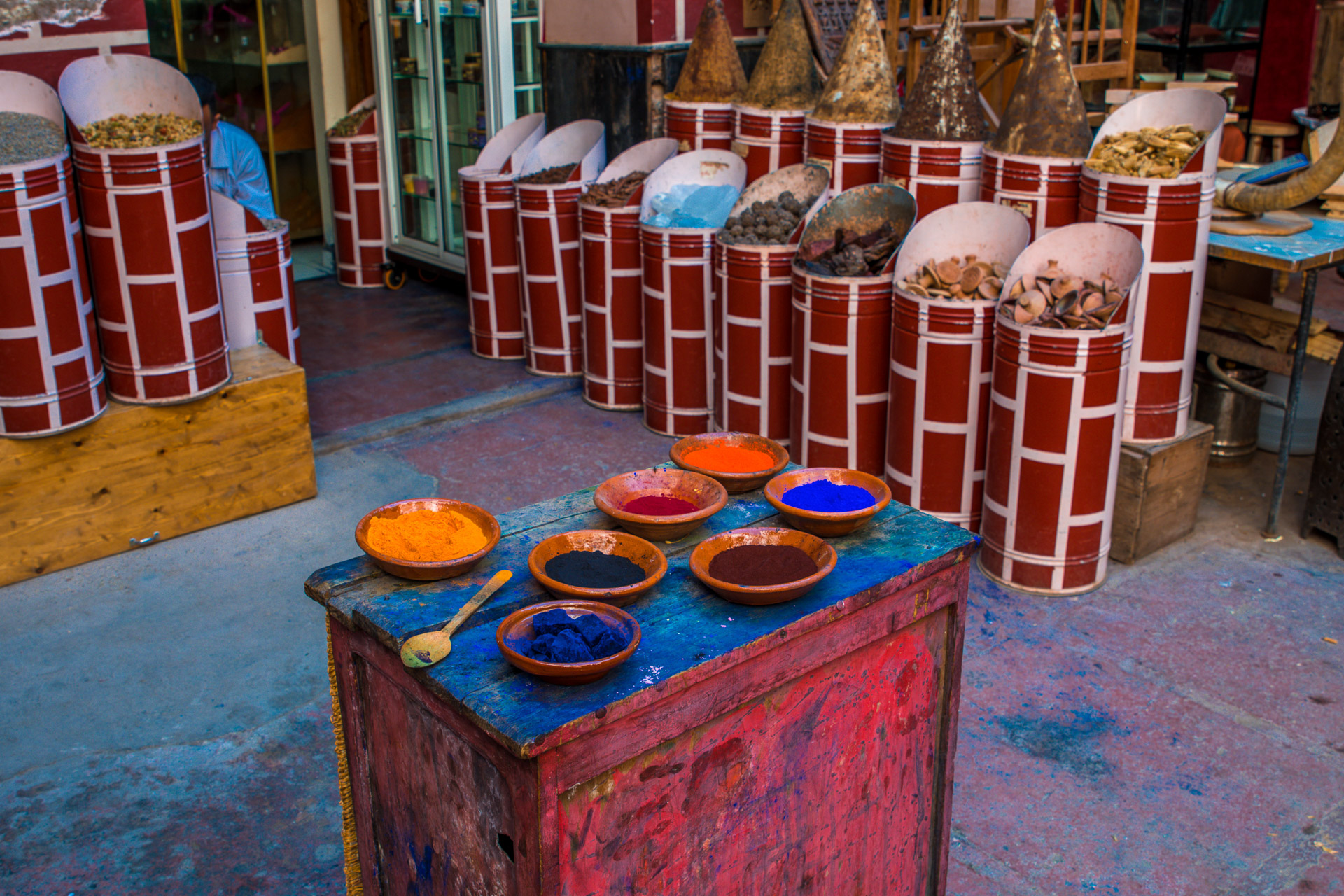 Those that enjoy haggling could spend an entire day here, although the lengthy transactions can get a bit tiresome, and the towers of spices on display in Rahba Kedima are well worth the loose change for pictorial evidence.
There is just time for one last sample of delicious mint tea before the flight back, so my guide suggests I jump back in the Touareg and head over to the trendy Hivernage district, which is popular with wealthy youngsters, and plays host to a number of cool hangouts.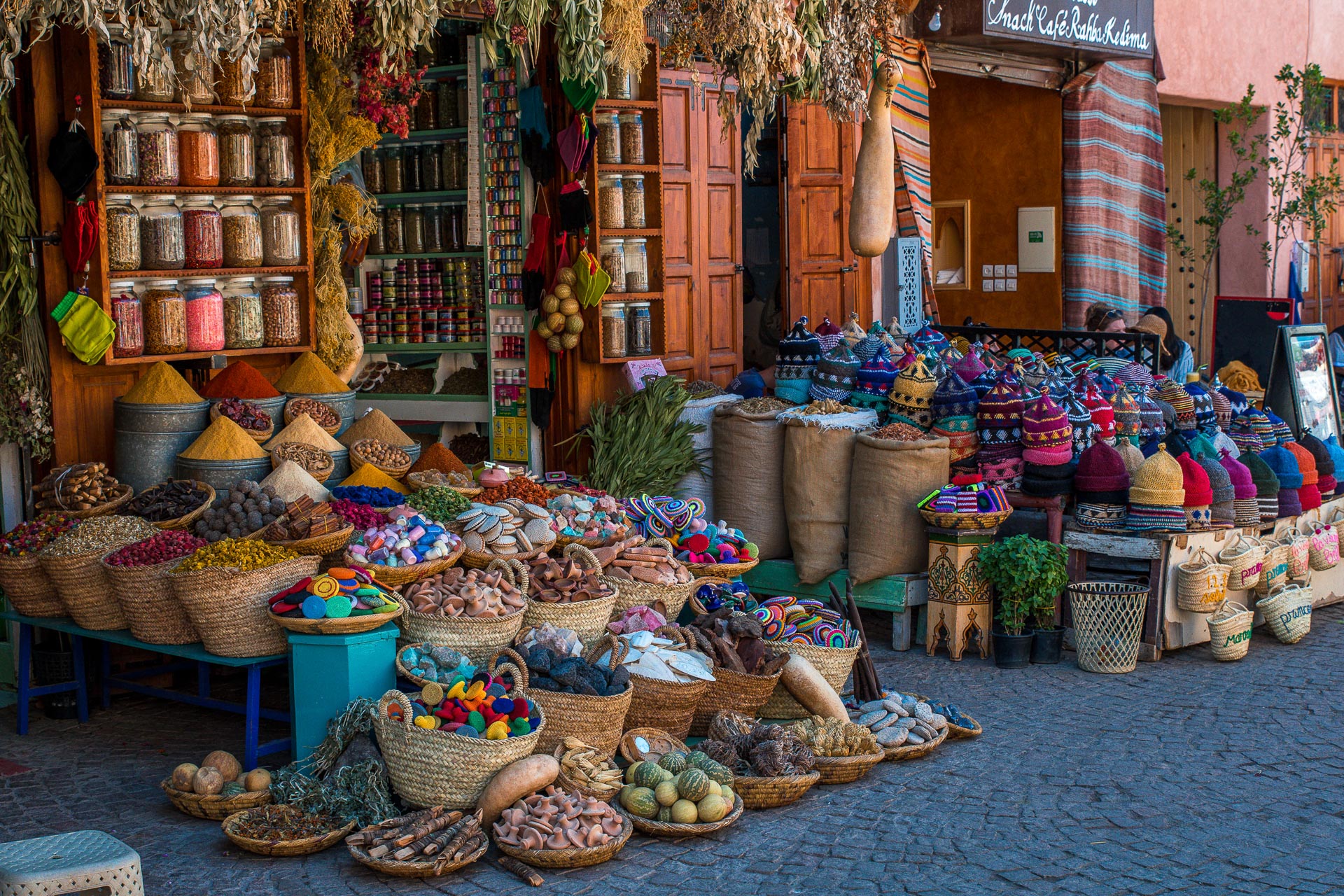 A quick stroll along Boulevard Mohamed VI reveals plenty of recognisable malls and restaurants with expansive outdoor areas and punters soaking up the sun, while nipping down one of the small side roads only leads to more cafes and independent eateries to enjoy.
It's easy to see why holidaymakers flock to the city for some winter sun - Marrakech is exotic and invigorating without being so alien that you can't enjoy a cup of Starbucks coffee if Western cold turkey kicks in. But sat at the foot of the Atlas Mountains as the sun early evening rush ensues, I can't help thinking the real adventure lies on those peaks and the inaccessible trails that snake off into the distance.
Do it Yourself:
Getting there:
British Airways run a daily flight from London Gatwick to Marrakech for around £120 for the round trip, while both EasyJet and Ryanair offer slightly cheaper alternatives from Luton and Stansted.
Staying there:
Rooms in the Hotel Selman start at around £285 per night but increase to well in excess of £1,000 per night for suites and villas.
The adventurous route:

If you fancy taking your 4x4, we'd suggest an epic trip that starts with the overnight ferry to Bilbao, drives through Spain and crosses the Strait of Gibraltar over into Morocco.
Leon Poultney is a freelance motoring journalist based in the UK. Keep up with him on Twitter.